Inner-Tube Water Polo
Rosters Due: Friday, March 17, 2023, 5:00 pm
Play Begins: Monday, April 3, Schlessman Natatorium, El Pomar Sports Complex
The email address that the captain submits on the official roster form will be used to send information regarding schedules, rules, policies, and procedures at least 48 hours before the start of the sport season.
The Basics
All inner tube water polo games are played in Schlessman Natatorium. League play is organized in accordance with a double elimination tournament format. All members of the winning team will receive IM Champion t-shirts.

Inner tube water polo is a variation of the sport water polo with the important difference that players are required to sit in inflatable inner tubes. General organizational rules include the following: The playing field consists of 6 vs. 6 with the mandatory co-ed rule of two members of any underrepresented gender(s) in effect at every game. The game consists of two 20-minute running halves with a five-minute halftime. In the case of a tie, a five-minute sudden death overtime will be played.
Spring 2023 Champions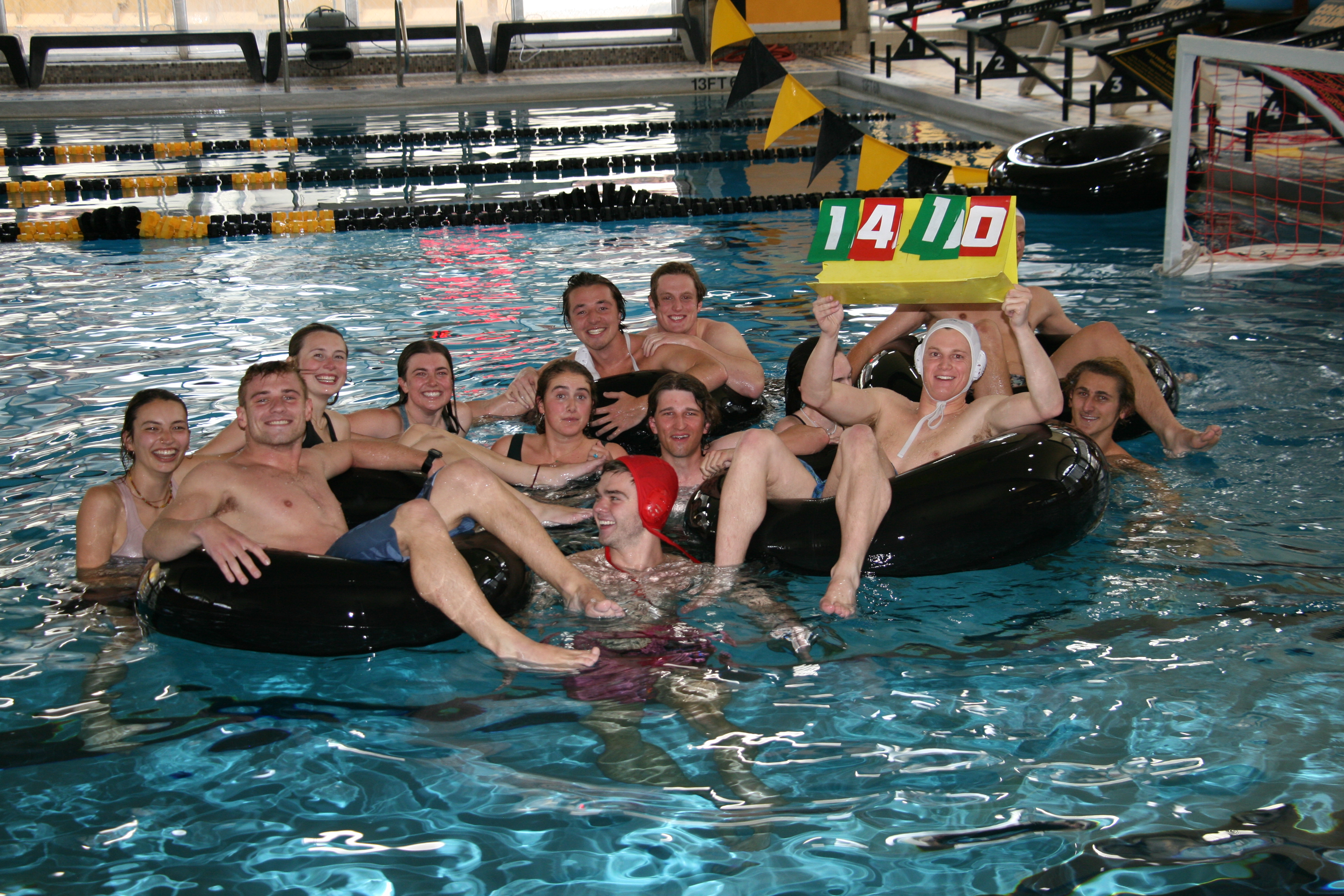 Toob Job (members: Laney Nelson, Portia Holt, Tony Saenz, Anna Wooster, Jack Higgins, Owen Tennant, Collin Ralston, Riley Hester, Ely Dickson, Dax Sherwood, Ayden Ehrhardt, Mia Matteucci, Grant Thompson, Oliver Kendall, Reese Lovell, and Yushin Kaneko)

Past Champions
2022 Spring: Goose Agua Polo Club (members: Will Barber, Maddie Heyman, Ben Laidlaw, Logan Houpt, Topher Shepherd, Step Flanagain, Kate Brush, Peyton Wright, Sarah Spizzuoco, Luke Daly, and Cole Rabschnuk)
2019 Spring: Waterpolo Pals (members: Skyler Matthews, Orren Fox, Brooke Miller, Robin Hilderman, Tommy Lutz, Michael Bennett, Grace Cooke, Bailey Burrows, David Lamis, Annie Branstrader, Libby Pohl, Leo Fowler, max Sandweiss, Maitland Robinson, Izzy Steenrod, Caroline Peters, Shane Eckert, and Paul Longnecker)
2018 Fall: Waterpolo Pals (members: Skyler Matthews, Robin Hilderman, Orren Fox, Tommy Lutz, Michael Bennett, Grace Cooke, Henry Baldwin, Alden Landry, Bailey Burrows, David Lamis, Annie Branstrader, Romi Kondo, and Harvey Pratt)
2018 Spring: Wet Horses (members: James Reohr, Olivia Berlin, Delaney Tight, Emma Wilson, Ian Caron, John Hatch, Nick Carpenter, Kilian Morales-Coskran, Nate Monga, Chleo Barton, Danny Rodriguez, and Scott Weinberger)
2017 Fall: Waterpolo Pals (members: Skyler Matthews, Robin Hilderman, Orren Fox, Tommy Lutz, Michael Bennett, Grace Cooke, Hanry Baldwin, Alden Landry, Ben Swain, and Justina Zuckerman)
2016-2017: Daddies (members: Gabriel Chavez, Jacob Miller, Chris Martin, Yiannas Margetis, Edmund Pendleton, Jacob Golbus, Rianna Reimers, Kate Loy, Emily Harrison, Casey Torbet, Connor Reese, Payton Katich, Kaylyn Radtke)
2014-2015: Dezso Gyarmati Elite (team members: Sam Curran, Pele Buika, Tyler Jonas, Heather Seeley, Luke Winfield, Chris Lesnansky, Juwan Rohan, Justin Beradino, Rachel Herron, Mary Bowman, James Lonergan and Kaeli Vandersluis)
2013-2014: Smiling Puppies (team members: Juwan Rohan, James Lonergan, Tyler Jonas, Luke Winfield, Mitch Carter, Kaeli Vandersluis, Sarah Schweiss, Heather Seeley, Pele Buika, Jaclyn Silsby, Sam Curran, Mary Bowman, Jessie Ayers, Carina Lauzon and Rachel Herron)
2012-2013: FU Zulu
2011-2012: FU Zulu
2010-2011: No Champion
2009-2010: Fu Zulu
2008-2009: Fu Zulu
2007-2008: The Zulu Warriors
2006-2007: Ocean of Death
2005-2006: Cheerios
2004-2005: Oedipus Rex and the Mama's Boys
2003-2004: Von Hammer & the Nails

2001-2002: Innertubular