Dodgeball
Rosters Due: Friday, March 8, 2024, 5:00 pm
Play Begins: Monday, March 25, Aux Gym, middle level of El Pomar Sports Complex
The email address that the captain submits on the official roster form will be used to send information regarding schedules, rules, policies, and procedures at least 48 hours before the start of the sport season.
The Basics
All Dodgeball games are played in the Aux Gym located on the middle level of the El Pomar Sports Center. All equipment necessary to play the game will be provided by the Intramural Department.
Dodgeball is a game in which players on two teams try to throw balls at each other while avoiding being hit themselves. The main objective of each team is to eliminate all members of the opposing team by hitting them with thrown balls or catching a ball thrown by a member of the opposing team.
2022-23 Champions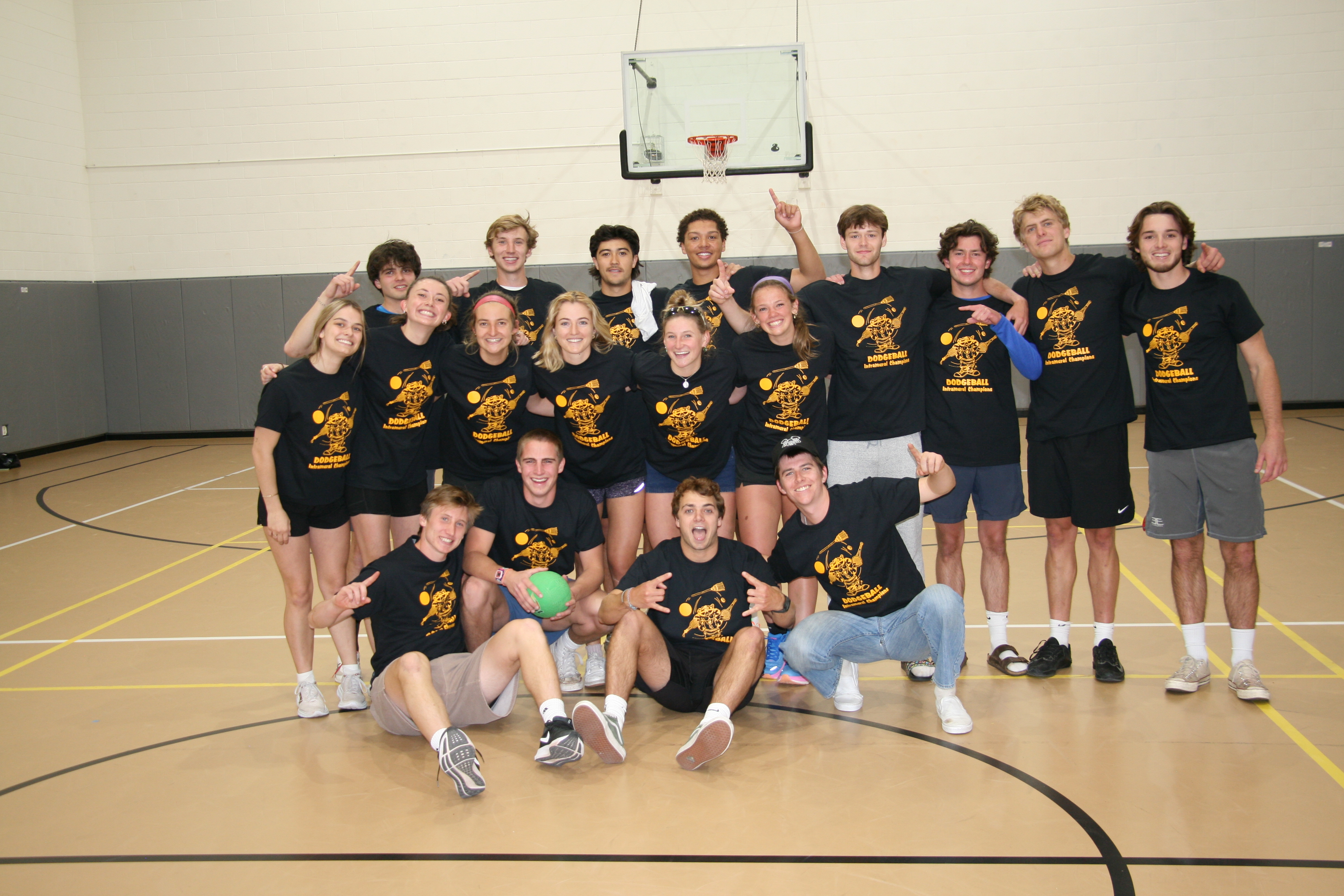 Big Ballas (members: Oliver Kendall, Andrew Kaelin, Jack Delafield, Liam Gunsbury, Lily Burn, Rob Hudson, Kalyanne Neel, Alex Aitchison, Charlotte Toogood, Braydon Ellis, Stefan Feiler, Haley Harnisch, Louisa Penrice, Noah Beecher, Spud Ward, Annie Bowens, Thomas Treadwell, Curtis Hale, and Chris Burich)

Past Champions
2021-22: Bjazz (members: Kassidy Chan, Isabel Mansour, Helen Lenski, Molly Wasserman, Avery Dichter, Emily Mitchem, Jared Mendiola, Cade Thumann, Saket Mereddy, Rakesh DaSilva, Antonio Sanchez, Luca Espinosa, Sam Seymour, Stefan Babij, Jack O'Halloran, and Fernando Gomez)
2018-19: CC U Next Tuesday (members: Louisa McBride, Tessa Dibble, Morgan Sulger, Morgan Garbe, Gillian Dohrn, Bryna Coyle, Kate Guynn, Molly Hiniker, James Martello, Carter Richardson, Dan Lunghamer, Jack Ammons, Jacob Nehama, Tyler Borko, Brice Tucker, Ben Sommers, Parker Woo, Aaron Maslow, Truett Davis, and Nate Kwiecinski)
2017-18: Goin' In for Ho Chi Min (members: CJ Thomson, Alana Aamodt, Jason Bair, Sam Schonfeld, Zoe Frolic, Eli Harkins, Camille Ginsburg, Matt Cole, Connor Hartnett, Nick Watkins, Killian Morales, Austin Hammer, Nick Zueschneid, Brian Rubin, Theo Hooker, Tim Huettel, Jake Battock, Sawyer Finley, Eli Seo, and Nora Holmes)

2016-17: Balls Back (members: Daniel Kruegar, Joel Frykholm, Manny Meraz, Ali Takkunen, Griffin Wesley, Tim Huettel, Kiera Connelly, Austin Ronningen, Frances Gellert, Henry Schuler, Stella Gardner, Alexander Makic, Zak Armacost, Westin Machaud, Keenan Amer, Ben Carpenter, and Sophie Sither)

2015-16: Poughkeepsie State Flying Cougars (members: Lee Junkin, Billy Haynes, Josh Leitson, Adam Ting, Terra Macdowell, Marge Pearson, Caroline O'Neil, Carter Ivey, Cooper Fitzgerald, Ian Horne, Robert Peroutka, Alan Hurbi, Parker Moss, Harrison Rosenfeld, Tom Merrick and Gus Goldman)
2014-15: Swamp Donkeys (members: Henry Halle, Jack Roos, Gray Ritger, Taylor Paul, Dylan Davy, Mitch Fay, Nick Ahrens, Mackie Greason, Jack Stein, Thomas Euyang, Will Schube, Bennet Krishock, Dan Lewis, Ben Dohrmann, Lorelie Strasburger, Maddie Goldman, Caroline O'Neil, Eliza Millikin, Anna Sweeney and Maddy Pitkin)
2013-2014: CSPD

2012-2013: Montezuma's Revenge

2011-2012: Evan Fleischman...Never Forget ((members: Jeremy Kazanjian-Amory, Russ Pagan, Nate Burt, Dan Marion, Will Allenbach, Reuben Mitrani, Meredith Stewart, Sarah Gunkle, Lauren Maccollum, Air Glantz, Charlie Lovering, Katie Titley, Michael Wolff, Harrison Reid, Alie Ehrensaft, Shane Strome, Kate Squires)

2010-2011: Team Big Red Balls (members: Michael Wendorf, Douglas Horton, Alexander Rasmussen, Ben Rosenfeld, Andrew McGhie, Graham Lloyd, Phillip Livingston, Laura Goldsmith, Nancy Makuch, Katie Titley, Carter Vetesse, Kate Squires, Christen Creed, Nathan Lee, Craig Freund)

2009-2010: Hard as Ruckus

2008-2009: Abracastabya
2007-2008: Zulu Warriors...the Dynasty

2006-2007: Abracastabya

2005-2006 Tournament: The Zulu Warriors

2004-2005 Tournament: The Lucky Ones

2004-2005 League: The Zulu Warriors