Softball
Rosters Due: Friday, March 8, 5:00 pm
Play Begins: Tuesday, March 26, Tava Quad
The email address that the captain submits on the official roster form will be used to send information regarding schedules, rules, policies, and procedures at least 48 hours before the start of the sport season.
The Basics
Games for the 2024 season will be played on the internal campus quads. League play is organized in accordance with a round robin format scheduling each team to play in an equal number of competitions.
Final season rankings will be determined by 1) winning percentage, 2) head to head play, and/or 3) point differential. The top teams in each league will advance to a single elimination tournament to determine league champions. All members of the winning team, that have played in at least one game and are on the roster, will receive IM Champion t-shirts.
Here at CC, we play with a 16-inch softball, also known as a mushball. Mushball is a lot like softball, except the ball is so much softer and larger. There is no need for a glove (but you are welcome to play with one), and it is difficult to hit very far (although it still can be done).
2022-23 Champions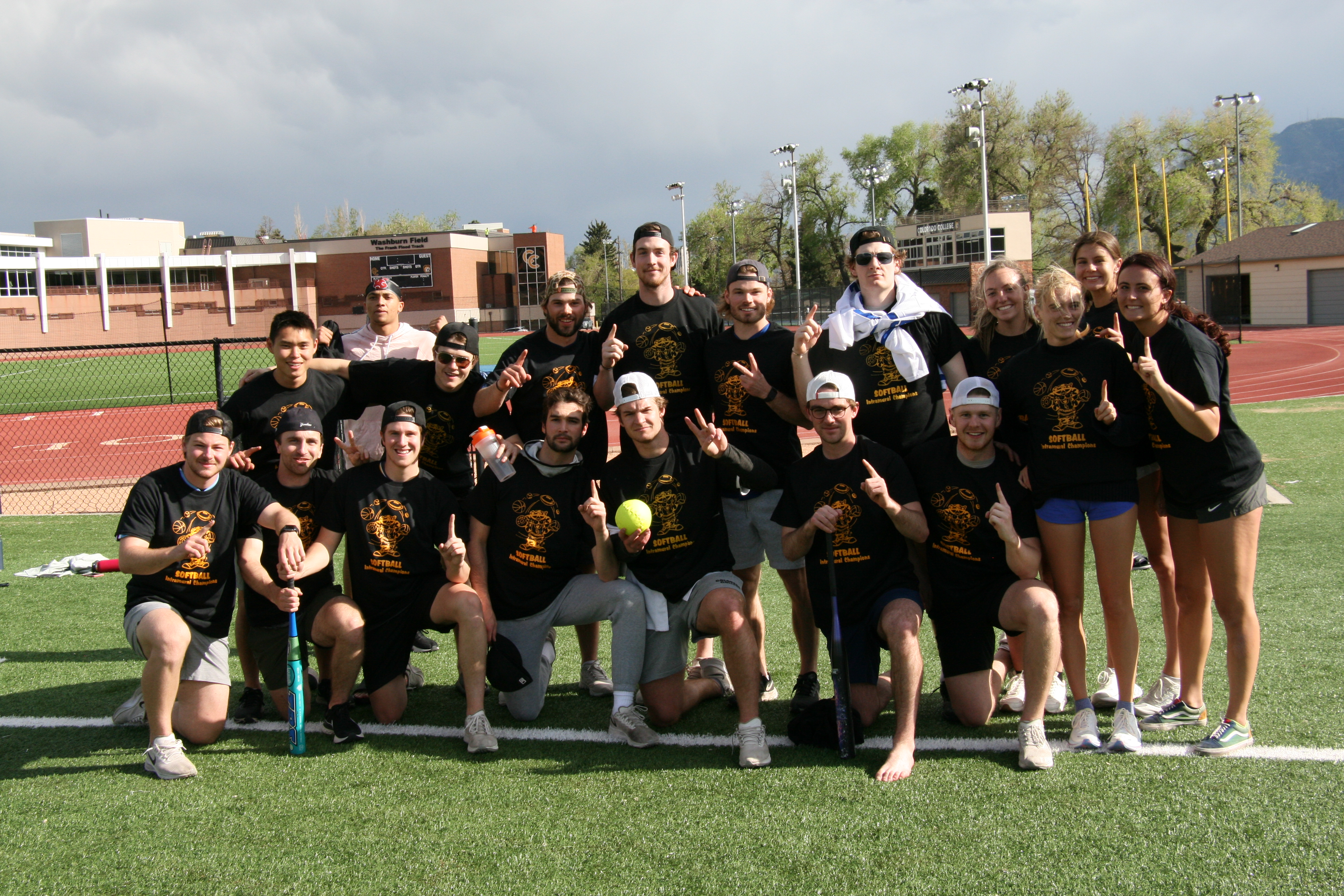 Liz Cheney Fan Club (members: Jake Begley, Nick Andrews, Tyler Coffey, Connor Mayer, Chad Sasaki, Patrick "Coach" Cozzi, Matt Vernon, Chase Foley, Danny Weight, Hunter McKown, Ray Christy, Jack Millar, Josie Morales, Posy Vogt, Ally Wakeman, Mia Legatt, and Noah Prokop)
 
Past Champions
2021-2022: Stiff Shafts and Soft Balls (members: Ally Wakeman, Kiley Suter, Noah Prokop, Bryan Yoon, Jackson Ross, Chad Sasaki, Abby Hubbard, Matt Vernon, Patrick "Coach" Cozzi, Brian Hawkinson, Connor Mayer, Hugo Blixt, and Will Crandall)
2020-2021: Smokin' Dads (members: Vic Cusanello, helen Lenski, Nell Dickey, Elliott Williams, Ella McMullin, Sarah Lloyd, Hope Moodey, Sloan Ruhl, Doug Norberg, Malcom Giewrz, Wyatt Mason, Chris Giere, Kevin Caruana, Hub Hejna, Willik Mir, Zach Benevento, Abigail Turner, and Sofia Infante)

2018-2019: We Got the Runs (members: James Martello, Nate Kwiecinski, Mason Bergh, Trey Bradley, Tanner Ockey, Trevor Gooch, Westin Michaud, Ben Israel, Rae Conlon, Cole McCaskill, Andrew Farny, Branden Makara, Morgan Sulger, and Maddy Webster)

2017-2018: We Got the Runs (members: James Martello, Andrew Farny, Ben Israel, Bryce Vanhorn, Emma Antall, Emily Erickson, Maddy Webster, Mason Bergh, Morgan Sulger, Nate Kwiecinski, Tanner Ockey, Trevor Gooch, Trey Bradley, Westin Michaud)
2016-2017: We Got the Runs (members: James Martello, Trey Bradley, Mason Bergh, Nate Kwiecinski, Tanner Ockey, Andrew Farny, Westin Michaud, Trevor Gooch, Gregg Burmaster, Alex Pernitsky, Bryce VanHorn, Alex Lecler, Maddie Webster, Emma Antall, Emma Brossman, and Ben Isreal)
2015-2016: Co-Ed League, Fletch (members: Jared Hanson, Michael King, Cody Bradley, Sam Rothstein, Luc Gerdes, Zach Aman, Derek Shatzer, Matt Hansen, Alex Roos, Christian Heil, Courtney Birkett, Alyssa Ortega)
2014-2015: Co-Ed League, The Rockford Peaches and Cream of the Crop Rise to the Top Colorado Springs, CO, USA Here We Go Let's Win! (members: Thomas Euyang, Henry Trueheart, Bennett Krishock, Alex WIlson, Mitch Fay, Charley Bemis, Danny Sponseller, Ben Brown, Cullen Milikin, James Terhune, Anna Kay, Katherine Coe, Anna Sweeney, Jess Gurrentz, Mikey Poneman, Dylan Mohr, Jamie Daudon, Sara Bermingham, Jack Roos, Nick Aherns)
2012-2013: Open League, Slap N' Tickle (members; Jayson Post, Eli Greenspan, Gavin Nachbar, Conor Crowley, Nathan Hahn, Brad Bachman, Joe Eissagure, Dan Marion, Jesse Paul, Billy Haynes, Duncan Macdougall)
2012-2013: Co-ed League, Team Chastity (members; Captain Phil Angelides, Tommy Groh, Pat Knecht, Ryan Armstrong, Zander Goepfert, David Scott, Will Lindsay, Tim Keresay, Nate Liss, Rachel Gips, Ian Rewoldt, Sarah Jacobson, Thayer Maclay, Hannah Wear, Ari Glantz, Kate Leaf, Hayley Dieckmann, John Keenan, Ben Birtch
2011-2012: Open League, Fletch (members; Josh Thorimbert, Eamonn McDermott, Arch Skalbeck, Michael Morin, Alexander Krushelnyski, Jeff Collett, Charlie Taft, Peter Stoykewych, Aaron Harstad, Ian Young, Courtney Lockwood, Scott Wamsganz, Jordan DiGiando)
2011-2012: Co-ed League, Matty V's Big Wood (members; Charlie Lovering, Nate Burt, Jeremy Kazanjian-Amory, Russ Pagan, Matt Valeta, Mike Wolff, Dan Marion, Jordan Deichen, Jake Heine, Alie Ehrensaft, Meredith Ballard, Amy Schornack, Jeremiah Waters, Ellen Scully, Jesse Paul, Nikki Gallon, Kate Squires.)
2010-2011: Open League, Open league champs; Co-ed League, Matty V's Big Wood (members; Charlie Lovering, Nate Burt, Jeremy Kazanjian-Amory, Russ Pagan, Matt Valeta, Mike Wolff, Mike Jin, Dan Fuwa, Jake Heine, Alie Ehrensaft, Ellen Scully, Andrew Rowe, Kalli Kemling, Laura Goldsmith, Laren MacCollum.)
2009-2010: Open League, The Hockey Fizzlers; Co-ed League, Matty V's Big Wood
2008-2009: Open League, Fletch; Co-ed League, We Love 3rd Base
2007-2008: Open League, Everybody Loves Everybody; Co-ed League, Charizards
2006-2007: Open League, Grey Beards; Co-ed League, Justice
2005-2006: Open League, Team Utica; Co-ed League, Conquestador Rex
2004-2005: Open League, Hockey 1; Co-ed League, What a Girl Wants
2003-2004: Open League, H Team; Co-ed League, Win or Lose; Adam Sucks shared with The Beast
2002-2003: Open League, Hollywood Nights; Co-ed League, ILL Na Na
2001-2002: Open League, Schvety Ballers; Co-ed League, Team Foreplay
2000-2001: A League, Fletch; B League, The Shvety Dugout; Co-ed League, Yard Work
1999-2000: A League, Smaller Balls; Co-ed League, Team Seafood
1998-1999: A League, Team Fletch; B League, Team Shane; Co-ed League, Nails
1997-1998: A League, Team Slats; B League, 187; Co-ed League, Secret Squirrels
1996-1997: A League, Smaller Balls; Co-ed League, Shiboinkin People
1995-1996: A League, Forehead; Co-ed League, Menuedo
1994-1995: A League, Real Men; Co-ed League, Menudo; Freshman League, No Names
1993-1994: A League, House of Pain; B League, Soggy Potatoe Chips; Co-ed League, Mattress Meat
1992-1993: A League, HeMan Club; B League, Fiji; Co-ed A League, Rabid Wombats; Co-ed B League, Team Mona