Campus Safety Welcome
Campus Safety's goal is to create a safe environment in support of the College's values and mission by providing educational programs, services, support, emergency response, and high visibility patrol for the campus community.  Our team is here to assist the campus community 24/7.  Please take a moment to explore our website and see a listing of programs, services, and safety tips for on and off campus.
Colorado College employs a "blended model" for Campus Safety. This model combines full-time, professional, unarmed Campus Safety patrol officers with armed police officers contracted through a written agreement with the Colorado Springs Police Department. The agreement with CSPD provides Colorado College with a dedicated, full-time CSPD campus resource officer stationed on campus, additional patrol of surrounding zones by CSPD officers in vehicles, and CSPD officers for special events. 

Campus Emergency Notifications & Messaging
Colorado College Emergency Notification System, RAVE
To receive emergency notifications, please register with Rave to start receiving campus notifications by text, phone call and/or email. Individuals must sign up to manage how they receive notifications, all CC faculty, staff, and students should automatically receive notifications to their CC email addresses.  Guests visiting the college can also opt into this system to receive notifications while on campus. 
To enhance your safety, download the RAVE Guardian App, this is an additional resource that provides an interactive dashboard and allows for immediate communication with Campus Safety:  Click on the links below for QR codes or direct links to to the RAVE Guardian App download for Apple or Android.
offices/campussafety/safety-programs-and-services/qrcode_www.ravemobilesafety.com.png
Standard Response Protocol (SRP)
In the event of an emergency, Colorado College uses the SRP for all emergency messaging. Emergency Notifications issued, through RAVE, will follow this format for message notifications.  The SRP are distributed throughout campus, for a visual aid for all community members.  If you do not have a copy in your area, please download a copy here.

The messaging is clear and concise to instruct our community what to do in an emergency.  To familiarize yourself and for more information on the Standard Response Protocol, see additional resources.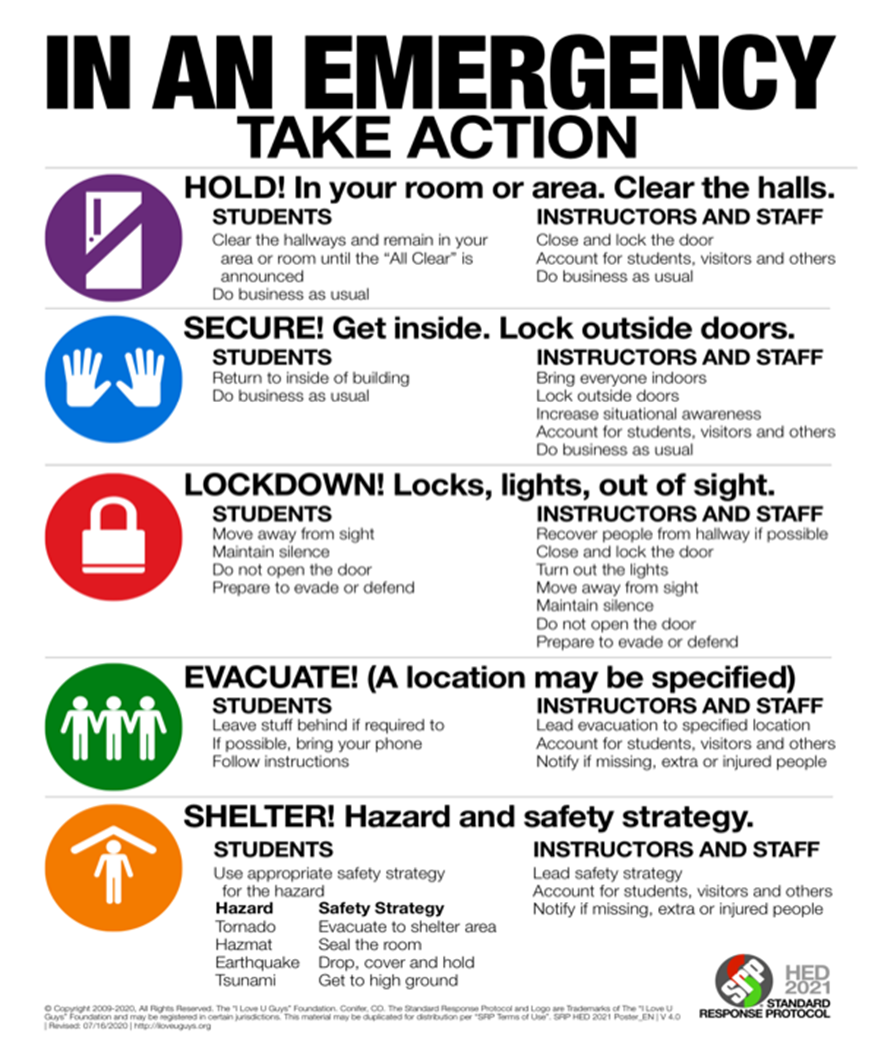 Contact Us
Safe Ride
Safe Ride is a student-run program available to all members of the campus community, free of charge, that provides transports within a 1.5-mile radius to and from campus. 719-389-6340 or 719-389-6707