Welcome to the Parking Office at Colorado College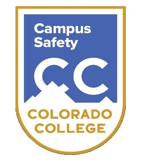 Parking on the Colorado College campus is limited and in great demand. While we do all we can to provide adequate parking, limited space, increasing enrollment, and new facility construction often make parking a challenge.
Our campus is private property, and the college determines all motor vehicle regulations.
All vehicles brought on campus must be registered with the Parking Office during the first week of classes, or within twenty-four (24) hours of arrival during the semester. To register their cars, faculty, staff, and students must provide the details of their vehicle to the parking office including the make, model, color, license plate, state, and CCID number. Registering your vehicle does not qualify you for a permit. Unregistered vehicles may be immobilized or towed at the owner's expense. You may also register in person at the Parking Office in Worner Center Room 116.
To help maintain the beauty of the campus, faculty, staff, students, and campus visitors must abide by all Colorado College parking and traffic regulations. These regulations also help ensure emergency vehicles and equipment have immediate access to all campus locations. Violations will be distributed when vehicles are not parked according to college regulations. Reserved parking areas, service vehicle spots, accessible parking, fire lanes, and no parking areas are marked. Repeated violations may result in a tire boot being placed on the vehicle, towing without notice, loss of parking privileges, and/or a referral to conduct.
Colorado College is not responsible for the safety or protection of motor vehicles, or their contents while parked on college property. By registering a vehicle or applying for a parking permit, the registrant agrees that neither Colorado College nor the Parking Office is responsible for injury to persons, nor for the theft of, or damage to, vehicles or their contents, while parked on college property.
Vehicles must be operated in a prudent manner relative to conditions of the road or lot, weather, time of day, etc., while on college property.  The person who registers the vehicle is responsible for assuring the vehicle is driven and parked in accordance with these regulations, regardless of who drives the vehicle.
On weekdays, most of Colorado College's parking spaces are exclusively reserved for college affiliates including Faculty, Staff, Students, and Authorized Visitors. Most campus parking lots are permit required and enforced 24 hours a day, seven days a week, including block breaks AND weekends, so please be sure your vehicle is in its assigned lot with your hang tag visible.
If you are a visitor traveling to campus on a weekday, the campus offers limited paid parking. However, you are also encouraged to take advantage of public transportation to get you comfortably and directly to your campus destination.
For parking areas on and around campus, you must display a valid parking permit in your vehicle.
All members of the campus community are held responsible for the information contained in these parking regulations. If you have questions or need special permission, call the Parking Office at 719-389-6888.
If there is a scheduled event on campus that may impact parking, be sure to alert all necessary parties including the Parking Office and Communications, so that appropriate messaging may be distributed to permit holders.