Welcome to the Parking Office at Colorado College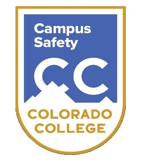 Exciting changes are underway for the 2021-2022 Academic Year! Please check back for changes and updates. 
The Parking Office is located in Worner Campus Center in Room 116. If you have questions or concerns outside of business hours, please leave a voicemail or email. If it is an immediate concern, contact Campus Safety at 719-389-6707.
Parking on the Colorado College campus is limited and in great demand. While we do all we can to provide adequate parking, limited space, increasing enrollment, and new facility construction often make parking a challenge.
Our parking regulations help ensure a fair and orderly system for all who operate or park vehicles on our campus. These regulations also help ensure emergency vehicles and equipment have immediate access to all campus locations. Individuals who show disregard for regulations will receive appropriate citations.
Reminders:
All campus parking lots are permit required and enforced 24 hours a day, seven days a week, including block breaks AND weekends, so please be sure your vehicle is in its assigned lot with your hang tag visible.

If there is a scheduled event on campus that may impact parking, be sure to alert all necessary parties including the Parking Office and Communications, so that appropriate messaging may be distributed to permit holders