Campus Safety
Welcome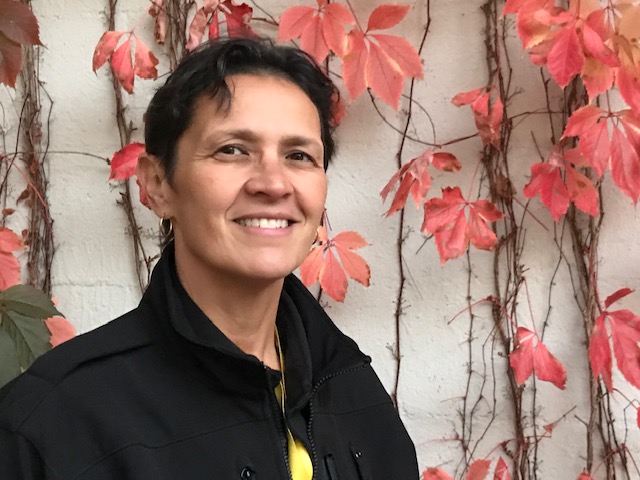 As the Director of Campus Safety and Emergency Management, please know that we are here to assist you and provide a safe learning environment for students, faculty/staff and guests of Colorado College around the clock.
Our motto is: Professional, Ethical, Responsive, and Kind.
Please take a moment to explore our website and see all that we offer, including programs such as Safe Ride and Self-Defense and Safety Tips for on and off campus.
- Campus Safety Director Maggie Santos '86
Cybersecurity Awareness
While the Coronavirus pandemic is creating new challenges, there is one group using this time as an opportunity to disrupt our personal and professional lives - cybercriminals. Security awareness does not take time off, and bad actors often use times of fear, uncertainty, and doubt to further their efforts to compromise businesses and individuals for reprehensible reasons. Several major attacks and numerous cyber scams have been exposed and we all need to be on high alert. ITS wants to ensure you have the most recent guidance to help ensure no one falls victim to these threats:
Department of Homeland Security, Cybersecurity and Infrastructure Security Agency (CISA)

Current Cyber Scams
Please be extra vigilant and incorporate these best practices into your daily routine:
Practice good cyber carefulness including slowing down to help recognize red flags.
Think twice before you click or respond to emails and verify that requests are legitimate, especially financial transactions.
Only use trusted sources to locate current information about COVID-19.
Report suspicious activity to the appropriate individuals including Colorado College ITS and our IT security resources.
For more information on Web Safety and Scams, please refer to our website
WE MOVED
Campus Safety has moved to a new location!
A customer service station, located in Worner Campus Center Room 116, is where you can find the campus resource officer, ask any parking questions, pick up day passes, or address any parking needs. All other Campus Safety operations, including dispatch, are temporarily relocated to 219 E. Uintah St. Campus Safety can still be reached 24/7 at all other times by calling (719) 389-6707 or (719) 389-6911 for emergencies.
Campus Safety
219 E Uintah St.
Emergency (719)389-6911
Non-Emergency (719)3896707
CSPD and CSFD Emergency 911
CSPD Non-Emergency (719)444-7000
Need to report a non-emergent crime? Bike thefts and other nonviolent crimes can be reported to CSPD!
Follow us on Instagram!
Construction Updates, and Road Closures
Cache La Poudre between Tejon and Nevada will remain closed for the time being. We will make updates as we receive information.
There has been a pause in sending out the parking permit application. As we get more information, we will send it out.
However, if you are arriving to campus soon, you can still park your vehicle on campus. Please provide the Parking Office with your vehicle make, model, color, state, and license plate and park in the C1 parking lot, until the parking application comes out.
Safety and Security Report
The 2020 Campus Safety and Fire Safety Annual Security Report is now available for viewing online. This report, released every October, discusses crime and fire statistics reported during the previous calendar year. If you would like copy of the report, please contact the Department of Campus Safety at x6930.
Emergency Messaging
Emergency Notifications
Would you like to receive emergency notifications? Please register with Rave Mobile Safety to start receiving notifications. Anyone can sign up! CC faculty, staff, and students are signed up.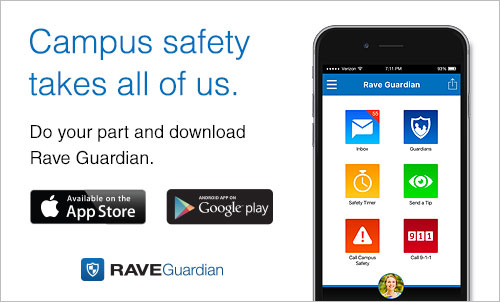 RAVE has an option for individuals to receive notification by texting the keyword CCSafe to 226787 (which spells CAMPUS). Guests visiting the college should opt into this Emergency Messaging
Standard Response Protocol
Colorado College uses the SRP for all emergency messaging. For more information on the Standard Response Protocol, see additional resources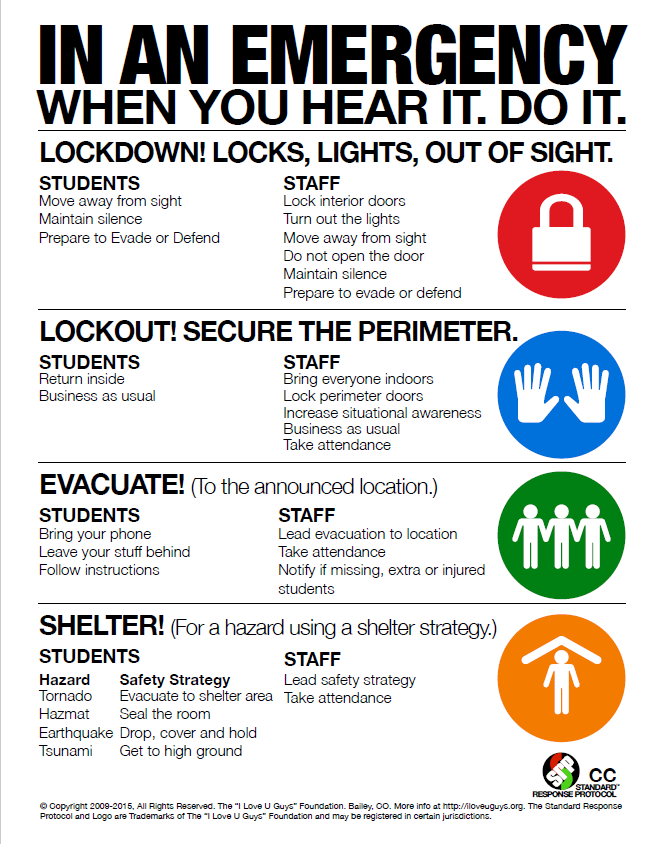 Be A Safety Champion!
Do you know someone that has contributed to the safety of our community?
Would you like to see that person rewarded for their Tiger Watch spirit? Send their name and a brief description of how they contributed to making CC a safer place to Campus Safety at campussafety@coloradocollege.edu
Safe to Tell - Anonymous Reporting
Want to submit an anonymous safety tip? You can anonymously report anything that concerns or threatens you, your friends, or your community. You can make an online report, or download the Safe2Tell Colorado mobile app.