Flag Football
Rosters Due: Friday, September 15, 5:00 pm
Play Begins: Monday, September 25, Washburn Field
The email address that the captain submits on the official roster form will be used to send information regarding schedules, rules, policies, and procedures at least 48 hours before the start of the sport season.
The Basics
All flag football games are played on the Washburn Field. League play is organized in accordance with a round robin format scheduling each team to play in an equal number of competitions. Final season rankings will be determined by 1) winning percentage, 2) head to head play, and/or 3) point differential. The top teams in each division will advance to a single elimination tournament to determine the overall league champion. All members of the winning team will receive IM Champion t-shirts.
General organizational rules include the following: The playing field consists of seven vs. seven. The game consists of two 20-minute running halves with a five minute half time. If there is a tie after regulation play teams alternate possession on the 10 yard line and have 4 downs to score.
2023-24 Champions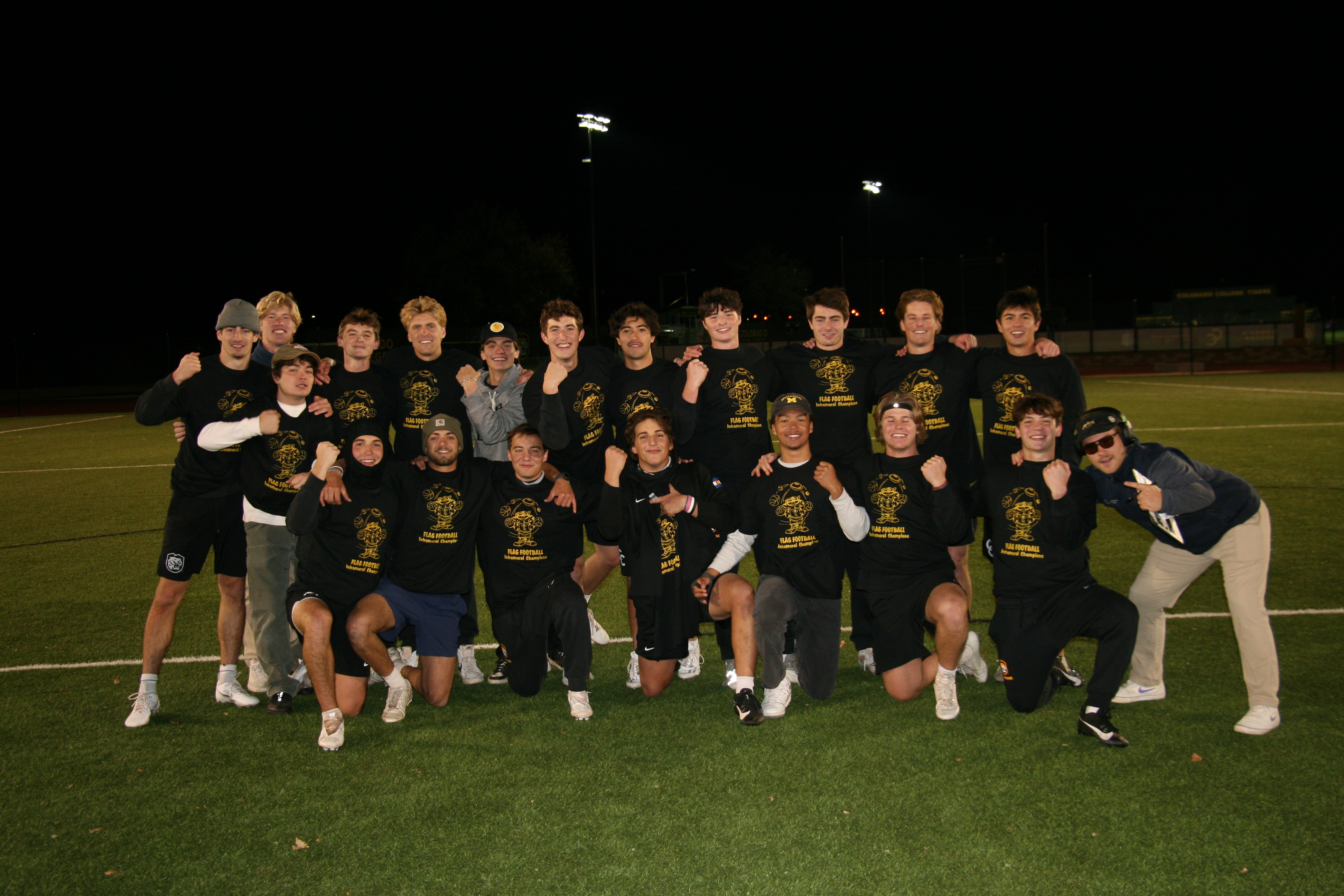 Bradshaw's Disciples (members: Tommy Miller, Ben Bradshaw, Rob Hudson, Bray Legette, Stefan Feiler, Andrew Tan, Wyatt Furda, Chuck Harrington, Steve Ruggenach, Quinn Gordon, Jake Mosheng, Michael Ruffenach, and CC Jeffers)
Past Champions
2022-2023: K-Sig (members: Chase Ressler, Chris Sznip, Sam Faber, Nate Vincent, Sam Treat, Ian Larned, Noah Khaler, Jacob Pence, Griffin Ferguson, Hunton Russell, Max Hinds, Drew Greeley, and Paddy Hinton)

2021-2022: K-Sig (members: Silas Howe, Zach Flagg, Ian Larned, Brian DeLong, Sam Feber, Jared Mendiola, Sam Treat, Paddy Hinton, Bennie Lewis IV, Alex Wuthrich, Griffin Ferguson, and Victor Alhadeff)

2019-2020: Dirty Mitch and the Boys (members: Alden Landry, Sam Mayer, Mitchell Ukropina, Noah Siddiqui, Spencer Levy, David Henderson, Henry Swain, Coby Dodelson, Owen Miller, Mitch Turner, Patrick Ende, Inna Oh, and Will Haslett)

2018-2019: Lore Masters (members: Jamyoung Dorji, Charley Dickey, Bennett Bowers, Andrew Bolte, Mac Larned, Raphael Fermin, Sam Suzuki, Trevor Hightower, and Xander Jobin-Lees)

2017-2018: Off in the Corner (members: Max Tarika, Drew Combs, Ben Elgren, Oliver King, Ben Garfin, Ben Hicks, Liam Baldrige, Chris Nunziato, Trevor Hightower, and Nelson Kies)
2016-2017: Derek Bell Memorial Squad (members: Will Baird, Austin Davie, Brad Hale, Max Margolin, Thomas Riley, Jack McCormick, Stephan Petersilge, Robbie Twells, and Oliver Skelly)
2015-2016: Balls Deep                              

2014-2015: Scooter Maneuver (members: Will Schube, Bennett Krishock, Ricky Boebel, AJ Grosenbaugh, Sandy Brown, Felix Pronove, Henry Trueheart, Jack Burger, Mikey Poneman, Jack Dimmit and Mike Stevens)
2013-14: What Wouldn't Dougie Do? (members: Tyler Allen (captain), Jack Kreitler, Scott Prior, Michael Idell, PJ Higgins, Will Harris, Taylor Paul, Henry Halle, Sayre Thomas, Gray Ritger, Jack Roos, Andrew Visich, Dylan Davie, Nick Ahrens)
2012-13: What Would Dougie Do? (members: Nate Pearson (captain), Charles Curtis, Stephen Rijo, Ted Collins, Halsey Landon, Idy Igleheart, Davis Shamburger, Jack Kreitler, Scott Prior, Jake Smith, Mike Idell, Tyler Allen, Zach Cohen)
2011-2012: The Care Bears (members:Jeremy Kazanjian-Amory, Luke Urban, Dan Marion, Cam Hurd, Russ Pagan, Jeff Smith, Nate Burt, Charlie Lovering, Diego Domenech, Faizan Ali-Khan, Chris Dickinson, Jake Heine)
2010-2011: Washburn Foundation (members: Benjamin Rosenfeld, Jesse Lerich, Nicky Anastas, Sandy Feuer, Michael Wendorf, Saul Levy, Andrew McGhie, Kevin Ecke, Doug Horton, Matt Franco, Graham Lloyd, Luke Urban, Ryan Payne, Will Troy, Daniel Fuwa, Alex Rasmussen)
2009-2010: Sexual Tyrannosaurs
2008-2009: Luggage Thieves

2007-2008: Alaskan Pipeliners

2006-2007: Pocket Rockets

2005-2006: Team Ten High

2004-2005: Big Up Yourself

2003-2004: Team Ron Rico

2002-2003: Key West Boomerangs
2001-2002: Slumpbusters
2000-2001: Silicon Implants
1999-2000: Kappa Sigma
1998-1999: Buffalo Wings
1997-1998: Family Love in West Virginia
1996-1997: Zulu
1995-1996: All O.J. Team
1994-1995: Fiji