Basketball
Rosters Due: Thursday, January 18, 2024, 5:00 pm
Play Begins: Tuesday, January 23, Rec Gym, AFP Fitness Center

The email address that the captain submits on the official roster form will be used to send information regarding schedules, rules, policies, and procedures at least 48 hours before the start of the sport season.

The Basics
All basketball games are played in the Rec Gym on the lower level of the Adam F. Press Fitness Center. League play is organized in accordance with a round robin format with each team scheduled to play in an equal number of competitions. Final season rankings will be determined by 1) winning percentage, 2) head to head play, and/or 3) point differential. The top teams in each league will advance to a single elimination tournament to determine league champions. All members of the winning team will receive IM Champion t-shirts. 

General organizational rules include the following: The playing field consists of five vs. five. The game consists of two 20-minute halves with a five minute half time. The clock will remain running until the final two minutes of the second half. During these last two minutes, the clock will stop on all dead balls. If there is a tie after the completion of regulation play, a 5 minute overtime will be played. The clock will run the entire time except for stop-time during the last one minute of overtime. 
2022-2023 Champions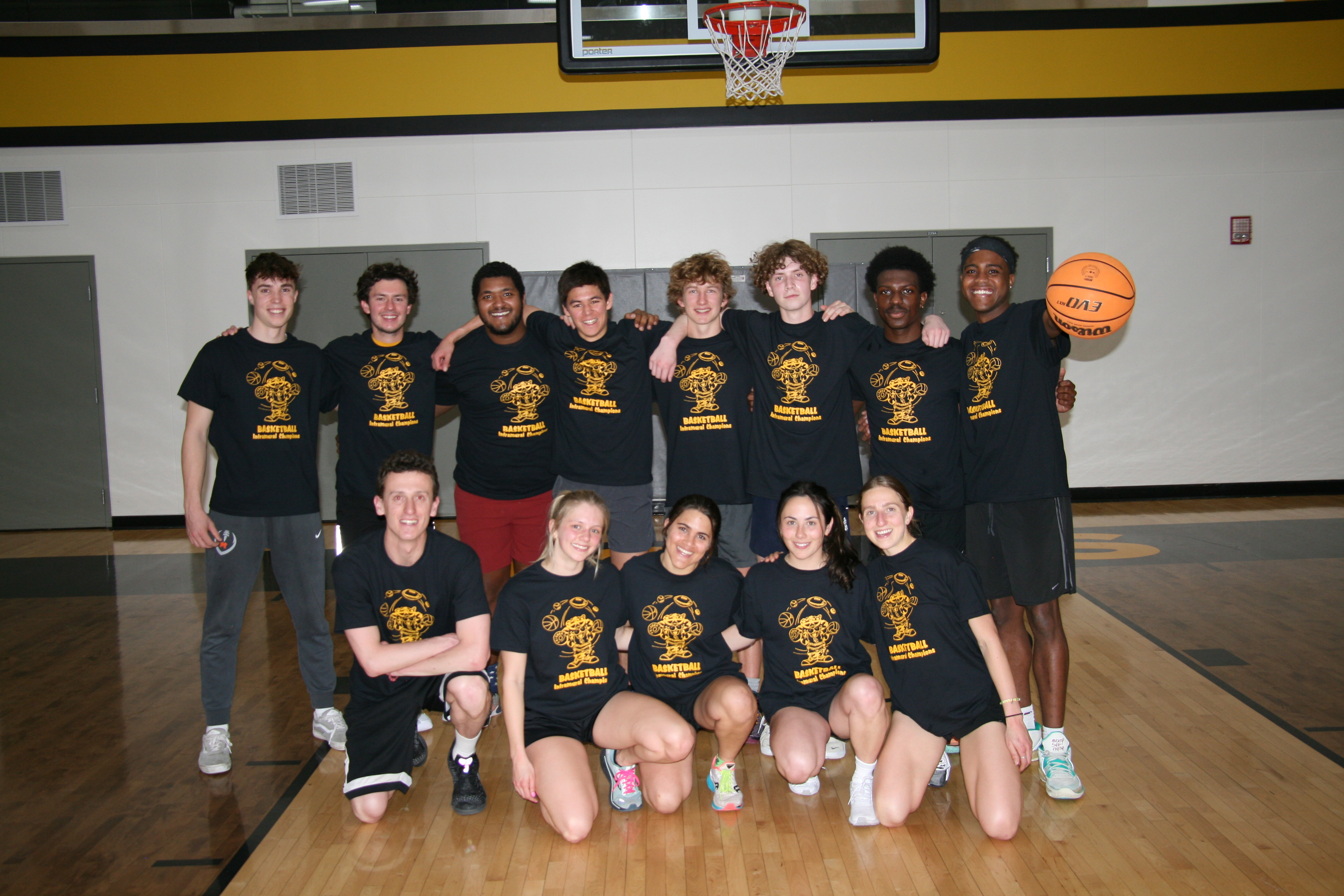 Co-ed League Champs: Thicc & Quicc (members:Aidan Disney, Aidan Santos, Ann Louise Naito, April Kwan, Asha Soni, Asher Todd-Taraday, Crosby Williams, Emma Jones, Erin Capell, Holden Perry, Jennings Wilson, Josh Williams, Leighton Graham, Liam Gunsbury, Nate Vincent, and Tori Matson)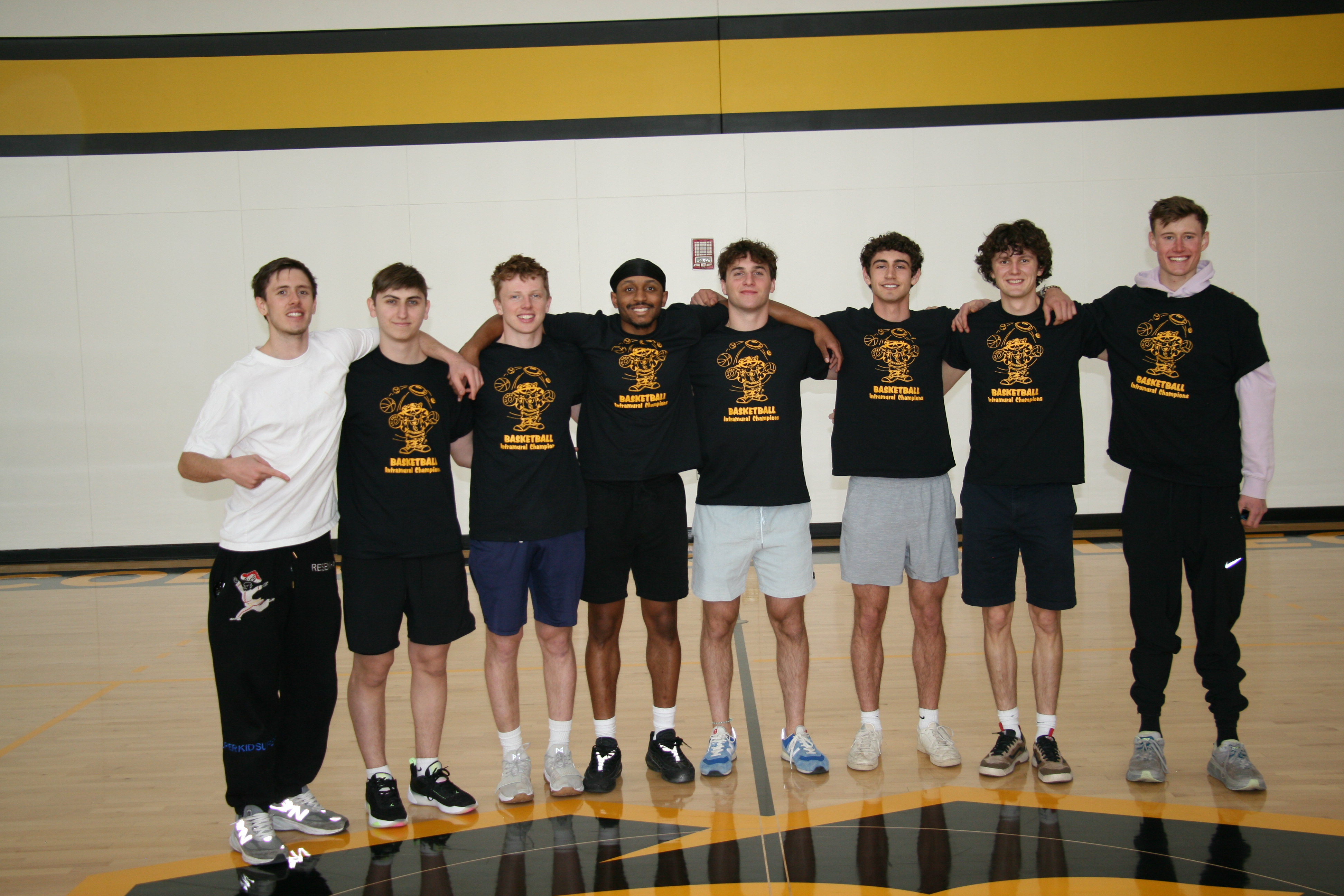 Open League Champs: Ballz of Fury (members: Michael Flynn, Mason Okun, Will Webb, Ja'Sion Woods, Luke Culver, Sam Thanassi, Jonny Gamble, Nate Kesti, and Maurice Simpson)

Past Champions
2021-2022: Open League Champs: Kareem Cheese (members: Miles Ackerman, Eli Jaynes, Ian Larned, Sam Faber, Hart Hancock, Griffin Ferguson, Nick Bishop, Sam Treat, Alex Walker, and Cullen Schoof) Co-ed League Champs: SCAAAAAT&F (members: Josh Fry, Jane Mallach, Clare Quinn, Sam Rodriguez, Emerson Worrell, Kendall Accetta, and Andrew West)
2019-2020: Open League Champs: Mike Rotch (members: Mitch Turner, Coby Dodelson, Liam Reynolds, Patrick Ende, Jake Romagnoli, Malcolm Gossett, Jamyoung Dorji, and Miles Ackerman) Co-ed League Champs: I Think Therefore I Slam (members: Chloe Duffy, Bennie Lewis IV, Jack O'Halloran, Emily McKinley, Joselinne Medrano, Sam Rodriguez, Max Blackburn, Saket Mereddy, Fernando Gomez, Nicole Chavarria, Andrew West, Abby Mercier, and Zach Klinger)
2018-2019: Open League Champions, CC Tropics (members: Nick Schulkin, Coby Dodelson, Paul Luu, Maitland Robinson, Doug Norb, Malcolm Gossett, Thad Allen, Mitch Turner, and Charlie Fox)  Co-ed League Champions, I Think Therefore I Slam (members: Sam Rodriguez, Deksyos Damtew, Zach Klingner, Saket Mereddy, Chloe Duffy, Abby Mercier, Ben Gellman, Josh Fry, Emily McKinley, Max Sandweiss, Archer Carr-Engler, Nicole Chavarria, Jack Sedwick, Tiffanny McBride, and Josie Mccallie)

2017-2018: Open League Champions, Sweet Swishas (members: Jared Bell, Sawyer Finley, Sam Block, Wes Miller, Nick Zuschneid, Nick Pearson, Will Swift, Andrew Braverman, and Jack Bush-Joseph) Co-Ed League Champions, Washed Up High School Ballers (members: Louisa Mackenzie, Kai Hill, Jules Feeney, Leo Turpan, Hollis Schmidt, Fiona Cerf, Scott Weinberger, Kellen Dreyer, Nelson Kies, Stephanie Kelly, and Zack Glosser)
2016-2017: Open League Champions, Sweet Swishas (members: Connor Rademacher, Jared Ball, Sam Block, Nick Pearson, Luke Cree, Sawyer Finley, Nick Zeushneid) Co-Ed League Champions, Washed Up High School Ballers (members: Nicole Holzman, Louisa Mackenzie, Kai hill, Jules Feeney, Leo Turpan, Hollis Schmidt, Stephanie Kelly, Andrew Meyer, Reed Young, Fiona Cerf, Scott Weinberger, Max Rawson, Nathan Makela, Joel Fisher Katz)
2015-2016: Co-Ed Champions, What's Cooke'n in the Kitchen? (members- Miguel Mendez, Grace Cooke, Trystan Alexander, Christian Kitchen, Daniel Holland, Anna Grigsby, Madi Doerre, Greg Williamson, Max Vivado, Jason Blair, Robbie Gardner, Sam Toulmin, Lauren Crdano, Kai Mesman-Hallman, Matt Edwards, Louisa MacKenzie, Jason Rickel, Ariel Fillion)
2014-2015: Open League Champions, The Perfect Swarm (members- Stuart Beezley, Trevor Houghton, Theo Hooker, Alec Martinez, Kilian Morales-Koskran, Connor Rademacher, Alexander Weber, Andrew Worthington, Max Grossenbaugh)
2014-2015: Co-Ed League Champions, Dat-ass-tastic (members- Jessie Ayers, Cailley Biagini, Mary Bowman, Samantha Curran, Matt Edwards, Louisa MacKenzie, Tyler Green, Andrew Grosenbaugh, Rachel Heron, Hunter Matrinez, Sarah Schweiss, Jordan Savold, Jaclyn Silsby, Jenny Stoot, Kaeli Vandersluis, Margan Wack, Lexi Long, Jordan Keny-Guyer)
2013-2014: Open League Champions, Iblocka Flocka Flame (members - Captain Will Brokaw, Max Grossenbacher, Isaac Salay, Reed Young, Brendan Young, Bartyn Burgdorf, Conner Haney, Whit Walker, Fischer Hazen, Ben Justman, Josh Winkler)
2013-2014: Co-Ed League Champions, December Motombos (members - Captain Drew Zieff, Kirsten Fossom, Grace Gahagan, Kai Thompson, Tyler Green, Nick Nilert, Walker Pollard, Tucker Kelleher-Brozost, Mackenzie Ross, Erica Versalovic, Katelyn Zieff, Natalie Berkman, Lucy Hamamoto)
2012-2013: Open League Champions, Only Juans (members - Captain Matt Fechter, Noah Gallo-Brown, Forest Marowitz, Keith Drury, Hunter Wolfel, Nick Lammers, Brandon Lammare, Matt Freidman, Andrew Worthington, Malcolm Perkins-Smith, Nathan Lee)
2012-2013: Co-ed League Champions, Team Dream Pace (members - Captain Hanna Berglund, Daniel Wright, Sam Brody, Jaclyn Silsby, Lexi Long, Abby Fink, Ben Birtch, Hannah Peterson, Kelly Browne, Brittney Lyman, Harrison Reid, Shaina Riciputi, Cody Kornack, Marika Viragh, Tyler Green)
2011-2012: Open League Champions,Kazam 2: Got Milk? (members: Matthew Valeta, Matthew Vargas, Mike Goforth, Cory Pyke, Ben Taber, Darrel Dooyema, Max Brown, Taylor Priver, Jakob Rosengarten, Dan Castenada, Julian Plaza)
2011-2012: Co-ed League Champions, Mantis Toboggan (members: Aaron Chin, Zoe Santos, Dylan Carpenter, Olivia Hart, Kevin Coleman, Becca Manning, Jenny Wool, Elliot Levitt); 
2011-2012: Pre-Holiday Tournament, Co-ed League Champions, Mantis Toboggan Strikes Back (members: Aaron Chin, Zoe Santos, Dylan Carpenter, Olivia Hart, Alex Klein, Katheryn Perry);
2011-2012: Pre-Holiday Tournament, Open League Champions, Straight from the Slums of Iowa (members: Jake Heine, Jeff Smith, Moses Taylor, Cam Hurd, Zander Goepfert, Zach Pierce, Nate Pearson, Alie Ehrensaft, Charles Curtis, Austin Perkins)
2010-2011: League Champions: Old Stags (members; Perry Wright, Naren Clark, Robin Grossman, Mike Podgajny, Nate Brodman, Rick Swan, Andy Partee, Kris Barney, Anthony Weber, Tom Barry, Danny Castaneda) : Co-ed League,Dribbling Seaman (members; Daniel Herz, Henry Sachman, Drew Zieff, Peter Lasky, Katie Harris, Amy Schornack, Meredith Ballard, Colleen Keresey, Devin Wilkinson)
2010-2011: Pre-Holiday Tournament, Co-ed League, We're the Bucksters (members: JP Davis, Alli Stewart, Fred Chen, Emmanuel Chan, Alex Koncak, Jakob Rosengarten, Johnny Reed, Noelani Kawashima, Joe Karwin); Open League, The Goon Squad (members: Noah Gallo-Brown, Forrest Marowitz, Keith Drury, Nick Lammers, Malcom Perkin-Smith, Charles Curtis, Chris Mayo-Smith, Ben Glass)
2009-2010: League Champions: Open League, Doug's New Tattoo; Co-ed League, Old Stags

2009-2010: Pre-Christmas Tournament Champions: Open League, Dunkin' Drunkards; Co-ed League, Lisa Lesley

2008-2009: League Champions: Open League, Dunkin Drunkards; Co-Ed League, White Men Can't Jump
2008-2009: Pre-Christmas Tournament Champions: Open League, Dunkin Drunkards; Co-Ed League, Celestial Starchild
2007-2008: League Champions: Open League, Dunkin Drunkards; Co-Ed League, Conan and the Destroyers

2007-2008: Pre-Christmas Tournament Champions: Open League, Dunkin' Drunkards; Co-ed League, no league
2006-2007: Pre-Christmas Tournament Champions: Open League, When in Rome; Co-ed League, Celestial Starchild

2005-2006: League Champions: Open League, When in Rome; Co-Ed League, Jug Boys
2005-2006: Pre-Christmas Tournament Champions: Open League, Every Rose Has Its Thorn; Co-Ed League, 
2004-2005: League Champions: Open League, Dipsolucious; Co-Ed League, Hatch's Heroes 
2004-2005: Pre-Christmas Tournament Champions: Open League, Braveheart; Co-Ed League, The Last of the Green Bowl Packers
2003-2004: League Champions: Open League, Spooned with Your Girlfriend; Co-Ed League, Six Foot Somethings 
2003-2004: Pre-Christmas Tournament Champions: Open League, The Nooners; Co-Ed League, Bus Drivers
2002-2003: League Champions: Open League, G-Unit; Co-Ed, Fattish Fatlings
2002-2003: Pre-Christmas Tournament Champions: Open League, Meat; Co-Ed League, Basketball Clinic
2001-2002: League Champions: Open League, X-Factor; Co-Ed, Basketball Clinic 
2000-2001: Pre-Christmas Tournament Champions: A League, Kay En oh Ecksss; B League, Knights of Slamalot; Co-Ed League, Ghetto Booty 

2000-2001: A League, Gamla Fjyter; B League, Cadillac Cruisers; Co-ed League, Ghetto Booty 
1999-2000: A League, Next; B League, One Step Ahead of the Monkey; Co-ed League, Ghetto Bootie 
1998-1999: A League, I Got U Babe; B League, Buffalo Wings; Co-ed League, No Names 
1997-1998: A League, BOHICA; B League, The Nads; Co-ed League, Jule's 
1996-1997: A League, BOHICA; Co-ed League, Harumph 
1995-1996: A League, BOHICA; B League, Fiji; Co-ed League, Harumph 
1994-1995: A League, Lench Mob; B League, STO; Co-ed League, Hammer