Indoor Volleyball
Rosters Due: Friday, September 15, 5:00 pm
Play Begins: Tuesday, September 26, Reid Arena, El Pomar Sports Center
The email address that the captain submits on the official roster form will be used to send information regarding schedules, rules, policies, and procedures at least 48 hours before the start of the sport season.
The Basics
All volleyball games are played in the Reid Arean in the El Pomar Sports Center. League play is organized in accordance with a round robin format scheduling each team to play in an equal number of competitions. Final season rankings will be determined by 1) winning percentage, 2) head to head play, and/or 3) point differential. The top teams will advance to a double elimination tournament to determine the overall league champion. All members of the winning team will receive IM Champion t-shirts.

General organizational rules include the following: Standard 6 vs 6 format is utilized for all indoor volleyball games. Matches are "best of three games". Games are rallied scored to 25 points, with the 3rd game played to 15 points. No cap scoring -- the team must win by two points.
2022-23 Champions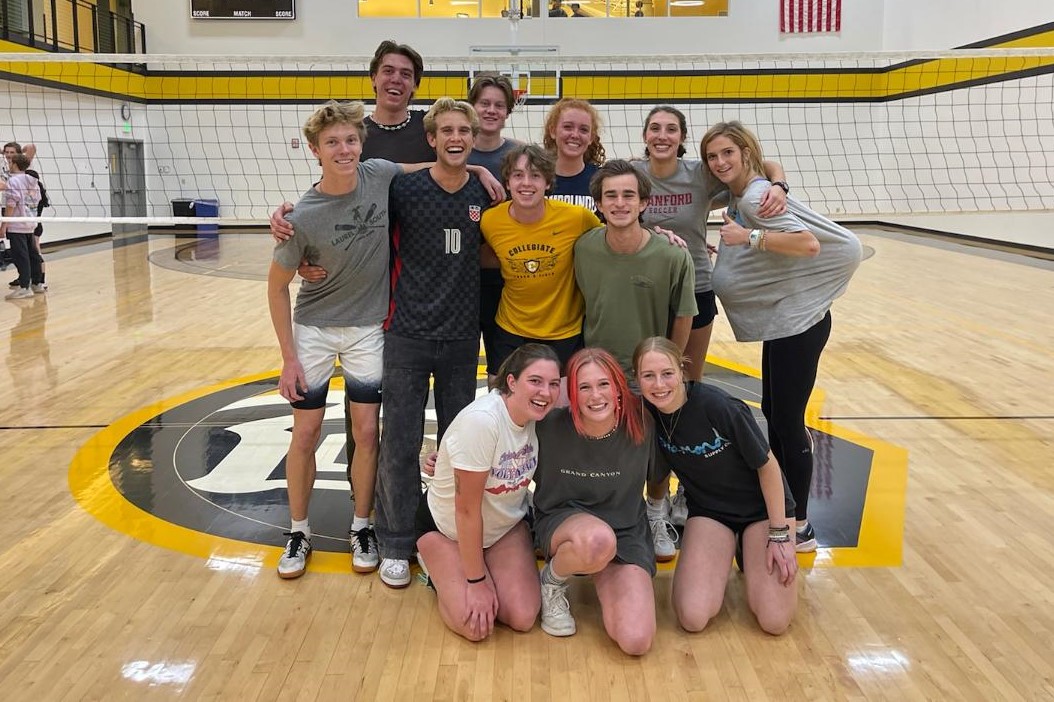 Volleybeaches (members: Kelsey Pivnick, Niko Cvitanic, Evie Angevine, Natalia Maahs, Gus Boden, Graham Fouts, Stuart Sessions, Andy Taplin, Caili Raymond, Kiana Marcx, Kai Fogelquist, Hope Angotti, and Langley Murray)
Past Champions
2021-2022: Ball Fondlers (members: Devon Ortman, Marcus Behenna, Hart Hancock, Evan Barrie-Kivel, Jake Storfer, Jackson Priddy, and Maya Kobayashi. Not pictured, Eli Jaynes, Zoe Voettiner, Kendall Havill, and Claire Prentice)

2019-2020: BOOMTOWN Jr. (members: Clay Pierce, Malone DeYoung, Daniel Walsh, Bailey Burrows, Charlie Fox, CoCo Turvold, Jamyoung Dorji, Lucy McMath, Parker Chatham, and Tommy Lutz)

2018-19: BOOMTOWN Jr. (members: Clay Pierce, Malone DeYoung, Daniel Walsh, Bailey Burrows, Charlie Fox, Charlie Schneider, Abigail Williams, and CoCo Daniels)

2017-2018: D4 Athletes (members: Nick Zuschneid, Nina Holley, Susannah Phillips, Seneca Griffin, Anna Grigsby, Sawyer Finley, Sarah Barker, Shin Olsen, and Brian Rubin)
2016-2017: BOOMTOWN (members: Grace Cooke, Ariel Filion, Emily Sussman, Eli Thornburg, Daniel Walsh, Tommy Lutz, Malone DeYoung, Sunny Chiu, Lucy McMath, Charlie Schneider and Addie Knight)
2015-2016: Triscuits (members: Casey Shaw, Jack Benham, Anthony Weber, Brian Chen, Danielle Davis, Karina Guerrero, Ian Adams and Amus Adams)

2014-2015: Spike's Peak (members: Hershal Cook, Austin Howlett, Ahya Blanco, Tina Worley, Duncan MacDougall, Lauren Juskelis, Sammy Keene, Jonathan Weignmeme, Emma Holmes, Aris Atkinson, Lev Marcus, Eric Johnson, Caleb Cofsky and Ann Hakim)

2013-2014: Junk Show

2012-2013: Thrift Shoppers

2011-2012: Smashmortions (members: Elizabeth Votruba, Emily Fukunaga, Malia Vitousek, Flynn McGuire, Matt Schull, Jackson Ordway, Melissa Schott, Thomas Reyda, Kyle Ruckman, Ryan Patterson, Patrick, Brody, Kelsey morell, Bryce Daniels, Ariana Glantz, Idy Iglehart)

2010-2011: BAW$E (members: Jedediah Doane, Will Allenback, Chris Mayo-Smith, Will Durrett, Sam Vallely, Pete Elliott, Rebecca Smith, Chelsea Penfield, Chris Edmonds)

2009-2010: Peer Ownage

2008-2009: Peer Ownage

2007-2008: Peer Ownage

2006-2007: Volleybrawlers

2005-2006: Hungry Chicken

2004-2005: Team Universe

2003-2004: Heads & Tots

2002-2003: Suck It!

2001-2002: Shut Up Louie!

2000-2001: 2 West and 3 Guys
1999-2000: A League- You Betcha; Co-Ed League- Suck it One More Time
1998-1999: A League- Micasa; Co-Ed League- Suck it
1997-1998: A League- No Names; Co-Ed League- Los Mariachis
1996-1997: A League- In the Zone; Co-Ed League- Purple People Eaters
1995-1996: A League- Estonians; Co-Ed League- Orange