Indoor Futsal
Rosters Due: Thursday, January 18, 2024, 5:00 pm
Play Begins: Tuesday, January 23, Aux Gym, El Pomar Sports Center
The email address that the captain submits on the official roster form will be used to send information regarding schedules, rules, policies, and procedures at least 48 hours before the start of the sport season.
The Basics
All Futsal games are played in the Aux Gym located on the middle level of the El Pomar Sports Center. All equipment necessary to play the game will be provided by the Intramural Department. Participants are required to wear non-marking, indoor gym shoes.
Futsal is a variant of soccer played on a hard court, smaller than a typical soccer field, and played indoors. It can be considered a version of five-a-side soccer. The game is played between two teams of five players each, one of whom is the goalkeeper. Unlimited substitutions are permitted. Unlike some other forms of indoor soccer, the game is played on a hard court surface delimited by lines. Futsal is also played with a smaller ball. The surface, ball, and rules create an emphasis on improvisation, creativity, and technique as well as ball control and passing in small spaces.
2022-2023 Champions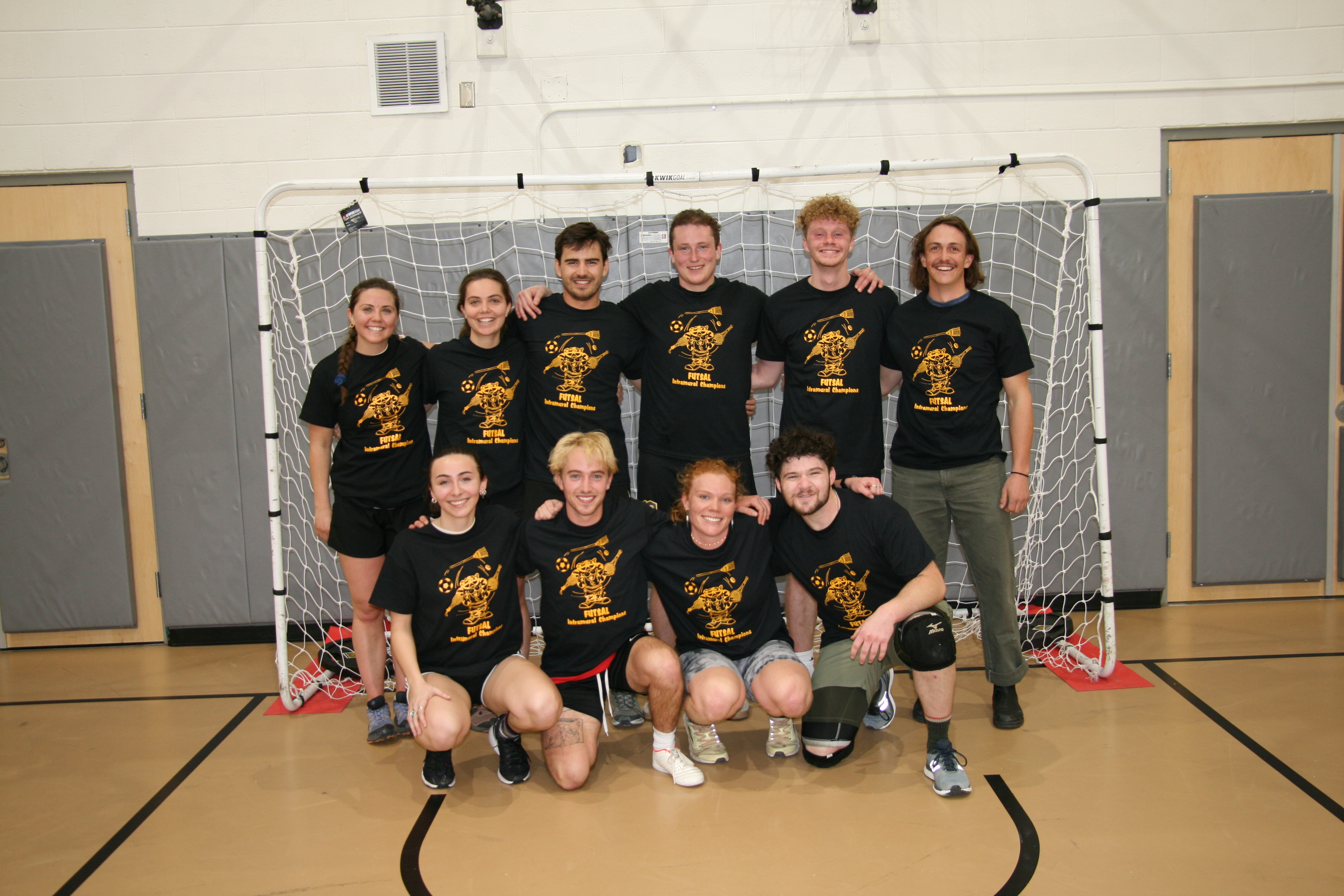 Lyon's Lions (members: Julia Raddue, Jessie Lyons, Cade Quigley, Daniel Lewinson, Caden McCallister, Ben Carpenter, Claire Schwartz, Will Taylor, Ruby Lamb, and Riley Kadis)

Past Champions
2021-2022: Gilk (members: Sophie Dua, Grace Tagtow, Casey Ferrigno, Bjorn Lynge, Andy Fresen, Ian Larned, Ben King-Hails, Justice Colfax, Max Coury, Leo Paterniti, and Sophie Roden)
2019-2020: Das Boot (members: Oliver Jones, Gabe McGill, Crane Friedman, Scot Gladstone, Maddie Alexander, Quinn Yawger, Silas Mead, Julia Shepard, Susanna Penfield, Elianna Clayton, Anna Renkert, India Hilty, Liza Scher, Hallie Conyers-Tucker, Ethan Greenberg, Olivia Martinez, and Nick Madsen)
2018-2019: Better Call Sal (members: Spencer Key, Miguel Mendez, Annie Engen, Anna Renkert, Evan Miyawaki, Hiromi Kondo, Kekai Wong Yuen, Maddie Bodell, Max Thurston, Mia Hsu, Sam Sanson, Seneca Griffin, and Taylor Fry)
2017-2018: Papi Chulos
2016-2016: Odds Are... (members: Gaving Cobb, Vivi Engen, Ibbe Febvre, Georgia Bermingham, Clay Elliott, James Reynolds, Zach Holman, Lily Benjamin, Eli Bresler, Ben Tweedy, Sam Hale, Phil Korolog, Eli Bresler, Perry Fitz, and Phil Engh)

2015-2016: Papi Chulos (members: Jairo Pineros, Emilio Rodriguez, Jeronimo Miranda, Ben Steele, Nathan Makela, Tony Connors, Maya Payel, Jules Norton, Emma Wilson, Ellen Smith and Camille Cottereau)
2014-2015: Odds Are... (members: Sam Hale, Gavin Cobb, Clay Elliott, Perry Fitz, James Reynolds, Vivi Engen, Ibby Febvre, Phil Korolog, Caleb Cofsky, Conner Haney, Ben Tweedy and Will Harlow)
2014-2015: Odds Are...
2013-2014: Headless Horst-men (members: Dan Herz, Elliott Levett, Sawyer Connelly, Sierra Keeler, Alli Weibel and Caroline O'Neil)

2012-2013: Joga Bonito (members: Santiago Burbano, Kathryn Perry, Axel Bjerke, Rafael Alonso, Yukiya Numano, Ricardo Tenente, Natalie Dulin, Jorge Rivera, Hana Wasserman, Ami Egerstrom, Masakazu, Iwasaki, Gabriel Maldonado, Caroline Mulroy, Kelsey Lenihan, Matt Weidner, Eva Hicks, Zoe Santos)