Pre-Holiday Basketball Tournament
Rosters Due: Friday, November 10, 5:00 pm
Play Begins: Monday, November 27, Rec Gym, AFP Fitness Center
The email address that the captain submits on the official roster form will be used to send information regarding schedules, rules, policies, and procedures at least 48 hours before the start of the sport season.
The Basics
All basketball games are played in the Rec Gym of the Adam F. Press Fitness Center unless otherwise noted. League play is divided into a Co-Ed league and an Open league. Both are organized in accordance with a double elimination tournament format. All members of the winning team will receive IM Champion t-shirts.

General organizational rules include the following: The playing field consists of five vs. five. The game consists of two 20-minute halves with a five minute half time. The clock will remain running until the final two minutes of the second half. During these last two minutes, the clock will stop on all dead balls. If there is a tie after the completion of regulation play, a 5 minute overtime will be played. The clock will run the entire time except for stop-time during the last one minute of overtime.
2022-23 Champions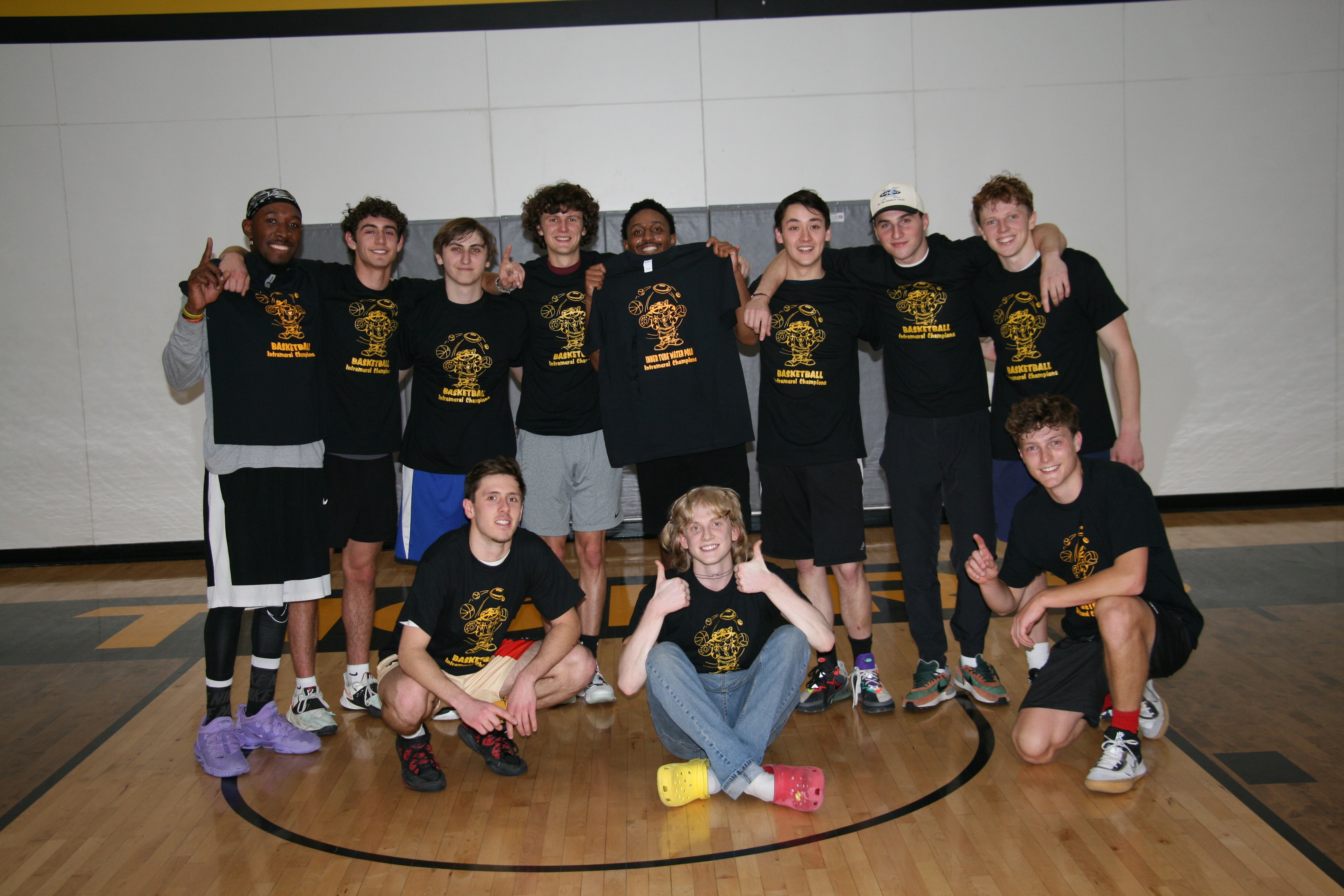 Open League Tournament Champions, Shaqtin a Fool'ers (members: Jonny Gamble, Maurice Simpson, Sam Thanassi, Mason Okun, Ja'Sion Woods, Ben Hancock-Song , Luke Culver, Will Webb, Michael Flynn, Whit Reichman, and Noah Furuseth)

Co-Ed League Tournament Champions, WMBA (members: Emily Hitt, Griffin Silver, Josh Fairmont, Nate Beerman, Ollie Smith, Kaelin Woodruff, Alexis Wessler, Alex Sandoval, Shalom Prince, Kaelin Enga, Westan Lubin, Abe Lipson, Tom Bitzer, Max Dunham, Brett Tsamasfyros, and Mariah Dominguez)
 
Past Champions
2021-2022: Open League Tournament Champions, Hoopsy Daisy (members: Ben Hancock-Song, Oliver Li, Mason Okun, Will Dykema, Nate Kesti, and Vic Qu)

2021-2022: Co-Ed League Tournament Champions, Shaqtin a Fool'ers (members: Nicky Booth, Nick Carse, Jonny Gamble, Ja'Sion Woods, Devon Ortman, Caroline Shay, Maya DeGeorge, Michael Flynn, and Emir Suhaime)

2019-2020: Open League Tournament Champions, Mike Krotch (members: Mitch Turner, Coby Dodelson, Josh Alvarado, Patrick Ende, Jake Romagnoli, Malcom Gosset, Xavi Dominguez, Robbie Gardner, and Liam Reynolds) 
2019-2020: Co-Ed League Tournament Champions, Uptown Dunk (member: Abigail Turner, Alena Stern, Anil Jergens, Annie Knight, Bella Beattie, Hunton Russell, Keelan Woodard, Kyle Zinkula, Lincoln Grench, Luca Espinosa, Maggie O'Donnell, Simon Broan, and Spencer Nuzzo)

2018-2019: Pre-Holiday Tournament, Co-Ed Champions, Ligma (member: Tyler Sym, Robbie Gardner, Ray Barrie-Kivel, Matt Edwards, Becca Stine, Annie Engen, Sam Toulmin, and Lou Mackenzie)

2018-2019: Pre-Holiday Tournament, Open Champions, CC Tropics (members: Nick Schulkin, Coby Dodelson, Paul Luu, Maitland Robinson, Doug Norb, John Schuler, Robbie Gardner, Jackson Silverstein, Eric Houghteling, Mitch Turner, Bryan Swanson, and Gus Childres)

2017-2018: Pre-Holiday Tournament, Open Champions, Sweet Swishas (members: Andrew Braverman, Wes Miller, Jared Bell, Will Swift, Sawyer Finley, Jack Connors, Nick Pearson, Nick Zuschneid, and Sam Block)
2017-2018: Pre-Holiday Tournament, Co-Ed Champions, Washed Up High School Ballers (members: Jules Feeney, Nelson Kies, Hollis Schmidt, Leo Turpan, Scott Weinberger, Louisa Mackenzie, Fiona Cerf, and Anna Grigsby)
2016-2017: Pre-Holiday Tournament, Open Champions, Sweet Swishas (members: Wes Miller, Christopher Birtch, Nick Pearson, Connor Rademacher, Sawyer Finley, Andrew Bravermen, Jack Connors, and Grayson Kristoff)
2016-2017: Pre-Holiday Tournament, Co-Ed Champions, Pup n Sud (members: Sam Toulmin, Melanie Alexander, Amanda Martin, Robbie Gardner, Matt Edwards, Miguel Mendex, Grace Cooke, Ray Barrie-Kivel, and Jordan McCann)
2015-2016: Pre-Holiday Tournament, Open Champions, Like Mike 3: The College Years (members: Jed Ball, Will Brokaw, Connor Haney, Fischer Hazen, Isaac Salay, Adam Young, Ian Adams, Karl Oman, Josh Winkler, Cody Duckworth, Max Rawson, Ben Justman, Reed Young)
2015-2016: Pre-Holiday Tournament, Co-ed Champions, Five Finger Death Slam (members: Mercedes Whitman, Sanjay Roberts, Allen Tian, Charlie Neaves, Mansour Alamindyer, Annie Malecek, Margaret Pierson, Austin Eide, Cailley Biagini, Anita Limbri, Kevin Morales, Chris Lee, Jonathan Wenegeime, Nebeu Abraha, Aiden Smith-Eppstein, Justin Haas, Jinkng Yu, Yizheng Wang, Jesus Loayza)
2014-2015: Pre-Holiday Tournament, Open Champions, The Jed Ballers (members: Jed Ball, Will Brokaw, Connor Haney, Fischer Hazen, Ben Justman, Connor O'Brien, Carl Oman, Isaac Salay, Adam Sterry, Adam Young, Cody Duckworth)
2014-2015: Pre-Holiday Tournament, Co-ed Champions, The Shift Show (members: Aiden Acquisto, Katie Sullivan, Jessie Ayers, Courtney Birkett, Karina Gurrero, Nina Holley, Abby Holtze, Julia Lawton, Sarah Barber, Ian Pelto, Suzannah Philip, Keli Sherwood, Rick Swan, Laruen Torvi, Davis Tutt, Glenna Yancey, Wes Kosel, Sophie Memfield, Frank Abruzzini)
2013-2014: Pre-Holiday Tournament, Open Champions, Fellowship of the Rim (members: Jake Russin - Captain, Brad Bachman, Doron Mitchell, Aaron Chin, Teo Price-Broncucia, Brendan Young, Jigmei Dorji, Peter Elliott, Kenny Marsh )
2013-2014: Pre-Holiday Tournament, Co-ed Champions, How I Beat Shaq (members: Graham Coffman - captain, Eliza Jacobson, Leslie Dinkin, Grace Geracioti, Ian Adams, Sam Hale, Suzie McMurty, Nikki Holtzman, Emma Brachtenbach, Will Sardinsky)
2012-2013: Pre-Holiday Tournament, Open Champions, Only Juans (members: Forrest Marowitz - captain, Matt Fechter, Andrew Worthington, Nick Lammers, Hunter Wolfeil, Noah Gallo, keith Drury, Malcolm Perkins-Smith)
2012-2013: Pre-Holiday Tournament, Co-ed Champions, the shift show (members: Karina Guerrero - captain, Courtney Birkett, Lauren Hahn, McQuella Adams, Kaimara Herron, Emily Phillips, Sophie Merrifield, Kierston Knoppel, Max Rawson, Willy Harrison, Jonathon Wenegieme, Collin Hartland, Tom Crosby, Kierra Vazales, Kate Scheele)
2011-2012: Co-ed League Champions, Mantis Toboggan (members: Aaron Chin, Zoe Santos, Dylan Carpenter, Olivia Hart, Kevin Coleman, Becca Manning, Jenny Wool, Elliot Levitt); Open League Champions,Kazam 2: Got Milk? (members: Matthew Valeta, Matthew Vargas, Mike Goforth, Cory Pyke, Ben Taber, Darrel Dooyema, Max Brown, Taylor Priver, Jakob Rosengarten, Dan Castenada, Julian Plaza)
2011-2012: Pre-Holiday Tournament, Co-ed Champions, Mantis Toboggan Strikes Back (members: Aaron Chin, Zoe Santos, Dylan Carpenter, Olivia Hart, Alex Klein, Katheryn Perry); Open Champions, Straight from the Slums of Iowa (members: Jake Heine, Jeff Smith, Moses Taylor, Cam Hurd, Zander Goepfert, Zach Pierce, Nate Pearson, Alie Ehrensaft, Charles Curtis, Austin Perkins)
2010-2011: League Champions: Old Stags(members; Perry Wright, Naren Clark, Robin Grossman, Mike Podgajny, Nate Brodman, Rick Swan, Andy Partee, Kris Barney, Anthony Weber, Tom Barry, Danny Castaneda) : Co-ed League,Dribbling Seaman (members; Daniel Herz, Henry Sachman, Drew Zieff, Peter Lasky, Katie Harris, Amy Schornack, Meredith Ballard, Colleen Keresey, Devin Wilkinson)

2010-2011: Pre-Holiday Tournament, Co-ed League, We're the Bucksters (members: JP Davis, Alli Stewart, Fred Chen, Emmanuel Chan, Alex Koncak, Jakob Rosengarten, Johnny Reed, Noelani Kawashima, Joe Karwin); Open League, The Goon Squad (members: Noah Gallo-Brown, Forrest Marowitz, Keith Drury, Nick Lammers, Malcom Perkin-Smith, Charles Curtis, Chris Mayo-Smith, Ben Glass)

2009-2010: League Champions: Open League, Doug's New Tattoo; Co-ed League, Old Stags

2009-2010: Pre-Christmas Tournament Champions: Open League, Dunkin' Drunkards; Co-ed League, Lisa Lesley

2008-2009: League Champions: Open League, Dunkin Drunkards; Co-Ed League, White Men Can't Jump
2008-2009: Pre-Christmas Tournament Champions: Open League, Dunkin Drunkards; Co-Ed League, Celestial Starchild
2007-2008: League Champions: Open League, Dunkin Drunkards; Co-Ed League, Conan and the Destroyers

2007-2008: Pre-Christmas Tournament Champions: Open League, Dunkin' Drunkards; Co-ed League, no league
2006-2007: Pre-Christmas Tournament Champions: Open League, When in Rome; Co-ed League, Celestial Starchild

2005-2006: League Champions: Open League, When in Rome; Co-Ed League, Jug Boys
2005-2006: Pre-Christmas Tournament Champions: Open League, Every Rose Has Its Thorn; Co-Ed League,
2004-2005: League Champions: Open League, Dipsolucious; Co-Ed League, Hatch's Heroes
2004-2005: Pre-Christmas Tournament Champions: Open League, Braveheart; Co-Ed League, The Last of the Green Bowl Packers
2003-2004: League Champions: Open League, Spooned with Your Girlfriend; Co-Ed League, Six Foot Somethings
2003-2004: Pre-Christmas Tournament Champions: Open League, The Nooners; Co-Ed League, Bus Drivers
2002-2003: League Champions: Open League, G-Unit; Co-Ed, Fattish Fatlings
2002-2003: Pre-Christmas Tournament Champions: Open League, Meat; Co-Ed League, Basketball Clinic
2001-2002: League Champions: Open League, X-Factor; Co-Ed, Basketball Clinic
2000-2001: Pre-Christmas Tournament Champions: A League, Kay En oh Ecksss; B League, Knights of Slamalot; Co-Ed League, Ghetto Booty

2000-2001: A League, Gamla Fjyter; B League, Cadillac Cruisers; Co-ed League, Ghetto Booty
1999-2000: A League, Next; B League, One Step Ahead of the Monkey; Co-ed League, Ghetto Bootie
1998-1999: A League, I Got U Babe; B League, Buffalo Wings; Co-ed League, No Names
1997-1998: A League, BOHICA; B League, The Nads; Co-ed League, Jule's
1996-1997: A League, BOHICA; Co-ed League, Harumph
1995-1996: A League, BOHICA; B League, Fiji; Co-ed League, Harumph
1994-1995: A League, Lench Mob; B League, STO; Co-ed League, Hammer