Overview
Overview
At 8,000 feet, this beautiful region rests within the San Luis Valley of Colorado. Indigenous inhabitants of the area include the Ute while nomadic groups of Capote and Comanche people traveled through the land. In 1823, Mexico granted 600,000 acres of land to Juan Maria Cabeza de Baca.
This grant was made in an effort to secure claims against the governments of Texas and the United States. In 1860, the Luis Maria Baca Grant Number Four became what is now the Baca Grande development. When gold was discovered in the area, the town of Crestone was born.
Two decades ago, The Colorado College began an experiment of creating a space for reflection in order to enhance learning. This experiment began in 1987 when English Professor Joe Gordon led his class on a field trip to facilities owned by the Aspen Institute in Crestone, Colorado. Surrounded by mountains, streams, wildlife and forests, the students' engagement with class material was clearly enhanced.
As a result of Gordon's recommendations, the College leased three condominium units and the conference center from the Aspen Institute and a fundraising campaign was initiated. In 1990, with the special support of Trustee Emeritus Jerome McHugh, a townhouse, the conference center, and adjacent land was purchased. In September of 1992, the 7,000 square foot lodge was built with help from then Trustee Edith Gaylord Harper and the El Pomar Foundation. In 2003, a computer laboratory was added. Since 1987, more than 30,000 students have been involved in the educational and reflective aspects of the campus.
Facilities
The Conference Center provides meeting spaces for groups and generally do not need to be reserved.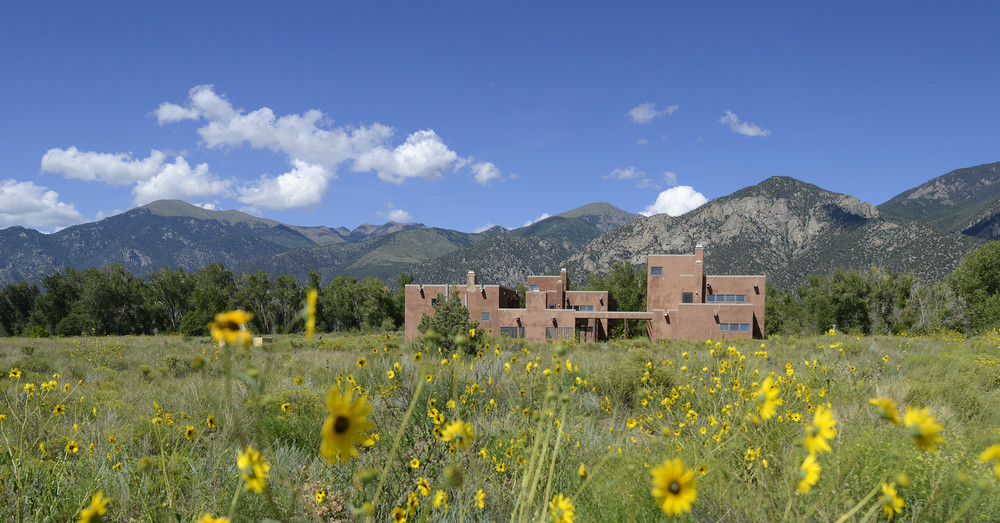 Combined, the lodges provide housing for up to 24 students and 4 faculty/staff as well as the library and campus office. The library has a flat screen tv and seating for ~20.
Combined, the townhouses offer accommodations for up to 18 students and 2-4 faculty/staff.
Campus Information
Conference Center
The sun warms both the outdoor terrace and the quarry-tiled lobby. Inside the center, two hexagonal meeting rooms are designed to accommodate either large (up to 70) or small (up to 16) groups in a sky-lighted area which is equipped with comfortable chairs, conference tables, a small computer lab, and audio-visual equipment. The conference center is located a short walk over Crestone Creek from the townhouses.
The Lodges
Lodge A:
Sleeps 12
4 bedrooms (3 twin beds in each), 2 bathrooms
Full Kitchen
Lodge B:
Sleeps 12
4 bedrooms (3 twin beds in each), 2 bathrooms
Full kitchen
Faculty Apartment:
Sleeps 4-6
2 bedrooms (1 twin-over-full bunk bed in each), 1 bathroom
Full kitchen
The Townhouses
Townhouse 7:
Sleeps 9
3 bedrooms (3 twin beds in each), 3 bathrooms
Full kitchen
Townhouse 8:
Sleeps 12
3 bedrooms (2 bunk beds in each), 3 bathrooms
Full kitchen
Townhouse 14 (aka faculty townhouse):
Sleeps 2-4
2 bedrooms (1 queen bed in each), 2 bathrooms
Full kitchen
Reservations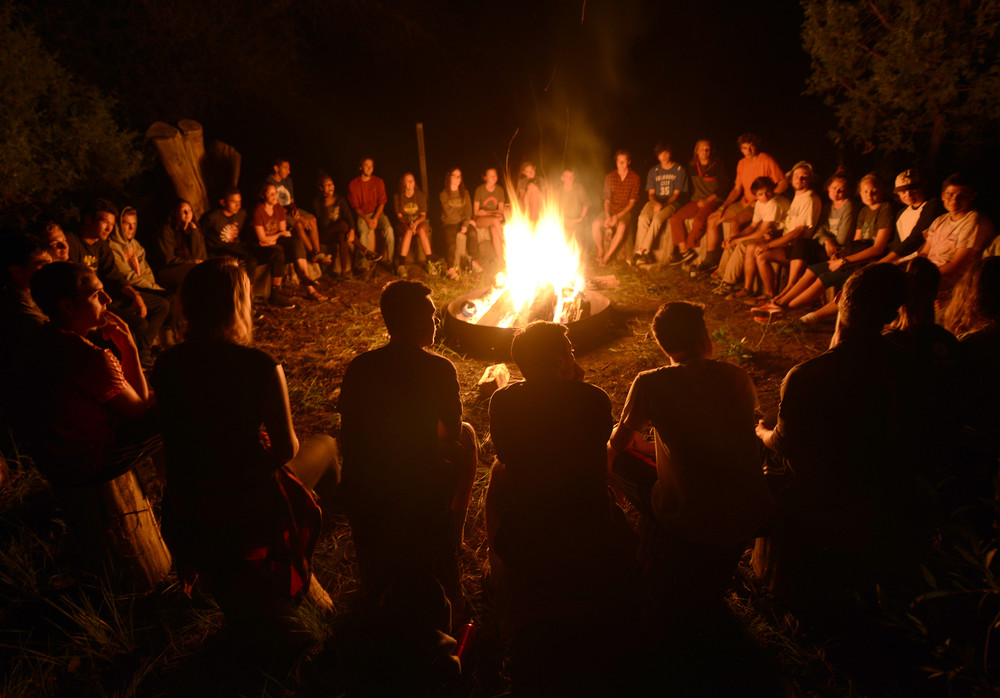 CC classes receive first priority, and are booked on a "first come, first served" basis. A faculty, administrative, or staff advisor must accompany all student groups.

Reservations for courses may be made up to one year in advance.
Faculty should reserve space for classes up to one year and no later than 6 weeks ahead of time to allow for effective use of the campus.
There is no charge for using the campus for academic use.

Affiliated campus groups (e.g., Writing Center, Shove Council, ORC, International Students, etc.) have second priority.

Second priority reservations cannot be confirmed for weekdays during block 1-8 prior to 6 weeks from the time of arrival.
There is no charge for using the campus for these groups.

Private visits (CC employees and alumni) shall have third use priority.

Private visits by CC staff and faculty (and alumni) are offered as a benefit to CC employees when not reserved by classes and CC groups.
Reservations for private visits can be requested from 5 days to 180 days out.
Charges for private visits are: $75/stay/unit
After reservations are made, a confirmation will be sent via email. This confirmation will include the facility the individual party will be staying in, the total cost for the visit, and payment instructions.
Check-in and check-out times are 3:00 PM and 10:00 AM, respectively. Alternate accommodations may be possible upon request.
Please email Richard Bishop for additional inquiries and information not included on this page.
Reservations are now processed through Summit. Please choose the type of reservation you'd like below:
Getting to Baca
The Baca Campus is located at:
1 Baca Campus Rd.
Moffat, CO 81143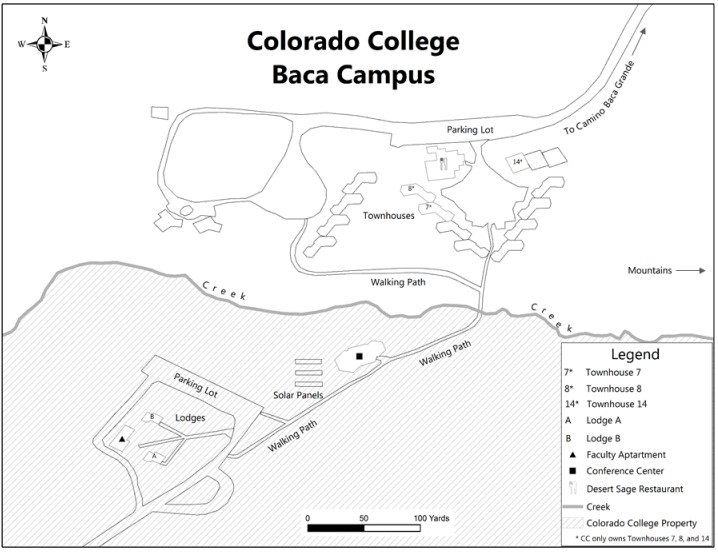 You can also view printable driving directions or a detailed map and here.