Billing & Finances
Summer Financial Aid is available for CC Summer programs off-campus/abroad, but the pool of funding is limited, and it is critical that students pay attention to application processes and deadlines.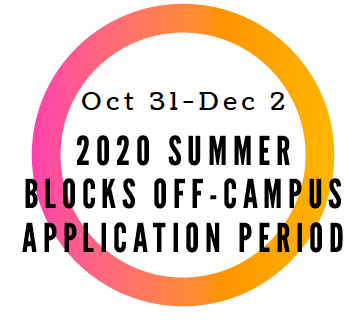 Eligibility: Aid is available to all Colorado College students who have completed their first semester of study and who are currently on need-based financial aid at the College (FAFSA for U.S. students and CSS Profile for international students). If you have previously received a Summer Financial Aid Award, you are not eligible to apply again. You must also be enrolled full-time in fall semester to be eligible for aid.
Note that summer aid awards are separate from Academic Year (AY) aid awards, so if you've been awarded an AY award before, you CAN apply for a summer award. Each CC student is eligible for one summer award and one AY award.

Awards: Awards will be granted on a first-come first-served basis and preference will be given to rising seniors, then rising juniors, then rising sophomores. The amount awarded is based on your level of financial need. Summer Financial Aid Awards take into account the total course costs, including the program fee, estimated airfare, and any additional costs such as a required visa (assumes use of Wild Card).
Note: If you have an outstanding balance on your student account, no award will be made until the balance is cleared. Awards are not transferable; if you drop your course you must re-apply for an award for a different course (unless your original course was canceled).
Apply for aid: Application for summer financial aid and programs will be via Summit. The Summer 2020 application is open in Summit from October 31 through December 2.
The cost for each off-campus summer course consists of two charges that will be billed to your account in early April:
Tuition: Students are charged Summer Session tuition for all summer CC units that are not covered by the Wild Card. The Wild Card is automatically applied to the first summer course in which you enroll (with the exception of independent study courses that are not eligible for the Wild Card). Note that the Wild Card covers one unit of tuition and some off-campus summer courses are 1.5 or 2.0 units. The 2019 Summer Session tuition rate is $4,600 per one CC unit of credit.
Program fee: This fee covers travel-related expenses of the course such as housing, meals, excursions, entry fees, local transportation, etc. Most do not cover airfare. It is your responsibility to understand what is included in the program fee and what is not covered.
FINANCIAL PENALTIES FOR DROPPING AN OFF-CAMPUS SUMMER COURSE:
Students must officially drop the course online. Communicating intent to drop to the professor is NOT sufficient.
If you drop a summer course by February 15, there is no late drop penalty.
Withdrawal from a summer course after the February 15 deadline will cause a portion of the program fee to be nonrefundable. If not yet paid, these charges will be billed to you. Nonrefundable or billable costs for a late withdraw are as follows:

Greater than 61 days prior to course start date: 25% of program fee.
31-60 days prior to course start date: 50% of program fee.
22-30 days prior to course start date: 75% of program fee.
0-21 days prior to course start date: 100% of program fee + 30% of tuition charge.
DEPOSIT: There is no deposit required to register for an off-campus summer course.