INTEGRATION WITH LEARNING AND RESEARCH
How might we build the capacity of our faculty and students to meaningfully integrate community-based work into teaching, learning, and scholarship?
---
To purposefully impact our community or students, we believe community engagement must be integrated with the core intellectual pursuits of higher learning. To impact community, CC must leverage our greatest public asset - knowledge learned in, and alongside, the classroom and created through research. To impact students' development into lifelong citizens, students must have the opportunity to learn and grow from their engaged experiences in intentional, structured ways.
To enable community-engaged pursuits within the classroom and research agendas, the CCE will work to expand the capacity of interested faculty by providing intellectual and practitioner support in each stage - knowing what to do and how to do it, making it happen, making it better, and sharing it with others. In particular, we will work to "Build on the Block" by seeking to better understand, adapt to, extend, and leverage a condensed, immersive course format for community impact. This work should and will be done in deep partnership with our resident experts on how to best integrate public work into the block - CC faculty. Lastly, recognizing some of the inherent limitations of the block in sustaining community work, we have a rich opportunity to integrate community-based learning and research into co-curricular spaces, as well as meaningfully connect students' curricular and co-curricular experiences.
Goals

Enhance knowledge of community-engaged pedagogies and methodologies.

To support learning goals and research agendas, connect faculty and students to community-based organizations and needs in Colorado Springs and the Pikes Peak Region.

Develop and offer resources to support community-engaged teaching, learning, and research.

Cultivate communities of praxis - groups that support one another in integrating theory and practice.

In partnership with faculty, integrate community-based work and teaching, learning, and research in and alongside the classroom.
Strategic Initiatives
In this blockly lunch-and-learn, a faculty presenter or small panel shares their engaged teaching or research with interested faculty from across the college. This series is intended to support faculty who would like to learn more about community-engaged teaching and research on the block format, meet like-minded colleagues, and discover faculty projects with which they can get involved. These lunches are intentionally informal to enable faculty to ask questions and dialogue with one another, explore how to implement engaged models, and discuss possible collaborations. Critically, these lunches also provide a space to share and celebrate the engaged work of faculty.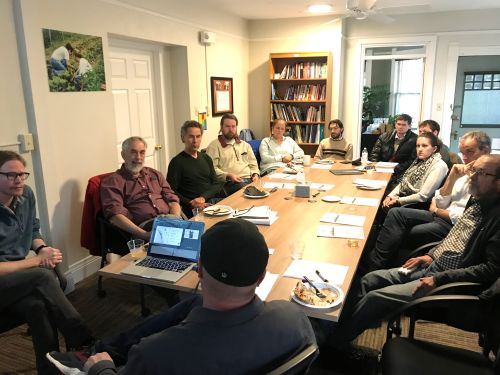 ---
Community Partner RFP (Request for Proposals) for Research Projects
Through facilitating a "Request for Proposals" (RFP) process for community-based organizations, the CCE will begin to generate a list of community-driven projects that can connect to teaching or research. First, we will scaffold the process by educating partners about research methods and outcomes, the capacities of our faculty and students, and the block schedule. Then, we will support an application process through which partners can share research needs and knowledge-based project ideas. A committee will review applications to curate a list of possible community-engaged research project ideas, which the CCE will share widely as well as proactively targeting specific faculty and courses. The goal for this process is to guide faculty teaching and research toward community-identified needs, as well as guide our partners toward the types of projects that best leverage knowledge and provide learning opportunities.
---
Engaged Journalism

In this course, students will examine the theory and practice of engaged journalism through an experiential course project on "Guns in Schools" in partnership with Rocky Mountain PBS and the CC Journalism Institute. Course content will cover concepts, principles, and strategies for engaging communities as active participants in, rather than subjects of, journalism that produces publicly relevant and actionable knowledge. Through exploration and experience in journalistic efforts to democratize knowledge production and dissemination, the course provides a lens into the ways in which knowledge can reflect and perpetuate, or actively resist, societal inequalities. Through teaching this course, the CCE provides students with a deep opportunity to integrate learning and engagement, and hones a model of engaged teaching on the block to share with faculty.
Incorporated Strategies
Leverage faculty experienced in community-engaged work
Offer integrative experiences that fuse learning, research, and engaged action
Heighten awareness of community-identified needs, organizations
Build working knowledge of faculty research and teaching interests
Centralize information to enable and promote partnerships
---
Select a Specific Tenet:
---
Explore the Plan