Orientation
NSO/WSO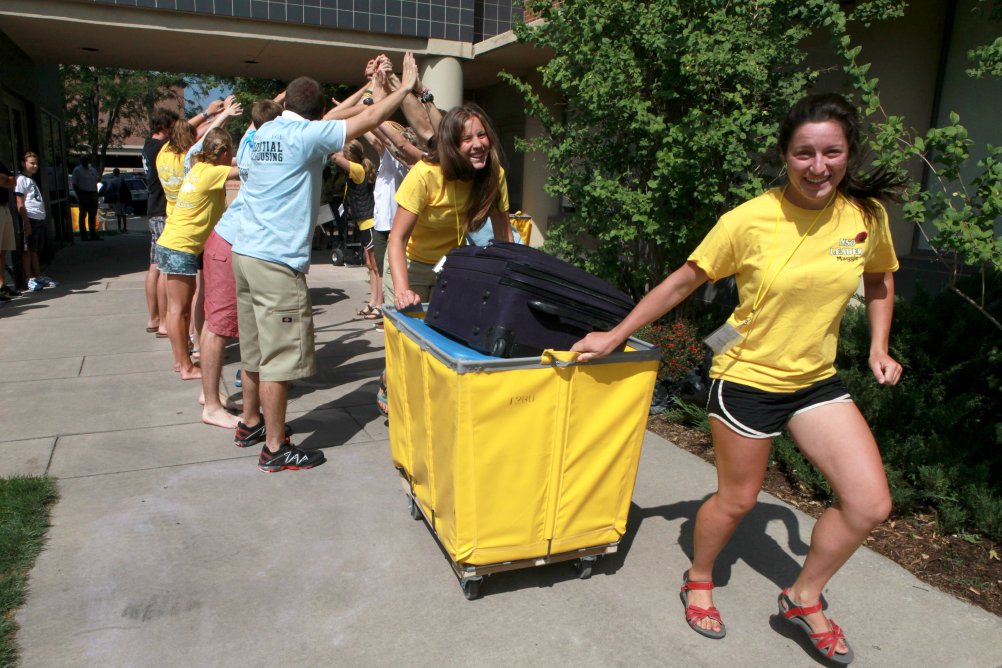 Stay tuned for info on Fall Orientation 2022
Move-in dates: Aug. 19-20, 2022
Winter Start Orientation 2022
Jan. 16, 2022
Winter Start Orientation (WSO) is for students who have been admitted as winter starts (first year, transfer, and exchange). Information and the complete schedule for both students and parents/guests can be found at CC Bound.


New Parent/Family Orientation 2021
August 18-19, 2021
We are very excited to welcome you to campus during new student move-in and help you get to know CC. This August, two visitors per student will be allowed in the residence halls to help with the move-in process. There will also be student helpers available to assist!

As part of the housing assignment process, your first-year or transfer student will sign up for a move-in time slot on Aug. 18 or 19, and will receive more detailed information about the arrival process. Students such as international students, Bridge Scholars, athletes, etc. who have unique move-in schedules should refer to specific information sent from that program. 
Upon arrival to campus, all students will need to obtain a negative test result from a rapid Covid test. More information about move-in day requirements and scheduling a test for students is available on the CC Bound page. Once your student has a negative test result, all students, parents, family members, or other guests should check in under the NSO tent on Worner Quad. Pre-registration is not required for visitors, but we ask you to check in at this tent on arrival. Here you will receive a name badge, resource bag, self-guided tour map, tickets for a to-go meal from Rastall, and instructions for joining the drop-in welcome reception.  
After checking in, please proceed to your student's residence hall for move-in. Remember to bring a mask and wear it—masks are required in all indoor spaces, as well as outdoors in large gatherings at CC. Once your student is moved in, feel free to use the self-guided tour map to explore campus at your convenience. There will be CC ambassadors stationed at key places throughout campus to help direct you and answer any questions you may have.   
 
Please also plan to join us under the Parent and Family Reception tent on Tava Quad for an informal welcome reception and resource fair. This will be an excellent opportunity to meet other CC families, interact with CC staff, and learn more about all CC has to offer. Many campus partners and programs will be represented to help you get oriented to CC. Your student is welcome (but not required) to accompany you. Please note, while the reception tent will be open from 9 a.m.-5 p.m. on both Aug. 18 and 19, some campus partners will only be staffing their resource tables between 11 a.m.-3:00 p.m. on those days. If you are interested in connecting in person with campus partners, please plan to join us during those hours.   
New Student Orientation 2021
August 18-28, 2021
Participation in orientation is required for all new first-year and transfer students at Colorado College. All the most up-to-date information can be found on the NSO page of the CC Bound site.
Get More Details
CC Bound Orientation Website
Dates, deadlines, to-do's, and other important new student information are all available through CCBound, which is updated every spring.
Students will be sent the information they need to access CC Bound via email. Fall start students can expect to receive their information as early as June 1. Winter start students can expect to receive their information as early as July 1. Your student's Colorado College ID number, Colorado College email address, Colorado College network account username, and Colorado College network account password are included in this email. It is important for your student to access his or her new CC email-as well as the CC Bound-as soon as possible after receiving this communication.
If your student does not receive this information, or if they encounter difficulty accessing email or CCBound, please contact the Office of Campus Activities and New Student Orientation via email at orientation@coloradocollege.edu or by phone at (719) 389-6800 for support and assistance. Parents and families with concerns are welcome to be in touch with the Office of Parent and Family Programs via email at parents@coloradocollege.edu or by phone at (719) 389-6103.
Health and Wellness
Health and wellness are important factors for student success, and Colorado College offers several resources that support student health and wellness. These resources are available to all students, both those with the student insurance plan and those with private coverage:
The Wellness Resource Center, under the direction of psychologist Heather Horton, works to create an environment that nurtures the development of the whole person and empowers individuals to make healthy lifestyle choices. The WRC works to coordinate and integrate campus-wide efforts to promote health and prevent health problems.
The Student Health Center is a partnership between Colorado College and DaVita Medical Group (formerly CSHP) to provide quality health care on campus. During the academic year, the health center is open Monday-Friday from 8 a.m. to 9 p.m. and on Saturday and Sunday from 12 to 5 p.m. Nurses and a nurse practitioner are available to assess student needs and provide both preventive care and care for routine illness. If necessary, specialist referrals can be made within the DaVita network of providers.
The Counseling Center, under the direction of psychologist Bill Dove, is dedicated to supporting the educational mission of Colorado College by providing mental health services on campus. The center employs a variety of clinicians with a wide range of specialties and clinical interests. All students are eligible to receive six free counseling sessions each academic year at Colorado College. The center also offers medication prescribing and management, as well as a tele-counseling service that is available for after-hours concerns and general support.
Health Records
An important part of our efforts to ensure a safe and healthy environment for everyone in the CC community is documenting immunizations and certain health information. Now is a great time to visit your primary care physician at home, collect this documentation, and talk with your physician about other health-related plans for coming to college. Please review the requirements and submit appropriate documentation at your earliest convenience. Completing the documentation is part of Colorado College's compliance with Colorado State Law, which requires that all students attending a residential college in the state show proof of immunity. Students will not receive a housing assignment until these forms have been received.
Health Insurance Requirement
All students attending Colorado College are required to have health insurance. In accordance with this requirement, all student accounts will be billed for the student health insurance plan underwritten by United Healthcare on or after July 1.
Students must take action each year they are enrolled as a CC student to either:
Enroll in the college-sponsored plan through an online enrollment process. The coverage will then be effective from August 1 through July 31. OR
Waive the college-sponsored plan by providing proof of insurance from a private health insurance plan which meets Affordable Care Act (ACA) requirements. Once the online waiver process is completed, the charge on the student account for the college-sponsored plan will be reversed.
Detailed instructions are available here about the waiver/enrollment process - including time periods for waiver/enrollment and a link to the electronic portal. Questions about the student health insurance plan may be directed to Kimberly Taylor at (719) 389-6386 or kimberly.taylor@coloradocollege.edu.
Accessibility Resources
Is your student planning to request disability-related accommodations at CC (e.g., extended time for exams, note-taking support, audio formats of text, accessible housing)? If so, Accessibility Resources encourages your student to connect with them by June 30 if possible. (Please note, though, that students can register with Accessibility Resources at any time during their enrollment at CC.)
Information on registering with Accessibility Resources can be found here.
Questions? Please call the Accessibility Resources staff (Jan Edwards, Director, and Sara Rotunno, Assistant Director) at 719-227-8285 or send an email.
Room Assignments and Roommates
Fall start students will receive an email in June with information about how to access the online housing agreement so that they can provide us with room and roommate preference information. Winter start students can expect to receive this email in July.
After all fall start students have submitted their housing information forms, the Residential Life and Housing Office will begin the process of assigning rooms and roommates. We endeavor to carefully balance the consideration of individual needs with the needs of each residential life community when matching roommates. Your student's patience waiting for their assignment is appreciated!
Fall start students can expect to receive their room assignment and the name(s) of their roommate(s) via email in early August. Winter start students will not receive their room and roommate assignments until just prior to orientation.
Read more about what to bring and get answers to common housing questions.
Sending Packages
You are welcome to send packages to your student prior to arrival on campus. All packages will be held for pick-up during orientation. As most new students will not yet have a mailbox assignment, please mark "hold for incoming student" on the outside of the shipment. Students can find their CC Box # by logging on to Banner through Single Sign On.
Student's full name (no nicknames, please)
CC Box #
Colorado College Campus Mail
819 N. Tejon St.
Colorado Springs, CO 80946
Paying the Bill
All billing information and statements are managed through TouchNet, our student accounts billing system, which provides real-time student account activity, online ACH payments (debit to savings or checking account), and payment plan setup. Students are required to authorize access to this site for their parents and/or other payers due to FERPA regulations. Students will be asked to complete this process in July. More detailed information explaining this process will be sent to students via email. Once your student has invited you as an "authorized user," then you may log in to the TouchNet site.
TouchNet log-in, as well as information about the billing schedule, tuition and fees, payment plans ... and more, is available on the student accounts website.
Financial Aid
If you have questions about financial aid, please call the financial aid office at (719) 389-6651 or 1-800-260-6458 or email financialaid@coloradocollege.edu.
Microsoft Office
All Colorado College students are eligible to download the full Microsoft Office suite for free as part of our institutional Office 365 program. Click here for installation information. For questions or troubleshooting, contact the Help Desk.
What to Expect
Please see updated information for move-in and orientation.
Move-In Day is the official kick-off to a full week of New Student Orientation activities. It is designed to provide time for you and your student to transfer belongings to a dorm room, "take care of business," meet other families and enjoy a meal together, and participate in programming for both students and families. Keep an eye on the orientation schedule for complete information about Move-In Day and the other activities your student will participate in throughout New Student Orientation.
On Move-In Day, residence halls typically open at 8 a.m. When you arrive on campus, go immediately to your student's assigned residence hall. If you are unsure of the residence hall location, check the campus map. Many enthusiastic student helpers will be available to assist you with unloading and carrying. You will be pleasantly surprised at how quickly student belongings make it from the car to the room, giving you ample time to help your student begin to unpack!
Please refer to the printed schedule provided at check-in for additional activities throughout the day. Questions are welcome! If you are unsure about anything, don't hesitate to ask any staff member for help.
If you are the parent or family member of a student who will arrive early at CC (athletes, Bridge Scholars, Global Scholars, and international students), you are welcome, but not required, to return to campus for Move-In Day activities.
Supporting Your Student
For first-year students especially, the college years are a time of growth, change, and exploration. They are faced with multiple challenges: adapting to a new environment, forming new social relationships, and adjusting to more rigorous academic expectations. As a concerned and caring parent, you might ask yourself, "how do I best support my student?" Read more here about conversation starters and suggested resources for your student's first year at CC.