Introduction to the Bonner Fellowship
What is the Bonner Fellowship?
Are you committed to making the world a better place?
Do you want to develop the skills and techniques needed to be an effective changemaker?
Then the Bonner Fellowship might be for you!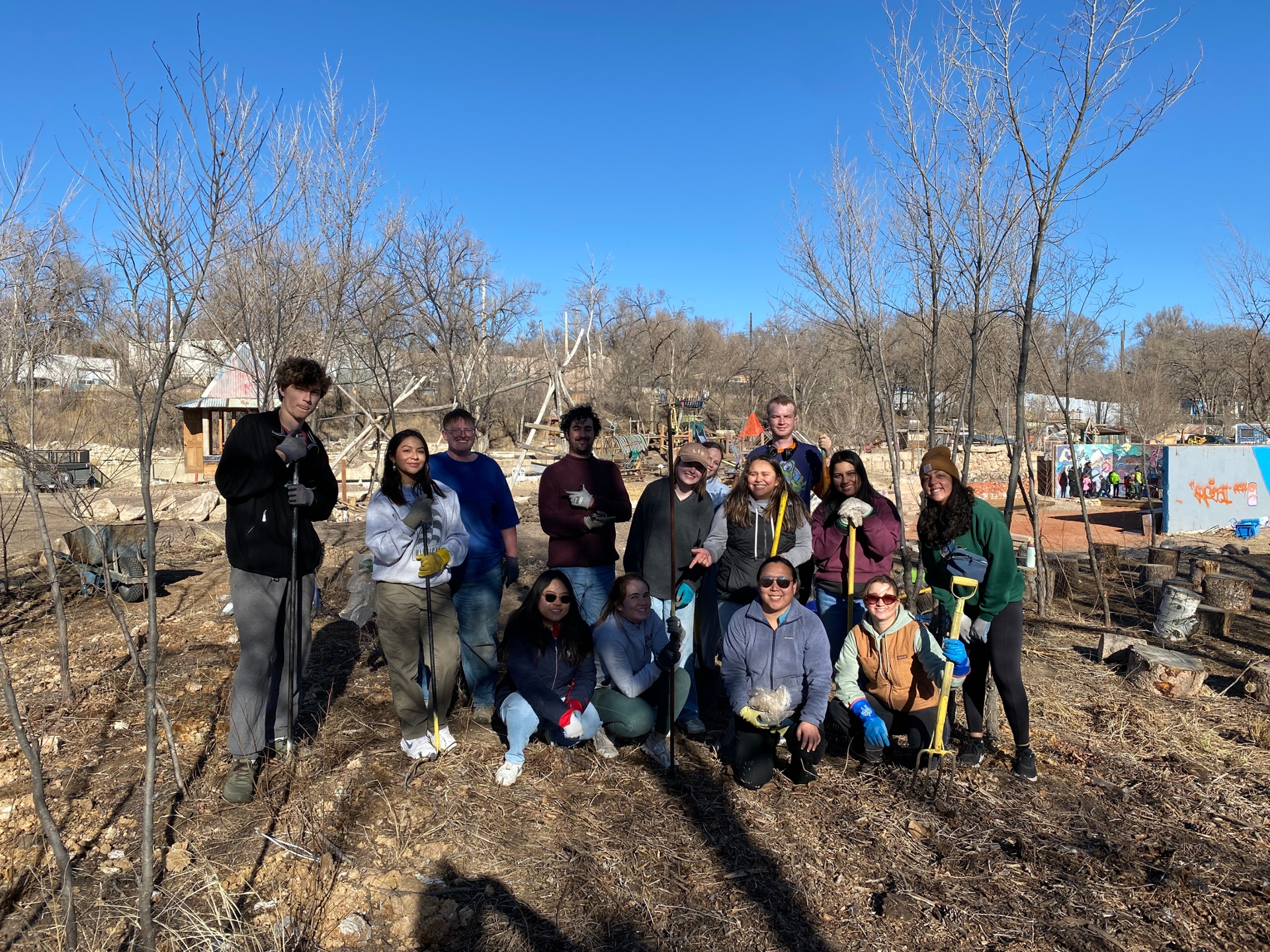 The Bonner Fellowship is a highly selective four-year, cohort-based opportunity designed to help develop student leaders from underrepresented backgrounds who seek to transform their communities and our world. Bonner Fellows (also known solely as "Bonners") are paid to work alongside the community for the duration of their college career, committing to around 24 hours a block of engagement-- through this funding venture, students from less privileged backgrounds have the opportunity to work in a sustained way on a community issue they care about. Bonners participate in a curriculum of blockly workshops (known as our CCE Changemaker Curriculum), trainings, guest speaker panels, and discussions as part of their paid fellowship hours as well. These co-curricular training and enrichment exercises afford students the opportunity to identify, develop, and integrate personal identities with civic engagement passions, academic studies, and career interests. Bonner students join a cohort of nine to eleven other peers when they enter into the Fellowship at Colorado College, and will have many opportunities to reflect and build community with the returning Bonner students through reflection groups, all-Bonner meetings, special cornerstone events, and Bonner Fall and Spring Retreats.
To the right: Bonner Fellows volunteering at Concrete Coyote during an All Bonner Meeting.
By following the Bonner model, Colorado College joins a vibrant, nationally recognized network of more than 60 participating colleges and universities ranging from Oberlin College to Brown University. 85% of Bonners are Pell-eligible, and Bonner prioritizes students of color and first generation college students. In the process of becoming a Bonner, students enter into a large and ever-growing network of 19,000 other students and alumni all across the country and world.
Next Steps
Interested in how the Bonner Fellowship can support your engagement?  Check out this story highlighting the efforts of former Bonner Fellow, Filip Carnogursky '23!
How do I apply?
Bonner Fellows are chosen based on a competitive selection process that includes a written application and an interview in the beginning of the Fall semester. Applications for the 23-24 academic year are now open in CCE's Summit and the position is posted in Handshake and will be open through September, 24th, 2023. An information session will be held on September, 6th at 2pm in the CCE. Registration for this session can be found in Summit. Any further questions? Contact the CCE's Civic Leadership Program Coordinator, Tyra Voget. 
Additional Information
Check out this page to view a list of our current Bonner students!
Frequently Asked Questions
What do Bonner Fellows commit to over their four years in the program?
The Bonner Fellowship is a unique opportunity to develop and apply skills and knowledge in a sustained community engagement program designed to cultivate civic leadership. Fellows are expected to apply rigor and invest deeply in their community work - just as they rigorously approach and invest in their academic work. Students are also expected to work collaboratively and authentically with community partners and CCE staff, both seeking out and remaining open to ongoing guidance, support, feedback, and routine, close communication. The Fellowship provides students 192 hours for paid engagement and learning to support their work in the community each year, enabling sustained community engaged work over all four years of a student's experience.
In short, Bonner Fellows commit to the following:
A four-year commitment to being part of the Bonner Fellowship at Colorado College
Around 24 hours of community work and engaged learning per block (an average of 6-8 hours per week) with an identified off-campus community partner
A first-year adjunct course and attendance at the blockly Changemaker Workshops in subsequent years
Two all-Bonner social retreats - one in the fall and one in the spring
Participation in Bonner Cornerstone activities each year, including: the Capstone Project and the Senior Presentation of Learning
A fall & spring written reflection
Attendance at blockly Bonner meetings for community-building, discussion and reflection, learning, and skill-building
You can read more about the Bonner Fellowship opportunities here.
I'm an international student. Can I still be a part of the Bonner Fellowship?
We appreciate and welcome all international students in the Bonner Fellowship at Colorado College. International students will complete a four-year themed trajectory of exploration, commitment and experience, capacity-building, and academic integration along with their peers. Depending on current immigration policies, however, there are a few stipulations to the kind of work international fellows can perform off-campus.
International students who are Bonner Fellows can only work at Community Partner Sites where the Collaborative for Community Engagement (CCE) has an official Memorandum of Understanding (MOU), or through sites that are educationally-affiliated with an international students' chosen academic major. For that reason, first year international Bonners who are in their exploration phase will need to only work at community partner sites designated as "High Impact Partner" sites, or at sites that are visited formally through the CCE's BreakOut student organization.
All Bonners who are international students will set up a Community Learning Agreement with the site of their choosing as well as a MOU, if it does not already exist. International students will need to communicate clearly with CCE staff about their chosen site, so that we can assist in this process. Once a site has been chosen for the semester, CCE staff will then send the completed CLA and MOU to the Global Studies Office, who maintains files for each international student.
Additionally, students with an F-1 visa can work up to 20 hours per week on campus while school is in session. The 20 hour per week is a total of 20 hours, with all on-campus positions combined. If a Bonner Fellow has another on-campus job, they will need to be sure not to work more than 20 hours per week between that on-campus job and the Bonner Fellow position. During official school breaks, the international student could do on-campus employment full-time.
For further questions, please reach out to both the CCE and Global Studies office.
How does the Bonner Fellowship build community?
Through the Fellowship:
The Bonner Fellowship helps students build a sense of community on campus by linking them together as a cohort, and by connecting them to the larger group of Bonners on CC's campus. The Fellowship brings Bonners together through the first year adjunct course, retreats, as well as regular cohort workshops. These cohort workshops, in particular, provide space for Bonners to grow together as a group - learning from the experiences of one another. Cohort discussions introduce Bonners to a diverse array of experiences and perspectives and aid students in forming values and exploring positions on a host of issues.
Across campus:
Fellows are also encouraged to build community with student organizations, administrators, and faculty across the CC campus. 
Beyond campus:
Bonners also build community beyond campus through sustained work with community partners. Bonners will be introduced to select community partners through structured exploration called "mini-internshps" in which students work with rotating partners in the Spring semester on project based work, getting to know the community organizations and the potential engagement experiences they might offer.
What role do CCE staff play in the Bonner Fellowship?
CCE staff members run the Bonner Fellowship at Colorado College. We help Bonner students learn the fundamentals of social change work, discern their professional identities, and work with them to think through the ways their engagement work can be integrated into their academics. Bonners are encouraged to communicate closely with our staff throughout their career, including about any challenges they may face - on campus or in the community - and to work with them as well as other Bonners to continually improve the Bonner Fellowship experience at CC.
What is the Bonner Network?
Colorado College belongs to a vibrant, nationally recognized Bonner network of more than 60 participating colleges and universities ranging from Oberlin College to Brown University. The 'Bonner model' has emerged as a valuable resource for colleges seeking to create developmental pathways that enable students to integrate their coursework, research, service, internship experiences, and other opportunities into a community-engaged capstone project. The Bonner network includes local, national, and international non-profit organizations, 15,000+ Bonner alumni, and professional staff and faculty from a host of backgrounds and disciplines. Bonner also hosts multiple national meetings each year, providing professional development and networking opportunities for Fellows. The Bonner network is vast, linking faculty, staff, students, and community partners who have extensive experience in community engagement on college campuses and come from diverse backgrounds.
How does the Bonner Fellowship work with the block plan?
Bonners plan their work schedules around their class commitments each block. While some students enjoy doing work with one community partner organization every week at a certain time, other students enjoy the flexibility of changing their work schedule with their community partner each block, depending on workload. We encourage prospective applicants to reach out to one of our current Bonner students to talk through their experiences.
As a Fellow, will I be committed to one organization for all three years, even if I decide I don't want to work there anymore?
Our hope is that students in their first year will take the time to explore their interests through their "mini-internship" experiences, so that they might have a deeper understanding of the issues that they would like to focus on or the community partners they'd like to work with. Bonner Fellows have the autonomy to decide where and how they would like to engage throughout their time in the program, however, they are asked to commit to a specific community partner for their Bonner work for a minimum of one semester to allow them to develop significant knowledge and experience within that community organization. Our Bonner Fellowship seeks to foster reciprocally beneficial relationships between community partners and students, and in doing so, find balance through supporting community partner needs with student passions, student interests, and student abilities.
Does my Bonner Fellowship account for my federal work study?
If you have federal work study, yes! Your Bonner Fellowship is your federal work study position. 
Will transportation to organizations be provided?
Transportation for community engagement efforts vary, though common methods include walking, biking, bussing, and carpooling. The CCE has a bikeshare program with 10+ bikes that are available for free check-out for students to engage in the community, and we have also established a CCE carshare program where licensed students can rent out a car to get to sites that are farther away or less accessible during the wintertime. Colorado College also offers free public transportation passes for students who wish to use the Mountain Metro local bus system.