Bonner Fellows
Click here to see our alumni!
Class of 2023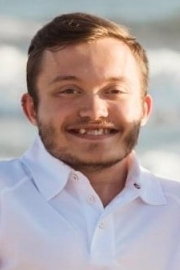 Sunderland Baker '22 (Winter)
Email: c_baker@coloradocollege.edu
Hometown: Thornton, CO
Major: Public Health Science (IDM)
Bio: Hi! I am a 2019 Boettcher Scholar and dedicated Bonner Fellow here at Colorado College, pursuing an independently-designed major in Public Health Science with a minor in Mathematical Biology. Having meticulously defended my academic major proposal, I am notably disciplined in various subfields of public health, including community health, epidemiology/data analysis, youth empowerment, and community-engaged research. I specialize in computational neurosurgical methods for movement disorder therapies, geospatial visualization and data analytics for disease prevention, and community-clinical linkages among Hispanic populations. I am well-versed in relevant computational applications, including MATLAB, Mathematica, Python3 languages; SPSS and REDCap statistical/research packages; and communication platforms such as the Microsoft Office suite, ArcGIS Pro, and AffinityDesigner. I pursue a multitude roles to blend all of my ongoing interests and areas of action together and motivate me to exercise my overarching life mission: bridging academia and the community to instigate change in communal health and wellbeing.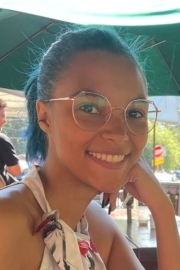 Chloe Brooks-Kistler '23
Email: c_brookskistler@coloradocollege.edu
Hometown: Colorado Springs, CO
Major: Political Science
Bio: I was born and raised in Colorado Springs. During my high school years, I volunteered at Colorado Springs Teen Court where I became a first chair student attorney. At Teen Court, I got to learn more about the lives of other teens in the Colorado Springs area. It really opened my eyes to how different people's lives can be and made me want to help those who were less privileged than I am. I also volunteer at 91.5 KRCC, Colorado College's NPR station. In college, I am going to pursue a political science degree which I hope to use in the future in working in public relations. I love watching documentaries and movies of all different genres. Learning about new cultures is also something I am very passionate about.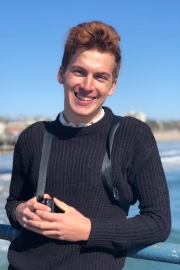 Filip Carnogursky '23
Email: f_carnogursky@coloradocollege.edu
Hometown: Tesáre, Slovakia
Bio: With a population of eight hundred and one road leading in and out, everything about my village is small - apart from my family of eight and the community spirit. Together we've built a spring, a mortuary, and a playground. Through activities like these, I have learned that working with peers is fun. As a result, I've co-organized farewells for graduates and strove to improve the student wellbeing through anti-bullying and peer-support initiatives. I've also facilitated summer camps, the most memorable was in a marginalized Romani community. This experience prompted me to co-found an Amnesty International School Club, which organized petition campaigns, refugee dinners, and presentations about social injustices. I took a gap year in Brazil, during which I volunteered as a marketing assistant in an educational NGO that works for children from favelas. I found out that I am not into marketing, but instead love to hike, read and lose political discussions.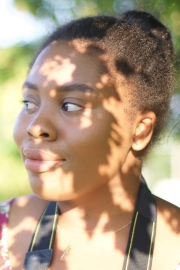 Tamar Crump '23
Email: t_crump@coloradocollege.edu
Hometown: St. Louis, MO
Bio: I grew up in St. Louis, Missouri and was homeschooled by my mother until middle school. Throughout middle school and high school, I was heavily involved in my schools' local food pantry, a nonprofit organization run by students called Weekend on Wheels, that boxed meals for families within the district every week. Within the organization, I was the lead intern and helped train interns and implement new systems. I also worked closely with Key Club and Student Council groups to volunteer for local organizations and events, such as the MIscais 5K Walk and Run. This was an event that donated children's books to students who were unable to afford them. I also volunteered to assist the schools' ESL teacher and helped teach students the English language. My hobbies include painting, sewing, and dance. I also enjoy hiking and would love to learn how to kayak!
Elvia Star Goudriaan '23
Email: e_goudriaan@coloradocollege.edu
Hometown: Santa Fe, NM
Bio: Though I was born in El Paso, Texas, I hardly remember it. What I do remember is the hot, humid summers in Puerto Vallarta and the cold, dry winters of Santa Fe. Though I have volunteered through Planned Parenthood, the National Honor Society, the bilingual club at my school, and the food depot (among other places), I'm always looking for new ways to get involved and learn from different people in my community. I love traveling, photography, and writing - especially about the people I meet and the stories I hear on my various adventures from Taos to New York City. I also love swimming, being outdoors, spending time with my family, and cooking. I think that understanding people and their history is vital to contributing all one can to the enrichment of one's society, and the interactions I have made with people through doing volunteer work have often been the most meaningful to me.
Casmali Lopez '23
Email: c_lopez@coloradocollege.edu
Hometown: Santa Barbara, CA
Bio: I was born in Santa Barbara into one of the last Chumash families to live in Montecito, the original village of Shalawa. I grew up involved in the resurgence of the Chumash Maritime culture participating in the building of Tomols, crafting paddles, making cordage and singing traditional songs in ceremony with community both human and nonhuman. I have participated in social justice activism for most of my life as being indigenous necessitates an anti-colonial ontology. I have worked with community in multiple capacities, from direct action to mutual aid and education.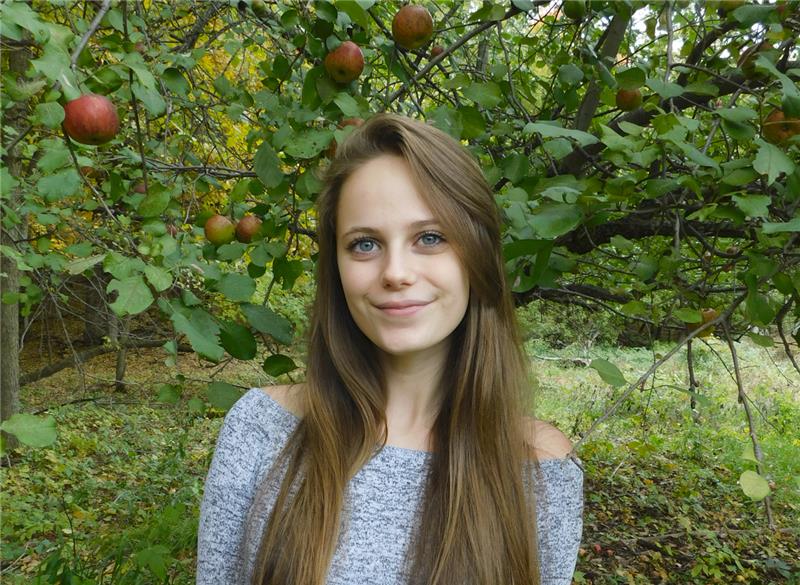 Sierra Moore '23
Email: s_moore@coloradocollege.edu
Hometown: Sartell, MN
Bio: I'm from Sartell Minnesota, which is small town in central MN. The weather here is mostly gray, but when the sun finally does come out, I love being outdoors and hiking. Throughout high school I was in band, choir, tennis, and theatre. When possible, I volunteer at the Humane Society, the Salvation Army, and Country Manor (our local nursing home). The most influential experience I've had volunteering was in the Dominican Republic with an organization called Seven Elements. This group focuses on sustainability and partnership, not just service, and it really changed my perspective on how I view my role in the world around me. Since I was a sophomore, I spent most of my time working to support my family. My home life is what really inspired me to pay goodwill and hard work forward. I'm incredibly excited to engage in this program and for the opportunity to give back. I currently work at a gas station, dog sit, and do landscaping. Although much of my time goes to work, I really do enjoy working with plants and animals. In my spare time I have turned most of our home into a small forest, taking in every plant our house can hold.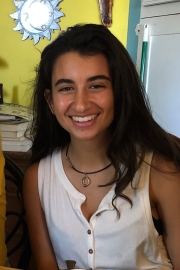 Juniper Wolf '23
Email: j_wolf@coloradocollege.edu
Hometown: Mt. Pleasant, UT
Bio: I am from Mt. Pleasant, a rural farm town in Central Utah. Throughout my high school years, I have been a member of National Honor Society. Because of this stellar program, I have been able to serve others in a multitude of ways, including helping as a farm hand, visiting elderly members of my community, and taking cords of wood to people in need so they would be protected against the sub-zero temperatures of Utah winters. I served my school community as both Sophomore and Junior Class President, acted as a school ambassador, and was President of National Honor Society. In terms of my interests and hobbies, I enjoy playing the guitar, singing, and listening to most genres of music. I love art and have recently begun to teach myself how to oil paint. I also run, snowboard, and enjoy spending time in nature.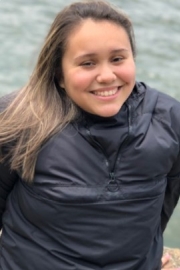 Nicole Chavarria '23
Email: n_chavarria@coloradocollege.edu
Hometown: Silver Spring, MD
Bio: I am from the DMV area. I was born in D.C. but did most of my schooling in Montgomery County, Maryland. I love being in D.C. and exploring there. I have had experience in community service through my school and other programs I have been a part of, such as NJROTC, NHS, IB, and LTI. I have volunteered at many school-hosted events, family markets and food banks, helped pick up trash around my school, and tutored. I am going into CC as a Chemistry major for now, but I know I might change majors. I am into sports and games. When it comes to games, I am, at times, very competitive.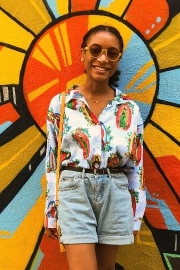 Dylan Hall '22 (Winter)
Email: d_hall@coloradocollege.edu
Hometown: Buffalo, NY
Bio: I'm a 2018 graduate from Nichols School in Buffalo, New York. Originally from Baltimore, Maryland, I moved to Buffalo when I was 10. At Nichols, I discovered and explored my interest in languages and cultures; studying Mandarin Chinese for eight years and Spanish for three. I plan to continue my study of these languages and others at CC. My life goal is to visit as many countries and learn as many languages as possible. My focus on community engagement led me to organize and host the Nichols annual Inclusivity Conference, construct a Black History course my junior year, volunteer with the Home Again organization, and assist with a children's play day for underprivileged kids at my school. I look forward to becoming a Community Engaged Fellow and working in the Colorado Springs community. I enjoy listening to music, reading, and watching Netflix in my spare time.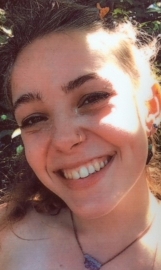 Jasmine Linder '23
Email: j_linder@coloradocollege.edu
Hometown: Portland, OR
Bio: I am so honored to be a Bonner Fellow. I grew up in Portland, Oregon, with my single mom and our many pets. In my free time, I love to paint, play the guitar, and hike in Oregon's beautiful forests! While living in Portland, I have developed a strong passion for many issues, especially those regarding environmental justice and women's rights. So far, my most influential commitments of service, community engagement, and leadership have been through public protests, as well as two organizations called Outdoor School and Amigos de las Americas. These opportunities have challenged me, but were undoubtedly the most rewarding experiences of my life. Although I have participated in some political activism and service, I am excited to further my experience through the Bonner Fellowship.
Class of 2024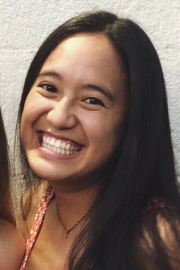 Denise Geronimo '24
Email: d_geronimo@ColoradoCollege.edu
Hometown: Memphis, TN
Major: International Political Economy
Bio: Hey, everyone! I'm Denise Geronimo, and I am from Memphis, Tennessee. I have lived in Memphis for all 18 years of my life, and I'm a biased, but it's the best city around. Both of my parents moved to Tennessee from the Philippines to pursue their careers, but neither of them decided to teach me their language (I'm only a little bitter.) Throughout high school, I participated in the worldwide organization Facing History and Ourselves as a facilitator and an ambassador, working with other students to promote conversations within our community about low-voter turnouts, gun violence, and youth incarcerations. I also engaged in community service through BRIDGES USA, a Memphis, youth-led organization, and volunteered at the Madonna Learning Center, a wonderful special needs school. I'm interested in studying International Relations, and my hobbies include biking, kickboxing, and unhealthy binge-watching. I'm so excited to join the Bonner Community!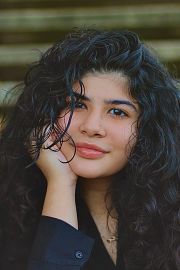 Misbah Lakhani '24
Email:m_lakhani@ColoradoCollege.edu
Hometown: Houston, Texas
Bio: Hey y'all! My name is Misbah Lakhani. I am a sophomore at CC and interested in Sociology and Neuroscience at the moment. I'm from Houston, Texas, but born, raised, and native to Pakistan. Even during my time in Pakistan, my parents knew I had a special passion for medicine, taking care of my family members when they were sick and looking up home remedies at the little age of six. After moving, in high school I was introduced to medicine in a very hands on way. By training I am CPR, BLS and OSHA certified, have drawn people's blood, shadowed at the Memorial Herman Hospital in the Texas Medical Center for two years, and created a partnership between Shriners Hospital for Children and my high school. With all the knowledge I gained during my experiences, I was able to be a teen advisory board member for the University of Texas at Austin's Teen Clinic in the Texas Medical Center and with Unity, a consortium advocating for vaccines in the US. Personally, healthcare and medicine are basic human rights, and throughout my high school career, I've tried to use my position in order to make healthcare more accessible to the greater Houston community, especially teens, and hope to continue to do so during college!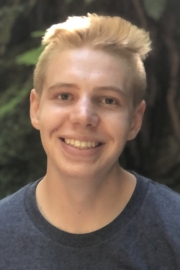 Finn Mott '24
Email: f_mott@ColoradoCollege.edu
Hometown: Vail, CO
Major: Business, Economics, and Society
Bio: Finn Mott is a Sophomore at Colorado College. He is passionate about telling stories, creating positive social change, and discovering the power in adversity. He strives to one day open up his own nonprofit that helps youth overcome both their mental and physical struggles through various creative mediums. Finn is a published poet and is always looking for new ways to make a difference.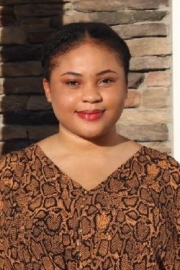 Anita Onyenagiri '24
Email: a_onyenagiri@ColoradoCollege.edu

Hometown: Lagos, Nigeria
Bio: Hello! My name is Anita Onyenagiri and I am so honored to be joining you as a Bonner Fellow! Born in Lagos, Nigeria, I lived with my biological parents until I was 7. Because of that, I moved around a lot and have lived in about seven different homes in different states/countries. I speak five different languages and in my free time, I love to sing, cook/bake, read, volunteer, or watch something on Netflix. Many of the activities that I do stem from my struggles. They include volunteering at Discovery Place Science where I assist in guided inquiry discussions about current health-focused topics, a non-profit clinic called CareRing, tutoring, and singing with my church choir. Although I have participated in a lot of activities while in North Carolina, I am excited to further my experience through the Bonner Fellowship. I look forward to meeting you all!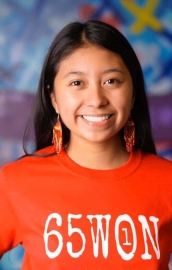 Atquetzali Quiroz '24
Email: a_quiroz@ColoradoCollege.edu

Hometown: Saint Paul, MN
Bio: Piyali & Mabuhay! My name is Atquetzali Quiroz. I was born and raised in Saint Paul, Mni Sota (Minnesota), homeland of the Dakota and Ojibwe peoples. I am a co-founder of Kalpulli Yaocenoxtli, a traditional Mexica dance group. I co-teach danza, song, and philosophy classes with my family. I was a youth intern at Asian American Organizing Project as well as the Engagement Coordinator for Filipinx for Immigrant rights & Racial justice MN, organizations that emphasize the importance of civic engagement and social justice. As a youth organizer of Indigenous Roots Cultural Arts Center and co-founder of the International Indigenous Youth Council - Twin Cities Chapter; I am able to learn and practice my passion for uplifting youth voice; language revitalization; traditional women's wellness, preserving and protecting the waters and land. I am honored to be a Bonner Fellow and can't wait to learn/ get more involved with the community in Colorado Springs!
Manuel MacEdo '24
Email: m_macedo@ColoradoCollege.edu

Hometown: 
Major: 
Bio: Coming Soon!
Karen Manzano Jaramill '24
Email: k_manzanojaramill@ColoradoCollege.edu

Hometown: 
Major: 
Bio: Coming Soon!
Bridget Walter '24
Email: b_walter@ColoradoCollege.edu

Hometown: 
Major: 
Bio: Coming Soon!
Lizbeth Lucero-Chavez '24
Email: l_lucerochavez@ColoradoCollege.edu

Hometown: 
Major: 
Bio: Coming Soon!
Class of 2025
Mackenzie Wager '25
Email: m_wagner@ColoradoCollege.edu

Hometown: 
Major: 
Bio: Coming Soon!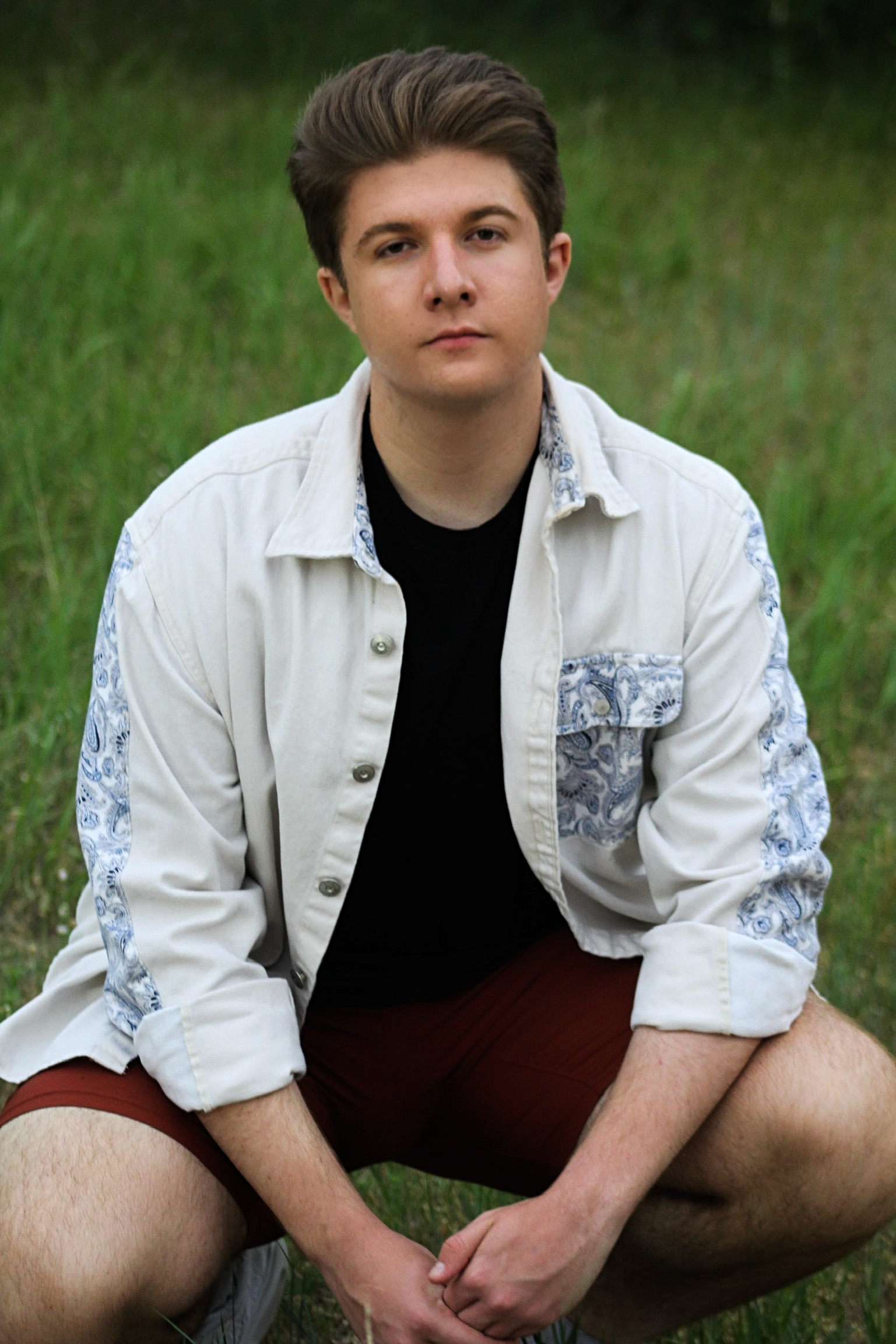 Luke Ortiz-Grabe '25
Email: l_ortizgrabe@ColoradoCollege.edu
Hometown: Denver, CO
Bio: Hello! My name is Luke and I'm from Denver, Colorado and excited to be in Colorado Springs for college! Throughout high school, I dedicated my time to political, educational, and advocacy. I interned with the Interfaith Alliance of Colorado for three years, where I designed state-wide congregational GIS maps, testified against discriminatory bills at the State Capitol, and facilitated youth workshops around interfaith sensitivity. I was also the Co-Chair of the Colorado Youth Diversity Conference, where I designed and facilitated a space for youth across Colorado to come together and organize around creating change in their local communities. Besides being a Bonner fellow, I compete on the Speech and Debate team and play saxophone in the Concert Band.  I hope to use my passion and experience to engage in communities across the Colorado Springs community!  
Loza Tezera '25
Email: l_tezera@ColoradoCollege.edu

Hometown: 
Major: 
Bio: Coming Soon!
Phoebe Frankel '25
Email: p_frankel@ColoradoCollege.edu

Hometown: 
Major: 
Bio: Coming Soon!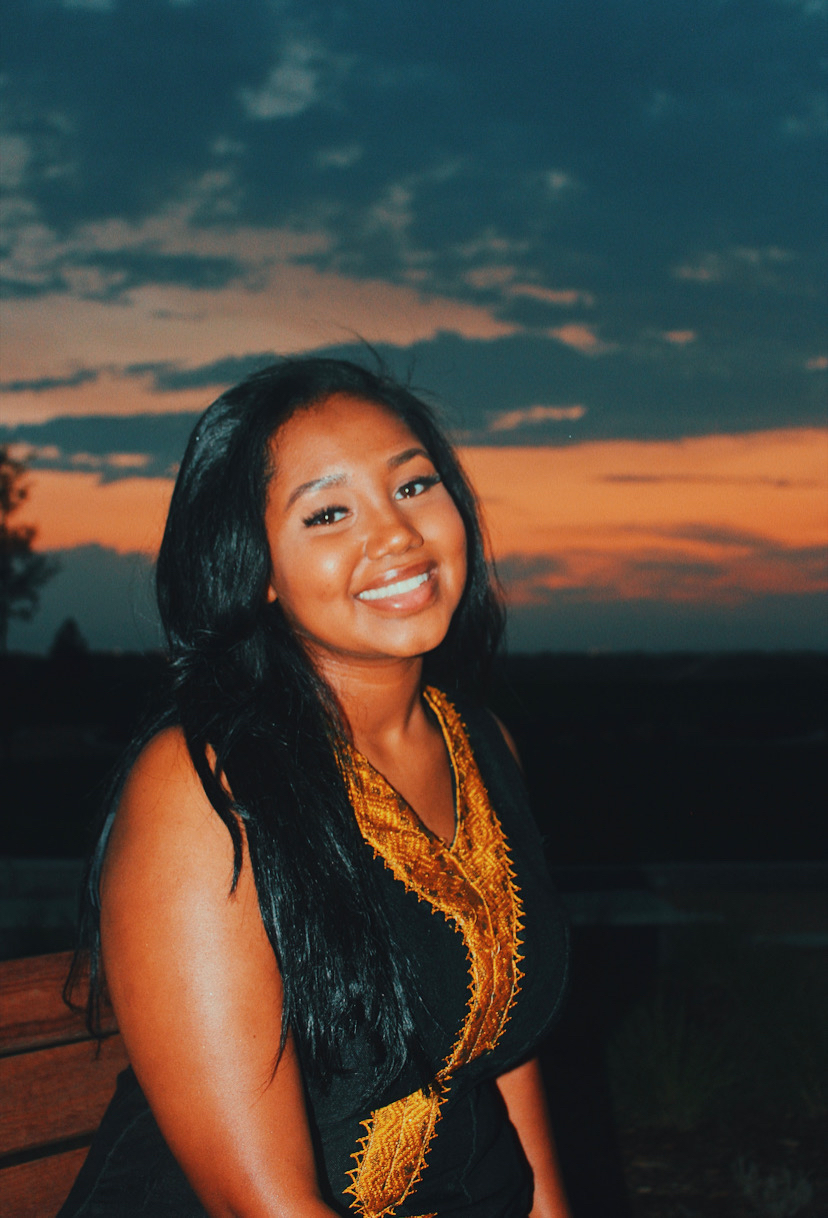 Helena Almaw '25
Email: h_almaw@ColoradoCollege.edu
Hometown: Denver, CO
Bio: Hello everyone! My name is Helena and I am from Denver, CO. I love poetry and dance and have spent some time in high school with community service with Jared Polis, my high school Student Voice Initiative, and with my church for people experiencing homelessness in downtown Denver. I'm excited to get more collaborative experiences through Bonner, and build connections with outside organizations on the topic of college and career readiness, and possibly health care access in Colorado Springs. A big part of my reason for joining Bonner is to emphasize the importance of community, and I can't wait to see how I grow and learn with my fellow peers!
Evie Angevine '25
Email: e_angevine@ColoradoCollege.edu

Hometown: 
Major: 
Bio: Coming Soon!
Johanna Villegas '25
Email: j_villegas@ColoradoCollege.edu

Hometown: 
Major: 
Bio: Coming Soon!
Catherine Webber '25
Email: c_webber@ColoradoCollege.edu

Hometown: 
Major: 
Bio: Coming Soon!
Ana Martin '25
Email: ab_martin@ColoradoCollege.edu

Hometown: 
Major: 
Bio: Coming Soon!
Hunter Markowich '25
Email: h_markowich@ColoradoCollege.edu

Hometown: 
Major: 
Bio: Coming Soon!
Class of 2026
Grace Nguyen '26
Email: g_nguyen@ColoradoCollege.edu

Hometown: 
Major: 
Bio: Coming Soon!
Sophia Lisco '26
Email: s_lisco@ColoradoCollege.edu

Hometown: 
Major: 
Bio: Coming Soon!
Azaria Hampton '26
Email: a_hampton@ColoradoCollege.edu

Hometown: 
Major: 
Bio: Coming Soon!
Emilia Wright '26
Email: e_wright@ColoradoCollege.edu

Hometown: 
Major: 
Bio: Coming Soon!
Oziel Cime '26
Email: o_cime@ColoradoCollege.edu

Hometown: 
Major: 
Bio: Coming Soon!
Lucy Kramer '26
Email: l_kramer@ColoradoCollege.edu

Hometown: 
Major: 
Bio: Coming Soon!
Melissa Ramirez '26
Email: m_ramirez@ColoradoCollege.edu

Hometown: 
Major: 
Bio: Coming Soon!
Noah Furuseth '26
Email: n_furuseth@ColoradoCollege.edu

Hometown: 
Major: 
Bio: Coming Soon!
Giorgio Gioele Sirito '26
Email: g_sirito@ColoradoCollege.edu

Hometown: 
Major: 
Bio: Coming Soon!
Cole Amaya '26
Email: c_amaya@ColoradoCollege.edu

Hometown: 
Major: 
Bio: Coming Soon!
Paikea Kelley '26
Email: p_kelley@ColoradoCollege.edu

Hometown: 
Major: 
Bio: Coming Soon!