Frequently Asked Questions
First, watch this informational video on the MAT-DS
Q: What is the Master of Arts in Teaching - Dyslexia Specialist (MAT-DS)?
A: The Colorado College MAT Dyslexia Specialist is a graduate program administered by the CC Department of Education to prepare literacy specialists. Our program is designed for educators seeking to learn the most effective, evidence-based strategies for reading instruction, and consists of two years of intensive coursework and supervised practicum. Nationally recognized and academically rigorous, the program prepares its graduates to teach learners who struggle with reading, including those with dyslexia and related disorders.
Q: What is dyslexia?
A: "Dyslexia is a specific learning disability that is neurobiological in origin. It is characterized by difficulties with accurate and/or fluent word recognition and by poor spelling and decoding abilities. These difficulties typically result from a deficit in the phonological component of language that is often unexpected in relation to other cognitive abilities and the provision of effective classroom instruction. Secondary consequences may include problems in reading comprehension and reduced reading experience that can impede growth of vocabulary and background knowledge."
-Adopted by the International Dyslexia Association Board of Directors and the National Institutes of Health, Nov. 12, 2002.
Q: What are some facts about dyslexia?
A: -Approximately 10-20 percent of students are dyslexic.
-80 percent of students who receive special education services are identified because of reading problems
-70 percent of students nationwide never attain reading proficiency
-36 percent of students with learning disabilities drop out of high school
Q: Do I need to be a teacher to apply to the program?
A: No, you do not need to be a teacher. Our graduate students come from varied backgrounds. Some never want to work in a public school system and are in private practice. You do need to have a bachelor's degree from an accredited institute of higher learning to apply.
Q: Who accredits the program?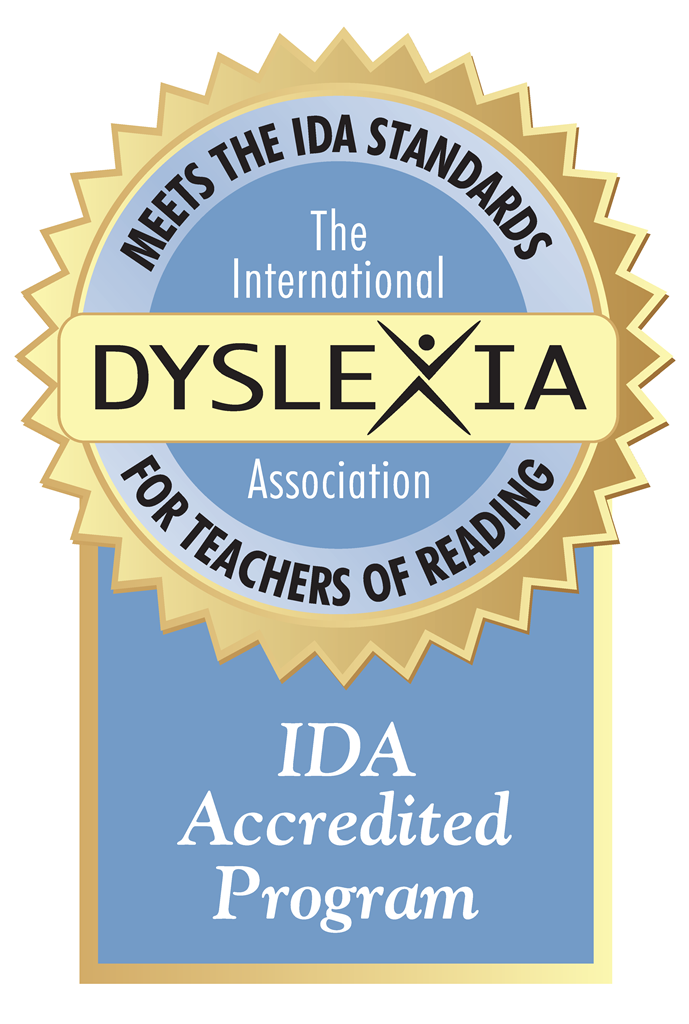 A: -The International Dyslexia Association
-International Multisensory Structured Language Education Council (IMSLEC) in partnership with Colorado Literacy & Learning Center
-Colorado College is accredited by the Higher Learning Commission
-The CC Education Department is accredited by the Colorado Department of Higher Education (CDHE)
-The Colorado Department of Education (CDE) has approved our program for the Reading Teacher and Reading Specialist Endorsements
Q: What sets us apart?
A: The Master of Arts/Dyslexia Specialist is the only teacher preparation program in Colorado with a focus on dyslexia. It is one of the few in the country where graduate students can earn a Master's degree while becoming certified in multisensory, structured language education. It focuses on structural linguistics and Orton-Gillingham principles. Most instruction takes place in the summer to accommodate working teachers.
Q: How do I apply?
A: Read all the information about the Dyslexia Specialist on our website, fill out the application and submit the following items to complete your file: letter of interest, resume, official transcripts from all undergraduate and graduate institutions, and three letters of recommendation.
Q: What happens after I submit my application?
A: The admissions committee will begin review of early applications in December. Early applications will receive notice of the committee's decision by January 1 and are expected to make a commitment by February 1. Regular applications will be reviewed by the admission's committee in February. Decisions will be mailed by March 1 and students are expected to commit by April 1. Applicants may be invited to a phone or on campus interview.
Q: May I transfer any credits?
A: No. Classes in the Dyslexia Specialist MAT build upon each other. They need to be taken in order beginning with ED 540: The Science of Literacy and Linguistics.
Q: What can I do with my degree?
A: Recent graduates use their credentials to work in private practice, as classroom teachers, as school building or school district reading interventionists, and as learning specialists in hospitals.
Q: What credentials will I earn?
A: After Year One, you will earn the IMSLEC Practitioner Level Certificate of Completion, Certified Academic Language Practitioner (CALP), and CDE Reading Teacher Endorsement (for licensed Colorado teachers only)
After Year Two, you will earn the IMSLEC Therapy Level Certificate of Completion, Certified Academic Language Therapist (CALT), CDE Reading Specialist Endorsement (for licensed Colorado Teachers only), and the degree Master of Arts in Teaching: Dyslexia Specialist
Q: When do classes take place?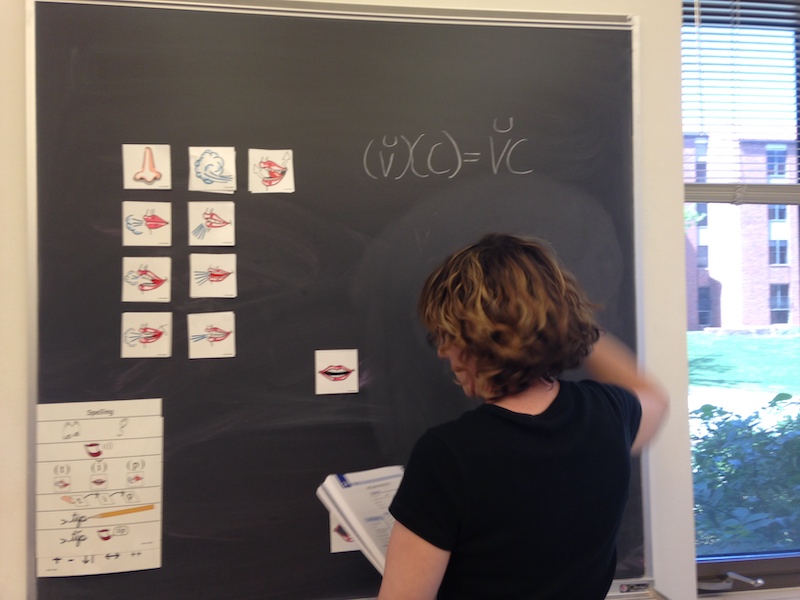 A: The majority of classes take place in the summer. A new cohort begins each June. Check the course grid for specific dates. The seminar classes occur three to four days each semester on campus. Year One seminars are on Fridays and Year Two seminars are on Saturdays. Principals have been willing to work with teachers in this program to allow them to attend since the knowledge our students gain benefits their school populations.
Q: Can I take classes online?
A: No. We believe the best way to teach someone with a reading disability is in person. We model that belief with our classes.
Q: Is on campus housing available?
A: Yes, graduate housing is available during the summer session. The Colorado College campus is a vibrant, exciting place during the summer. Pre-collegiate, undergraduate, and graduate students are on campus along with conference attendees exploring a variety of intellectual pursuits.
Q: What is the Block Plan?
A: Colorado College offers a unique class structure to its students. They take one class at a time for three-and-a-half weeks. This allows students to delve deeply into one subject without distractions from other class commitments. Graduate courses are also offered one at a time, lasting from one to two weeks. The exception to this is the seminars and practicums during the academic school year. They are considered extended format classes.
Q: Are there scholarships or grants available for graduate students?
A: Yes, there are a limited number of grants available to defray tuition costs. Early applicants will receive first consideration for these grants. Federal loans are available, also.
Q: How do I apply for grants?
A: Students wishing to be considered for a grant need to fill out the FASFA (Free Application for Federal Student Aid (FASFA) by February 15 to be considered for scholarships. Please see the Financial Aid Office's website for more information. https://www.coloradocollege.edu/admission/financialaid/matstudent
Q: Does the college participate in the Teach Grant?
A: No. The college feels that there are too many opportunities for students not to fulfill the expectations of the grant and thus the grant would actually convert to a loan that would need to be repaid.
Q: How much is tuition?
A: Tuition for the 2020-21 cohort is $975 per semester hour or $3900 per Colorado College (CC) unit. Students need to earn a minimum of 10.5 CC units to complete degree requirements. One CC unit is equivalent to four semester hours. Graduate Tuition
Q: What are the academic expectations?
A: All courses applied to the MAT degree must be taken from Colorado College for a grade. In all courses students must receive a B- or better and maintain a cumulative GPA of 3.0.
Q: I have not written a research paper in ______ years. Will there be anyone to help me with this?
A: All students in the degree earning program will take ED 550: Conducting Literary Research. The class provides graduate students with a logical roadmap, from exploring a topic of interest through literary research methods to developing a research question and organizing and synthesizing gathered information into a defendable argument. The college Writing Center, located in the library, employs two people who are trained to work with adult graduate students.
Q: Do I need to take the GRE?
A: No, the GRE is not required for admission to the program.
Q: How do I know which textbooks to use for each class?
A: You will need to contact the professor on record to find out textbook and syllabus information. Put the professor's name in the search engine on the Colorado College website for contact details.
MAT – Dyslexia Specialist Online Application Form First-time users will need to create a new account. Regular decision deadline is March 15, 2022.