Follow-Up
How do I follow up after an interview?
Always thank your interviewer(s) after the interview with a thank you letter or email. They will notice if you don't and you'll be wasting the opportunity to refer to issues discussed in the interview, provide additional information, and restate your interest in the position.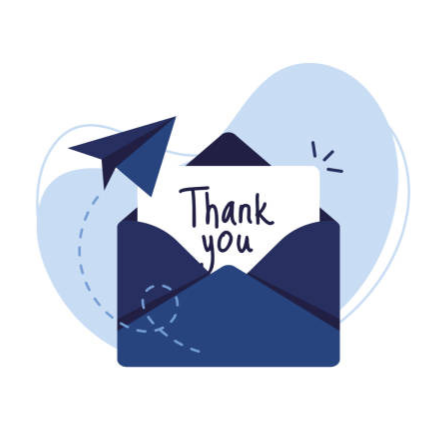 How to Write a Thank You Letter
Follow up with a thank you letter no more than 48 hours after you meet. A nice, handwritten note will show interest and care, but thank you emails are also acceptable. Write to each individual that interviewed you if you met with more than one person. If you can't find someone's contact information, it is okay to ask another person from the interview to pass your message along to them. It is better to mention who to pass your thanks to than not include them at all.
As you draft your thank you letter think back to the conversation or look back at your notes and include specific examples from your discussion. Reminding the employer of specific details from the conversation shows your interest in the position, company, or industry, and your eagerness to learn. Make note of not only the details of your conversations, but also how learning more about the role furthered your interest in them. One or two details is enough, you don't need to recount the entire interview. Finally, be sure to proofread a thank you letter as thoroughly as if it were a formal cover letter. Conclude your thank you letter with your phone number and the open invitation to reach out if they have any questions.
How to Ask for an Update
There may be times that you have not heard back from a company following an interview. During your interview, you should ask at the conclusion what their expected timeline is. Often in hiring, things do not go as planned. You may be eager to know the results of your interview, but be patient following your interview if you do not hear quickly. Give the company more time than the timeframe they described. No news doesn't necessarily mean bad news.
If you have one offer to consider and you haven't heard back from other opportunities that you have interviewed with, it is appropriate to reach out to each hiring manager or recruiter that you've interviewed with to check in. Affirm your interest in the company and role. Politely ask if there is an update on their hiring process so you can consider all options. Be specific about the timeline you have to consider.
---
For information on following up with a contact after a networking event or informational interview, visit our networking page.