Charlie Blumenstein Internship

The Charlie Blumenstein Stewardship Assistant position allows one Colorado College student to spend a summer dedicated to water and wildlife conservation.
The selected intern will spend the summer at The Nature Conservancy's (TNC) Carpenter Ranch in Hayden, CO (near Steamboat, CO). This experience offers the opportunity to engage with visitors; work alongside the ranch manager in maintaining the property; and gain a better understanding of how Carpenter Ranch supports researchers, Colorado water rights, and much more. 
Full details for the internship are posted by early spring each year. Posting and application details can be found in Handshake. Once posted, all applications must be completed on The Nature Conservancy's Careers page (search "Blumenstein"). Contact the Career Center with questions.
---
 About Charlie Blumenstein
Charlie Blumenstein studied Biology at Colorado College from 1992-1996. While attending CC, Charlie traveled the West and nurtured his love of Water and the Outdoors, crediting out-of-classroom field experience with his decision to become a Hydrogeologist and to devote his professional life to the betterment of Water Resources. Charlie inspired a respect and reverence for nature that would become his legacy. When Charlie died of Cancer in May 2003, his Family and Friends established this Internship to ensure Charlie's contribution to Science and Conservation continues.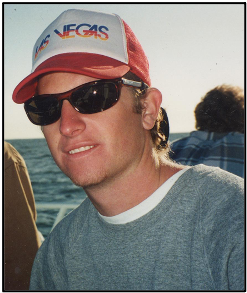 Past interns Xixi Qin '23 and Teddy Loof '23 talk about their experiences as Charlie Blumenstein Stewardship interns at the Nature Conservancy's Carpenter Ranch in Hayden, Colorado
Intern Reflection Reports