Faculty Collaborations
The Career Center helps students connect their liberal arts experiences to their professional journeys. We empower them to explore the possibilities, develop their professional identities, and connect with opportunities.
We are always looking for ways to connect with our faculty partners. There are several possibilities but we are always open to suggestions and ideas.
Non-Credit Dynamic Half Block
The Career Center offers many non-credit bearing half block offerings each year ranging from technical skills to graduate school prep to life skills. We welcome the opportunity to partner with our faculty, alumni, parents, and friends of the college.
Examples of classes from previous years where faculty partnered with us
Computer Language as Language with Dan Ellsworth
Excel at EXCEL: Skills to Get the Job You Want with Dan Johnson
Sovereignty Tour: Exploring Professional Development and Cultural Life within Tribal Nations with Dwanna McKay
Teaching Science - an immersion experience for children attending La Veta Elementary with Mike Taber
Examples of offerings taught by staff members and guests of the college:
Design Like a Pro: Adobe Photoshop, Illustrator, and Indesign
Non-Profits and Philanthropy: You Really Can Change the World
Finding Allies in a Crowded Room: Communicating the Hidden Step Before Networking
Personal Branding
Cross Examination and the Art of Trial Advocacy
Some of our most popular offerings are graduate school prep courses taught by Kaplan Test Prep. Each year the GRE, LSAT, MCAT and GMAT are offered.
The Career Center itself hosts Coffee Chats each afternoon surrounding a variety of topics such as personal values, resumes, and grad school searches. We also offer a workshop series in the afternoon about transitioning from college with topics such as car and house maintenance, cooking for one, work benefits and questions to ask, as well as fitness.
Classroom Visits and Presentations
The Career Center can help with a variety of topics as it relates to professional development and the career process. We are happy to collaborate with faculty members to determine what might work best for the outcomes you are seeking to achieve. This could look like partnering on a lunch or after class presentation, speaking to your majors, an hour long visit to a class talking about a specific skill/subject, or several days in a class working with students on professional development, job/internship search, and/or the graduate school search process.
Examples of past presentations:
Application materials such as resumes, cover letters and essays are often standard materials for any job or grad school. Standing out is important.
Who am I? What am I interested in? What are my values? These are all very important to consider when applying to positions.
Navigating the job and internship search. Networking can be intimidating to many so practice helps. We can practice elevator pitches, brainstorm questions to ask, how to find people, as well as practice with friendly individuals.
Interviewing can feel difficult and overwhelming. Preparation is key. What types of questions are common? How does one answer "tell me about yourself"? What are behavioral interviewing questions? What types of questions should you ask the employer? We are happy to help with interviewing skills as well as mock interviews.
Work place norms are important in organizations. What does that mean according to each industry? Standards are different. Email and phone etiquette are important. What are common mistakes made that can be avoided so a new employee isn't marked as being difficult to work with

? How can we set each student up for success? This goes beyond the workplace. This is important at CC too!
Guest Speakers and Stories
Students love to hear stories from other people. Who are they and what have they done with their lives since CC? The Career Center can help find and host a variety of speakers from alumni to family members to friends of the college. Topics could range from:
What are alumni from each department doing now
Networking
Interviews: technical, case, general
1:1 conversations and chats
Company/industry culture and application specifics
Connecting majors to industry
Transferable skills from CC to the workplace
Have an idea? Let's chat.
Abby Farabaugh

afarabaugh@coloradocollege.edu
719.389.6851
Department Liaison for:
Art

Classics

Comparative Literature

English

Film and Media Studies

French, Italian and Arabic

Journalism

Music

Spanish and Portugese

Theatre and Dance
Leah Brown

lbrown@coloradocollege.edu
719.227.8175
Department Liaison for:
Anthropology

Asian Studies

Education

Feminist and Gender Studies

Philosophy

Political Science

Race, Ethnicity, and Migration Studies

Religion

Sociology

Southwest Studies
Sarah Reinbrecht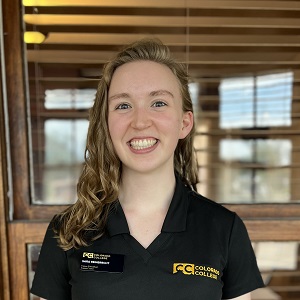 sreinbrecht@coloradocollege.edu
719.389.7001
Department Liaison for:
Economics and Business
Computer Science
Mathematics
Briana Walls
bwalls@coloradocollege.edu
719.389.6245
*Currently on leave. Please reach out to Brett Woodard.
Department Liaison for:
Chemistry/Biochemistry

Environmental Program

Geology

History

Human Biology and Kinesiology

Molecular Biology

Organismal Biology and Ecology

Physics and Engineering

Psychology and Neuroscience