Transportation
Colorado College is committed to providing our community with transportation options that are safe, healthy, and accessible. Even though half of the student population uses non-motorized methods for transportation, Colorado College offers other means of getting around. They provide transportation through Mountain Metro, Campus Safety, and carpool programs. More information is listed below in the Initiatives section of this page
.
Bike Resource Map
Transportation Intern Cormac McCrimmon '23 and his team created this bike resource map for the CC community to easily locate bike resources across the college. Check it out below! 
Campus Initiatives
Let's Bike
Park Your Bike On Campus
CC provides short-term bicycle parking for all occupied buildings and offers several bike storage sheds, that are located outside of two of the largest residential halls.
---
Where To Store Your Bike
CC provides secure bicycle storage, shower facilities, and lockers for bicycle commuters. Lockers and showers are available for bicycle commuters at the Adam F. Press Fitness Center. Access to the facility is FREE for current CC students, faculty and staff, and board of trustee members.
---
Ride With PikeRide
In 2018, Colorado College partnered with PikeRide, a city-wide bike share program that allows CC students, faculty, and staff to use the bikes for free. As of 2019, all PikeRide bikes are electric-assist bikes which make the joy of cycling accessible to many more users. Simply download the Drop Mobility app and locate a bike to get started. More information about PikeRide and how to get signed up can be found here.
---
CCE Bicycles
The CCE has a small number of bikes that can be used free of charge for a day by students to get to and from local non-profits, schools, etc. for community engagement. Anyone wishing to use a bike should stop by the front desk of the CCE or email cce@coloradocollege.edu.

---
CC Outdoor Education Bikes 
Outdoor Education has a fleet of e-bikes and "fat" bikes (mountain bikes) for low-cost rentals, available during Gear House hours. These fleets cater to group rentals but can be rented by individuals if available. If you own your own bicycle, the Bike & Ski Co-op is available to support your equipment maintenance needs. The Co-op also has U-locks, bike tubes, and tires for sale. Email outdoored@coloradocollege.edu with questions. 
Let's Ride
Ride For FREE With Mountain Metro
Colorado College provides FREE access for students to use the Mountain Metro bus system in getting around the Colorado Springs area. Real-time GPS tracking and text message notifications are accessible to students to provide them with accurate wait time estimates at shuttle stops. For more information about bus routes, you can visit Mountain Metro Transit.
Mountain Metro recently launched a FREE shuttle service for everyone to use in downtown Colorado Springs called the ZEB. The downtown shuttle aims to make visiting downtown even more convenient. The shuttle will run between Cache La Poudre and Rio Grande streets with stops at Colorado College, Weidner Field, and the U.S. Olympic & Paralympic Museum.
THE ZEB runs along Tejon Street. Pickups will be every 7-10 minutes depending on the day and time.
The ZEB hours: 
Monday-Thursday, 7 a.m.-10 p.m.
Friday, 7 a.m.-midnight
Saturday, 8 a.m.-midnight
Sunday, 10 a.m.-8 p.m.

---
Safe Ride With Campus Safety
Campus Safety provides a safe ride service for the immediate campus vicinity (1.5-mile radius). It is student-run and is available to all campus community members FREE of charge.
Safe Ride hours of operation (during the block):
Sunday - Thursday: 8 pm - 1 am
Friday & Saturday: 9 pm - 2 am
Friday (Grocery Shuttle): 3 pm - 6 pm
Saturday (Grocery Shuttle): 11 am - 3 pm
---
Other Carpool Programs
Colorado College offers several programs to promote ride-sharing.
A shuttle to transport students to the Denver International Airport and the Colorado Springs Airport on major travel days for a small fee.

CC Ride Share, a Facebook page, helps to connect students seeking rides with those seeking travel companions and/or gas money.

The FreeRider's Union of Colorado College, a college-funded student group, offers van service to Breckenridge Mountain on Saturdays during the ski season.
BFU Bronze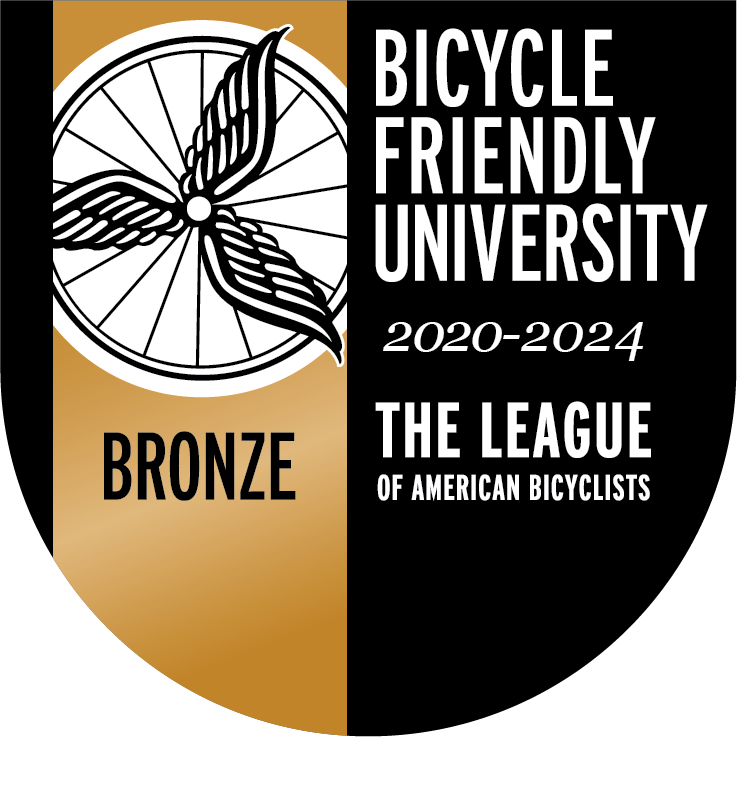 Colorado College named a Bronze Bicycle Friendly University by the League of American Bicyclists
The League of American Bicyclists recognizes Colorado College as a Bronze-Level Bicycle Friendly University! The League of American Bicyclists is a grassroots advocacy organization encouraging better bicycling and protecting the rights of people who bike.
CC joins an elite group of 212 colleges and universities in 47 states and the District of Columbia that are taking action to address the health and environmental challenges facing America by creating campuses more welcoming to people who bike. CC is committed to providing our community with transportation options that are safe, healthy, and accessible. Check out what we are doing to promote alternative methods of transportation below and be a part of PikeRide!
"It is so energizing to have Colorado College among our cohort of 212 Bicycle Friendly Universities across the country," said Bill Nesper, executive director of the League of American Bicyclists. "The 2020 class of 38 Bicycle Friendly Universities has addressed a crisis unlike any we've seen in our lifetimes. Amidst the pandemic, we are grateful each of these institutions has acknowledged the benefits to the well-being and health of its students, staff, and faculty in being a Bicycle Friendly University. These colleges and universities are leading by building healthy environments where people can safely get around while improving the well-being of their community by enabling access to sustainable transportation options."
Learn more about the League and its Bicycle Friendly University program.
Fleet Vehicles
CC's Institutional Fleet
Colorado College has led several initiatives to support alternative fuel and power technology in its motorized fleet such as
Using B20 fuel for all diesel-powered vehicles on campus

Replacing gas-powered golf carts used by maintenance staff with all-electric Low-Speed Electric Vehicles

Replacing older service vehicles with smaller more fuel-efficient Ford Transit Connects

Recycling waste oils from college vehicles to use to heat the Transportation Building
---
One Cent Charge
In 2018, the Office of Sustainability worked with the Office of Transportation to include a carbon offset price. The price for CC fleet vehicles (vans, SUVs, buses, etc.) is one cent per mile. Since then, over $3,000 have been collected and invested in reducing emissions from the one-cent carbon fee. To learn more, check out this Catalyst article written by Benjamin Swift '21, Buildings & Grounds Intern.
EV Charging
Charge Up on Campus
Need to charge up your vehicle? In 2013, CC installed several ChargePoint public stations in the Tutt Library parking lot, making it easily accessible to CC and the greater Colorado Springs community. The charging stations come courtesy of Jim Burness '90, a political science major and CEO of National Car Charging. Burness arranged for the donation of the charging station from ChargePoint, the nation's largest vehicle charging network.
It will cost 75 cents per hour to charge. An hour of charging will give you approximately 10 to 20 miles of driving distance. The CC charging station has been placed on the company's online map in order to help support the national EV charging network. A mobile app also allows drivers to locate charging stations.
Additionally, there are two other charging locations on campus; both the Robson Parking Garage and East Campus Parking Lot have non-ChargePoint EV charging stations. 
Please keep in mind that you must have a valid Colorado College parking permit to use these charging stations, although you can use charging stations outside of your permitted lot.
Charging Station Locations
Lot C-1 (Tutt Library): 2 ChargePoint Stations 
Lot E-1 (East Campus): 2 EV Charging Stations 
Lot (Robson Arena Parking Garage Level 1): 4 EV Charging Stations
Mountain Metro Map