Waste At CC
Colorado College is focused on minimizing the amount of waste we produce by providing clear signage, in-person education, and incentives to reduce, reuse, and refuse. Below you will find a quick guide to diverting your waste.
Colorado College recognizes not only the important of diverting our waste but reducing the amount of waste produced on our campus. CC partners with several local companies in Colorado Springs to collect our compost, recycle, landfill, and e-waste! Check out what our office is doing about waste this year!
Through the work of our Zero Waste Interns and in partnership with the Office of Communications, all signage has been updated to a cleaner and simplified guide. The transition to new signage on campus has begun, starting in Worner Center and Tutt Library, which had over 200 bins for compost, recycle, and landfill.
There has been a large demand from students to place compost bins in residential spaces. Over the past year, the Office of Sustainability has worked with Residential Life & Housing to place over 100 compost bins in East Campus, the language houses, on-campus apartments, and small houses.
Over 55% of items were diverted from the landfill by recycling, composting, and donating last year (2018-19).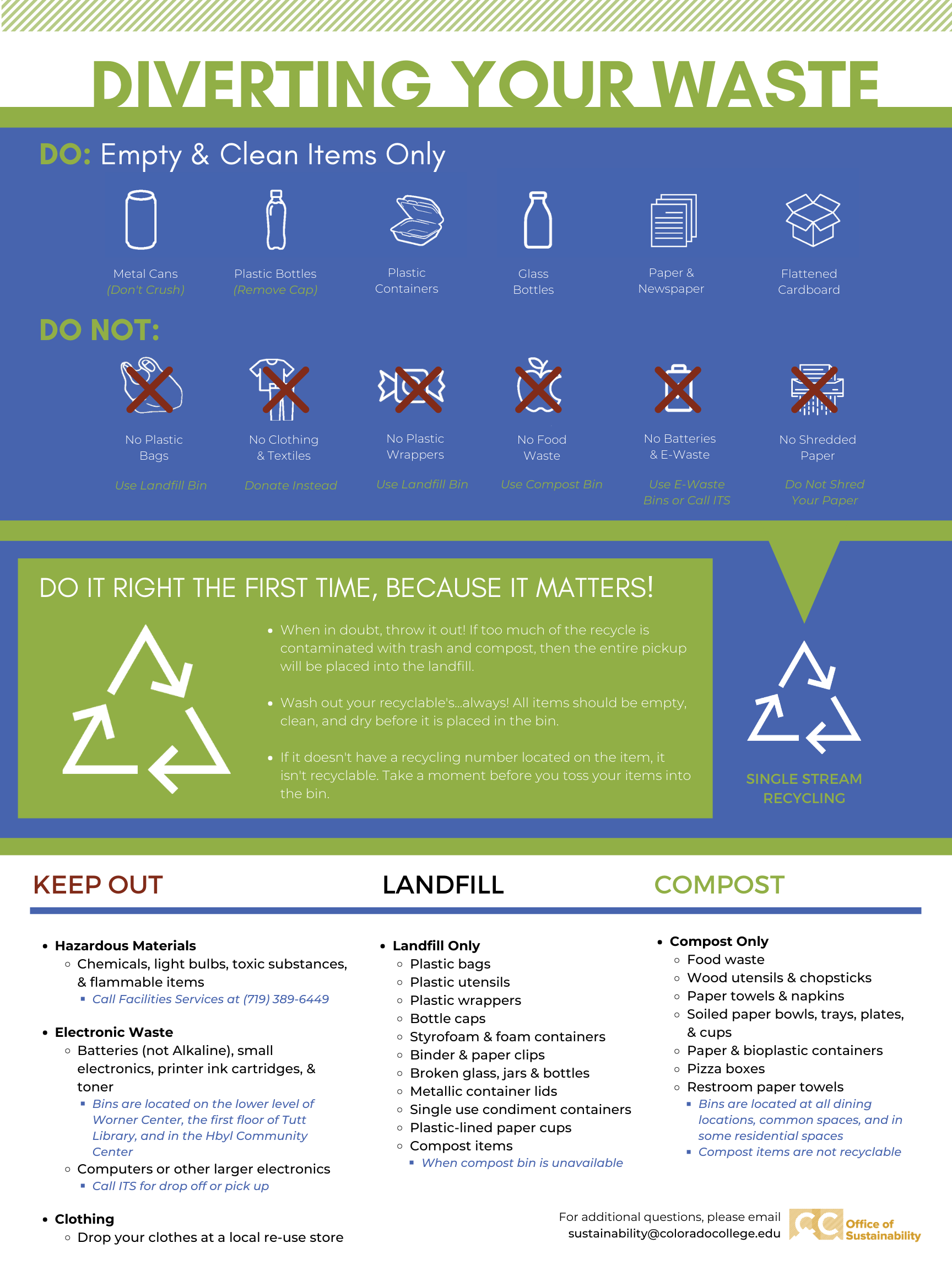 Official College Policy
Learn More: Official Policy Guidelines
We are working to standardize all of our waste bins on campus through our waste reduction program to match international standards — blue for recycle, green for compost, and black for landfill. The program we are deploying across campus through Sodexo and Facilities Services is in line with national waste diversion program standards. A black container is always paired with a blue container, and a green container is always placed in rooms where food catering occurs, in break rooms, and in bathrooms for composting of paper towel waste. We've seen significant results from this program and applaud your efforts in diverting waste from landfills!
Many people have had questions about what can and cannot be recycled or composted. Our waste hauler, Green For Life (GFL), has specific guidelines on this topic for the facilities available in our area. Click on the link below to learn more about our general guidelines to address some of the most common diversion questions.
Signage Update
Have you seen our new signage? If you haven't - check it out below! The Office of Sustainability will be working to roll out new signage into the public spaces on CC's campus over the course of 2020.