Where To Eat
Compiled by your student curators.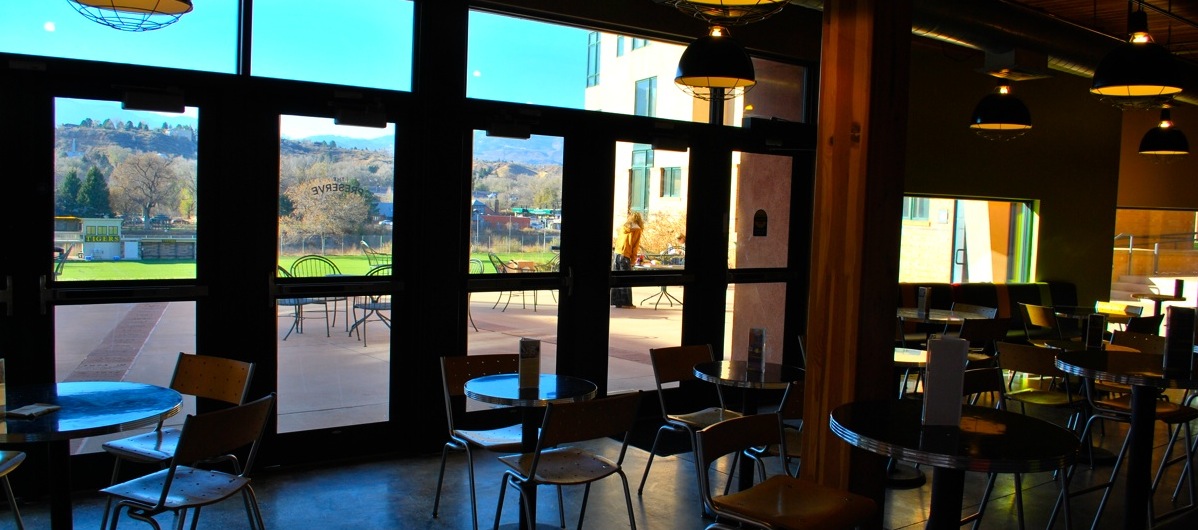 On Campus
Rastall Dining Room
Located in Worner Campus Center.
The place to go if you're seriously hungry-or if you want to observe the CC community in its natural habitat. Rastall ("Rasty" to those in the know) boasts a buffet complete with 4+ stations of traditional dishes, comfort food, vegan, and vegetarian options. Rastall also houses a grill, offering all-natural beef and antibiotic-free chicken; a stir-fry center featuring the flavors of Southeast Asia; house-made pizza and pasta; a large salad bar stocked with seasonal produce; and made-from-scratch soups. If the weather's nice, have a seat on the back porch and savor your meal in full view of Pikes Peak.
Benjamin's
Located in Worner Campus Center.
Order a hamburger from the grill (get the onion rings), or bring out your inner food artiste by crafting your own noodle bowl. Benji's is the place to order your latest craving, and then sit back and devour while watching the world go by outside floor-to-ceiling windows. This is the perfect gathering place; expect to see students talking homework projects over fajitas, or sharing homemade Rice Krispie treats while outlining the idea behind their latest art creation.
The Preserve
Located in the Western Ridge Apartments, under McHugh Commons.
Functioning as part gourmet café and part grocery store chic, the Preserve is the perfect place for a quiet afternoon study break or weekend gathering with your friends. Soups, salads, pizza, calzones, and a daily, made-to-order chef's special are all on the menu here. Grab an energy drink on your way to practice or dash over from your apartment when you run out of butter midway through cookie-baking.
Also on campus: Colorado Coffee, Local Goods, Susie B's.

---
In the Downtown Area
Phantom Canyon
2 East Pikes Peak Ave. 719.635.2800
Phantom Canyon, a bustling brew pub with great service and real meals, is worth the four times you'll drive around the block looking for a parking spot. On any given night, this hot dinner spot features 8-10 handcrafted specialty brews and some of the highest quality pub food - from calamari to beer cheese pretzels - in town.

King's Chef Diner
131 East Bijou. 719.636.5010
Open nearly 24/7 (until 4:30 a.m.: Thurs, Fri, and Sat), King's Chef serves the biggest and baddest (in the best possible way) all-day breakfast foods you can imagine. Picture a normal diner breakfast - two eggs, a rasher or two of bacon, maybe some hash browns and toast. Now multiply that by ridiculousness, and add some utterly phenomenal green chili. Do you dare to try for the "Clean Plate Club" sticker?
Shuga's Restaurant & Bar
702 South Cascade Ave. 719.328.1412
Hipster kitsch. Mint mojitos. Happy hour 5-6. 'Nuff said.
Taste of Jerusalem Cafe
15 E. Bijou St. 719.477.1777
Fresh, simple, and authentic Middle Eastern food. This cafe has all the classics: plates, kebabs, shawarmas... dolmas! Great vegetarian options as well. And a free drink with a student ID!
Colorado Springs' downtown area also boasts such classics as Pita Pit, Chipotle Mexican Grill, Jimmy John's Gourmet Sandwiches, and the Melting Pot.
Within Walking Distance
La'au's Taco Shop
Suite 110, 830 North Tejon Street. 719.578.5228
Another CC favorite. Fresher-than-fresh ingredients make for the best tacos I've ever tasted. The flavors of Indonesia, Hawaii, and Mexico all mixing in that humble little tortilla... Amazing.
Poor Richard's
320 North Tejon Street. 719.578.0012
This quintessentially "downtown" business houses a used bookstore, toy shop, café, and restaurant all under one roof. Each section functions on its own and as a unit, giving you the freedom to dine in the bookstore, drink a latte in the toy shop, or read a book anywhere you want. Throw in free Wi-Fi and create-your-own pizza by the slice (if I were you, I'd go for the bacon-feta-avocado combo) and it's easy to see why this gem is a college student's oasis.
Josh & John's Ice Cream
111 East Pikes Peak Avenue. 719.632.0299
Offering mountains of hand-made ice cream, Josh & John's is a Colorado Springs icon. Dozens of flavors gaze lovingly down from a chalk wall, as well as daily trivia questions for ice cream prizes. J&J also serves shakes, sundaes, cookies, happiness, rainbows, and unicorns (they don't discriminate).
Beyond
Boriello Brothers Pizza
215 E. Platte. 719.578.9312
The best New York-style pizza in the Pikes Peak region. You can go all out with toppings (hello Meatball Alfredo), but the standard pepperoni is simply the best. They deliver, too!
Cy's Drive-In Restaurant
1833 West Uintah Street. 719.630.7008
A local foodie landmark draped in all the finery that the 1950s could muster, Cy's offers no-nonsense burgers and fries with outstanding milkshakes - also known as the manna of the gods. Both eat-in and drive-in, this restaurant's small interior houses some of the biggest hearts in the local food business. Cheap, cheerful, and accompanied by Elvis records - is there better?
Omelette Parlor
900 East Fillmore Street. 719.633.7770
The best breakfast in Colorado Springs. But actually - it's been voted best of the Springs for 16 years in a row. The Omelette Parlor opens at 6 a.m., 7 days a week, to serve a mouth-watering variety of the West's best skillet-prepared omelets. Try a house special like The Godfather (Italian sausage and marinara) or the W.J. Palmer (sour cream, bacon, and taters), or have it your way with a fluffy, grade AA custom creation. No matter how you scramble it, this place is eggcellent.
Monica's Taco Shop
30 East Fillmore Street. 719.473.1996
From the outside, Monica's looks like just your average hole-in-the-wall taco/burrito/etc spot, but it's so much more than that. I can't even pick out my favorite thing on the menu because I never get the same thing twice. It's that good. All of it.
Drifter's Hamburgers
4455 Mark Dabling Blvd. 719.548.8163
These kids keep it simple. One patty or two? Fresh onions or grilled? Strawberry, vanilla, or chocolate milkshake? Fries on the side. Happiness in a basket. (Also probably a heart attack, but come on. You're in college. Say "hello, freshman fifteen.")