Things To Do
Need a break from the books? You're in luck! Colorado just happens to be one of the finest locations in the country for live music, sight seeing, and outdoor recreation, not to mention cultural breadth and diversity.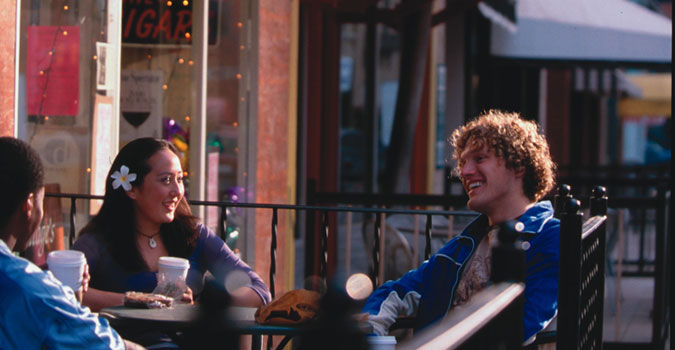 Compiled by your student curators.
Tourist Attractions
Colorado Springs
Local Colorado Springs attractions span an array of natural and geological wonders, both hidden below and towering above ground. Such wonders include Cave of the Winds' three underground cave tours beneath the surface of the region and the astounding red rock beauty of Garden of the Gods park. Established in 1909, Garden of the Gods features trails for hiking, walking, mountain biking, and horseback riding. Cheyenne Mountain State Park also idyllic hiking, biking, or picnicking in an idyllic natural setting. For animal lovers, the Cheyenne Mountain Zoo is a must-see. A true local landmark, the Cheyenne Mountain Zoo houses more than 700 animals from around the world in the foreground of surrounding mountain scenery.
Manitou Springs
Nearby Manitou Springs is home to the Manitou Cliff Dwellings and Seven Falls, the only waterfall in Colorado to make National Geographic's list of international waterfalls. In addition to a number of hiking trails, Seven Falls offers a spectacular view of crystal clear Pikes Peak runoff cascading 181 feet in seven different steps down a granite cliff.
Recreation
Colorado Springs
You'll struggle to find a more diverse and accessible region for outdoor recreation than the Pikes Peak Region. The snow-capped Pikes Peak, the backdrop of CC's campus, is one of Colorado's majestic "fourteeners." The 14,110 ft mountain and its surrounding hills give members of the CC community further access to a number of outdoor pursuits, including 444 miles of biking and hiking trails and the infamous Manitou Incline.
Beyond
The Rocky Mountain National Park is a great place to go hiking, camping, snowshoeing, and more. World-class Colorado ski resorts like Breckenridge, Keystone, Monarch, Copper Mountain, and Vail are all within two to three hours of the CC campus. Our region also caters to its sports fans, providing opportunities to see top-level athletes perform in brilliant venues. Now's your chance to see your favorite sports teams in action, whether it's the Denver Broncos, the NBA's Denver Nuggets, the NHL's Colorado Avalanche, the MLS' Colorado Rapids, or the MLB's Colorado Rockies. Grab some tickets and take your pick of teams to cheer on!

Culture
Colorado Springs
No matter what you may be searching for to top up your culture, the surrounding area is sure to have you covered. The Colorado Springs Fine Arts Center, for example, is a great place to explore the performance arts, like theater and dance. Colorado Springs World Arena, in addition, functions as a premier entertainment venue for dance companies, musicians, and stand-up comedians.
Denver Area
The metropolis of Denver is a veritable epicenter for Colorado culture. Denver offers several museums - the Denver Art Museum, for example - in addition to the Downtown Aquarium, art galleries at Cherry Creek North, and the Denver Center for the Performing Arts, which features world-class theater of all kinds throughout the year. Known for its diverse population, Denver also hosts the nation's largest Cinco de Mayo celebration in the spring, the GLBT Community Center of Colorado's PrideFest in the summer, and the Longs Peak Scottish Irish Festival in the fall.
Nightlife
Colorado Springs
For those old enough to enjoy them, both Colorado Springs and Denver contain a wide breadth of nightlife options from bars and restaurants to comedy clubs and nightclubs. There are several hidden bar gems downtown Colorado Springs, including fun dive bar Tony's and local favorite Jack Quinn's Irish Pub and Alehouse (drop in on Mondays at 8 o'clock sharp for Pub Quiz Night). For country music, line-dancing, and live bands, boot stomp over to Cowboy's. For a more mainstream club experience, try the swanky 13 Pure; "The Ritz" Grill, which turns into a club at night; and Club Q, Colorado Springs' premiere gay club, bar, and drag show.
Denver Area
The Denver nightclub scene is positively booming. Hot spots include Vinyl and The Church. If your idea of a night out is a few hours of giggling over a glass of wine, opt for Comedy Works, where famous comics take their latest material out for a spin.
Music
Colorado Springs
Colorado Springs plays host to a number of locally known music venues of varying sizes. At the fore of the local scene is The Black Sheep, where you can find big names of pretty much any genre from heavy metal to acoustic folk. The Springs also has several bars and restaurants that frequently offer live music, including the Thirsty Parrot Bar & Grill, Edelweiss German Restaurant, Shuga's, Adams Mountain Cafe, and Trinity Brewing.
Denver Area
Denver's music scene is continually expanding and exploding. As the major city in the Rocky Mountain region, it attracts some of the most famous artists from all over the world to play at large-scale venues like the Fillmore Auditorium, the Paramount Theatre, the Pepsi Center, Empower Field at Mile High, and the Comfort Dental Amphitheatre. As pop superstars and classic musicians continue to play in Denver, the region's reputation as a concert haven continues to grow.
But it is to the outskirts of Denver that the connoisseurs of live music flock. Red Rocks Park & Amphitheatre in Morrison is a world-famous, one-of-a-kind natural open-air venue. The geologically-formed amphitheatre consists of two massive monoliths - both of which eclipse the height of Niagara Falls - that mold any performance to acoustic perfection. Once listed among the Seven Wonders of the World, Red Rocks still attracts the most famous names in music simply because musicians love to play the venue (notable artists include The Beatles, Jimi Hendrix, U2, and The Grateful Dead). For an audio-visual experience of the highest quality and a gorgeous nighttime panoramic view of Denver's city lights, a Red Rocks show is nothing short of a must-see.