Priddy Experience Directory
2021 NSO Interns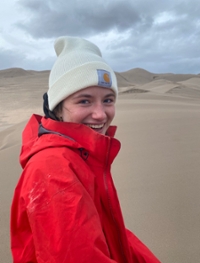 Name: Meredith Kuster
Pronouns: she/her/hers
Year: Junior 
Hometown: Pelham, NY 
Major/s: Environmental Studies
How we get involved at CC: Outdoor Ed Backpacking Leader, member of the Delta Mu sorority, played in intramural basketball, soccer, and broomball, nanny, NSO and WSO leader, NSO Intern
Fun fact: I am a triplet and have a brother 15 months younger than me!
Favorite Block at CC: My First Year Experience (FYE, but now they are FYP) Block was called 'Slow Food in a Fast Food Nation.' We learned about agriculture in relation to the environment in Colorado, learned some introductory Italian, about the culture surrounding Italian food, and went on 8 field trips! This class is in the EV Studies department and led me to declare as an EV Studies major! 
Favorite NSO memory: Becoming close with my peers and leaders during the Priddy experience made me feel much more welcomed, comfortable, and confident with the CC environment and values!
Words of Advice for Incoming students: Go out of your comfort zone! Moving to a new school (or maybe even state) can be a very intimidating and difficult transition, and it is really hard to approach. Putting yourself out there by getting involved can help you gain a better sense of community, you can meet more people, and learn a lot about the school!
---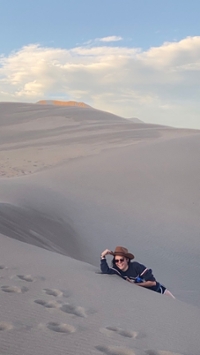 Name: Arity Sherwood
Pronouns: She/her/hers
Year: Senior
Hometown: Woodland Park, CO
Major/s: Environmental Science and Anthropology
How we get involved at CC: Greek Life (Panhellenic President), Outdoor Education Leader (NSO and WSO), Intramural Broomball, Athletic Marketing Assistant, DIALogue Center Caller, Office of Sustainability Volunteer, and NSO Intern! 
Fun fact: I am left-handed!
Favorite Block at CC: My very first block at Colorado College was Geology, and it is definitely still my favorite! We were able to go on so many fun camping trips to learn about the geology of Colorado! I met some of my closest friends and was able to interact with some awesome professors. I would definitely recommend taking Geology at CC if you have the chance!
Favorite NSO memory: I really enjoyed the hopes and fears segment of my Priddy trip. It made me feel so much more comfortable about coming into college, and made me realize everyone else was just as nervous as I was! 
Words of Advice for Incoming students:
Take a class you would never otherwise think about taking! I took an Anthropology class as a first-year just because there were no other open classes, and I ended up loving it. One of the coolest things about going to a liberal arts college is that there are so many awesome classes available.
---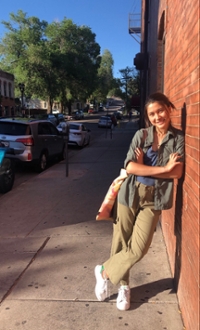 Name: Jasmine Volkaert
Pronouns: She/her/hers
Year: Sophomore 
Hometown: Bangkok, Thailand
Major/s: Molecular Biology 
How we get involved at CC: ISO leader, NSO intern, CC wall-climbing team, intramural volleyball, member of CCSJP
Fun fact: I read tarot cards (been doing it for 4 years now!) 
Favorite Block at CC: Even though I am a molecular biology major, I ended up enjoying my religion block called Mysticism. We spent the entire block talking about "what is God" in different religious contexts and what is "nothing". It was mind-blowing, for me at least. My FYP block was really fun as well, we learned about monsters and humans in the context of German literature. 
Favorite NSO memory: I attended WSO in 2021 and it was a hybrid orientation, most of the activities were done through zoom. Despite this, I had an "Among Us" session in every meeting with my Priddy Group. It was super fun and we got really competitive! 
Words of Advice for Incoming students: Take it easy when it comes to adjusting yourself to the CC community, you never have to rush yourself into things right away. Take time to explore different classes, places, and activities CC has to offer! 
---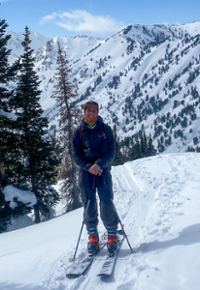 Name: Ben Carpenter
Pronouns: he/him/his
Year: Junior
Hometown: Denver, CO
Major/s: Organismal Biology and Ecology
How we get involved at CC: Member of Wasabi, the club Ultimate Frisbee team; resident advisor; intramural broomball, softball, soccer, and hockey; Co-Chair of The Masculinity Project, a Butler Center program; 
Fun fact: I am a huge fan of Jane Austen
Favorite Block at CC: My favorite block at CC was an English class dedicated entirely to Jane Austen and her works. It was my favorite because it was a great professor and I realized that most of Austen's work is just backhanded compliments in a very proper English accent. Coincidentally, it is the reason I am now a Jane Austen fan.
Favorite NSO memory: My favorite NSO memory is when my group was camping up in the San Juans. We had just finished a long, fun day of trail work and messing around with a couple of Park Service rangers, and my group decided to go swimming down in the river near our campsite. It was awesome to get to know each other and interact in such a casual way and not feel like it was a structured trip but more like a bunch of friends that chose to go camping together. Super fun.
Words of Advice for Incoming students: My advice for incoming students is to take your time to find out how best you fit in while being true to yourself. I made the mistake of overextending myself and trying to fit too many roles in too many places, and that was a lot to handle. But, don't be afraid to try new things and push your comfort zone. Take an anthropology class! Or a geology class! Join a club that you find interesting, and see what it's like! There are so many wonderful people and groups and things to do at CC, and you'll find the ones that are best for you.
Explore Outdoor Education
Facility Hours
Outdoor Education Center
Monday - Friday: 9am - 5pm
- - - - - -
The Ahlberg Gear House and Ritt Kellogg Climbing Gym will be open during the summer on a limited schedule. The Bike and Ski Co-op will be available by appointment only. 

 
Please
visit
each facility page for more information regarding hours and precautionary measures.
Contact Us
(719) 389-6803

931 N. Nevada Ave
Colorado Springs, CO 80903
To join our email list and get program updates sent directly to your inbox,
fill out this form.