Bike & Ski Co-op
The Bike & Ski Co-op aims to to empower members of the Colorado College (CC) community to maintain and repair their own bicycles and skis by offering instruction and a work-space complete with a full inventory of repair stands, tools, and spare parts.
Services offered at The Co-op range from flat tire repair, full bicycle rebuilds, and ski tuning. All share the common thread of experiential learning. Student mechanics both help repair bikes, skis, and snowboards while working alongside and teaching students, faculty and staff. The active teaching and participation by community helps foster a more sustainable bicycle and ski culture on the CC Campus. Do your bikes or skis require more advanced or technical repairs?  Please consider visiting one of the many local Colorado Springs bike shops.  Send us an email and we would be happy to recommend a few.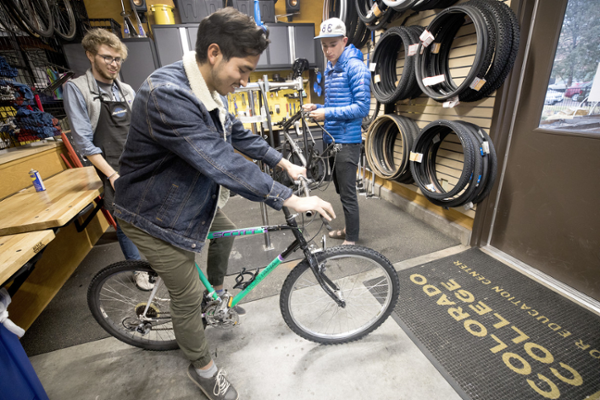 Hours of Operations
Summer Hours
By request and staff availability. Please contact aharrow@coloradocollege.edu to coordinate.
Fall/Spring Hours
Monday, Wednesday, Friday 2:00 - 5:00pm
(Closed Friday of Block Break)
Explore Outdoor Education
Facility Hours
Outdoor Education Center
Monday - Friday: 9am - 5pm
- - - - - -
Please
visit
each facility page for more information regarding hours for the
Gear House
,
Bike & Ski Co-op
and the
Ritt Kellogg Climbing Gym
.
Contact Us
(719) 389-6803

931 N. Nevada Ave
Colorado Springs, CO 80903


To join our email list and get program updates sent directly to your inbox,
fill out this form.