Room and Dining Facilities
While attending Summer Session, you will live in one of the Colorado College residential halls. Among your hall-mates will be a professionally trained live-in staff member and Program Assistants (PAs). This team will organize cultural activities and social events, such as barbecues and movie nights, throughout the summer. As Colorado College undergraduates, the PAs are a tremendous resource for life on the block plan and all things CC!
The following items are provided in each room:
a linen packet consisting of all bedding (2 sheets, pillow case, pillow cover, mattress pad, pillow, and bedspread)
2 towels
desk
dresser
bookcase
microfridge
safe
Accessibility
If you would like more information about housing accommodations due to a disability, please contact Jan Edwards, Director of Disabilities Services, at 719-227-8285 or by email at jedwards@coloradocollege.edu. Please initiate this contact by mid-April so that the College can prepare any necessary accommodations. You can also find more information on our Accessibility Resources page.


Dining
You will eat at Rastall Dining Hall, located in Worner Campus Center, where you can find everything from "traditional" comfort foods to international delicacies to nutritious vegetarian and vegan options. At our all-you-can eat buffet-style dining hall, you can choose from a giant salad and sandwich bar filled with local, seasonal produce; a grill station offering all-natural beef and antibiotic-free chicken; hand-made pizzas and pastas; Southeast Asian cuisine; and even an omelet bar during weekend brunch! No matter what you like to eat, chances are you can find it at Rastall.
Susie B's, in Tutt Library, offers coffee drinks, juices and snacks. Your meal plan dollars can be used here.


Room & Board Details
For rates, meal plan information, and application, see the Tuition and Fees page.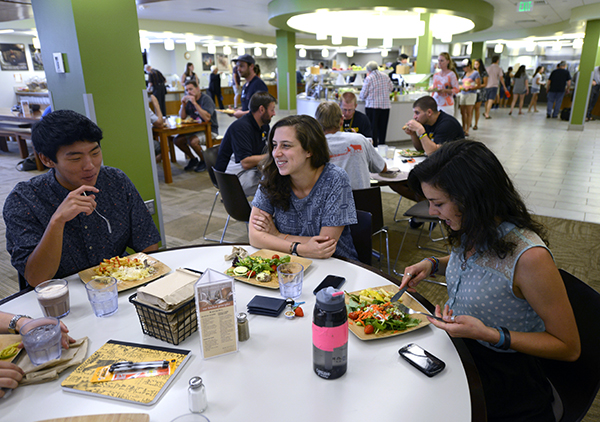 Jim Burke
Director Of Summer Session
(719) 389-6656
---
Katherine Ruckstuhl
Summer Session Specialist
(719) 389- 6098
kruckstuhl@coloradocollege.edu
---
Rosy Mondragon
Summer Session Administrative Assistant
(719) 389- 6655