2019 Pre-College Course Offerings
AS 112: A Material Exploration of Drawing: On and Off the Press

Assistant Professor Kate Aitchison
This class is a synthesis of two studios: drawing and printmaking. Drawing concepts will be the foundation for our exploration of direct and indirect mark making. Students will gain fundamental drawing skills studying the line, shape, value, and composition in conjunction with introductory printmaking methodologies.


---
EN 104: Cross Genre Writing Workshop
Associate Professor Steven Hayward
This high-energy workshop allows creative writers to try their hands at a range of styles. From prose to spoken word to plays, we will explore across genres, building a tool box of literary adventure.


---
EV 100: From Grasslands to Glaciers
Associate Professor Mike Taber
This course is an invitation to experience and explore the rich natural history of the Pikes Peak region. We will focus on the defining climate zones in the Pikes Peak region: from grasslands to woodlands to montane to subalpine to alpine.


---
FG 106: Do #AllLivesMatter?:Historical and Contemporary Protest in the U.S.
Assistant Professor Heidi R. Lewis
Focusing primarily on Feminist and Critical Media Studies, this course allows students to examine mediated constructions of and debates about protests as early as Nat Turner's revolt in 1831 and as recently as the anti-fascism protests at the University of California-Berkeley in August 2017.


PC 150: Physics in Biology and Medicine
Associate Professor Kristine Lang
This course applies physics equations and methods to understand biological systems. The class will study an eclectic mix of biological systems, including human athletic performance, protein folding, and the circulatory system.


---
PS 102: Freedom and Empire: The Drama of Ancient Politics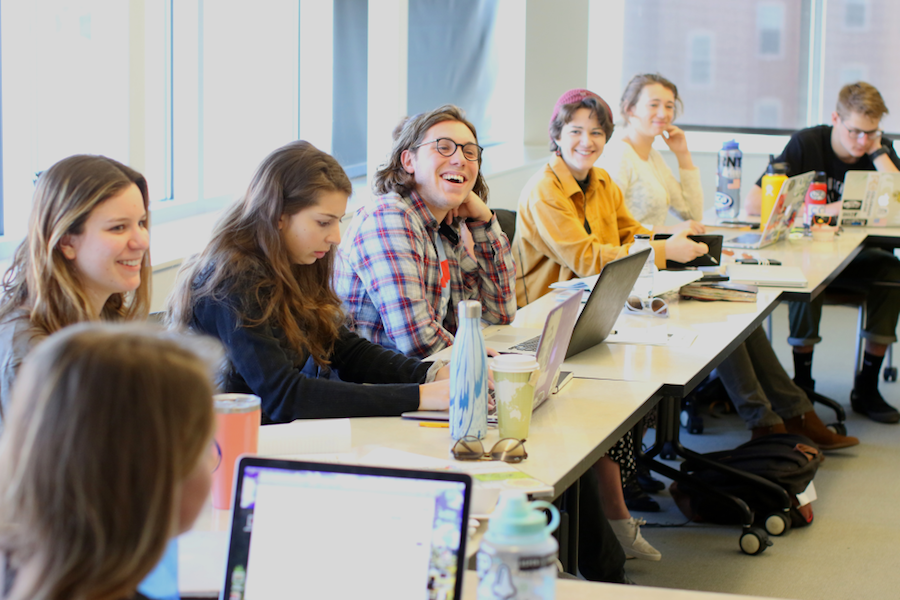 Assistant Professor John Grace
This course examines the gripping drama of ancient Roman politics, from the struggle for freedom to the temptations of empire, as it is notoriously described by Machiavelli in "The Prince," and vividly portrayed in Shakespeare's Roman plays.


---

PS 203: Global Health and International Development
Taking an interdisciplinary approach, this course introduces students to improvements, growing inequalities, and social justice in global health from historical, biological, economic, and political perspectives.


---
SO 190: Topics in Sociology: Globalization & Immigration Policy
Associate Professor Eric Popkin
This course will delve into theoretical debates over why people migrate, the role of states in managing migration flows, and the "actors" who have shaped immigration policy. Students in the class will have an opportunity to visit a number of community organizations run by or serving immigrants in Colorado Springs and Denver.


Block A & Block B

CL 111: Latin for Beginners - Kendra Henry & Frank Gumerlock
Introduction to the structure of classical Latin; reading of short texts to provide practice in literary and rhetorical reading and initiation in major areas of western thought. Attention to the history of the language and its relation to ancient, medieval and modern culture.
Critical Perspectives: N/A Program Fee: N/A
Prerequisites: N/A Units: 2
Block A: May 29 - June 21

AS 110: Book Arts and Letterpress - Lucy Holtsnider
This course provides an introduction to designing, printing, and binding artists' books and related ephemera. The ability of artists' books to enable the interweaving of technologies that would otherwise be isolated by arbitrary partitions of time or culture will be a point of focus. The course will also include visiting artist talks and a day-long field trip to the Rocky Mountain Land Library in South Park, Colorado.


Critical Perspectives: N/A Program Fee: N/A
Prerequisites: N/A Units: 1
AS 211: Fiber Arts - Jeanne Steiner
This course will explore both on and off loom fiber art process: weaving on floor looms, dyeing yarns and fabrics, felting wool, and printing methods for cloth. Students will learn the basic techniques with an emphasis on the exploration of such concepts as transparency, texture, form, pattern, and color.
Critical Perspectives: N/A Program Fee: N/A
Prerequisites: 100 Level Art Studio Course Units: 1
EN 280: Rewriting the Beats - Tracy Santa
This course examines the work of Jack Kerouac, William Burroughs, Allen Ginsberg, Joyce Johnson and others who challenged and continue to challenge the orthodoxy of American letters and culture. Study will focus on the historical context, stylistic innovations, and cultural significance of these writers and their work, will consider connections between writing, art, film, and music of this period (roughly mid-1940s to the early 1960s), and address contentious issues regarding the role of gender, sexual orientation, and spiritual practice in the generation, reception, and legacy of this body of work.
Critical Perspectives: Writing Intensive Program Fee: N/A
Prerequisites: N/A Units: 1
HY 200: Topics in History: American History, American Film - Bryan Rommel-Ruiz
Films can tell great stories. They can even tell engaging narratives about our past. But are films history—that is, are they efforts to tell the past "as it actually happened?" This course addresses this question as it examines the challenge of representing history in the Hollywood film. This class will focus upon the American West and American Dream in particular, as they are historical subjects steeped in American myth. We will watch an array of movies in the genres of the Hollywood Western and Gangster film such as The Searchers, The Unforgiven, The Godfather, Gangs of New York among others.
Critical Perspectives: N/A Program Fee: N/A
Prerequisites: N/A Units: 1
MA 126: Calculus 1 - Nguyen Nguyen
Differential and integral calculus of algebraic and transcendental functions and applications. Students normally begin the calculus sequence with this course.
Critical Perspectives: Scientific Investigation of the natural World and Quantitative Reasoning
Program Fee: N/A Prerequisites: N/A Units: 1
MU 228/FM 225: Song Writing & Film Scoring: Finding Our Inner Voice - Ofer Ben-Amots
MU228 - Song Writing & Film Scoring: Finding Our Inner Voice, will combine creativity and technology. Students will be able to take the film music track, focus on songwriting, or zoom in on both. Together we will explore effective ways of fitting melodies and harmonies to selected lyrics, examine the vital role music fills in feature films and documentaries. By analyzing specific visual examples and their respective soundtracks we will try to understand the dramatic, aesthetic, and functional role music plays in the screen and stage industry. Among other explorations, we will compare the art of film scoring with other musical dramatic genres such as musical theater and opera. Students will use the Finale music notation software as well as Logic Pro at the Packard Music Recording Studio, and will study a range of basic to more advanced scoring techniques. Finally, the class will complement the theoretical exploration with a portfolio of creative exercises while learning to score their own lyrics as well as several visual sequences of their original soundtracks. Taught by J. Jirasek and O. Ben-Amots.
Critical Perspectives: N/A Program Fee: N/A
Prerequisites: N/A Units: 1
PC 133: Astronomy - Juan Burciaga
In this introductory course in astronomy, students will investigate the history of astronomy and the nature, formation, and structure of the stars and universe. Possible topics will include planetary astronomy, stellar astronomy and the nature of the universe. Much of the course time will be spent at night under the stars or in the laboratory exploring the basis of astronomical knowledge. Laboratory work will include learning to use telescopes, taking photographs of the sky, and using a spectroscope. Students will take at least one extended trip to either the Baca Campus or the Colorado College mountain cabin.
Critical Perspectives: N/A Program Fee:$60
Prerequisites: N/A Units: 1
PY 100: Introduction to Psychology - Kristi Erdal
Examination of psychological phenomena from biobehavioral and sociobehavioral perspectives. Contemporary issues in psychology such as intelligence, development, perception, learning, abnormal behavior, language, and social behavior are explored. Scientific methodology and its application to psychological phenomena are stressed.
Critical Perspectives: Scientific Investigation of the Natural World Lab Program Fee: N/A
Prerequisites: N/A Units: 1
RM 200: Introduction to Indigenous Studies - Dwanna McKay
Provides an overview of the histories, governance structures, economies, relationships to place and other beings, and cultures of Indigenous and Native Peoples of the US, from a decidedly indigenous perspective. Places special emphasis on historical and contemporary indigenous resistance and resilience to racial oppression and violence perpetrated for the last six centuries by settler societies. Examines issues related to representation of American Indians, particularly image and stereotype creation as well as concerns about self-representation and authenticity.
Critical Perspectives: Social Inequality Program Fee: $90
Prerequisites: N/A Units: 1
Block B: June 24 - July 18

EN 280: Topics in Literature: The 20th Century Short Novel in English - George Butte
This class will explore great 20th c. short novels and how they experiment with narrative form across many cultures: texts will vary from Conrad ("Heart of Darkness") and D.H. Lawrence ("The Fox") to Katherine Ann Porter ("Flowering Judas"), Toni Morrison ("Sula"), Don DeLillo ("Pavko at the Wall"), Nadine Gordimer ("Something Out There") and Sandra Cisneros ("House on Mango Street"). Since this will be a Writing Intensive class, students will have one-on-one tutorials on each paper, after which they will revise and rewrite the paper
Critical Perspectives: Writing Intensive Program Fee: N/A
Prerequisites: N/A Units: 1
FM 102: Basic Filmmaking - Meredith Mantik
Examines the fundamentals of filmmaking – planning, shooting, and editing – via numerous short projects that culminate in a final public screening. Topics include framing and composition; cinematography, lighting, and sound; storyboards and shot diagrams; editing tools and techniques; digital workflow; and the process of analysis, evaluation, and revision.
Critical Perspectives: N/A Program Fee: N/A
Prerequisites: N/A Units: 1
GY 135: Geology of the Pikes Peak Region - Vikki Crystal

In this course we will be taking advantage of our fabulous and geologically intricate surroundings to explore the core concepts of geology. Geology is a science that draws on many other sciences (chemistry, physics, even biology) and the range of topics covered in this course are similarly diverse. The overall goal here is to give you some broad basic knowledge of geosciences, and more importantly, to set you up with the tools needed to make observations and interpretations in a scientifically valid manner.
This class fulfills the Introductory Geology requirement for Geology majors.
Critical Perspectives: Scientific Investigation of the Natural World Program Fee: $150
Prerequisites: N/A Units: 1
MA 117: Probability and Statistics - Stefan Erikson
An introduction to the ideas of probability, including counting techniques, random variables and distributions. Elementary parametric and non-parametric statistical tests with examples drawn from the social sciences and life sciences. (No credit if taken after any other college-level statistics course.) Not recommended for mathematics majors.
Critical Perspectives: Scientific Investigation of the Natural World, Quantative Reasoning,
Prerequisites: N/A Program Fee: N/A Units: 1
MB 101: The Science of Ethics and Genetics - Ralph Bertrand
The course covers some of the basic principles of classical and molecular genetics preparing students to develop an informed opinion on genetic issues that impact the social, medical, legal, and biological disciplines. Some of the ethical discussions include privacy and confidentiality, online ancestral information, direct to consumer genetic testing, artificial reproductive technology, genetic determinism, forensic analysis, vaccines, scientific research, gene therapy, genetic counseling, genetically modified organisms, and genome editing.
Critical Perspectives: Quantitative Reasoning, Scientific Investigation of the Natural World
Prerequisites: N/A Program Fee: N/A Units: 1
PA 250: Topics in Asian Studies: Buddhism, Society and Ecology - Asoka Bandarage
At the root of contemporary global environmental and social collapse is a world view and a social system based on human domination of nature and of each other. There is now a growing recognition that environmental sustainability and human well-being require a shift from the prevailing system of domination and extremism to a global consciousness and a socioeconomic system based on interdependence and partnership. In this course we examine the contribution that the teachings of the Buddha can make to this global scientific and ethical discourse and the movements for psycho-social transformation.
This interdisciplinary course draws upon a broad range of fields including global political economy, sociology, philosophy, ecology and Asian Studies. The course will provide an overview of interrelated contemporary crises of climate change, economic inequality and violent conflict; introduce the ethics and basic philosophical concepts of Buddhism, such as, impermanence, interdependence, non-violence and the Middle Path: explore ecological and 'socially engaged Buddhism' in Asia; and engage students in the discourse and efforts for personal and collective change.
Critical Perspectives: Global Cultures, Social Inequality Program Fee: $90
Prerequisites: N/A Units: 1
PC 120: Cosmology, Antigravity, and the Runaway Universe - Shane Burns
Recent observations made using the Hubble Space Telescope and other observatories have revolutionized our understanding of the origin, evolution, and fate of the universe. We now have answers to questions that humans have pondered since our ancestors first looked up at the night sky. Did the universe have a beginning? If so, how old is it? Will it come to an end? We know the answers to many questions, but we are also confronted with a universe that is made mostly of mysterious "dark energy" and "dark matter." Dark energy seems to produce an antigravity effect that causes the universe to expand at an ever-increasing rate, yet we know almost nothing about it.
During this course, we will discuss our current understanding of cosmology and, perhaps more importantly, how we know what we know. We will examine the latest observations taken with the Hubble Space Telescope and explore what these observations tell us about the nature of the universe. We will supplement these observations with our own observations using the Colorado College Observatory.
Critical Perspectives: Scientific Investigation of the Natural World, Quantitative Reasoning
Prerequisites: High School Algebra Program Fee: N/A Units: 1
PS 270: Liberty and Equality - Eve Grace & John Grace
Explores the question whether there is a fundamental justification for democratic rule by analyzing diverse defenses and critiques of the claims that democracy is founded on the truth of human equality and best provides for individual liberty.
Critical Perspectives: N/A Program Fee: N/A
Prerequisites: N/A Units: 1
SO 190: Topics in Sociology: From Title IX to "Me Too": Gender Based Harassment and Assault - Gail Murphy-Geiss
A sociological examination of gender-based harassment and assault in law (such as Title IX) and culture (such as the "Me Too" Movement), with a focus on the United States. Specific areas of focus include college campuses, sports, workplaces, politics, religion, and the military.
Critical Perspectives: Social Inequality Program Fee: N/A
Prerequisites: N/A Units: 1
Visit Us
Armstrong Hall, Rm 219B
Colorado College
14 E Cache La Poudre St.
Colorado Springs, CO 80903