2020 Pre-College Course Offerings
<!div class="col-12">
<!/div>
AS 112: Introduction to Drawing: Landscape Immersion

Assistant Professor Kate Aitchison
In this class, students will explore introductory drawing techniques specially in relation to the Colorado landscape. Emphasis will be on observational and technical drawing skills as we explore landscapes surrounding the Colorado Springs area, drawing outside on location. Students will gain fundamental skills by studying line, shape, value, and composition. These concepts will be explored using different marking making tools will be introduced including charcoal, pencil, ink, and conte. Students will be both in field drawing from the landscape itself, and in the classroom, learning technical concepts in a more controlled setting. Taking lessons from this multi-pronged, approach, students will complete a portfolio of finished drawings that speak to the complex nature of our contemporary landscapes.
Supported by The Marie Walsh Sharpe Art Foundation in honor of Joyce Robinson
---
BE 101: Chemistry and Biology of Colorado Wetlands
Associate Professor Murphy Brasuel & Associate Professor Shane Heschel
This course will examine the ecology and chemistry of the wetland habitats along the Colorado Front Range. Through inquiry-driven research experiences students will explore the physiological and edaphic factors that determine the distribution of plants in wetland habitats. This cross-disciplinary course will have a special focus on invasive plant species in wetland habitats and involve studies of the biology of species like tamarisk as a window to the interactions between chemistry and biology in driving wetland structure. Students will conduct experiments and collect data in order to quantify these interactions; basic statistical methods will be employed in using quantitative reasoning skills to determine the degree to which tamarisk physiology depends on the biology and chemistry of wetland habitats. Students will also gain a greater familiarity with the scientific language of wetland ecology, learning both botanical and chemical terms in order to better describe wetland habitat structure and function.


---
EC 122: Social Entrepreneurship: Leadership & Impact
Assistant Professor Kat Miller-Stevens
Social entrepreneurship is the practice of identifying, starting, and growing successful mission-driven businesses, nonprofits, and social ventures - that is, organizations that strive to advance social change through innovative solutions. This course is an introduction to social entrepreneurship, an emerging field that lies at the intersection of entrepreneurship and social change. The course will review innovative leaders who are attempting to mitigate problems facing humanity and our planet today. Course materials and activities will introduce students to characteristics of the social impact leader, philanthropy skills and knowledge, scaling of social impact, and impact measurement for social ventures. Students will discuss philanthropy and giving and the ways you might contribute your time, energy, and skills to promote health, equity, peace – whatever it is you care most about – in your life beyond this course. The class will learn the complex web of individuals and organizations that make up the social impact sector before each student works to create their own social impact plan.


---
EN 104: Cross Genre Writing Workshop
Associate Professor Steven Hayward and Assistant Professor Nate Marshall
This high-energy workshop allows creative writers to try their hands at a range of styles. From prose to spoken word to plays, we will explore across genres, building a tool box of literary adventure.


---
FG 106: Do #AllLivesMatter?: Historical and Contemporary Protest in the U.S.
Assistant Professor Heidi R. Lewis
#BlackLivesMatter was created after the murder of 17-year-old Trayvon Martin "as a response to the anti-Black racism that permeates our society." In response, #AllLivesMatter was created more informally to counter what many felt was an exclusionary focus on Black lives at the expense of others. This, however, is just one example of the debates that ensue regarding various forms of protest, especially that which is entrenched in discourses about race, gender, sexuality, and other identity markers. This course allows students to examine these debates about protests concerning the LGBTQ movement, immigrants' rights, mass incarceration, and others.
---
PC 121: Cosmology, Antigravity, and the Runaway Universe
Recent observations made using the Hubble Space Telescope and other space-based observatories have revolutionized our understanding of the origin, evolution, and fate of our universe. We now have answers to questions that humans have pondered since our ancestors first looked up at the night sky. Did the universe have a beginning? If so, how old is it? Will it come to an end? We know the answers to many questions, but we are also confronted with a universe that is made mostly of mysterious "dark energy" and "dark matter." Dark energy seems to produce an antigravity effect that causes the universe to expand at an ever-increasing rate, yet we know almost nothing about it.


---
PS 102: Freedom and Empire: The Drama of Ancient Politics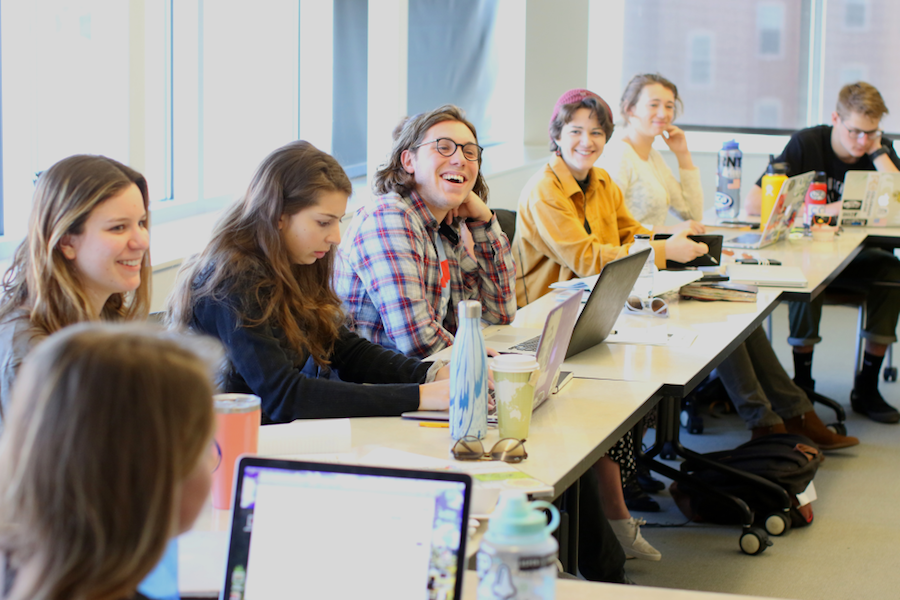 Assistant Professor John Grace
This course examines the gripping drama of ancient Roman politics, from the struggle for freedom to the temptations of empire, as it is notoriously described by Machiavelli in "The Prince," and vividly portrayed in Shakespeare's Roman plays.


---
SO 190: Topics in Sociology: Globalization & Immigration Policy
Associate Professor Eric Popkin
This course will delve into theoretical debates over why people migrate, the role of states in managing migration flows, and the "actors" who have shaped immigration policy. Students in the class will have an opportunity to visit a number of community organizations run by or serving immigrants in Colorado Springs and Denver.


Extended Format 2020

PA 250: Topics in Asian Studies: Elementary Hindi 1 -

Nidhi Arya
The study of basic grammatical structures and patterns with exercises meant to develop proficiency in speaking, listening, reading, and writing presented in a cultural context.
Program Fee: N/A
Prerequisites: N/A Units: 1
PA 250: Topics in Asian Studies: Elementary Hindi 2 -

Nidhi Arya
This course is designed to build on skills acquired in PA250 Elementary Hindi 1. Students will continue to develop competencies in listening, speaking, reading, and writing about self-generated information related to their daily lives and to life in different foreign cultural settings. Prerequisite: Elementary Hindi 1 for Block B portion of the course.
Program Fee: N/A
Prerequisites: N/A Units: 1
Block A: May 27 - June 19, 2020

AS 211: Fiber Arts - Jeanne Steiner
This course will explore both on and off loom fiber art process: weaving on floor looms, dyeing yarns and fabrics, felting wool, and printing methods for cloth. Students will learn the basic techniques with an emphasis on the exploration of such concepts as transparency, texture, form, pattern, and color.
Program Fee: N/A
Prerequisites: 100 Level Art Studio Course Units: 1
EN 280: Topics in Literature: Mapping Monsters with Digital Humanities Tools - Re Evitt and Jennifer Golightly
Students in this course will study monster narratives using digital humanities tools to learn how to theorize monstrosity, map monster narratives while contextualizing them culturally and historically, and re-present these narratives visually. During this course, students will read selections from Marie de France's shape-shifter lais and beast fables along with Shakespeare's Winter's Tale, Jane Austen's Pride and Prejudice, and select 20th/21st century zombie and vampire short fiction along with J. K. Rowling's beast narratives. Classes will combine critical discussion of literature with mentoring in several foundational digital humanities technologies to encourage students how to visualize narratives and integrate digital humanities data into their critical reading practices.
Program Fee: N/A
Prerequisites: N/A Units: 1
FM 102: Basic Filmmaking -

Maria Govan



An introduction to the art and craft of making films. This course provides an opportunity to produce a short video worthy of becoming a part of your artistic or professional portfolio. The first two assignments are warm-ups for the final and will give you a chance to get used to the equipment and refine your skills in cinematography, editing, and project planning.
Program Fee: N/A
Prerequisites: N/A Units: 1
GY 125: Introduction to Geographic Information Systems
This course is designed to introduce students to the concepts and application of the world of spatial mapping using Geographic Information Systems. The class is a mix of in class lecture, lab work, and field work to develop spatial thinking.
Program Fee: N/A
Prerequisites: N/A Units: 1
HK 125: Human Nutrition - Robin Van Helmond
Students will learn to describe and categorize the functions of macronutrients and micronutrients, and identify sources of each. They will also explore diet and lifestyle factors associated with the risk of various chronic diseases such as heart disease, diabetes and osteoporosis and compare dietary needs for different stages of life. By the end of this course, students will be able to describe the relationship between energy intake, metabolism, physical activity, and weight control translate nutrition science concepts into specific and easy-to-understand dietary recommendations. We will evaluate the scientific relevancy of nutrition messages available on the Internet and other media and apply your knowledge of nutrition, dietary guidelines, and the relationship between diet and health as you assess your own diet and diet-related health risks. Students will also design a daily meal plan for a balanced nutrient intake and specific calorie level.
Prerequisites: N/A. Units: 1
HY 200: Topics in History: History and Film in Post-WWII Europe and the United States - Jake Smith and Bryan Rommel-Ruiz
This course mobilizes mass market films to help students think through the intertwined histories of authority and violence in post-WWII-era Europe and the United States. Whether it was postwar Germans attempting to understand the Nazi period or Americans of the early 21st Century seeking to find appropriate ways to memorialize the 9/11 attacks in New York, films served as one of the primary arenas through which large-scale historical events were processed and memorialized in the popular imaginary. Students will emerge from the class not only with a more robust understanding of transatlantic history in the postwar period but also with a set of tools they can use to interrogate mass cultural artifacts as archives of historical meaning.
Prerequisites: N/A Units: 1
MA 117: Probability and Statistics - Stefan Erikson
An introduction to the ideas of probability, including counting techniques, random variables and distributions. Elementary parametric and non-parametric statistical tests with examples drawn from the social sciences and life sciences. (No credit if taken after any other college-level statistics course.) Not recommended for mathematics majors.
Prerequisites: N/A Units: 1
PA 250: Introduction to Asian American Studies -

Ryan Buyco



This is an interdisciplinary course that introduces students to the study of Asian and Pacific Islanders in the United States. Drawing from a range of disciplines, such as history, literature, and cultural studies, this course surveys different issues and methods that have emerged from the field of Asian American Studies since its inception in the late 1960s. This course also approaches the study of Asian and Pacific Islanders in the United States as an alternative lens to view US relations in the Asia and Pacific regions. Tentative themes include war and empire, critical refugee studies, settler colonialism, and immigration.
Prerequisites: N/A Units: 1
PC 133: Astronomy - Juan Burciaga
In this introductory course in astronomy, students will investigate the history of astronomy and the nature, formation, and structure of the stars and universe. Possible topics will include planetary astronomy, stellar astronomy and the nature of the universe. Much of the course time will be spent at night under the stars or in the laboratory exploring the basis of astronomical knowledge. Laboratory work will include learning to use telescopes, taking photographs of the sky, and using a spectroscope. Students will take at least one extended trip to either the Baca Campus or the Colorado College mountain cabin.
Prerequisites: N/A Units: 1
PH 203: Contesting Climate Justice -

Marion Hourdequin



Global climate change and human responses to it will deeply shape economies, cultures, migration patterns, and life prospects for people across the world in the decades and centuries to come. Climate change raises difficult questions of justice and equity: How might the burdens of reducing emissions be fairly shared among nations? Who should pay for adaptation in climate-vulnerable regions? Who should have a say in climate decisions? This course will examine multiple conceptions of fairness, equity, and justice in relation to climate change and explore how calls for justice and fairness are used both to reinforce and to challenge existing power relations, within and among nations.
Program Fee: N/A
Prerequisites: N/A Units: 1
PS 270: Liberty and Equality - Eve Grace & John Grace
Explores the question whether there is a fundamental justification for democratic rule by analyzing diverse defenses and critiques of the claims that democracy is founded on the truth of human equality and best provides for individual liberty.
Program Fee: N/A
Prerequisites: N/A Units: 1
PY 100: Introduction to Psychology: Basis of Behavior - Patricia Waters

Examination of psychological phenomena from biobehavioral and sociobehavioral perspectives. Contemporary issues in psychology such as intelligence, development, perception, learning, abnormal behavior, language, and social behavior are explored. Scientific methodology and its application to psychological phenomena are stressed.
Program Fee: N/A
Prerequisites: N/A Units: 1
Block B: June 22 - July 15, 2020

AS 110: Book Arts and Letterpress - Lucy Holtsnider
This course provides an introduction to designing, printing, and binding artists' books and related ephemera. The ability of artists' books to enable the interweaving of technologies that would otherwise be isolated by arbitrary partitions of time or culture will be a point of focus. The course will also include visiting artist talks and a day-long field trip to the Rocky Mountain Land Library in South Park, Colorado.


Program Fee: N/A
Prerequisites: N/A Units: 1
FM 200: Topics in Film History and Genre: Great Movie Thrillers - George Butte
This class will introduce students to different kinds of movie thrillers, from the police procedural ("The French Connection") to serial killer films (Lang's "M" and "The Silence of the Lambs") to political thrillers (Frankenheimer's "The Manchurian Candidate"), the heist film (Tarantino's "Reservoir Dogs"), and Hitchcock (maybe "Strangers on a Train"). Great thrillers have important existential themes, about guilt and innocence, identity, gender and sexuality, violence, and the social contract. There will be a significant writing component of the class to develop skills in exploring complex ideas. The class will also provide students with a framework for understanding film as a narrative form and as an art form.
Program Fee: N/A
Prerequisites: N/A Units: 1
FM 210: Topics in Filmmaking: Creative Editing and Post-Production -

Meredith Mantik
Post-production is often viewed as the unsung hero of the filmmaking process. But what else is there to editing other than simply putting a film together? How do sound and music work in the context of building an emotional, cinematic landscape? And just how much can you rely on post-production to "fix it in post"? This course seeks to uncover the mysterious reputation of post-production and examine how editing, sound, and music can determine a film's success or failure. We will explore fundamentals of the fiction and nonfiction post-production process via numerous short projects, both in groups and individually. The projects will culminate in a screening of the final films. Like filmmaking itself, it is designed to be a collaborative and hands-on experience.
Program Fee: N/A
Prerequisites: COI/Basic Filmmaking Units: 1
GY 140: Physical Geology - Solomon Seyum
The fundamentals of physical geology: igneous, metamorphic, and sedimentary rocks; basic mineralogy; structural geology; mapping; and examination of local stratigraphic units.
Prerequisites: N/A Units: 1
MA 126: Calculus 1 - David Brown
Differential and integral calculus of algebraic and transcendental functions and applications. Students normally begin the calculus sequence with this course.
Program Fee:
N/A
Prerequisites: N/A Units: 1
MU228 / FG206: Topics in Music: Music & Whiteness -

Stephanie Doktor
Robin DiAngelo's White Fragility (2018)—a New York Times bestseller—recently brought Critical Whiteness Studies into the mainstream. She argued that white people get defensive when confronted with ideas about their own privilege and racial inequality. Yet, black scholar W.E.B. Du Bois theorized about whiteness and models of civilization in 1890. But what attention has been paid to whiteness and cultural production? Together we will examine racial hierarchies and systematic forms of power and privilege as they coalesce around musical formations with a focus on U.S. classical and popular music including blues, rock, hip hop, and pop.
Prerequisites: N/A Units: 1
PA 250/EV 261/RE 200: Topics in Asian Studies: Buddhism, Society and Ecology - Asoka Bandarage
At the root of contemporary global environmental and social collapse is a world view and a social system based on human domination of nature and of each other. There is now a growing recognition that environmental sustainability and human well-being require a shift from the prevailing system of domination and extremism to a global consciousness and a socioeconomic system based on interdependence and partnership. In this course we examine the contribution that the teachings of the Buddha can make to this global scientific and ethical discourse and the movements for psycho-social transformation.
This interdisciplinary course draws upon a broad range of fields including global political economy, sociology, philosophy, ecology and Asian Studies. The course will provide an overview of interrelated contemporary crises of climate change, economic inequality and violent conflict; introduce the ethics and basic philosophical concepts of Buddhism, such as, impermanence, interdependence, non-violence and the Middle Path: explore ecological and 'socially engaged Buddhism' in Asia; and engage students in the discourse and efforts for personal and collective change.
Prerequisites: N/A Units: 1
Visit Us
Armstrong Hall, Room 207Colorado College14 E Cache La Poudre St.Colorado Springs, CO 80903