Overview
Packard was designed to inspire and nurture the complementary aspirations of music and art. Constructed in 1976 and renovated in 2005, the building is home to both the music department and art department at Colorado College. Packard's music side features five state-of-the-art "smart" classrooms equipped with the finest audio-visual technology, five private lesson studios including a group piano class lab, a composition computer lab equipped with mac computers, and the latest versions of Finale, The Albert Seay Library of Music, and eight soundproofed private practice rooms. On top of this, every room in the department is equipped with a piano. Our performance hall, Packard Hall, is one of the finest acoustic halls in Colorado.
---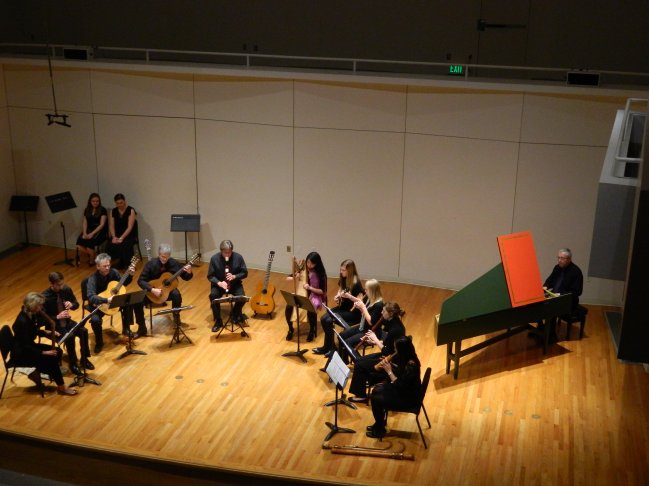 Packard Performance Hall
Packard Hall is one of the finest acoustic performance halls in the state of Colorado. Equipped with a 9' Steinway Hamburg piano and a 9' Steinway New York piano, a state-of-the art sound system, and a vaulted stage floor, the hall brings everything to the fore when it comes to music performance. Iconic musicians such as pianist Bill Wolfram, artist in residence Susan Grace, violinist and conductor Scott Yoo, clarinetist Bil Jackson, master of sitar Rajeev Taranath, master of mbira Cosmas Magaya, and many more make frequent performances here because, frankly, Packard Hall Rocks!
---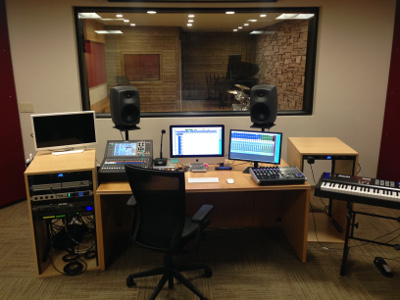 Packard houses three state-of-the-art recording facilities: the Recording Studio, the Electronic Music Studio, and the Sound Booth in Packard Performance Hall. Our studios are equipped with the latest Apple iMacs and use professional recording software Avid Pro Tools, electronic music favorite Ableton Live, digital media playground Max/MSP/Jitter, and a variety of plug-ins and tools for processing, composing, and mixing. The recording spaces utilize Grace Design preamps and boast numerous top-tier microphones from manufacturers like Neumann, Schoeps, and Royer. All three studios are connected using cutting-edge Dante audio networking technology, which allows them to share audio data at very low latency. The studios serve as a continuous resource for music technology classes, music majors and minors, and students from across the college.
---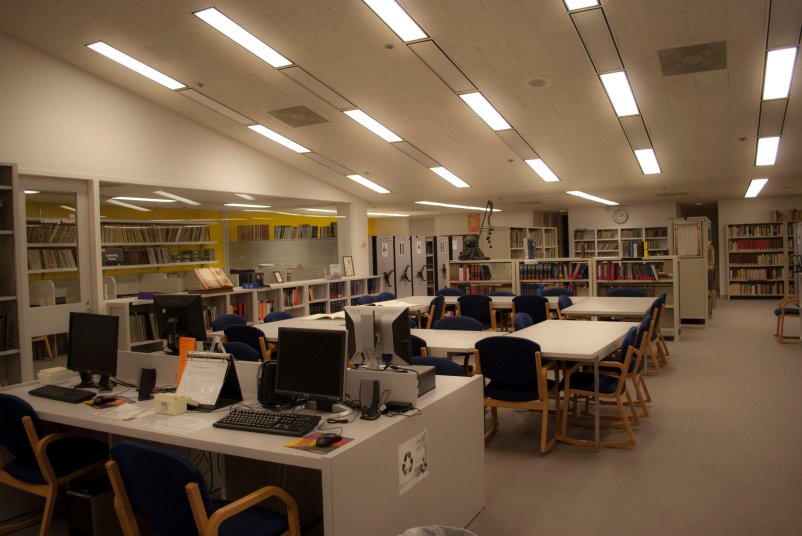 The Albert Seay Memorial Music Library is found downstairs in Packard and is home to our large collection of scores, sheet music, readings in music, DVDs, CDs, and LPs. The main space has large moveable tables that are great for group study with large classes. In the back, there are two slide screening rooms as well as two private group listening rooms equipped with stereo sound systems. Check out the music online catalog if you are looking for something music related!
---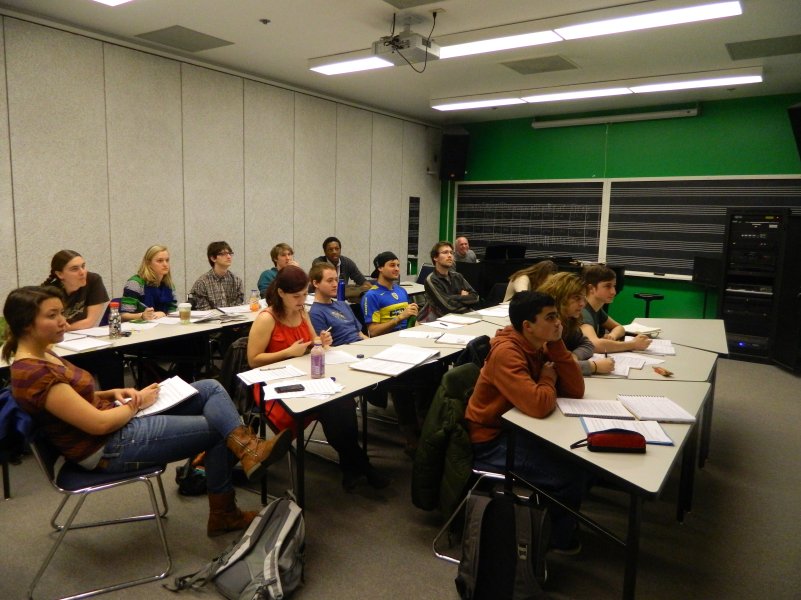 Classrooms
All of our classrooms are equipped with a full sound system and projector to provide high-quality audio-visual support to our academic classes. Additionally, each of our classrooms is equipped with a grand piano and soundproofing to prevent sound from bleeding between rooms.
Classrooms may be checked out for student use in the afternoons. Please see our CLASSROOM CHECKOUT POLICY for more information.
---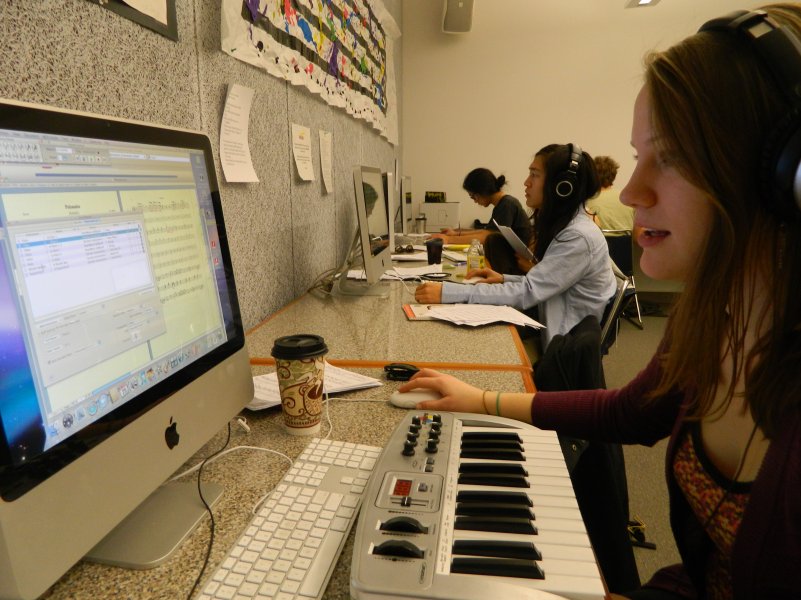 Computer Lab
We boast a Mac-equipped composition lab where students can work on individual projects or take classes that utilize composition software. Our computers are loaded with the newest version of Finale and are equipped with MIDI keyboards. Students interested in working in the lab should inquire with the department chair about getting their names on the access list.
---
Practice Rooms
We have eight practice rooms available to students. Each practice room is unique; all have at least one upright piano, a music stand, and a practice chair. Students enrolled in lessons or ensembles may request practice room access upon lesson registration.
---
Lockers
Lockers are available to our students for instrument storage. Lockers are distributed on a first-come-first-served basis to students enrolled in music lessons or ensembles, so come early in the year to reserve your space. Inquire at the music department office to pick up your locker assignment. ($100 fee will be charged to your student account for a lost or non-returned key.)