Main Recording Studio
Recording Studio - 14, 14a & 15
The central hub and flagship of the Packard recording facilities is the Pearson recording studio. The control room hosts a Yamaha QL1 digital mixer acting as central Dante clock. This console allows students to learn about traditional mixing consoles but with the flexibility of digital audio. Our RME UFXII audio interface extends our inputs by eight and allows for very creative and flexible audio routing. All components are connected via a Switchcraft StudioPatch 9625 patch bay for the best of analog and digital signal flow. A Grace Designs m920 montior controller manages high resolution listening via our pristine Genelec 8050B monitors. The entire studio is equipped with very low latency Dante audio over IP allowing seamless integration between all of our recording equipment and spaces. An Apple iMac Retina 4K 21.5-inch from 2017 provides the main platform for recording.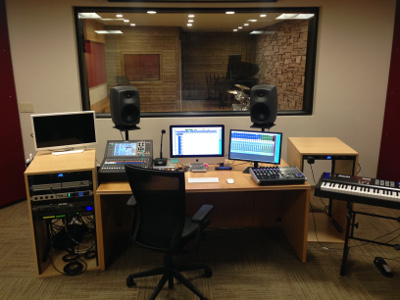 Audio software includes the industry standard Avid Pro Tools, Apple Logic Pro, as well as contemporary electronic music favorite Ableton Live with MaxForLive and experimental electronic digital media playground Max/MSP/Jitter. For plugins we have the Waves Horizon bundle which includes over 70 effects with tools for every step of the creative digital audio process. We have the Behringer XTouch desktop controller with motorized faders to maintain the feel of mixing on a traditional analog console with the modern convenience offered by DAWs (digital audio workstation). The control room is treated with custom diffusion and absorption panels designed by Soundpost Acoustics and built by CC's in house carpentry shop.
The 700 square foot live room has 16 channels of pristine Grace Design m108 preamps and an additional 8 channels of Focusrite Red A/D D/A converters.
The adjacent isolation booth allows for another 8 channels of audio through a third Grace Design m108. Headphone monitoring is via four Focusrite Red AM1s and all of these components share audio data via the Dante network protocol. The live room has been carefully designed by Soundpost Acoustics from Longmont, CO to balance visual aesthetics with acoustic excellence. Colorado sourced sandstone was used for one wall of the live room. The irregular size of the stones makes for a gorgeous backdrop for intimate in-studio concerts and video shoots while providing natural reverb with just the right amount of diffusion to prevent flutter echo or standing waves. Combined with rugged ship-lap siding repurposed as additional absorption/diffusion, bench seating which doubles as a bass trap, natural wood floors and custom designed and constructed wood diffusers and cloth/rockwool absorbers, the live room looks as amazing as it sounds. The isolation booth on the other hand is meticulously crafted to eliminate reflections and other acoustic anomalies allowing the producer/sound designer maximum control over creating just the right digitally added ambience for their project. Sound proof glass connects the three spaces allowing engineers and performers to feel connected while maintaining critical isolation for various sound sources.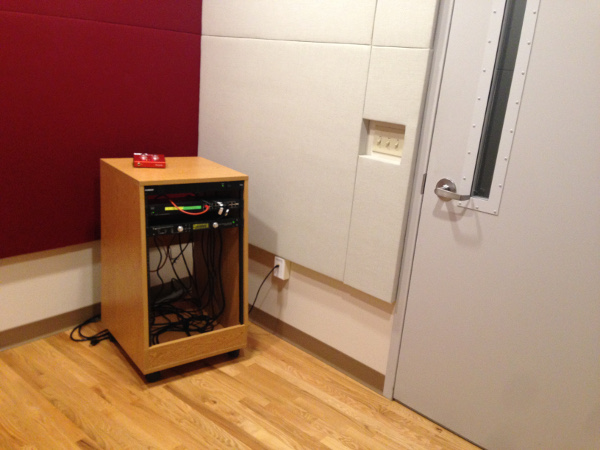 Our mic locker includes the standard dynamic favorites Shure SM7 and Beta 57s, as well as a pair of Sennheiser 421s and a Shure Beta 52A for toms, kick drums and other low frequency sources. For condenser mics we have a matched pair of Schoeps small diaphragm CMC6s with MK2 omnidirectional capsules and a matched pair of Neuman KM81 cardioid mics. The accuracy and quality of Schoeps makes them the preferred choice in making realistic and accurate recordings in the classical realm as a spaced stereo pair and consequently they excel in any acoustic situation. The Neumans sound great where a directional response is required and are perfect for X/Y stereo pairs, as percussion/drum overheads or to capture a focused sound on acoustic guitar, brass, strings or winds. For detailed, uncolored large diaphragm condensers we have a pair of Neuman TLM 107s with 5 selectable polar patterns. A pair of industry standard AKG 414 XLII large diaphragm condenser mics rounds out our condenser collection. Their unparalleled adaptability makes them able to capture any type of performance beautifully. For ribbon microphones we have a Royer R-121 which boasts warm, realistic tones capable of withstanding high sound pressure levels making it a favorite for close micing brass, winds and guitar amps. We also have a pair of AEA Nuvo N8 active ribbons. These mics offer the natural yet warm sound of traditional dynamic ribbons without the fragility, distortion and low output often associated with them. Finally we have a stereo pair of DPA SMK4061 omnidirectional mini condenser mics. These mini mics utilize a pre-polarized condenser element with a vertical diaphragm to achieve a wide and accurate frequency response in an extremely small footprint. They sound great inside of our Steinway 7 foot grand piano and double as PZM style boundary mics with the included boundary mounting accessories.