Employment and Internships
HELLO!  Thanks for your interest in working with us?  
Below are some of the jobs and projects students have been recently hired to do. 
Check Handshake for employment opportunities throughout the year!
Employment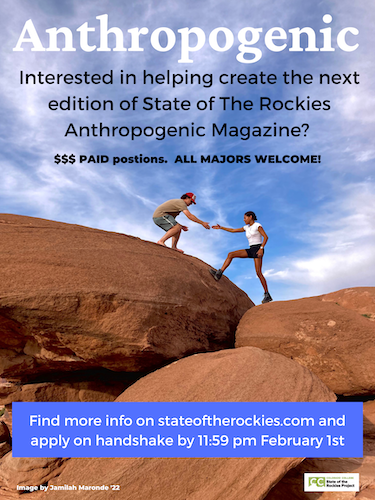 "I started working with the State of the Rockies this summer as a research assistant for Professor Kat Miller-Stevens, Visiting Professor Mark Eiswerth and designing the digital magazine—Anthropogenic. What I love about the SOTR is teamwork and a collaborative approach to many things. I'm a huge fan of brainstorming ideas and coming to a conclusion as a team. So working at a place that has the same work philosophy and having fun at the same time, it's something that I would do over and over again." —  Samwel Makyao '25 (from Dar es Salaam, Tanzania),  Computer Science major
---
Social Media Assistant Producer
Social Media Assistant Producers work as a team to create and produce promotional materials for the State of the Rockies to increase campus and larger community participation in program events, research, and projects.
This position is open to all students. All majors are welcome. Hiring for this position typically occurs in the fall semester.
Job description:
The State of the Rockies Project is looking for students to help promote and publicize our program activities, projects, and events.  Help us increase community participation on and off campus via social media platforms by promoting the cool things students and faculty are doing on a Rockies project, in a class or events, workshops, etc. You will create and follow to complete the production of printed materials, social media campaigns, web pages, and other promotional pieces for The State of the Rockies' annual events, contests, and other projects. 
This position is ideal for students with a background in art or design and journalism who share an interest in conservation and the environmental impacts of human activity. Demonstrated interest in both preferred.
Position is 5-10 hours/week depending on the project.
Preferred Qualifications:
Studio art, design, web design, photography, or photo editor competency
Social media publishing experience
Interest in finding balance between human activity and the impact of human activity on the environment
Essential Duties: Design and produce promotional materials and campaigns.
Learning Competencies:
Work Ethic
Time Management
Work Quality
Initiative
Technical Knowledge
Problem-Solving
Analysis
Ethical Behavior
Appreciation of Diversity
Communication Skills
Teamwork