News & Events
---
End of Block Art Department Open House 
Tuesday, May 17, 2022 | 4:00-6:00 pm

Featuring class work from: Afrofuturism, Printmaking, Field Drawing as Naturalist Activism, Bodies in Maya Art, Techniques of Representation, and Design Thinking
---
Papermaking Open House
Thursday, May 12, 2022 | 2:30 - 4:30 pm | Honnen Arena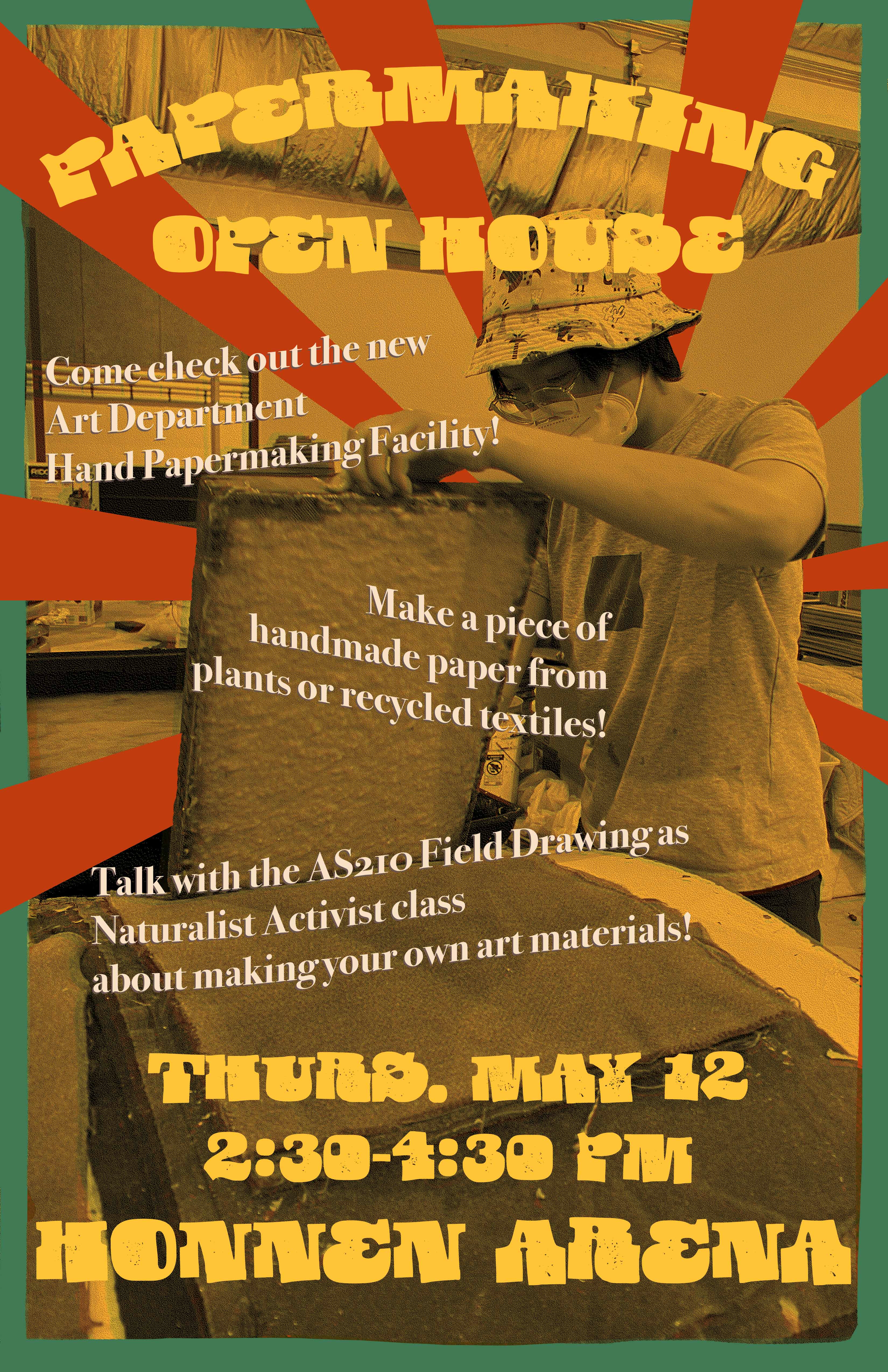 Come check out the new Art Department Hand Papermaking Facility! Make a piece of handmade paper from plants or recycled textiles. Talk with the AS210 Field Drawing as Naturalist Activist class about making your art materials!
---
Visiting Artist Talk
Jacques Cazaubon Seronde
Monday, May 9, 2022 | 5:00 pm | Cornerstone Screening Room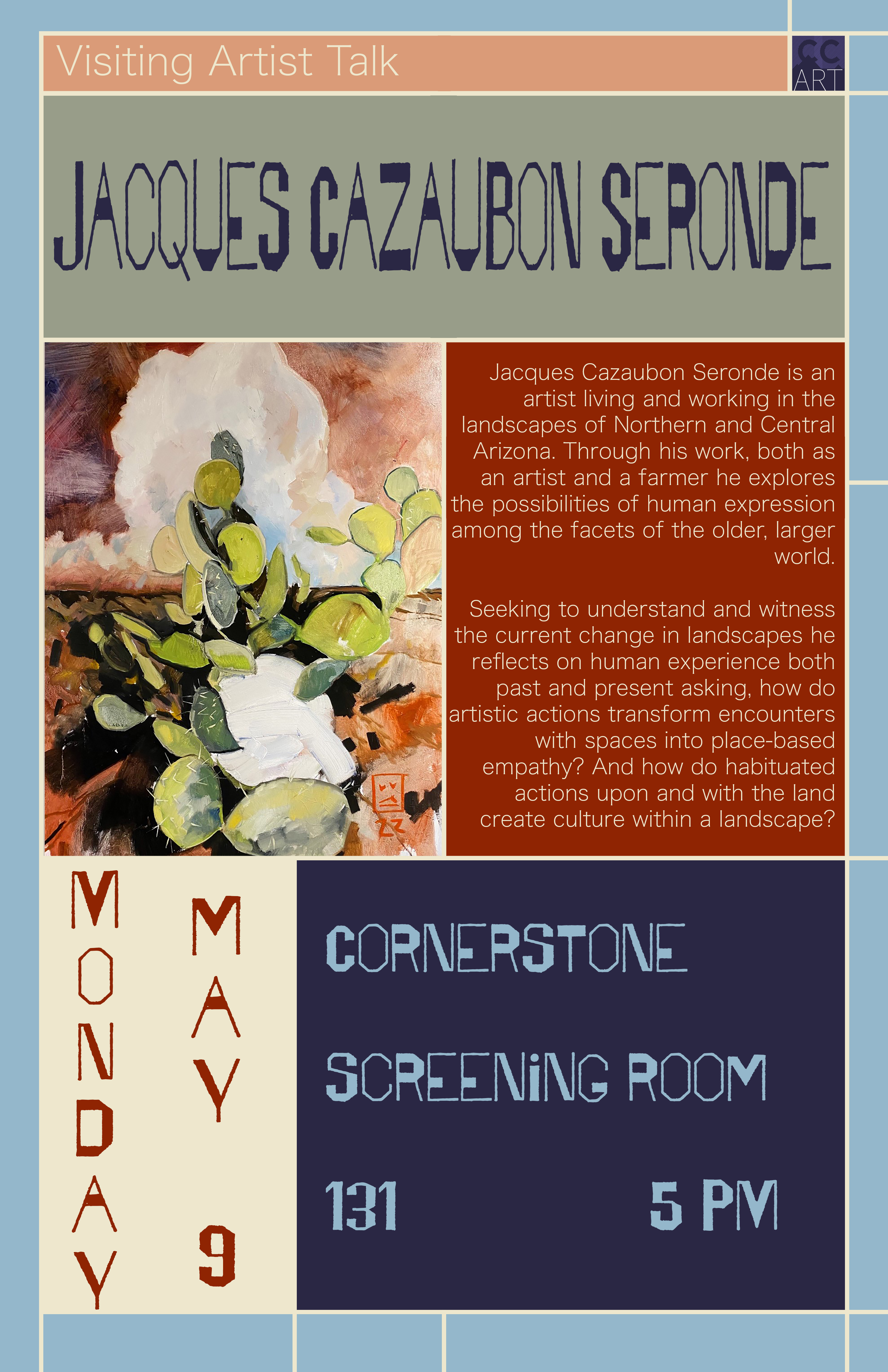 Jacques Cazaubon Seronde is an artist living and working in the landscapes of Northern and Central Arizona. Through his work, both as an artist and a farmer, he explores the possibilities of human expression among the facets of the older, larger world. 
Seeking to understand and witness the current change in landscapes he reflects on human experience both past and present asking, how do artistic actions transform encounters with spaces into place-based empathy? And how do habituated actions upon and with the land create culture within a landscape?
---
Thesis Exhibition
Art History, Art Studio,  Integrative Design and Architecture &  Museum Studies    
May 2-22, 2022 | Weekdays 1-5 pm | Open House: May 17, 4:00-6:00 pm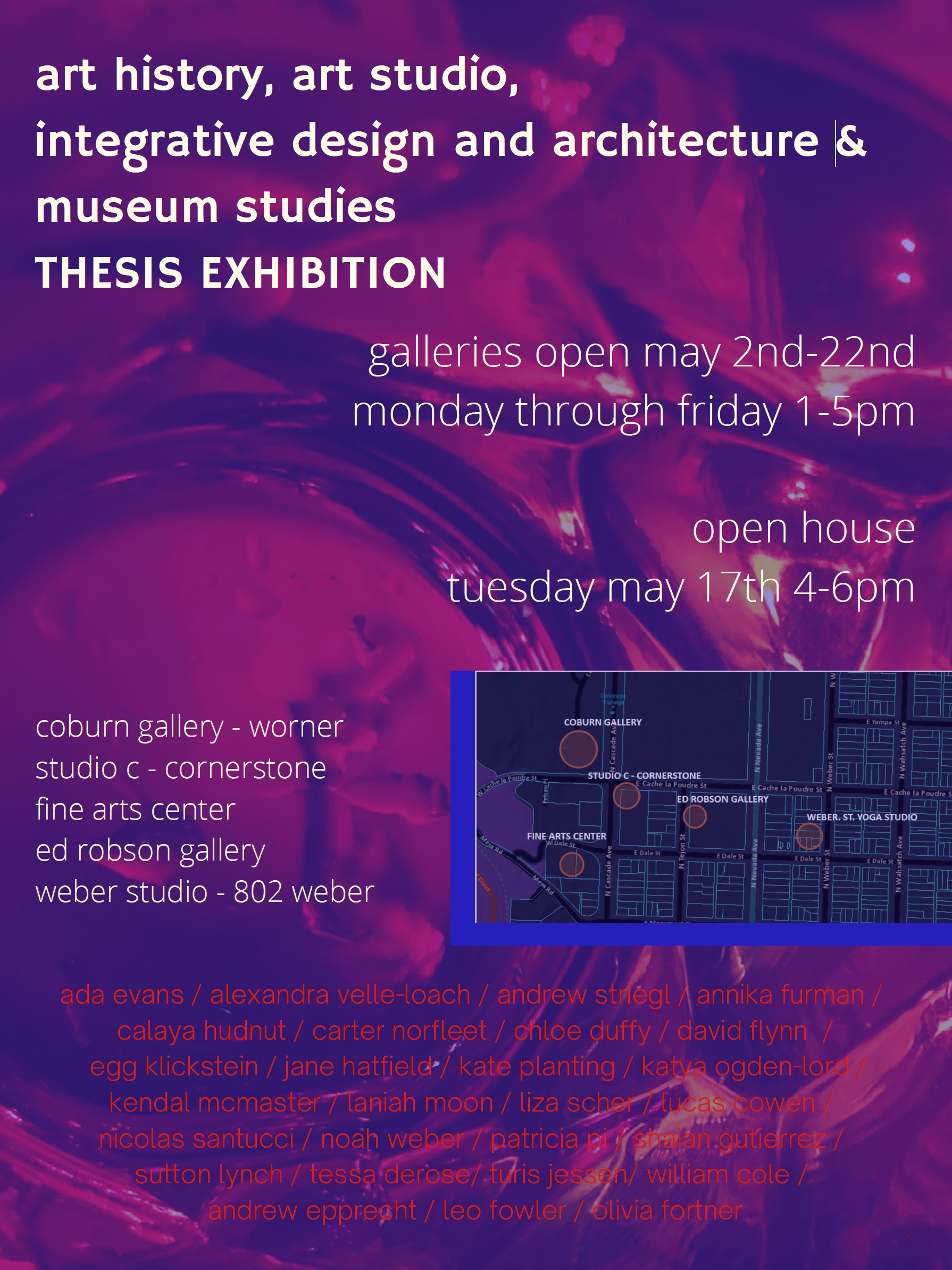 Coburn Gallery, Worner; Studio C, Cornerstone; Fine Arts Center; Ed Robson Gallery; Weber Studio, 802 Weber
ada evans / alexandra velle-loach / andrew striegl / annika furman /
calaya hudnut / carter norfleet / chloe duffy / david flynn /
egg klickstein / jane hatfield / kate planting / katya ogden-lord /
kendal mcmaster / laniah moon / liza scher / lucas cowen /
nicolas santucci / noah weber / patricia pi / shaian gutierrez /
sutton lynch / tessa derose/ turis jessen/ william cole /
andrew epprecht / leo fowler / olivia fortner
---
End of Block Art Department Open House 
Tuesday, April 19, 2022 | 4:00-6:00 pm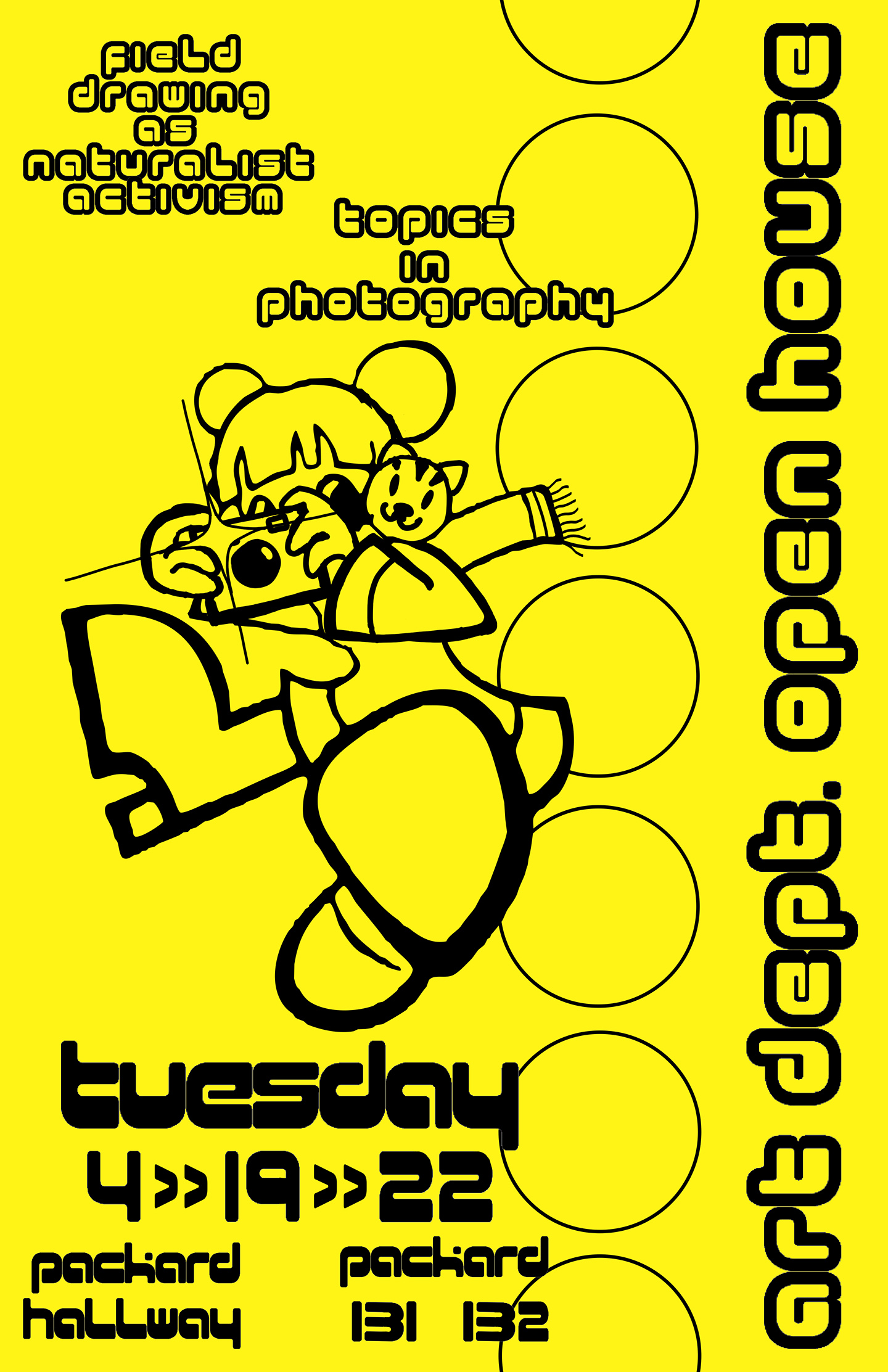 Where: Packard Hallway, 131, and 132
Featuring classwork from Field Drawing as Naturalist Activism and Topics in Photography.
---
Terra Chromatica, Exhibition by Visiting Professor Kate Aitchison '10
Block 7 in Coburn Gallery, Worner Center (events below will be held in the gallery)
Papermaking Demo: Wednesday, April 13, 2022 | 3:00 - 3:30 pm
Artist Talk: Wednesday, April 13, 2022 | 3:30 - 4:30 pm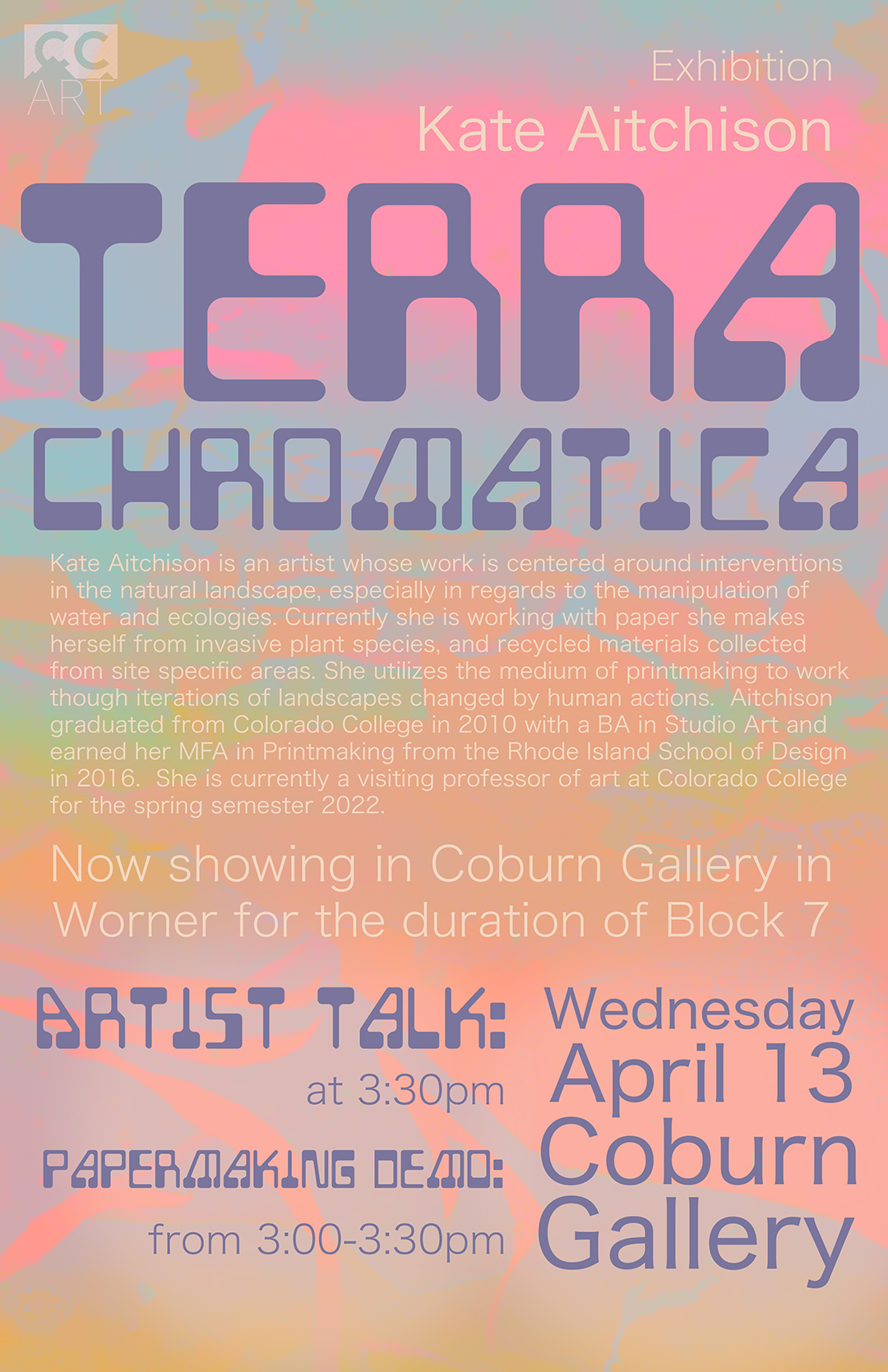 Kate Aitchison is an artist whose work is centered around interventions in the natural landscape, especially in regard to the manipulation of water and ecologies. Currently, she is working with paper she makes herself from invasive plant species, and recycled materials collected from site-specific areas. She utilizes the medium of printmaking to work through iterations of landscapes changed by human actions. Aitchison graduated from Colorado College in 2010 with a BA in Studio Art and earned her MFA in Printmaking from the Rhode Island School of Design in 2016. She is currently a visiting professor of art at Colorado College for the spring semester of 2022.
---
Papermaking Open House
Thursday, April 7, 2022 | 2:00 - 5:00 pm | Honnen Arena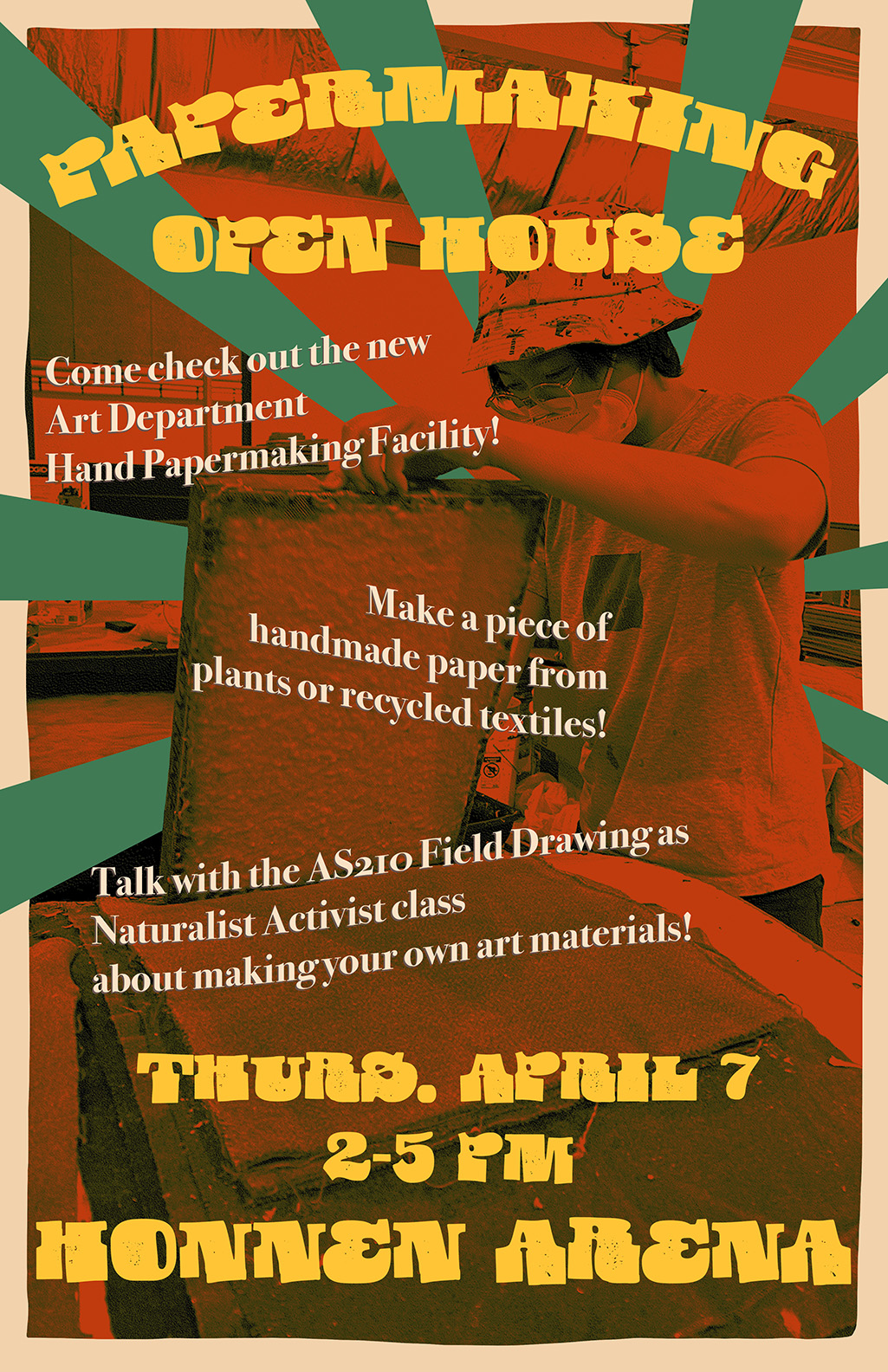 Come check out the new Art Department Hand Papermaking Facility! Make a piece of handmade paper from plants or recycled textiles. Talk with the AS210 Field Drawing as Naturalist Activist class about making your own art materials!
---
Visiting Artist Talk
Andrea Wallace 
Thursday, March 31, 2022 | 5:00 pm | Cornerstone Screening Room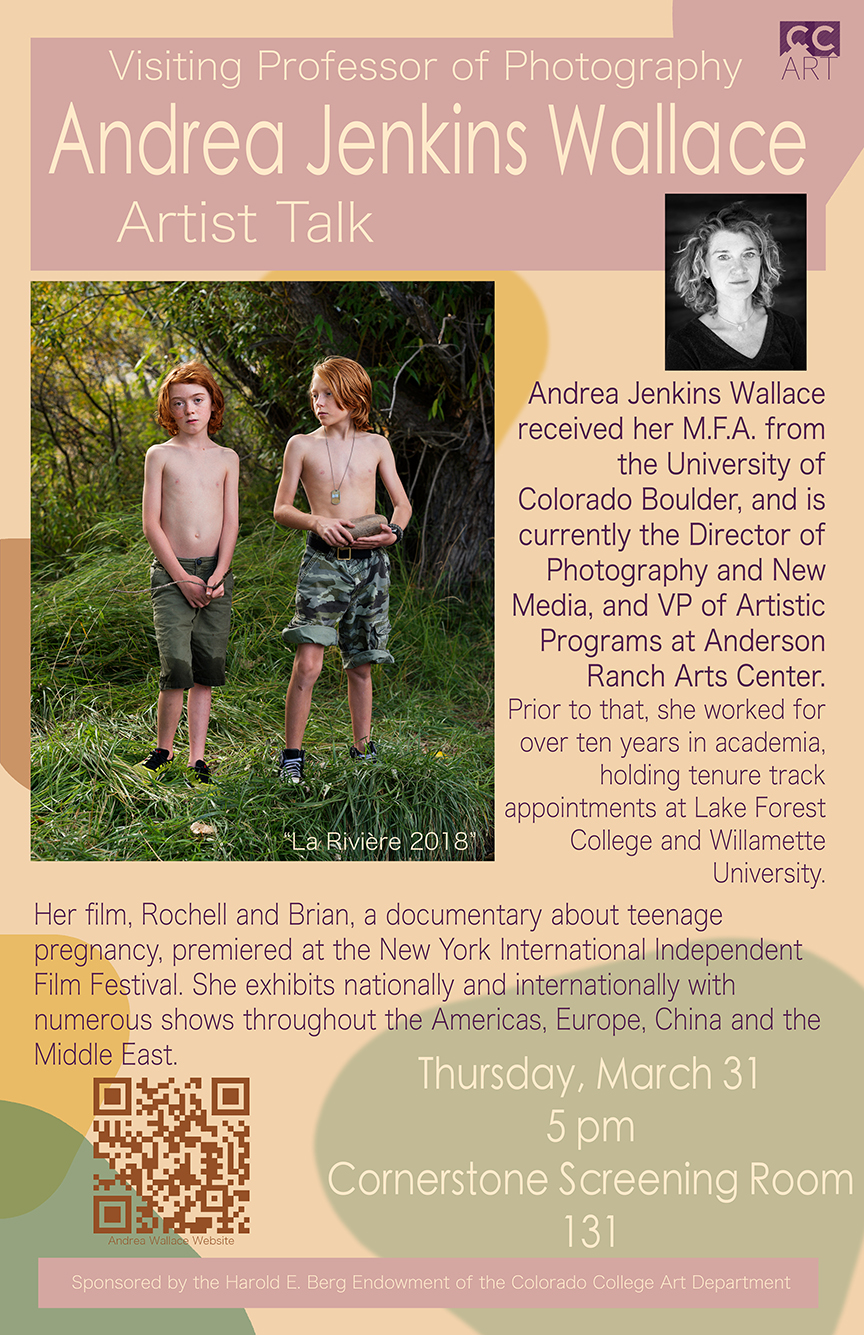 Andrea Jenkins Wallace received her M.F.A. from the University of Colorado Boulder and is currently the Director of Photography and New Media, and VP of Artistic Programs at Anderson Ranch Arts Center. Prior to that, she worked for over ten years in academia, holding tenure track appointments at Lake Forest College and Willamette University. Her film, Rochell and Brian, a documentary about teenage pregnancy, premiered at the New York International Independent Film Festival. She exhibits nationally and internationally with numerous shows throughout the Americas, Europe, China, and the Middle East. 
---
End of Block Art Department Open House 
Tuesday, March 15, 2022 | 4:00-6:00 pm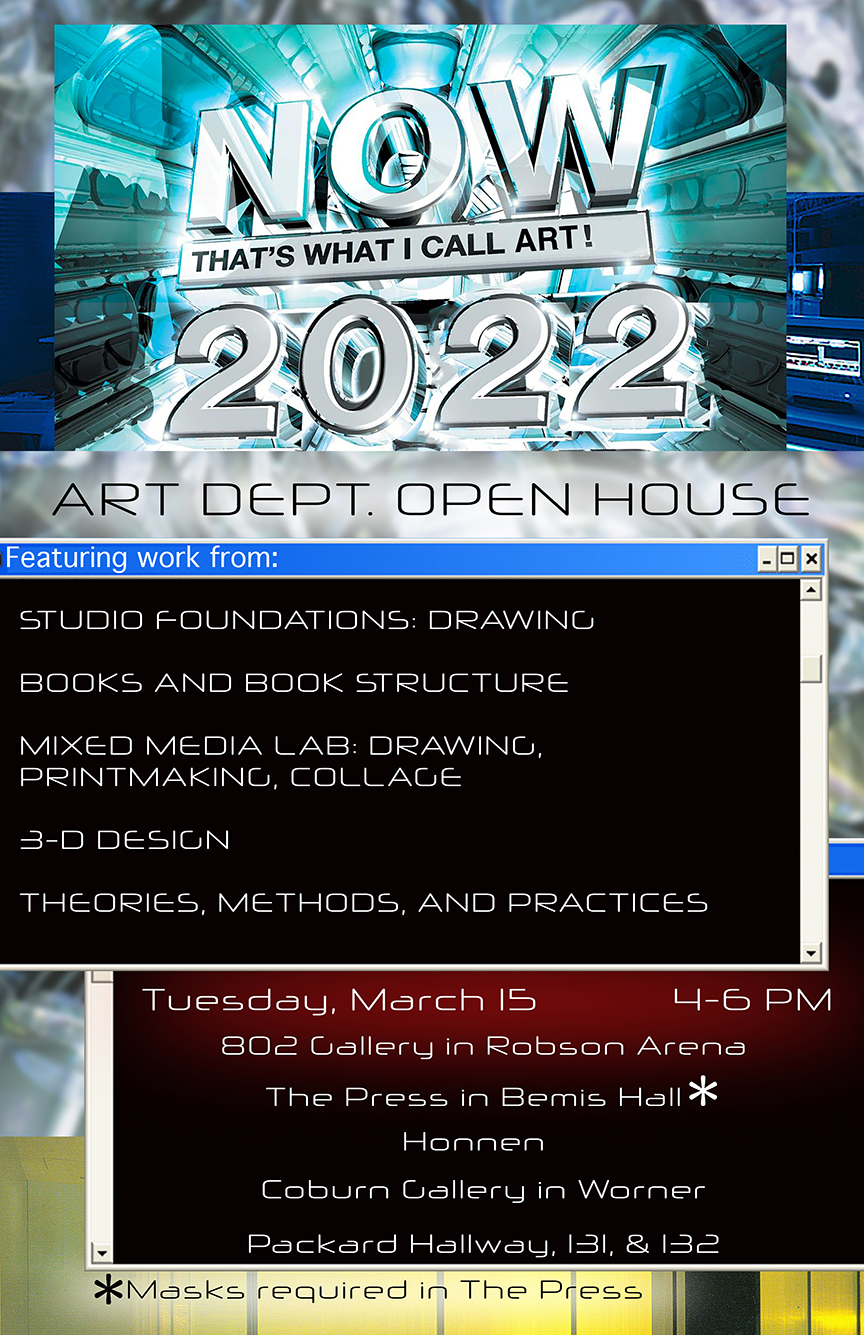 Where: 802 Gallery in Robson Arena; The Press in Bemis Hall*; Honnen; Coburn Gallery in Worner; Packard Hallway, 131, and 132
Featuring classwork from Studio Foundations: Drawing; Book and Book Structure; Mixed Media Lab: Drawing, Printmaking, Collage; 3-D Design; Theories, Methods, and Practices
*Masks required in The Press
---
Call for Applications: The Edith Kirsch Prize
Application Deadline Friday, April 1, 2022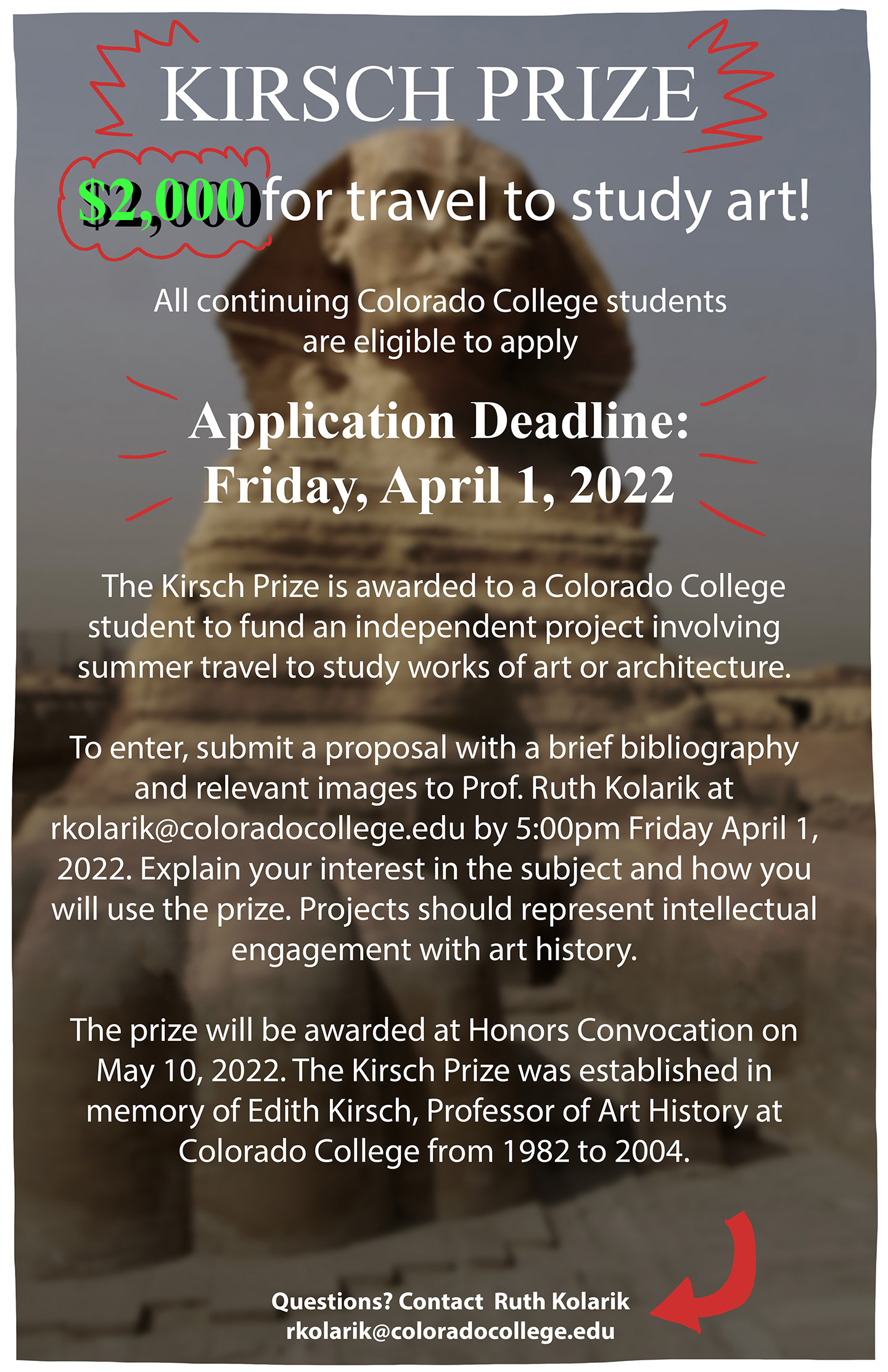 $2,000 for international travel to study the History of Art. All continuing Colorado College students are eligible to apply. Application Deadline Friday, April 1, 2022.
The Kirsch Prize is awarded to a Colorado College student to fund an independent project involving summer travel to study works of art or architecture.  All continuing Colorado College students are eligible to apply.  The Kirsch Prize may be combined with Venture Grants or other grants.
To enter, submit a proposal with a brief bibliography and relevant images to Professor Ruth Kolarik at rkolarik@coloradocollege.edu by Friday, April 1, 2022.  Explain your interest in the subject and how you will use the prize.  Projects should represent intellectual engagement with art history.  The prize will be awarded at Honors Convocation on May 10, 2022.
The Kirsch Prize was established in memory of Edith Kirsch, Professor of Art History at Colorado College from 1982 to 2004. Questions contact Ruth Kolarik:  rkolarik@coloradocollege.edu
---
Visiting Artist Talk
Agnes Walden '17 
Thursday, March 3, 2022 | 3:30 pm | Cornerstone Screening Room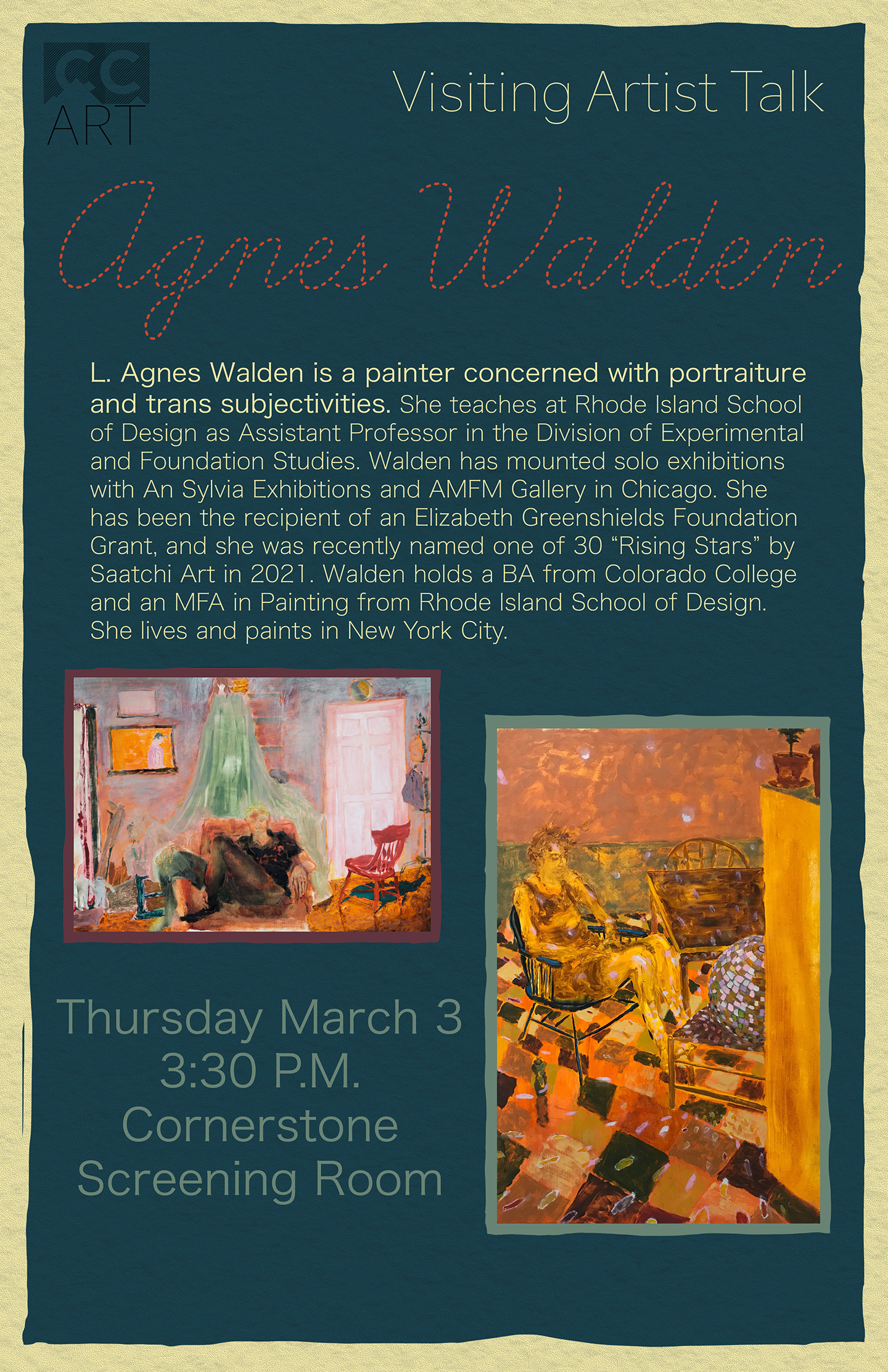 L. Agnes Walden is a painter concerned with portraiture and trans subjects. She teaches at Rhode Island School of Design as Assistant Professor in the Division of Experimental and Foundation Studies. Walden has mounted solo exhibitions with An Sylvia Exhibitions and AMFM Gallery in Chicago. She has been the recipient of an Elizabeth Greenshields Foundation Grant, and she was recently named one of 30 "Rising Stars" by Saatchi Art in 2021. Walden holds a BA from Colorado College and an MFA in Painting from Rhode Island School of Design. She lives and paints in New York City.
---
End of Block Art Department Open House 
Tuesday, February 15, 2022 | 4:00-6:00 pm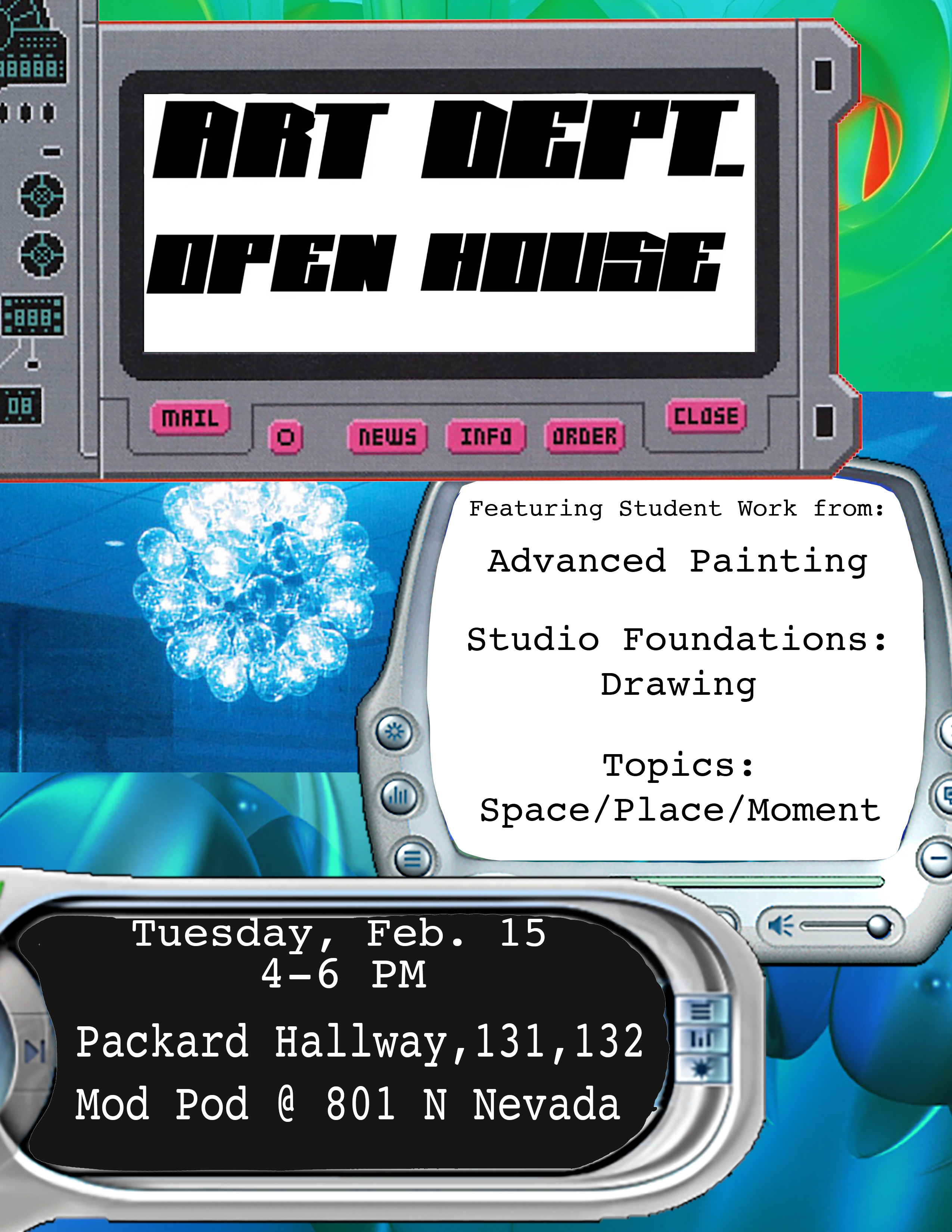 Where: Packard Hallway, 131, and 132; Mod Pod at 801 N Nevada
Featuring classwork from Advanced Painting, Studio Foundations: Drawing, and Topics: Space/Place/Moment
---
A Practice in Community
Visiting Professor Bryan Ortiz 
Wednesday, February 9, 2022 | 5:00 pm | Cornerstone Screening Room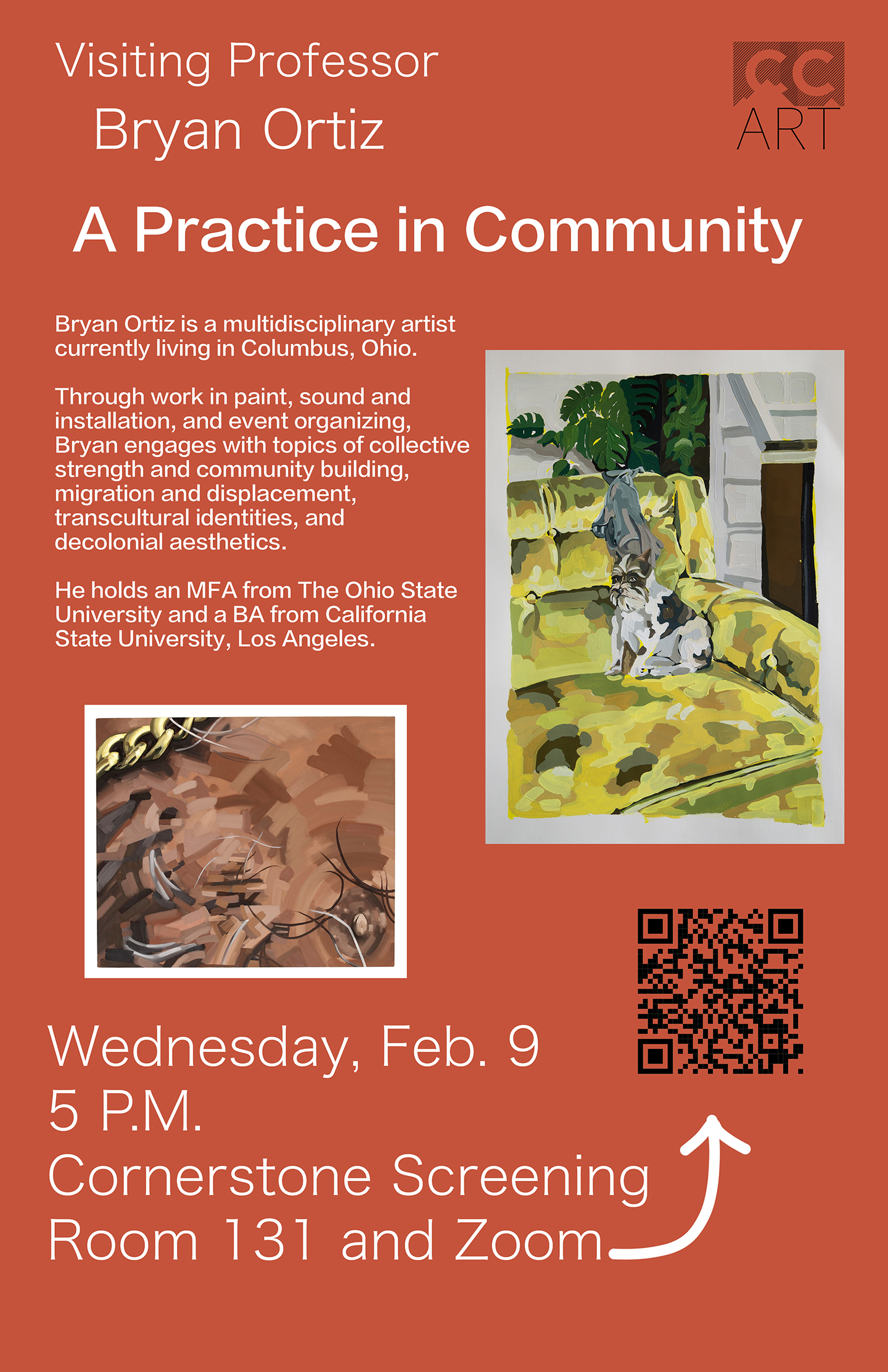 bryan ortiz is a multidisciplinary artist currently living in Columbus, Ohio. Through work in paint, sound and installation, and event organizing, bryan engages with topics of collective strength and community building, migration and displacement, transcultural identities, and decolonial aesthetics. 
He is a member of Colectivo Rasquache, a transcontinental/transborder collective of artists who are organizing workshops and exhibitions in Mexico and across the U.S. 
Most recently, bryan has exhibited works in Columbus, Cincinnati, Toledo, Ohio, Charlottesville, Virginia, and digitally in Puebla, Mexico.
He holds an MFA from The Ohio State University and a BA from California State University, Los Angeles. 
---
Jean Gumpper featured in Exhibition
The International Block Print Renaissance Then and Now: A Centennial Celebration of Block Prints in Wichita, Kansas, 1922-2022
February 26 - August 7, 2022 | Wichita Art Museum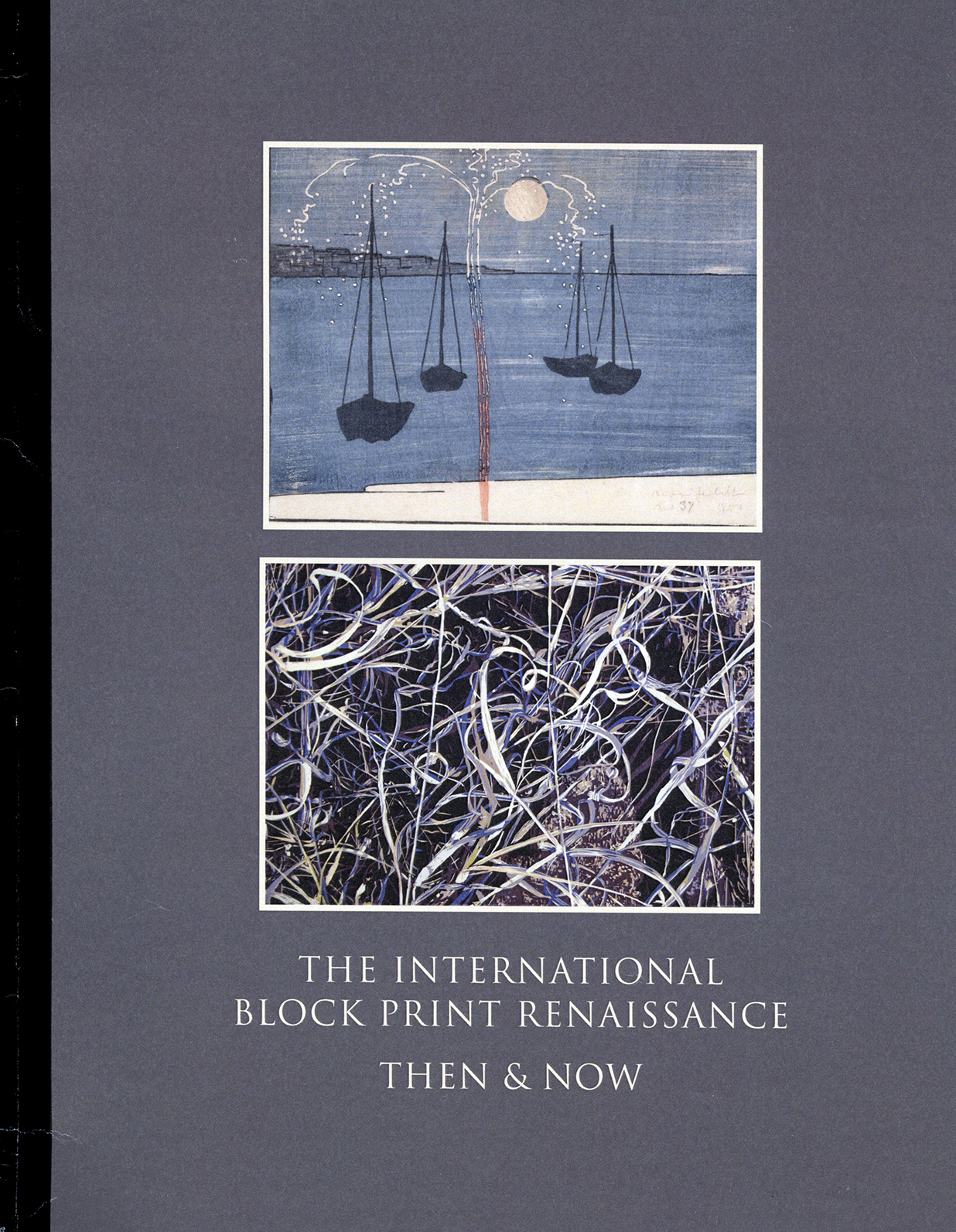 Artist Jean Gumpper will be included in the upcoming show The International Block Print Renaissance Then and Now. Additionally, one of her prints has been chosen for the cover of the exhibition catalog! You can  read more about this exhibition on the Wichita Museum of Art website.
---
End of Block Art Department Open House 
Tuesday, December 21, 2021 | 4:00-6:00 pm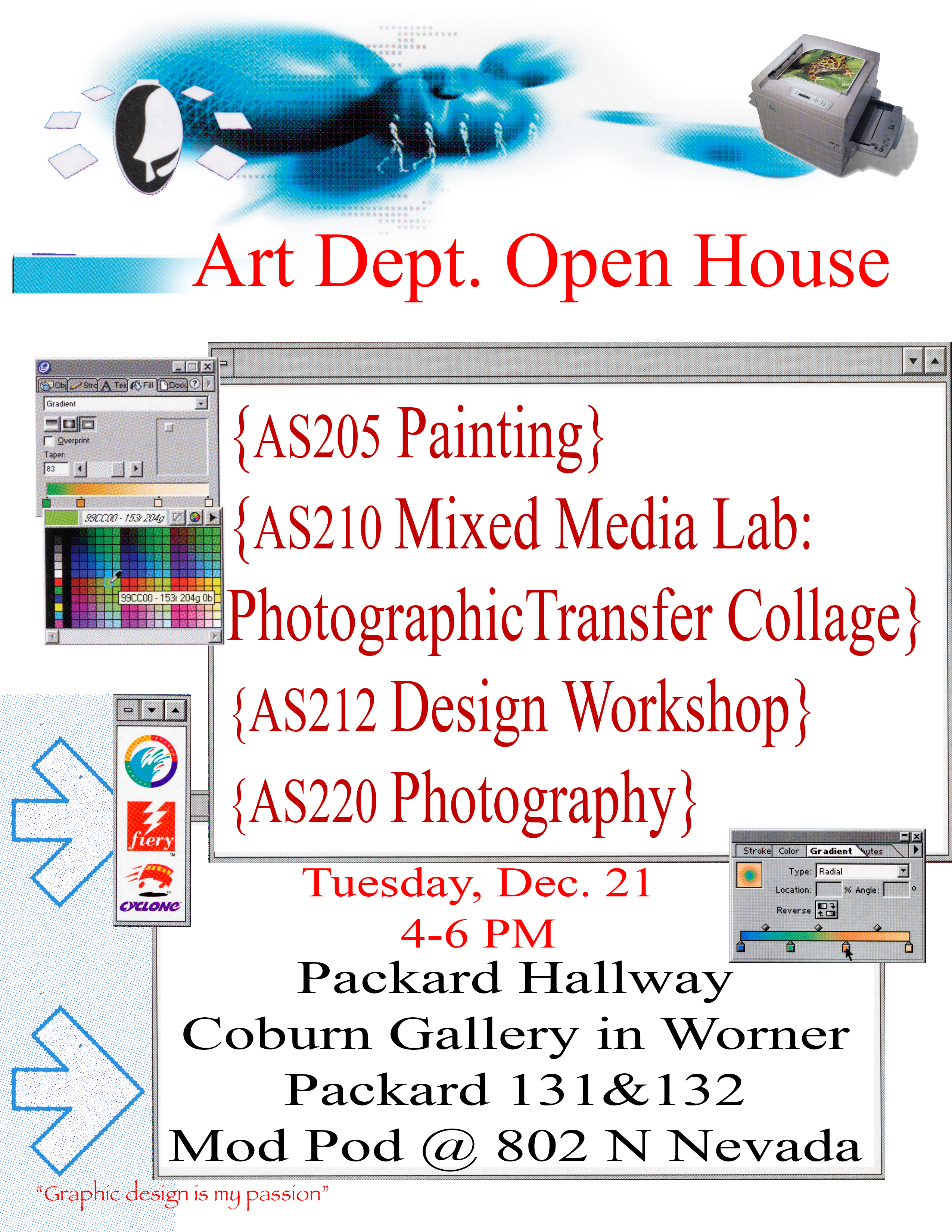 Where: Packard Hallway, 131, and 132; Coburn Gallery in Worner; Mod Pod at 801 N Nevada
Featuring classwork from AS205: Painting, AS210: Mixed Media Lab, AS212: Design Workshop, AS220 Photography 
---
Art History and Museum Studies Senior Thesis Presentations
Friday, December 17, 2021 | 2:00-3:30 pm | WES Room in Worner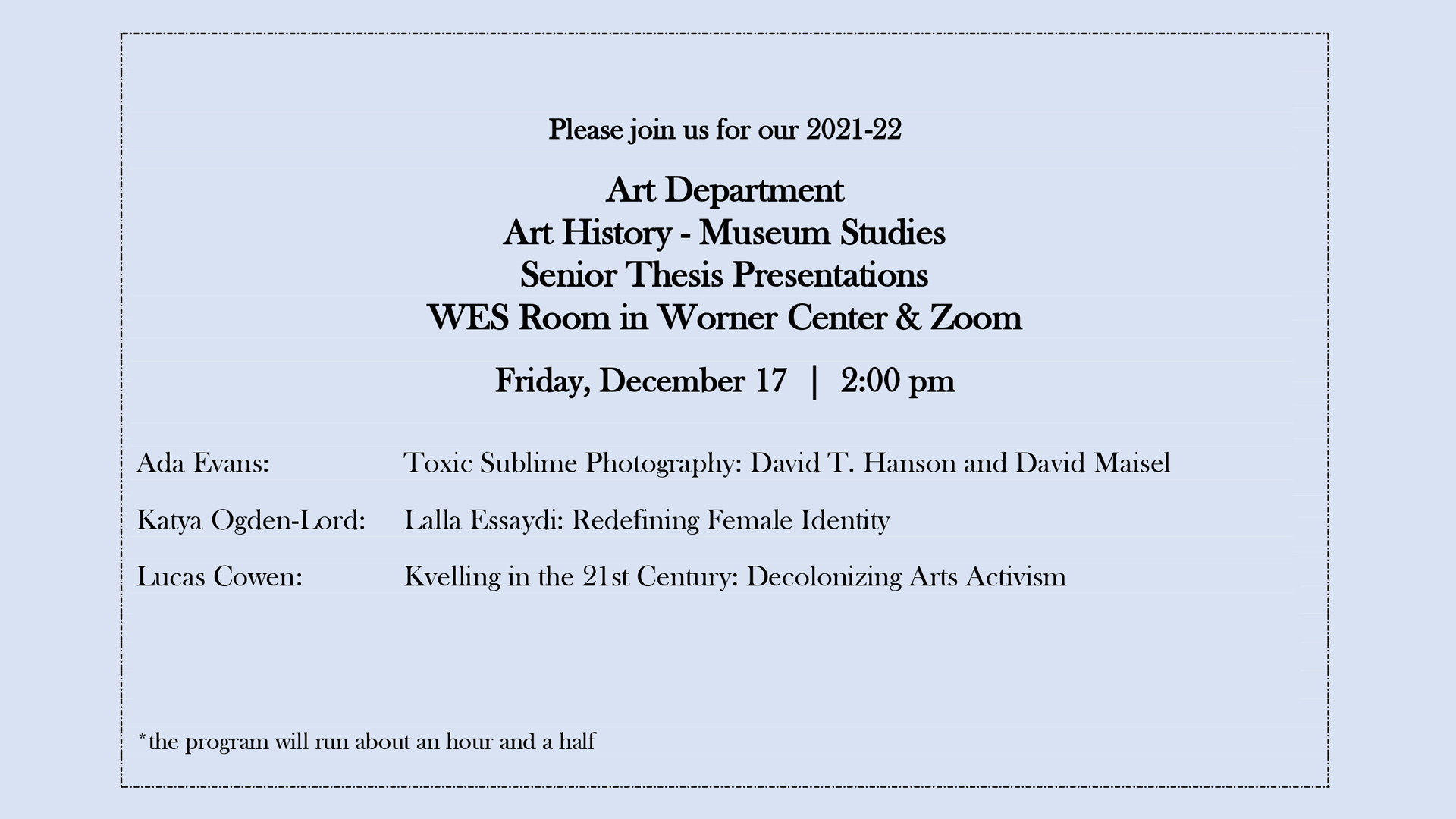 Ada Evans: Toxic Sublime Photography: David T. Hanson and David Maisel
Katya Ogden-Lord: Lalla Essaydi: Redefining Female Identity
Lucas Cowen: Kvelling in the 21st Century: Decolonizing Arts Activism
Email mrubenstein@coloradocollege.edu for the Zoom link.
---
Sticker Workshop in the Visual Resources Center
Thursday and Friday, December 16 & 17, 2021 | 2:00-4:00 pm | Packard 124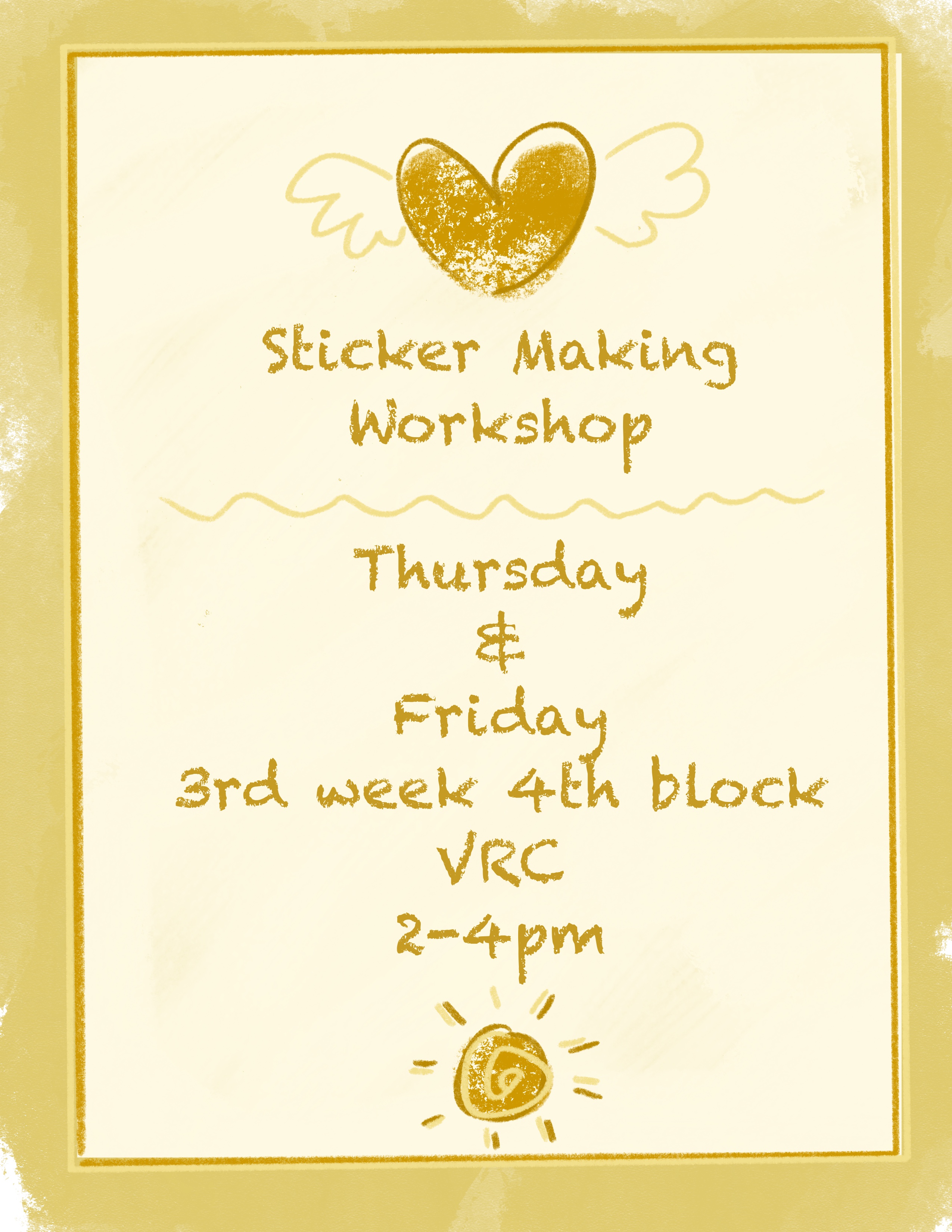 Participants will have access to the computer programs ( i.e. Illustrator and Photoshop) on the computers in the VRC as well as high-quality sticker paper for free. Sofie Miller will be there to guide those who have questions about the programs or mechanics of printing the stickers. Come for as little or much time as you want!
---
Artist Talk
Visiting Professor Stephen Chalmers
Tuesday, December 7, 2021 | 5:00 pm | Cornerstone Screening Room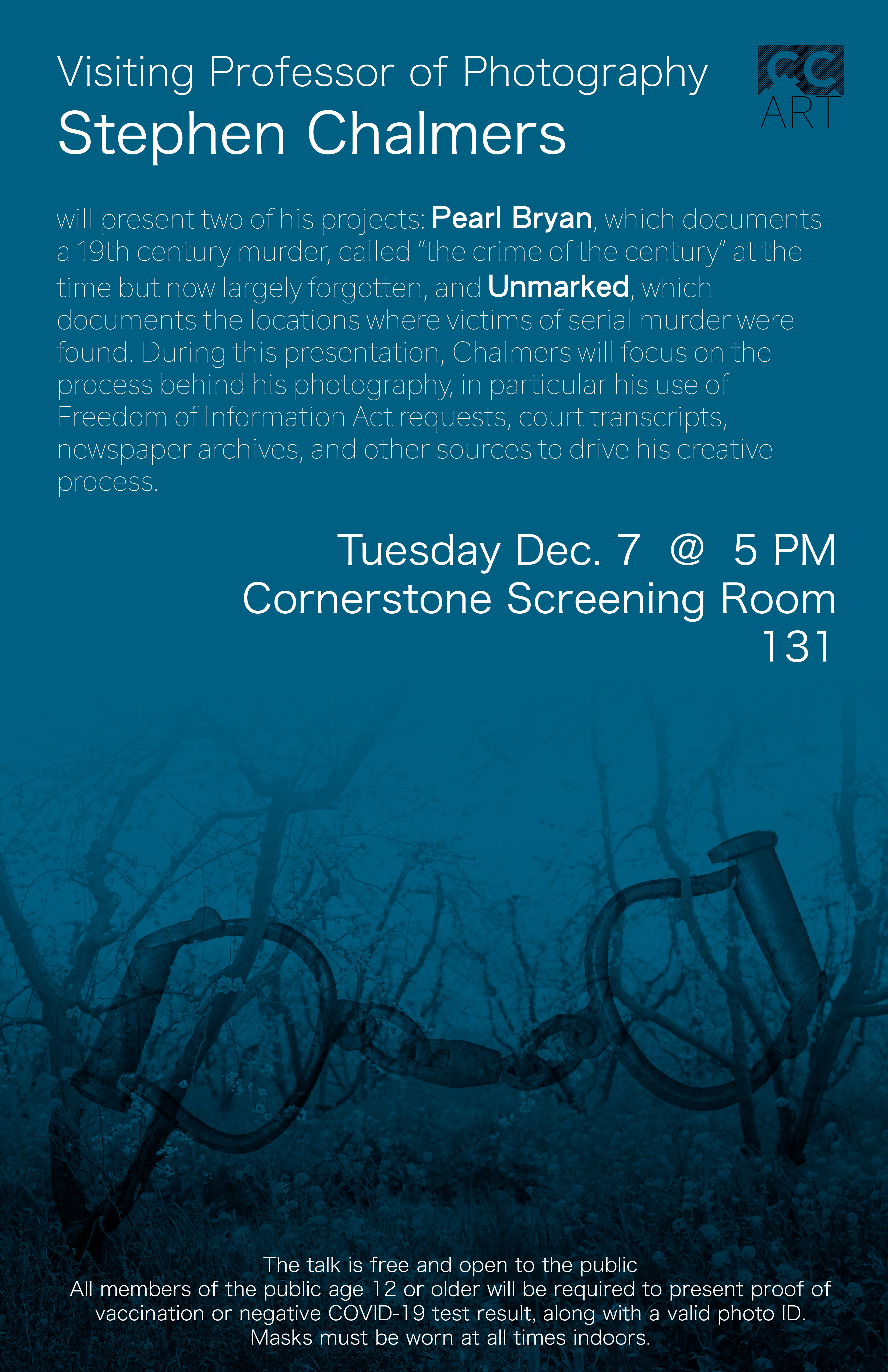 Visiting Professor Stephen Chalmers will present two of his projects: Pearl Bryan, which documents a 19th century murder, called "the crime of the century" at the time but now largely forgotten, and Unmarked, which documents the locations where victims of serial murder were found. During this presentation, Chalmers will focus on the process behind his photography, in particular, his use of Freedom of Information Act requests, court transcripts, newspaper archives, and other sources to drive his creative process.
---
End of Block Art Department Open House 
Tuesday, November 16, 2021 | 4:00-6:00 pm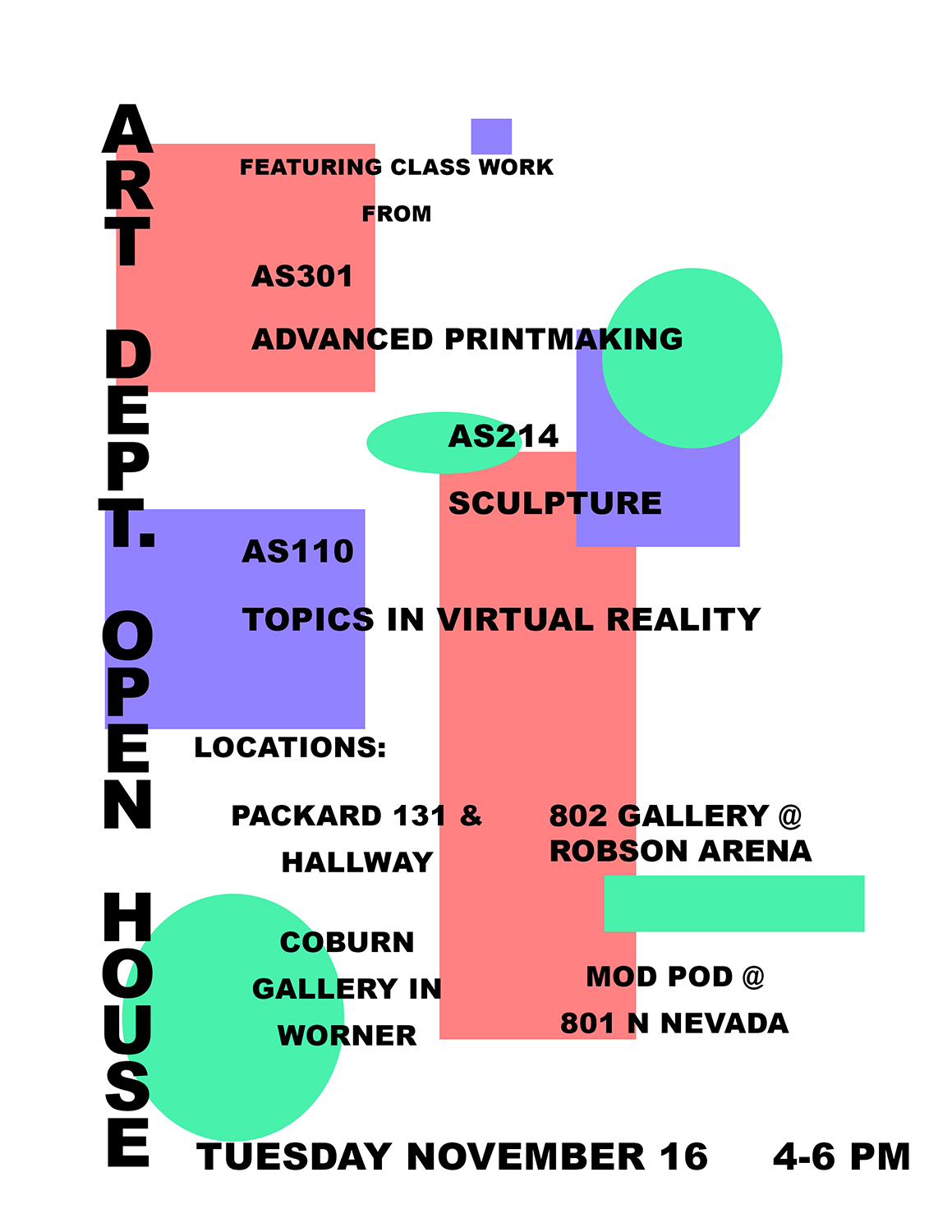 Where: Packard 131 and Hallway, 802 Gallery in Robson Arena, Coburn Gallery in Worner, Mod Pod at 801 N Nevada
Featuring classwork from AS301: Advanced Printmaking, AS214: Sculpture, AS110: Topics in Virtual Reality
---
Connections, Belonging, and Indigenous Identity in Museum Spaces
Visiting Professor Joe Baker
Tuesday, November 9, 2021 | 6:00 pm | Cornerstone Screening Room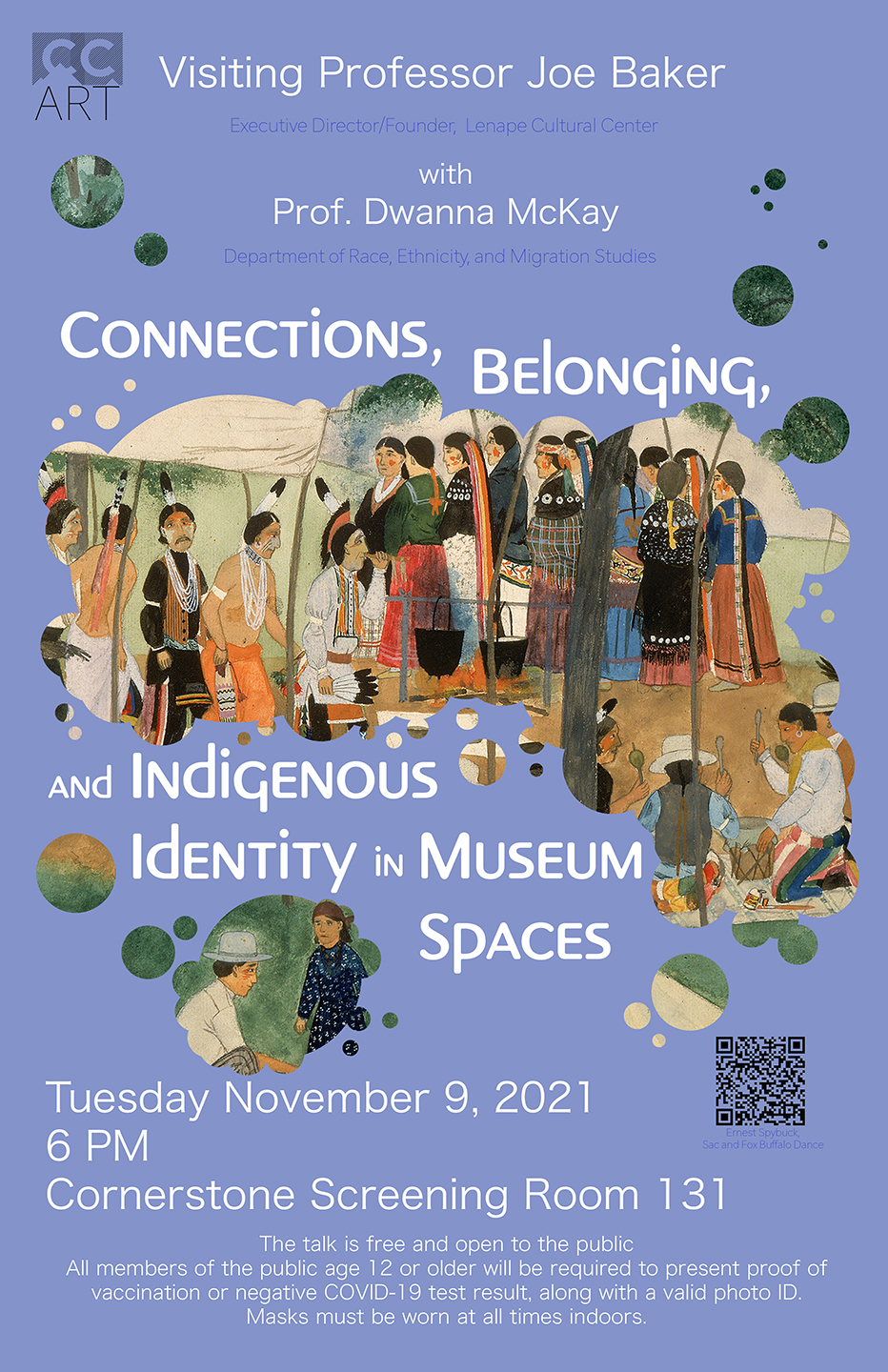 ---
Fire and Erosion: Making Things Out of Clay
Jeremiah Houck, Assistant Director of the Bemis School of Art
Friday, November 4, 2021 | 3:00-6:00 pm | Honnen Arts
This drop-in, not-for-credit mini-workshop covers some of the clay construction techniques required for kiln-fired or element-eroded pieces. Whether you want them to last forever, or to disappear after a strong rainstorm, this 3-hour session will get it all started. Come for as much or as little time as you'd like. All skill levels are welcome, and all supplies are provided. Sponsored by the Art Department.
Any questions should be directed towards sn_miller@coloradocollege.edu
---
Proving Grounds: Oil, Power, and Architectural Technologies in the Arabian Peninsula, 1960-1990
Visiting Professor Aaron Tobey
Tuesday, October 12, 2021 | 4:00 pm | Cornerstone Screening Room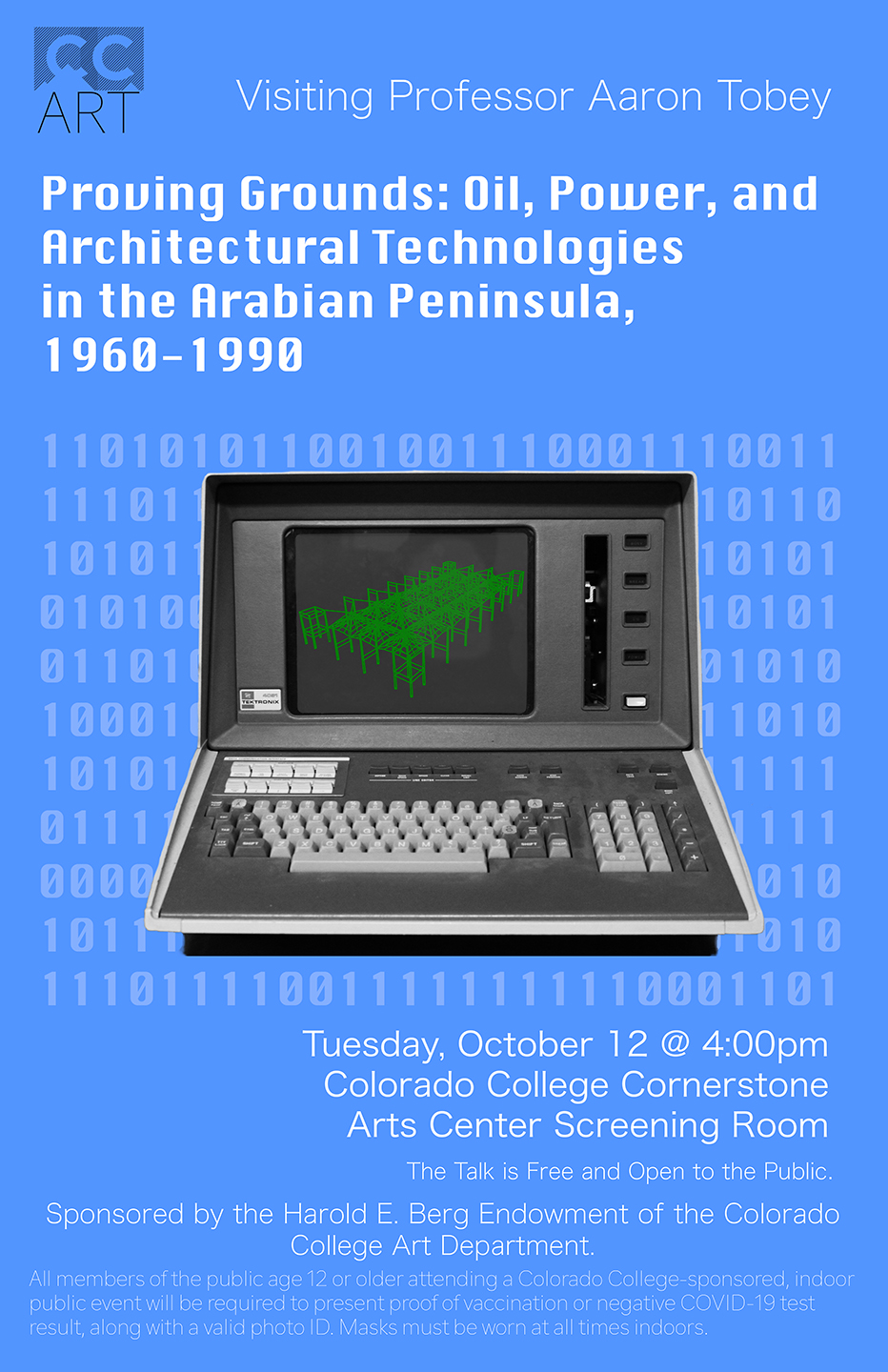 ---
Trouble in Threes: Post-Public, Post-Truth, Post-Anthropocene
Visiting Professor Conrad Cheung
Wednesday, October 6, 2021 | 5:00 pm | Cornerstone Screening Room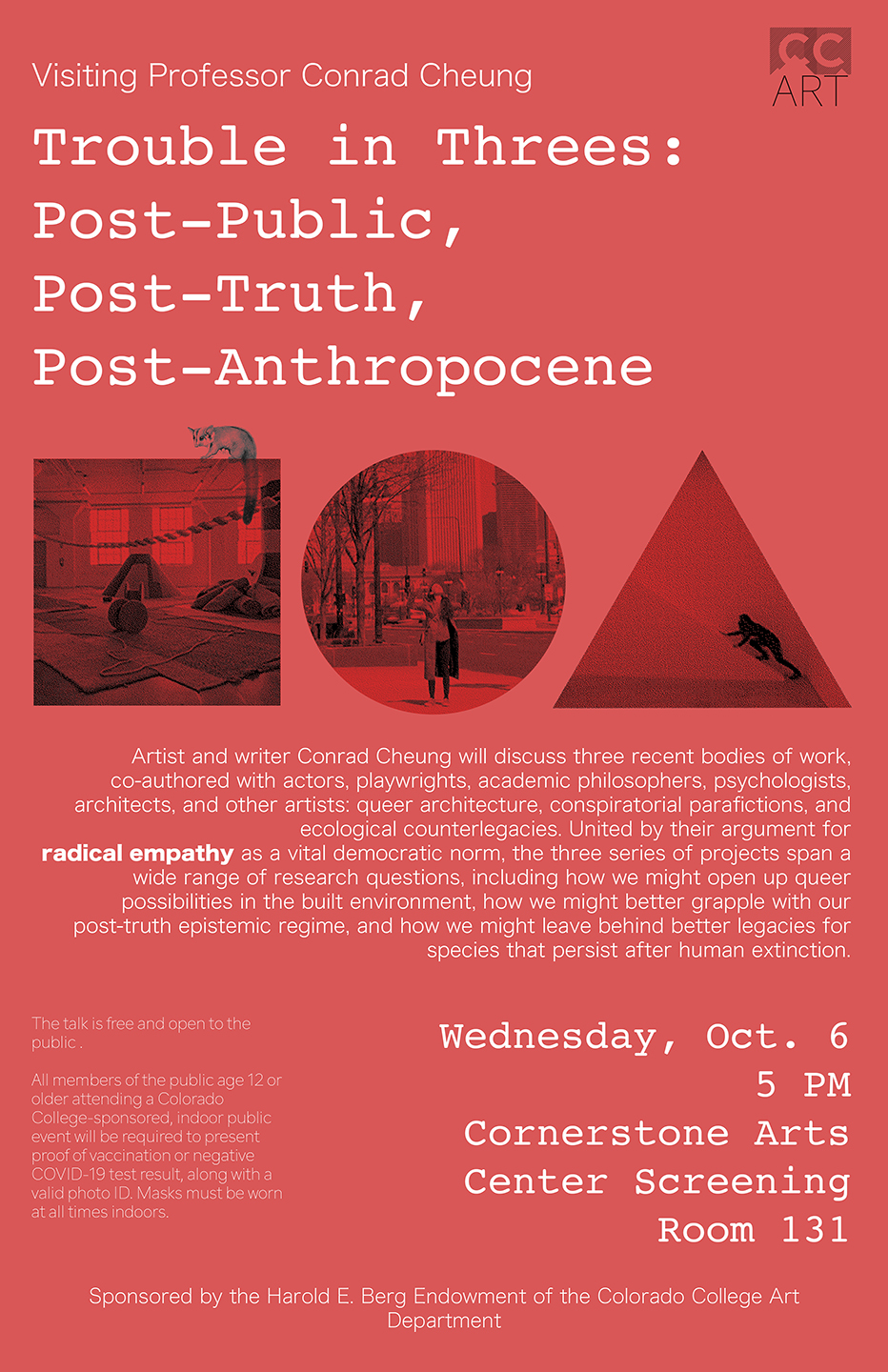 ---
Geologic Empathy and Quantum Curiosity
Visiting Professor Nina Elder
Wednesday, September 29, 2021 | 5:00 pm | Cornerstone Screening Room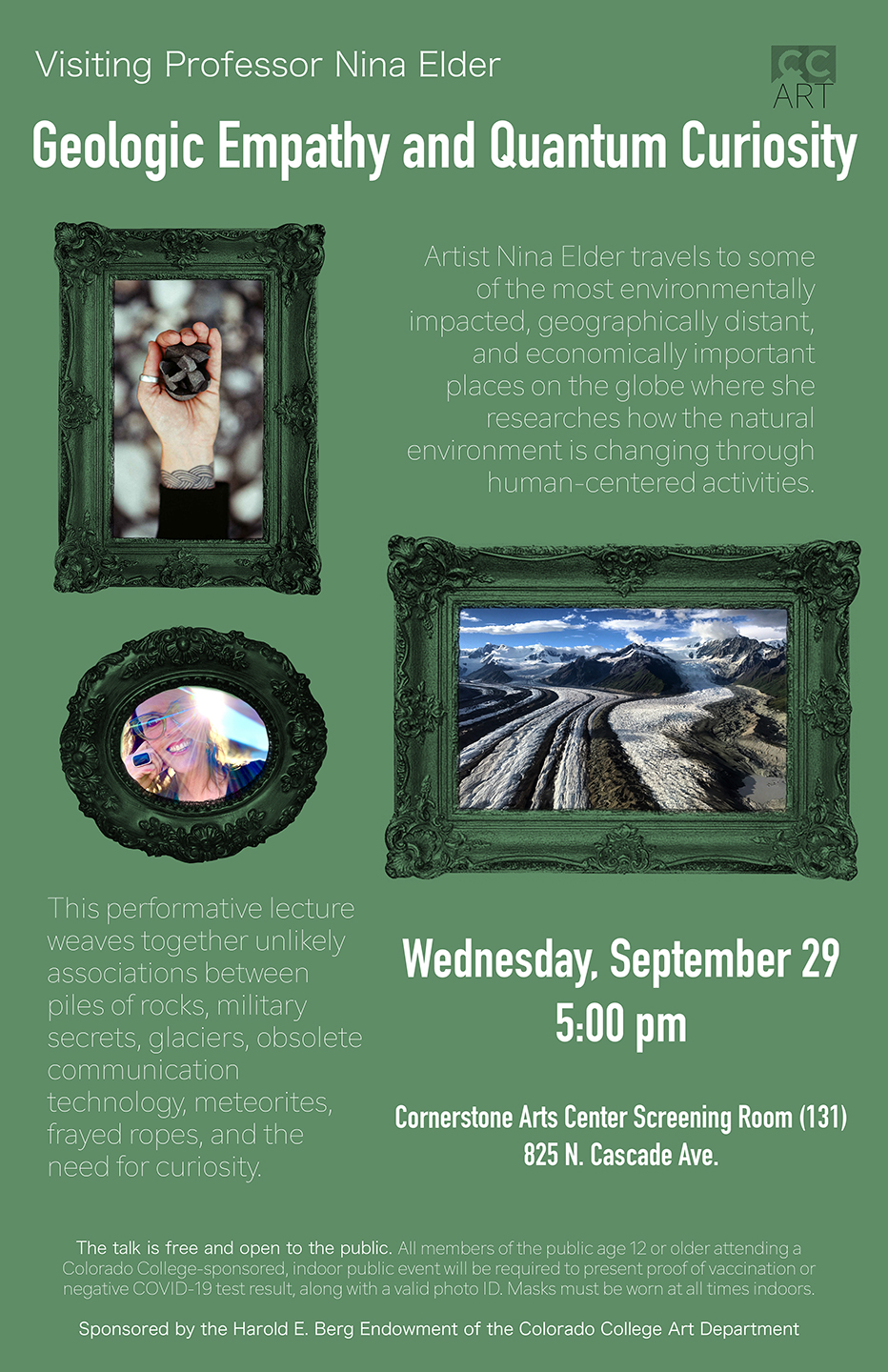 ---
Printmaking as a Way of Thinking: Block A, 2021
"Anyone can make a print. And there are so many ways to make a print, that there's no reason not to do it." So says Kate Aitchison '10, the visiting art studio faculty member who taught Summer Session's Block A Printmaking course. Handmade prints are personal expressions of creativity, even democracy. They're also affordable to create, portable, and easy to store. Student video intern Bergen Hoff '22 took the course and made this video.
---
Sam Cadigan '21 Wins Honors for Design Thesis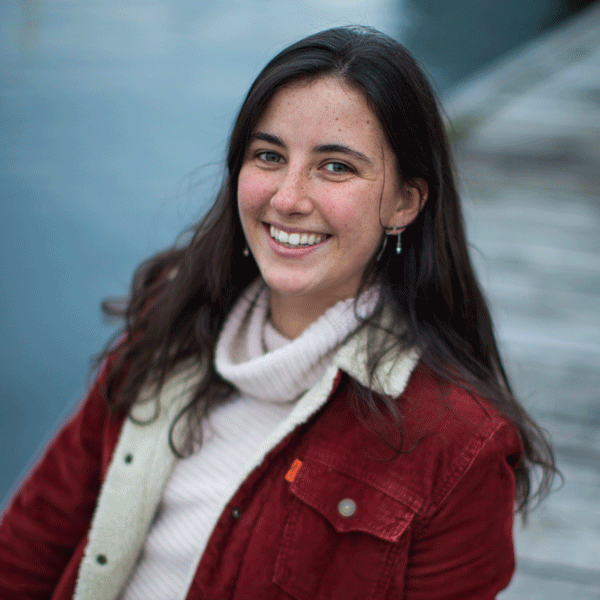 Sam Cadigan '21, a Colorado College art major with a concentration in integrative design and architecture, has received an honorable mention in the Parsons School of Design  Role Models Competition for her senior thesis, Mourning Walk.
Read more on the CC News & Events page.
---
Art History-Museum Studies Senior Thesis Presentations
Friday, February 19, 2021 | 3:00 pm | Zoom
Diana Munoz
From Pessimism to Solace:
The Evolution of Gustav Klimt's Pregnant Icon
Minnie Hutchins
The Experimental House at Muuratsalo as a Manifestation
of Alvar Aalto's Architectural Philosophies
Emily Miner
Making a Virtual Exhibition:
Reinterpreting the 2017 Whitney Biennial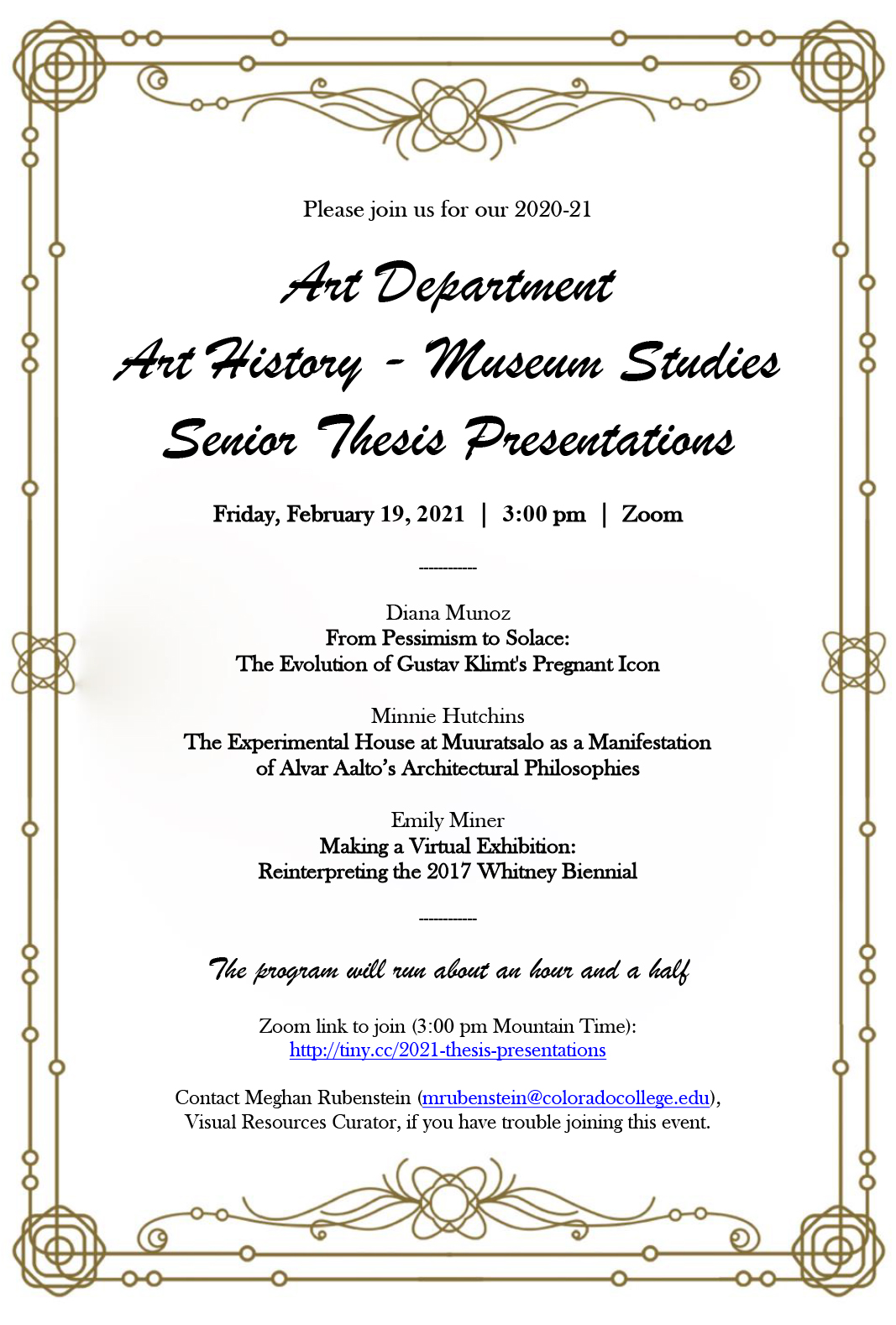 ---
TedX-KingLincolnBronzeville talk by Jameel Paulin
Columbus, OH | October 23, 2020
https://www.tedxklb.org/2020speakers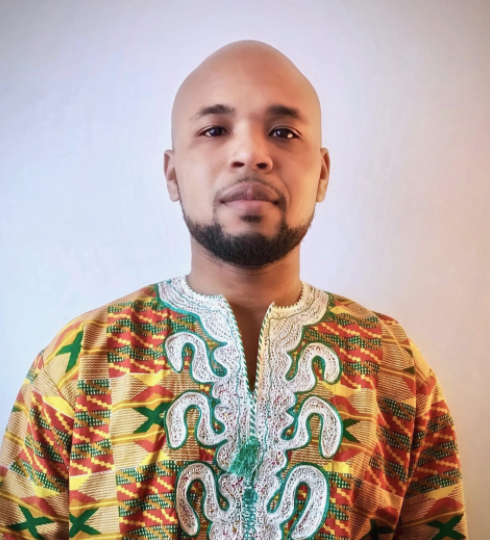 Jameel Paulin
Artist. Socialist. Afrofuturist.
My work is primarily about transformations: new worlds, new relations, and new forms of being. It is about how descendants of the African diaspora have transformed the very grounds of being, meaning and relatedness through the framework of afrofuturism. As a visual artist who grew up during the overlapping eras of 'golden age of hip-hop' and the digital age, my experience of afrofuturism has primarily been shaped by the evolution of personal digital/information technology and hip-hop music. I use the emergent technology of virtual reality to create immersive audio-visual worlds influenced by afrofuturist themes and West African symbolism. By embracing the digital media, and creating digitally immersive realities, that are visually akin to the sonic environments of Coltrane, J Dilla, and Flying Lotus, I aim to situate hip-hop aesthetics within a tradition of black liberation aesthetics and to employ a kind of "hip-hop" method within my own creative practice.
---
Reflective Tracings
Jean Gumpper | Minneapolis, MN | October 17 - November 28, 2020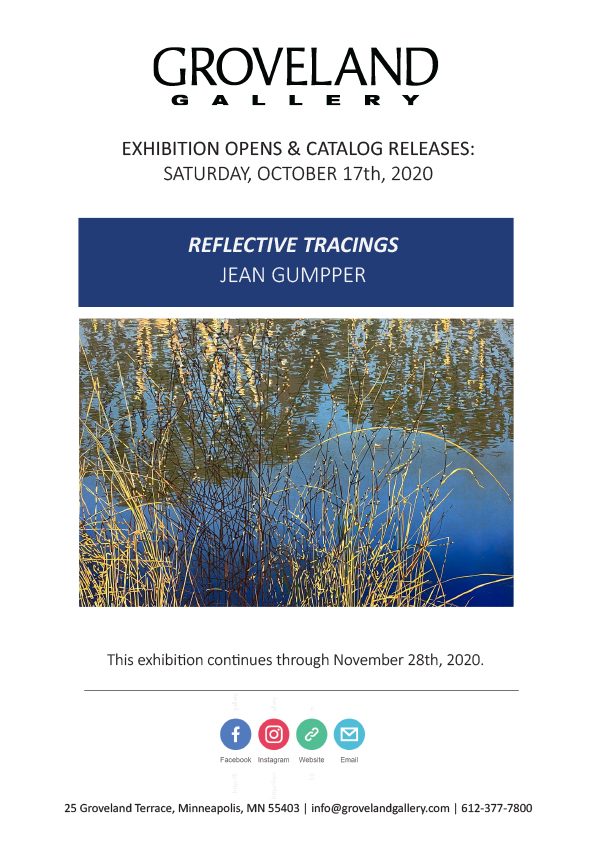 ---
Art as a Career
Wednesday, July 22, 2020 | 3:00 pm MT
Panelists include Maxwell Bennett '12, Teddy Benson '13, Luka Carter '13, Lela Wulsin '14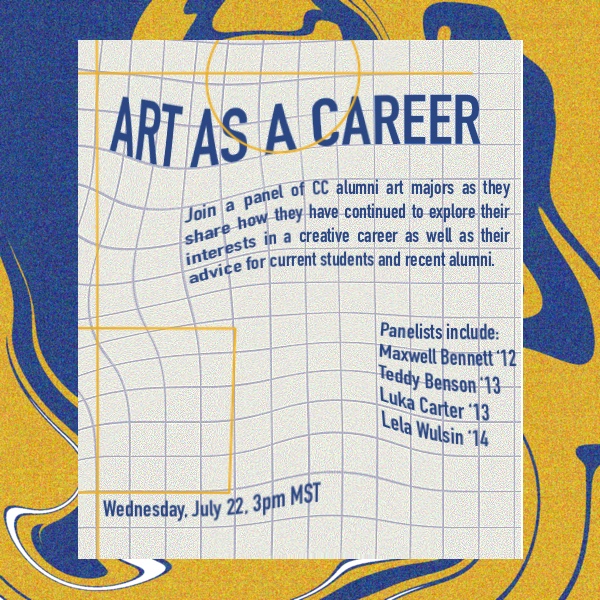 Join a panel of CC alumni art majors as they share how they have continued to explore their interests in a creative career as well as their advice for current students and recent alumni.
Students can RSVP in Handshake for the zoom link.
Alumni can email Andrea Culp for the zoom information.
---
Photopolymer Plate Workshop with Heather Oelklaus
Saturday, March 7, 2020
Session 1: 10:00 am-1:00 pm| Session 2: 1:00 pm - 4:00 pm
Colorado College, Packard Hall, Room 39 (lower level West end), 5 W. Cache la Poudre St., Colorado Springs, CO 80903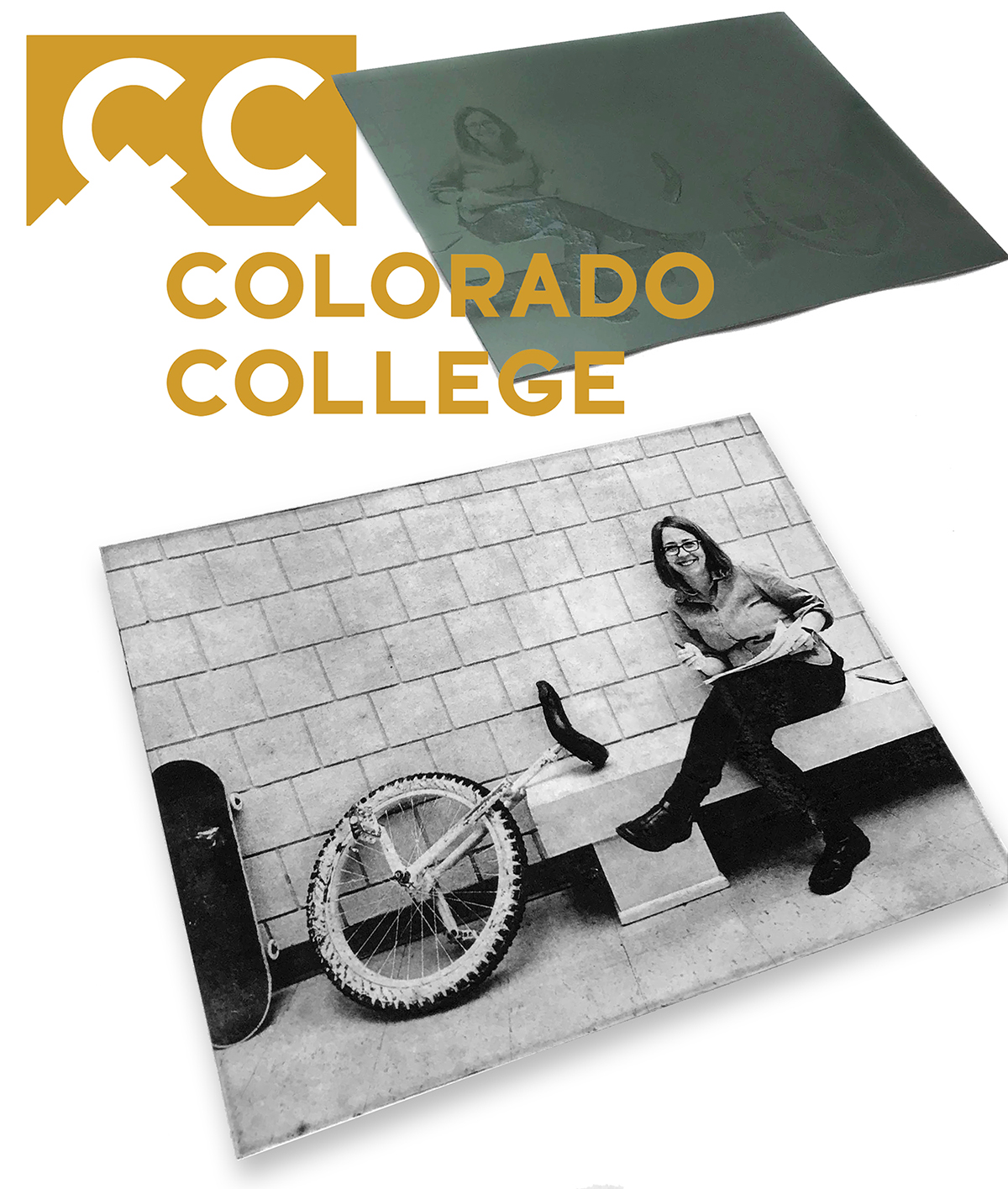 In this hands-on workshop participants will explore printmaking and photographic possibilities as they learn exposure, development, and printing with photopolymer plates. Photopolymer plates are "etched" by ultraviolet light and developed in water to produce a plate that can be used for intaglio printing. Artists will be encouraged to produce a straight print and multiple experimental prints during this 3-hour-long guided workshop. We are offering two 12-person sessions for this workshop located in Colorado Springs. Please email Heather Oelklaus, Colorado College Printshop Supervisor, at hoelklaus@coloradocollege.edu to reserve your spot.
Exploring personal history through photopolymer plates can be insightful. We will use a photo from your collection (hardcopy or digital file) to make a polymer plate and will encourage you to express yourself through various printing techniques.
All materials will be provided by the Colorado College Art Department. Free and Open to the public.
---
Imprint: Print Educators of Colorado
Featuring Professors Jean Gumpper and Kate Leonard
Arvada, CO | Jan 16 - Mar 29, 2020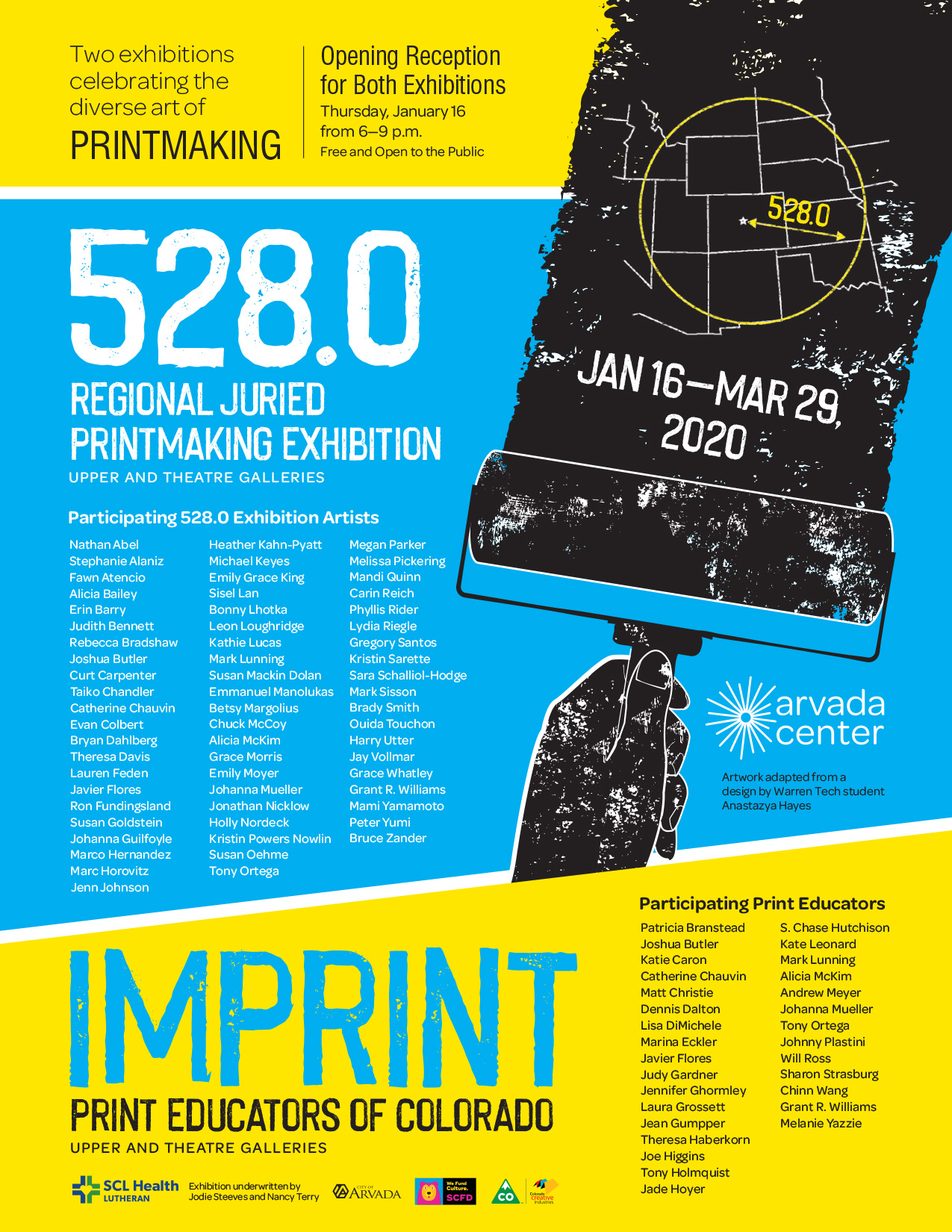 ---
Tuesday, December 17, 2019 | 6-9 pm | 3D Arts Building
Tear It Down Build It Back Up......Better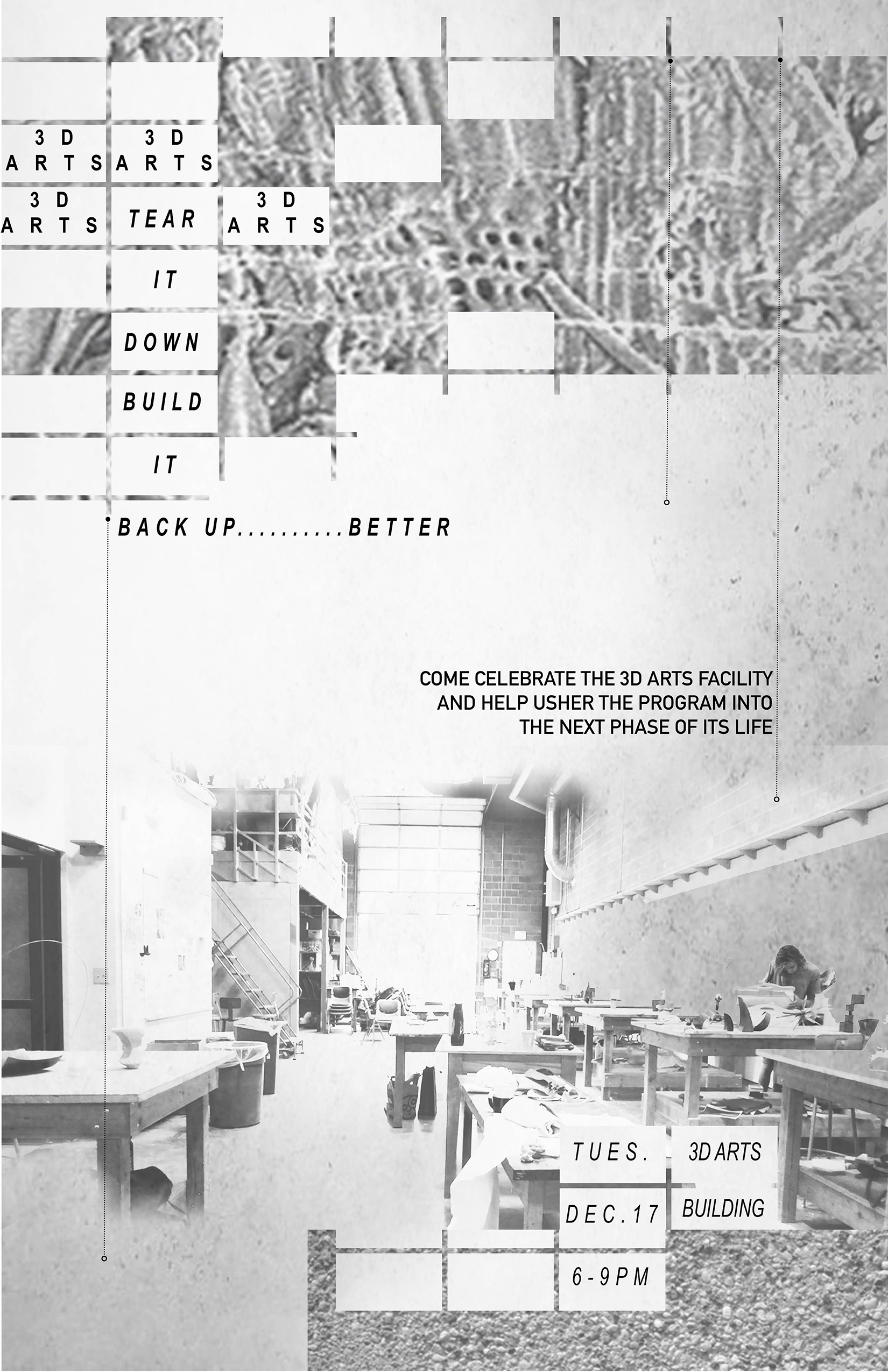 Come celebrate the 3D Arts Facility and help usher the program into the next phase of its life!
---
Architectural Taxidermy: Haraway's Implosion Method & Full-Scale Drawings
Athanasiou Geolas, Ph.D. Candidate, Cornell University
Monday, November 11, 2019 | 4:00 pm | Cornerstone Screening Room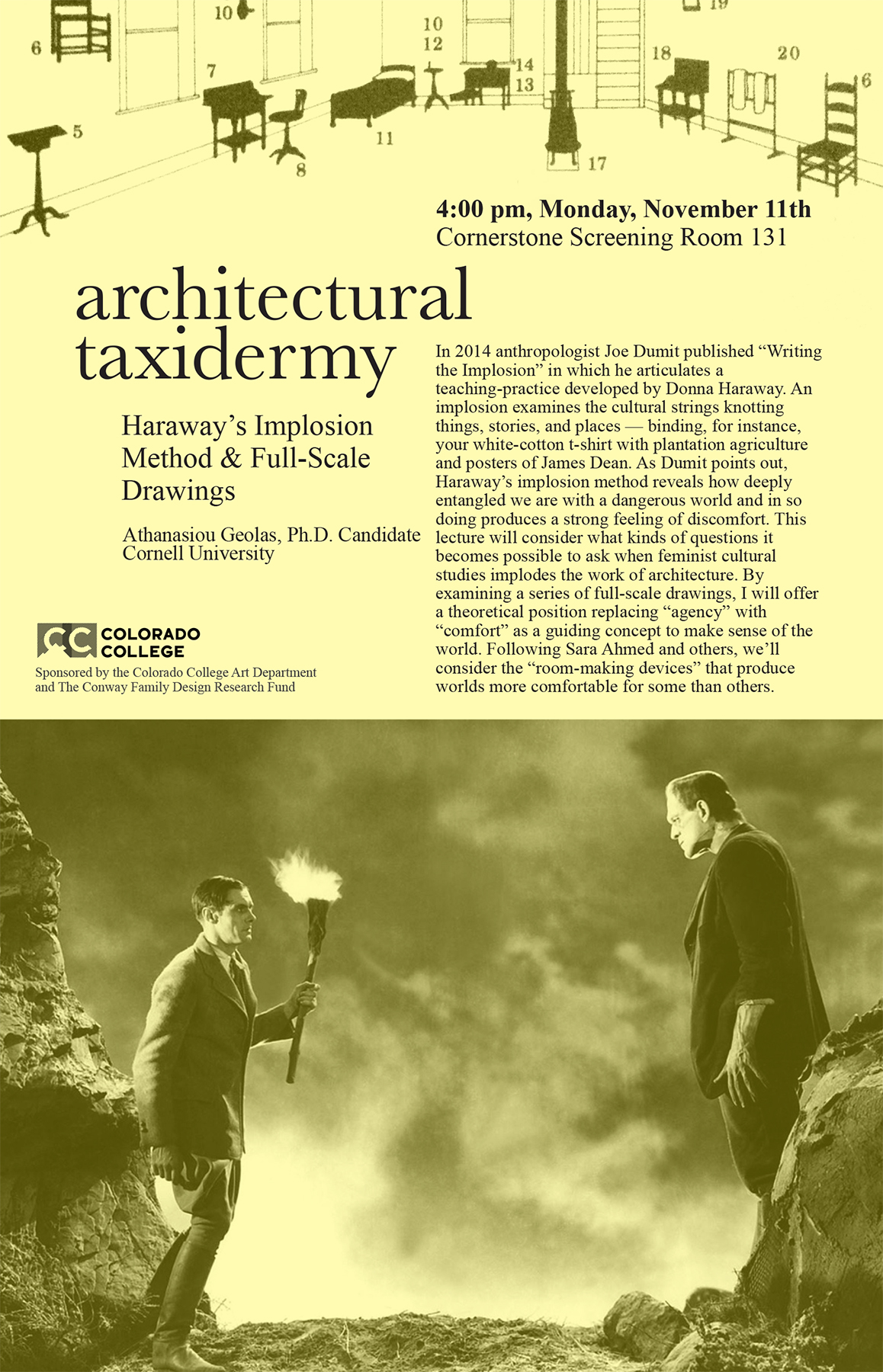 ---
Chakaia Booker and Justin Sanz
Artist talks | Worner WES room | November 4, 2019 at 4:00 pm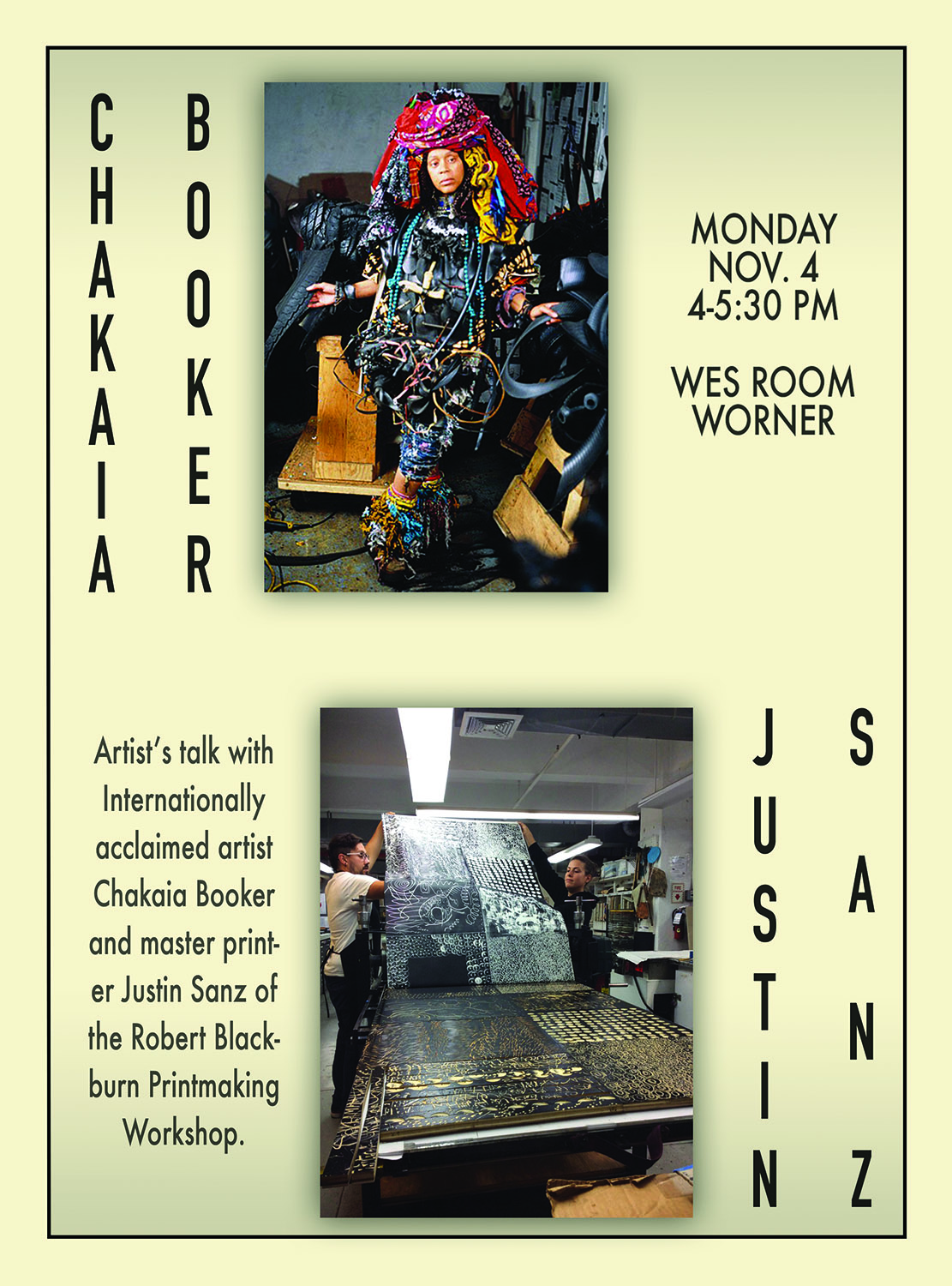 Artist's talk with Internationally acclaimed artist Chakaia Booker and master printer Justin Sanz of the Robert Blackburn Printmaking Workshop.
Artist Chakaia Booker will speak about her work and career. Chakaia received a B.A. in sociology from Rutgers University and an MFA from the City College of New York. She was selected for the Whitney Biennial in 2000, awarded the Pollock-Krasner Grant in 2002, and received a Guggenheim Fellowship in 2005. Booker's work has been exhibited widely both nationally and internationally.
Brooklyn-based artist and printer Justin Sanz exhibits locally and internationally. His work is in the collections of the Library of Congress, the New York Public Library, the Spencer Museum, Davis Museum, and various private collections. He currently works as an educator, master printer, and workshop manager at the EFA Robert Blackburn Printmaking Workshop in New York City.
Booker has been collaborating on prints at the EFA Robert Blackburn Printmaking Workshop (EFA RBPMW) for the past 10 years. Sanz will speak about collaborating on prints with Booker, the history of EFA RBPMW and how the workshop functions today, his collaborations with artists, as well as his own work.
---
Fissure
Scott Johnson | Santa Fe, NM | Opens October 11, 2019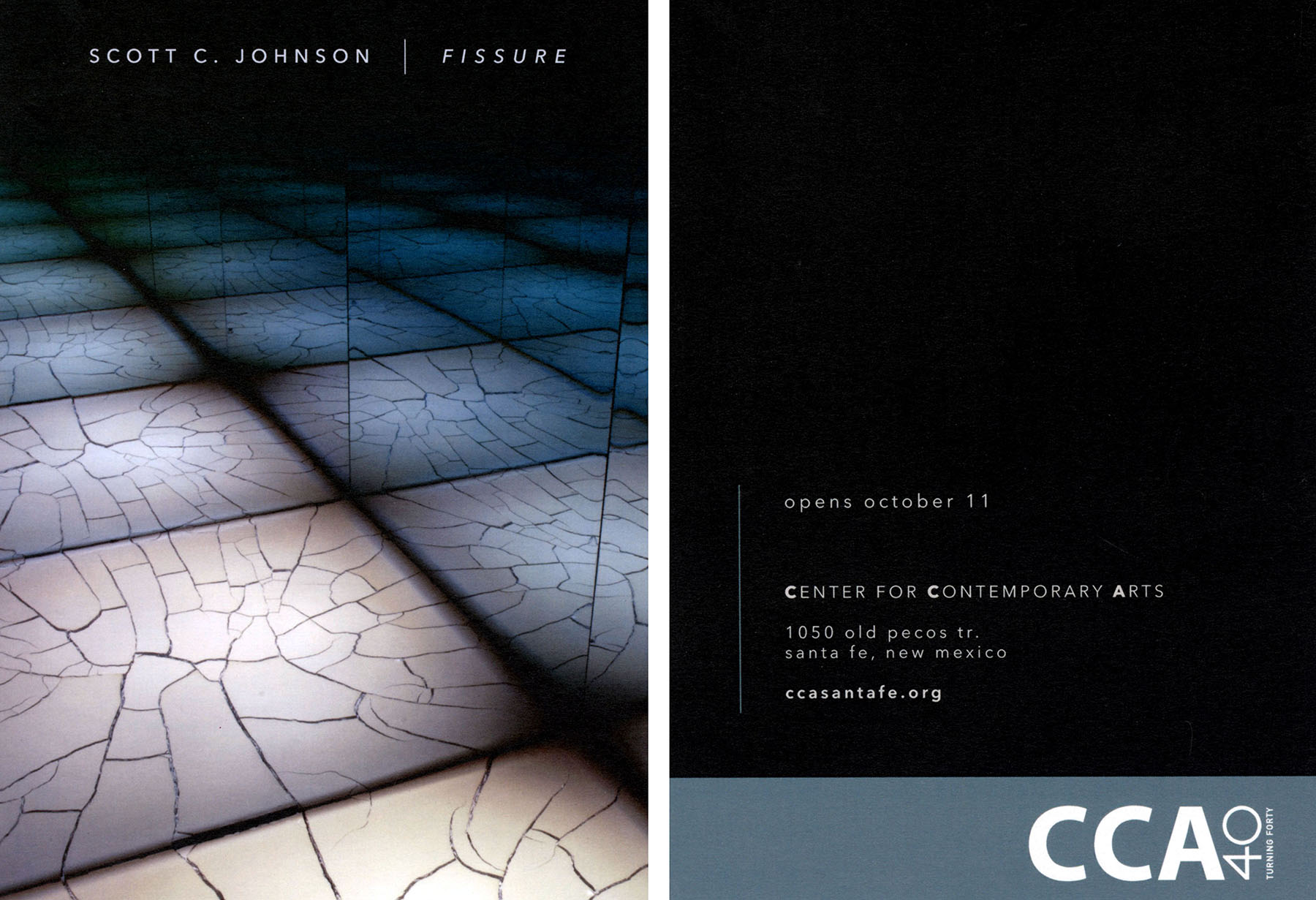 Center for Contemporary Arts, Tank Garage Gallery, 1050 Old Pecos Tr., Santa Fe, NM
http://ccasantafe.org
Johnson explores the concept of 'fissures' in both its technical and theoretical forms-clefts in the landscape, breaks in social/cultural fabric, the splitting of atoms, and fragments in memory-in a continuing exploration of how terrestrial space is represented, navigated, and perceived. http://scottjohnsonworks.com/
---
Shamans Death, a Solo Exhibition by Basil Kincaid '10
pt.2 Gallery, Oakland, CA, June 15-July 5, 2019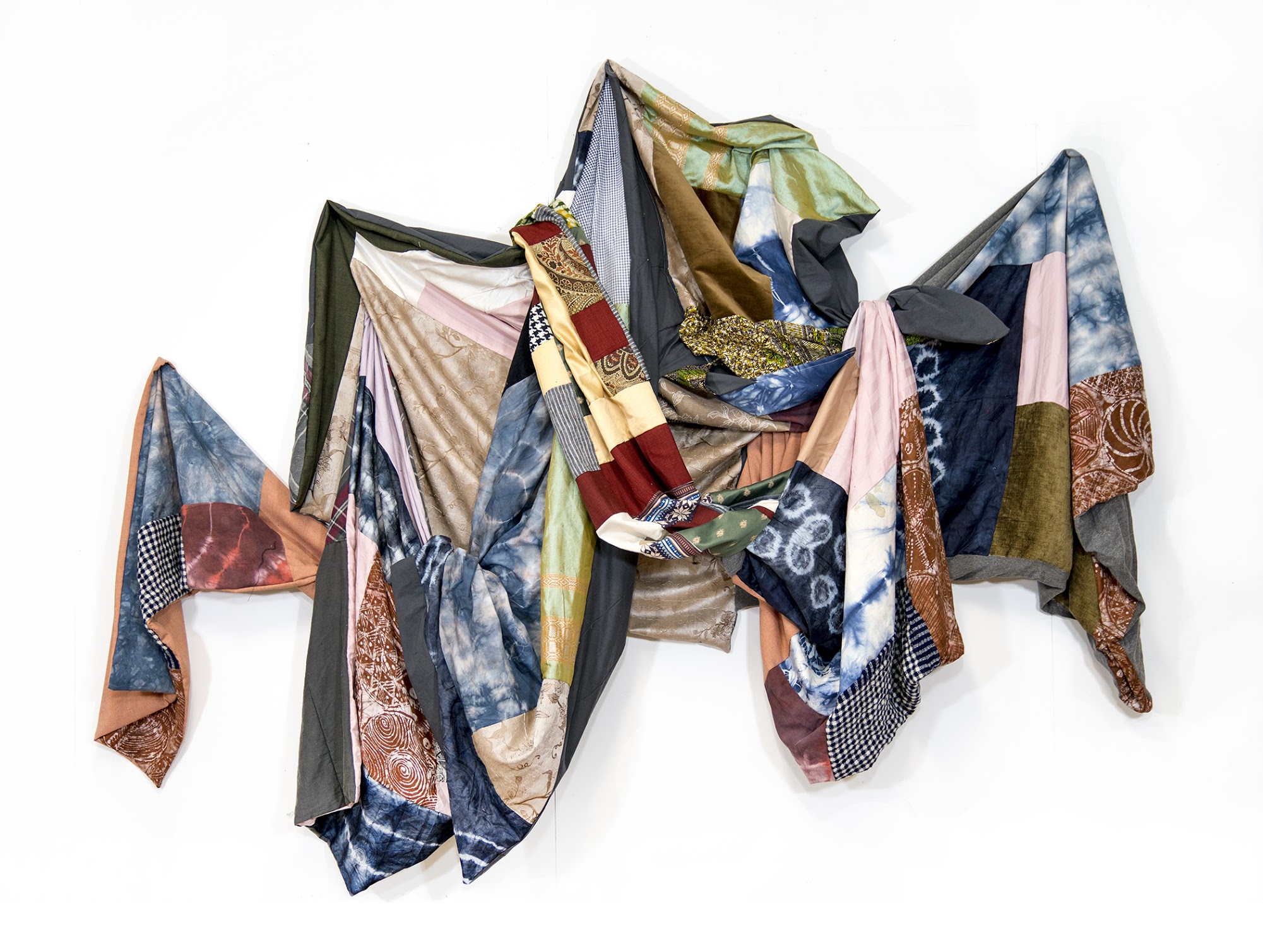 Opening Reception: June 15, 2019, 12-10 pm. Artist talk at 4 pm.
Read more about the exhibition in Hyperallergic: https://hyperallergic.com/507476/wrapped-in-the-spirit-of-transformation/
Learn more about Basil Kincaid and view his work: https://www.basilkincaid.com/ 
---
Rethinking the Damaged Photograph: Images Altered by Hurricanes Katrina & Sandy
Hannah Ryan, Visiting Professor, Art Department
Thursday, May 2, 2019 | 4:00 pm | Cornerstone Screening Room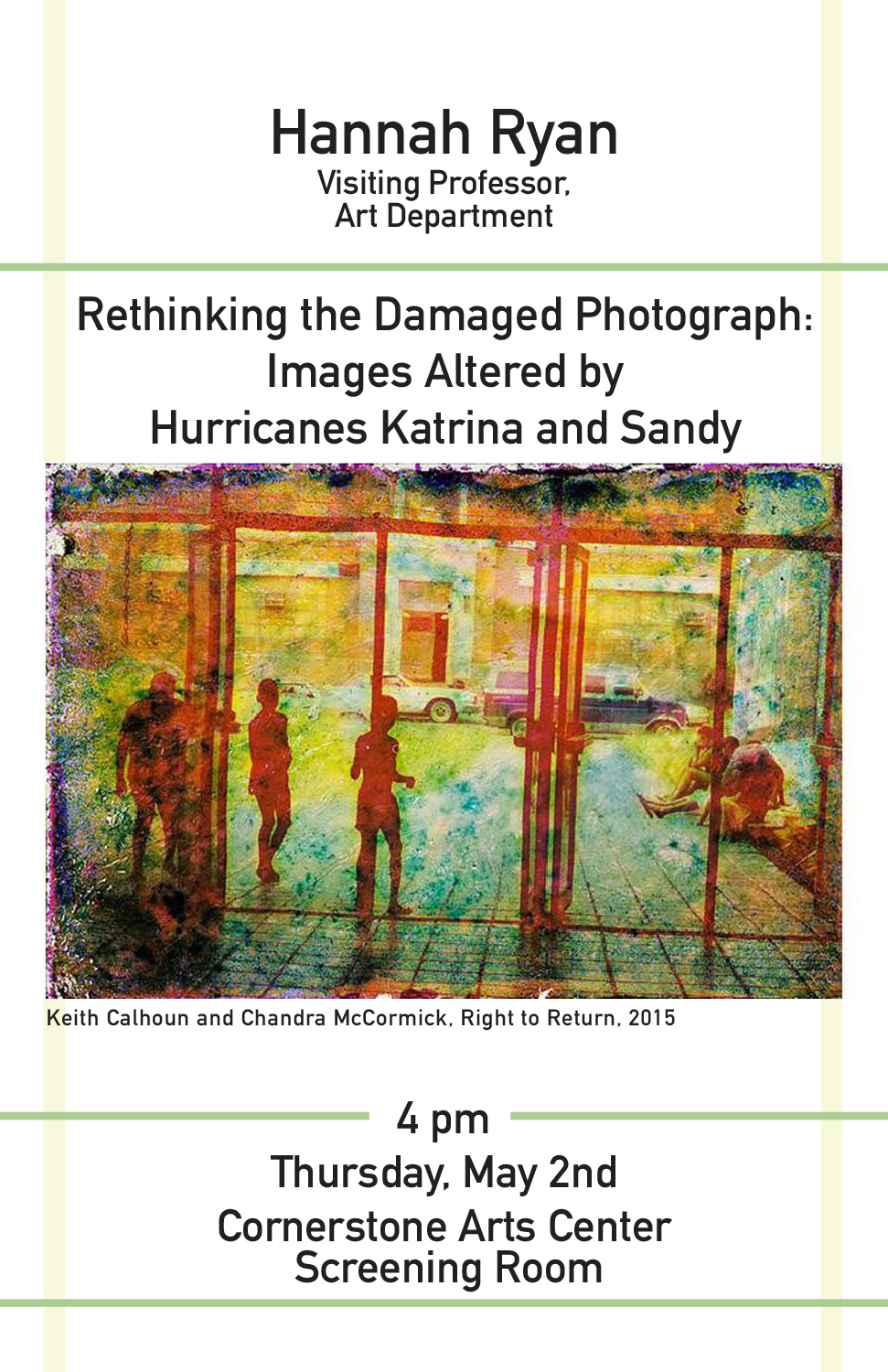 In August 2005, Hurricane Katrina devastated the Gulf Coast, and among the thousands of structures in its path was the studio of New Orleans photographers Keith Calhoun and Chandra McCormick. Both born and raised in the Lower Ninth Ward, the duo had been documenting the culture of Louisiana for decades, increasingly with an eye toward injustice. As the waters receded, Calhoun and McCormick gained reentry to their studio, only to find everything-from equipment negatives-ruined. As the city recovered, they embarked upon an innovative process of making prints from the damaged negatives, the resultant photographs impossibly catching and freezing in time this destructive event. Calhoun and McCormick generated a series entitled it "Right to Return." The process and resultant images have altered their perception of destruction, and they no longer consider the images damaged.
---
"If there is wind, they'll fly"
Koichi Yamamoto, Associate Professor, University of Tennessee
Wednesday, May 1, 2019 | 3:30 pm | WES Room, Worner Center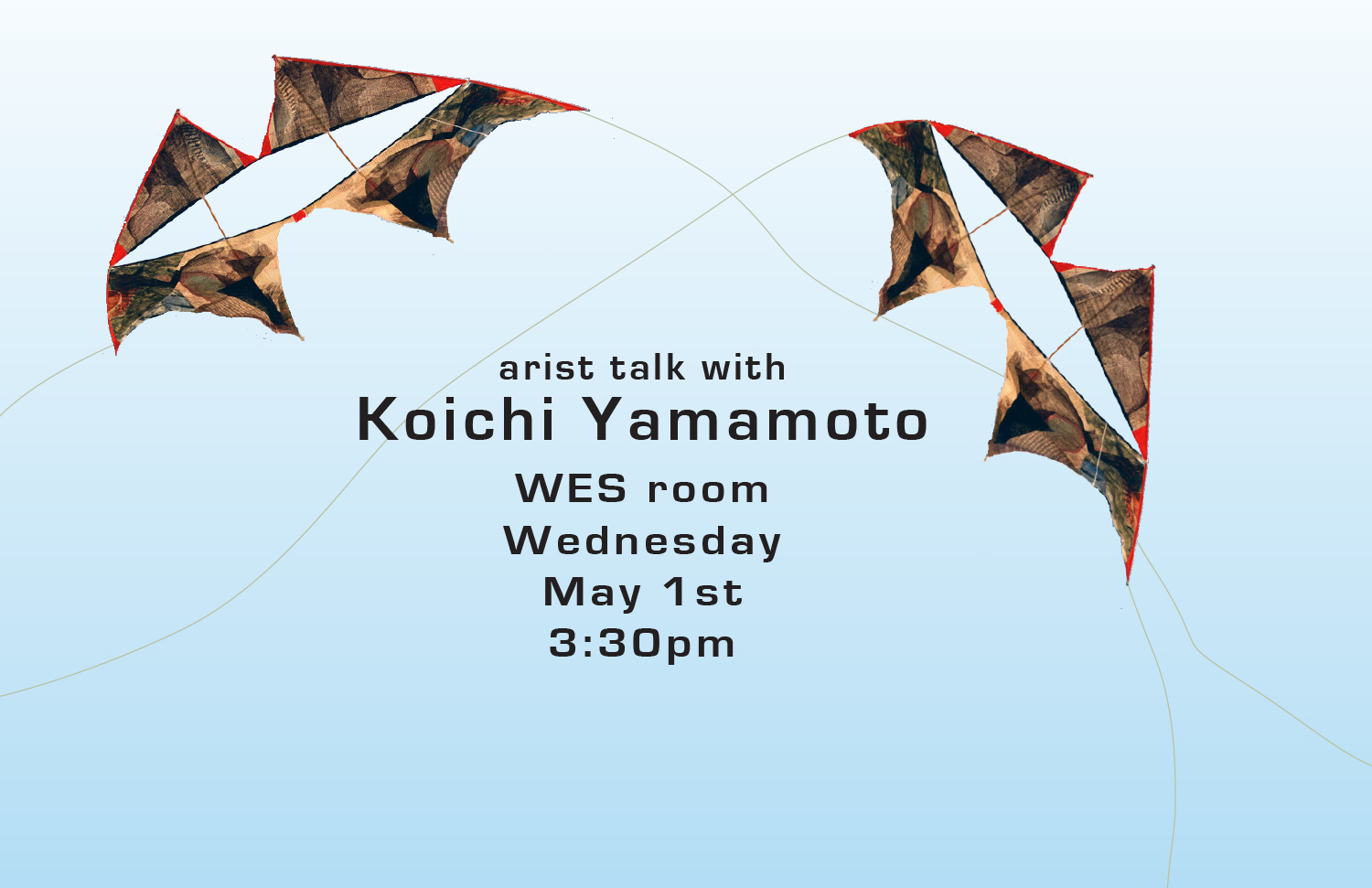 Koichi Yamamoto, associate professor of art at the University of Tennessee, merges traditional and contemporary techniques to develop unique and innovative approaches to the language of printmaking. Yamamoto's prints explore issues of the sublime, memory, and atmosphere and range from small, meticulously engraved copper plates to large monotypes. He will be working with printmaking students to create kites made from intaglio prints. Then, as Yamamoto says, "if there is wind, they'll fly." 
---
Between Nature and Culture: Visualizing a Mythological Hero in Fifteenth-Century Florence
Talk by Victoria Ehrlich, Visiting Professor, Art Department
Thursday, March 28, 2019 | 3:30 pm | Packard Room 23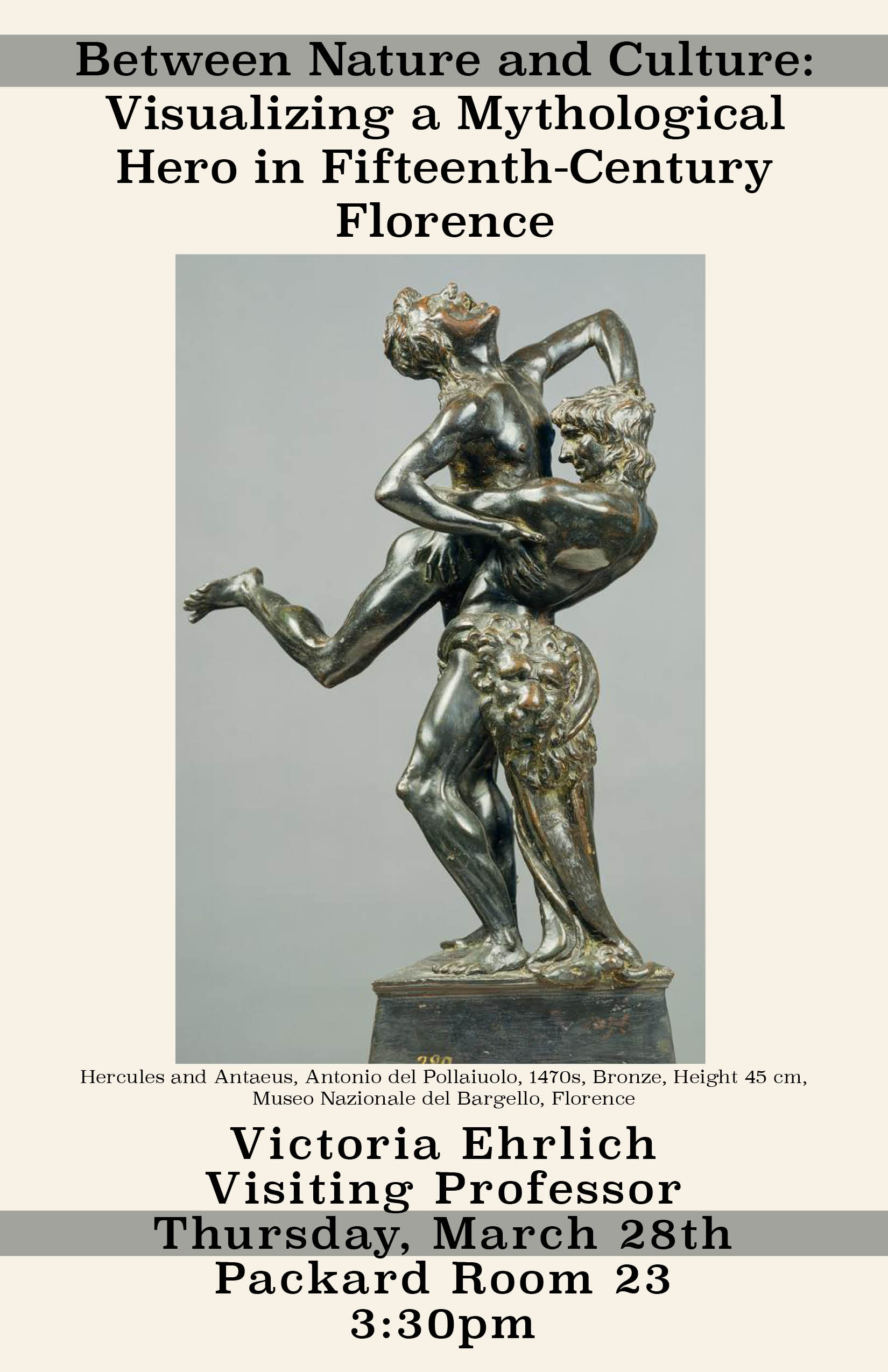 Professor Ehrlich will discuss how fifteenth-century Florentine artists visualized the realm of virtue by depicting heroes doing battle with monsters. She believes that these figures do not represent the stark contrast between the brutish and the superhumanly virtuous, described by Aristotle, but actually mirrored one another in significant ways. She will point out the congruencies between the heroic and the monstrous as represented in the visual culture of Quattrocento Florence. This approach brings into relief contemporary ideas of virtue as reflected in the ambiguous status of monsters and heroes while foregrounding the unstable boundary that separated nature from culture in fifteenth-century thought.
---
Save the Date!
Design Week, March 4-8, 2019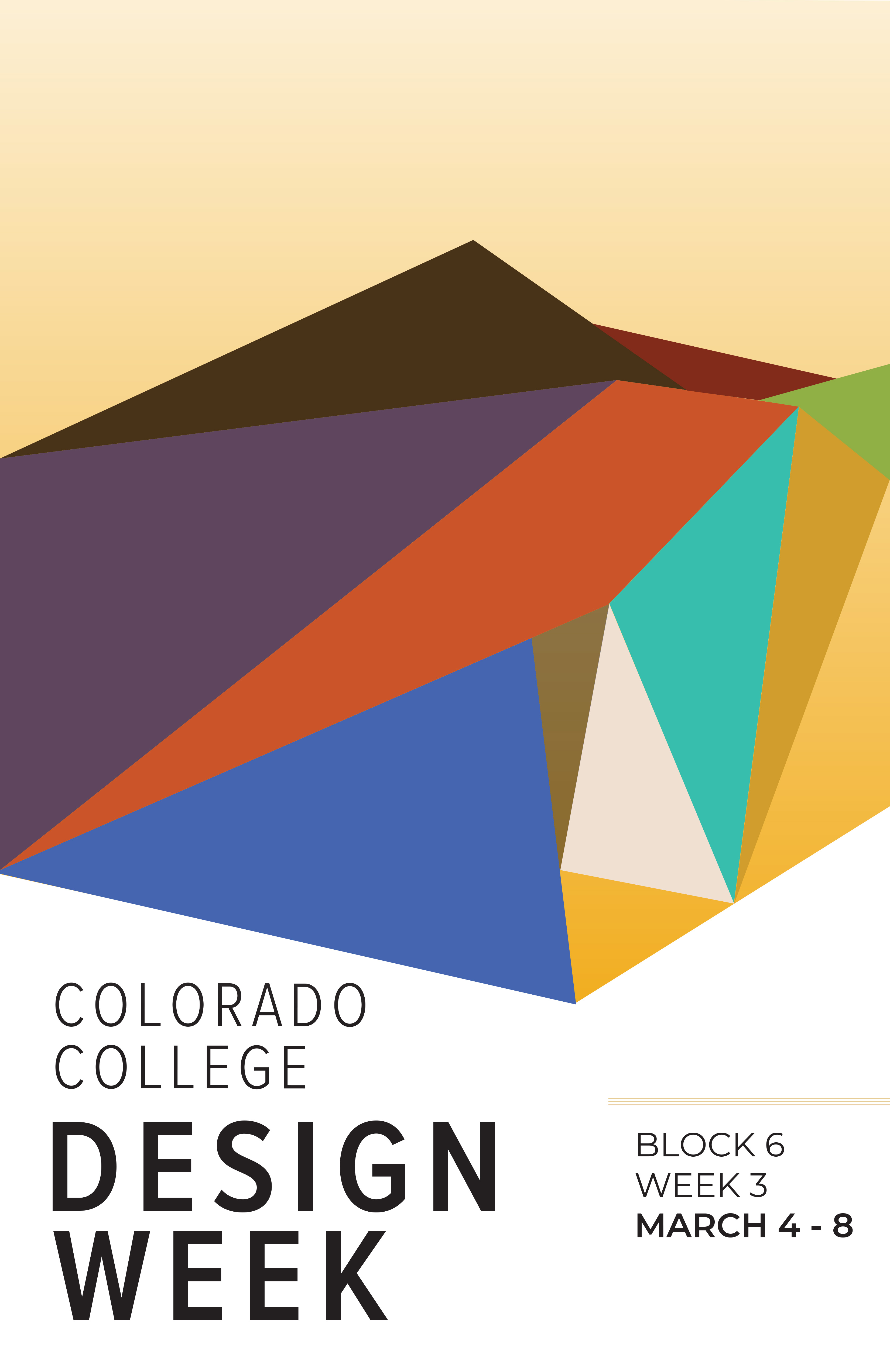 For more information, check out the full program at http://tiny.cc/design-week 
---
Woodcuts and Weavings at The Bridge Gallery
Jean Gumpper and Jeanne Steiner | February 1-23, 2019 | Colorado Springs, CO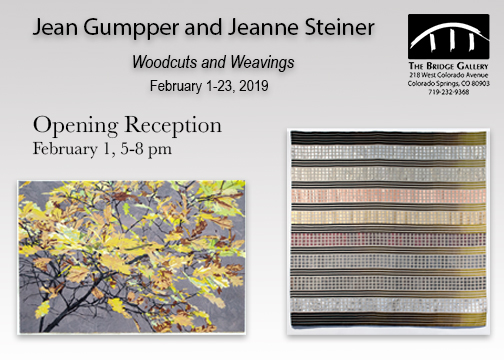 Opening Reception for Woodcuts and Weavings is Friday, February 1, 5:00 to 8:00 pm
---
Artist Talk by Senga Negudi
Wednesday, December 12, 3:00 pm | Worner Campus Center, WES Room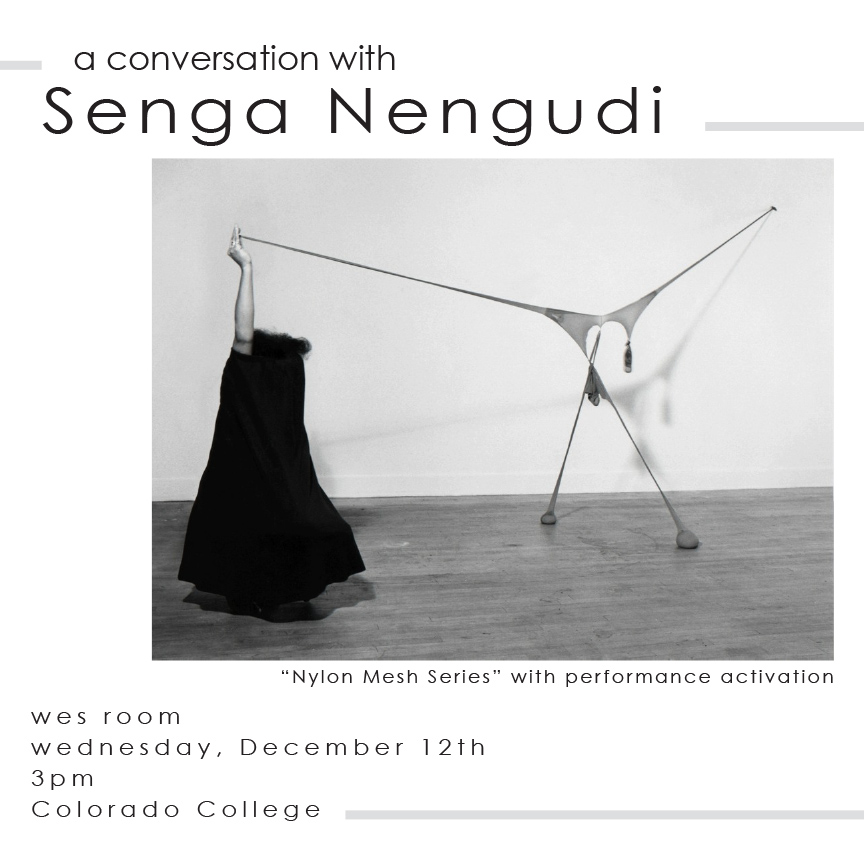 Senga Nengudi lives and works in Colorado Springs, Colorado. She studied art and dance at California State University, graduating in 1967 before studying Japanese culture at Waseda University, Tokyo from 1966-67. Returning to Los Angeles, she completed an MA in sculpture at California State University in 1977.
Interested in the visual arts, dance, body mechanics, and matters of the spirit from an early age these elements still play themselves out in ever-changing ways in her art. She has always used a variety of natural (sand, dirt, rocks, seed pods) and unconventional (pantyhose, found objects, masking tape) materials to fashion her works, utilizing these materials as a jazz musician utilizes notes and sounds to improvise a composition. The thrust of her art is to share common experiences in abstractions that hit the senses and center, often welcoming the viewer to become a participant. In addition to her installations, sculpture, and performances, Nengudi also creates paintings, and photography and writes poetry under the pseudonyms Harriet Chin, Propecia Lee, and Lily B. Moor.
---
The Queering of Architecture
Rachel Montgomery Paupeck | Tuesday, December 11, 4:00 pm | Cornerstone Screening Room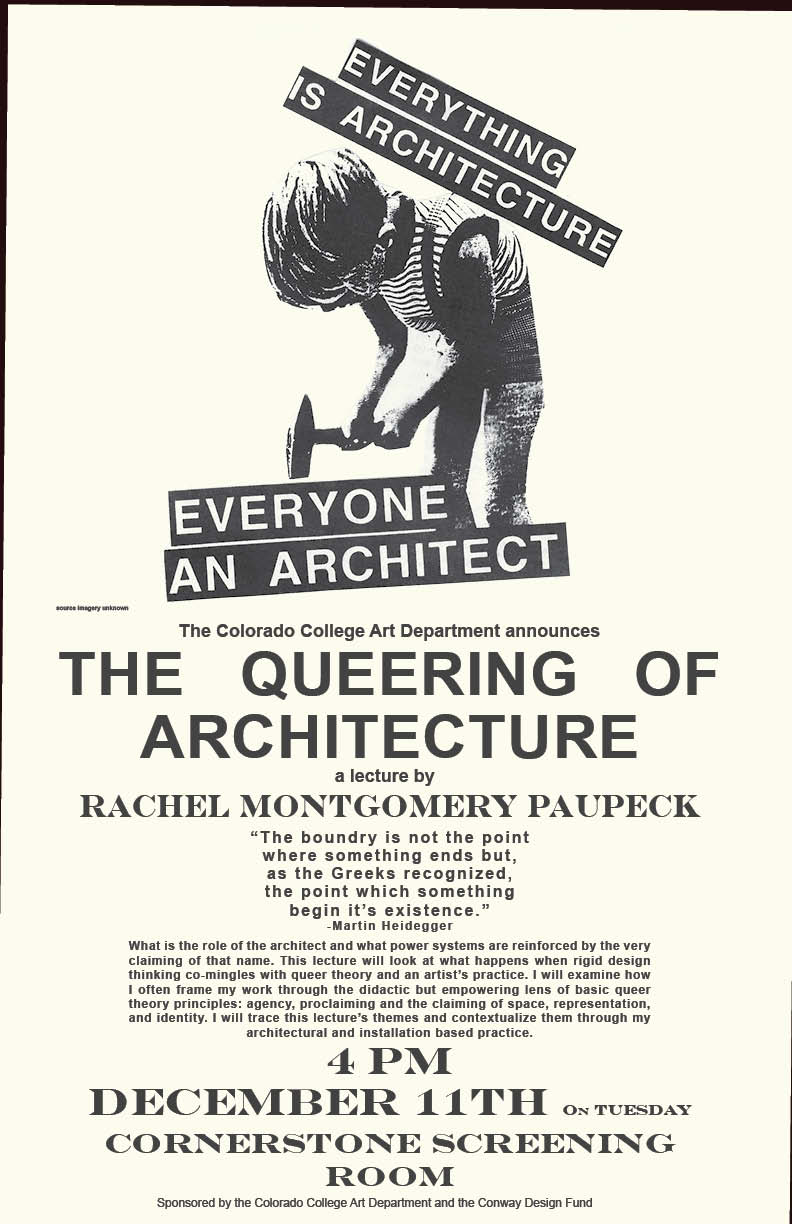 What is the role of the architect and what power systems are reinforced by the very claiming of that name? This lecture will look at what happens when rigid design thinking co-mingles with queer theory and an artist's practice. I will examine how I often frame my work through the didactic but empowering lens of basic queer theory principles: agency, proclaiming, and the claiming of space, representation, and identity. I will trace this lecture's themes and contextualize them through my architectural and installation-based practice.
---
Artist Talk by Simonette Quamina
Tuesday, December 4, 4:00 pm | Worner Campus Center, WES Room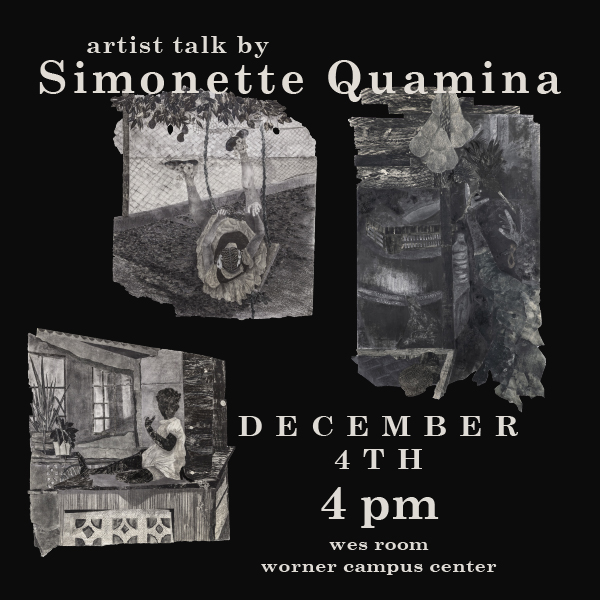 Simonette Quamina was born in Ontario, Canada, and raised in South America and the Caribbean. Her diverse upbringing is constantly woven into the narrative of her prints, collages, and large-scale drawings. They have been exhibited nationally and are part of the Rhode Island School of Design Special collections library, as well as numerous private collections. She was the recipient of the 2017 Salem Art Works fellowship, the 2017-2018 Provincetown Fine Art Works Center residency and she is a studio recipient of the Elizabeth Foundation of the Art Studio program in New York City.
---
Patrick Nagatani: Photographic Innovator, Storyteller, Artist
Film Screening Living in the Story
Thursday, October 11, 5:30 pm | Armstrong Hall, Max Kade Theater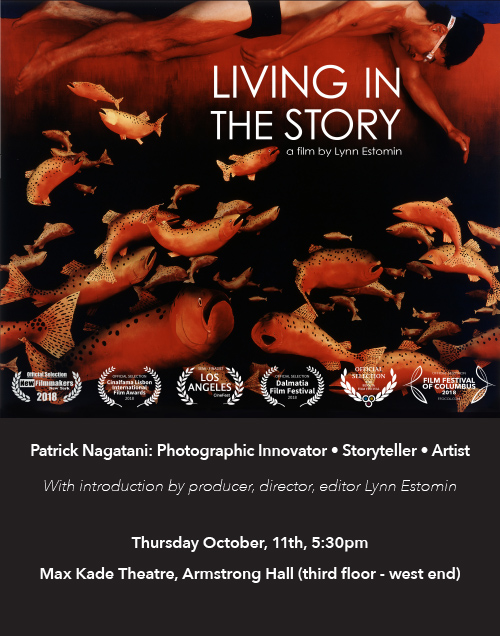 ---
Parishioners, Pilgrims and Monks: Architecture and Community in the Medieval English Church
Visiting Professor Kate Hundley
Wednesday, October 10, 3:30 pm | Packard Hall, Room 21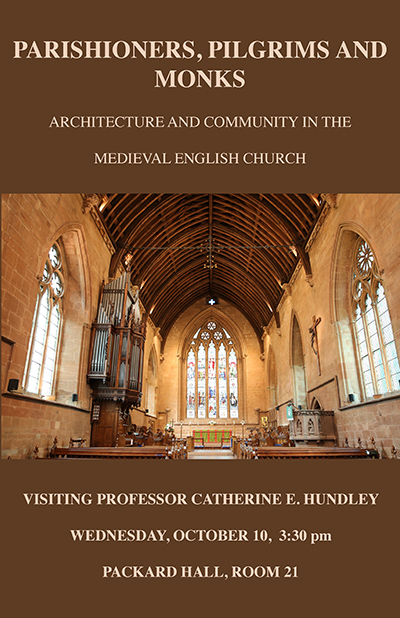 ---
Elements at the William Havu Gallery
Featuring Jean Gumpper | June 15 - July 28 2018 | Denver, CO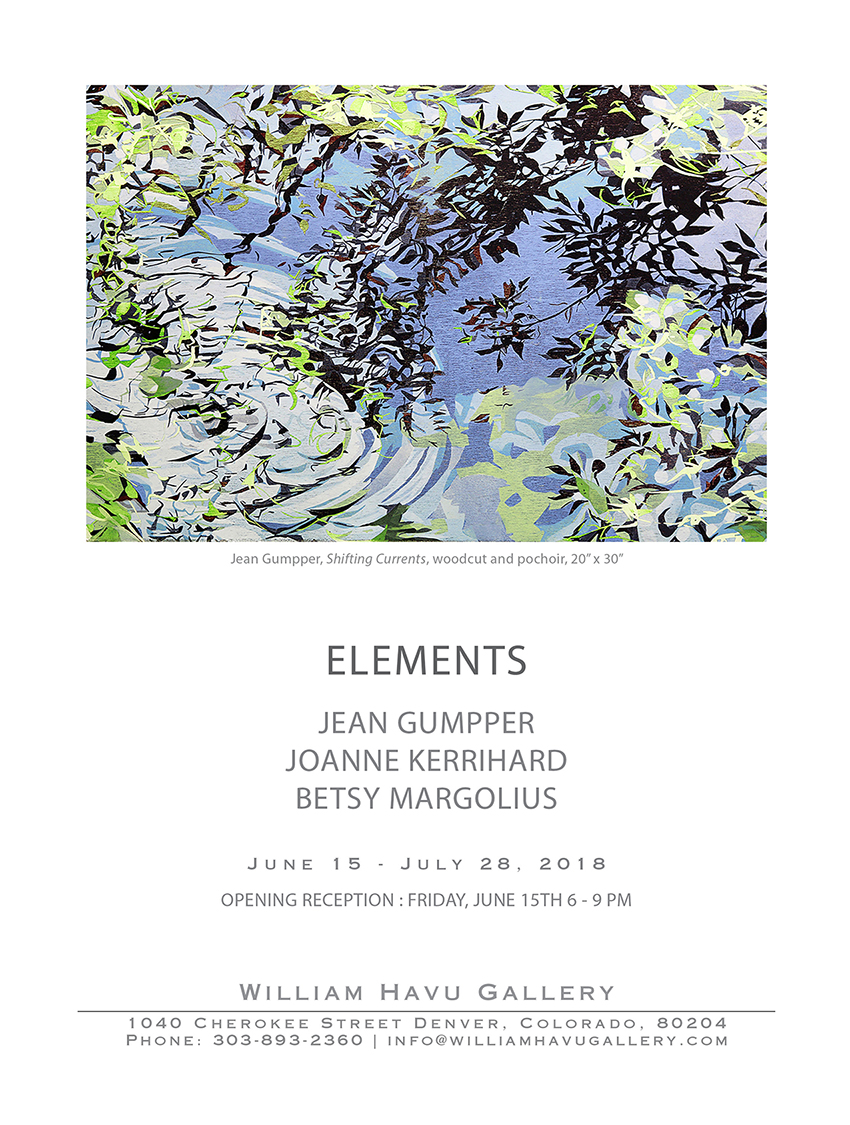 ---
Final Art Department Open House of 2017-18!
Tuesday, May 15, 4-6 pm
---
Artist Talk: Edward Bateman
Wednesday, April 25, 4:30 pm | Cornerstone Screening Room
---
Lunch and Conversation with Master Printer Brian Shure
Friday, April 13, 12:15-1:15 pm | Fine Arts Center Classroom*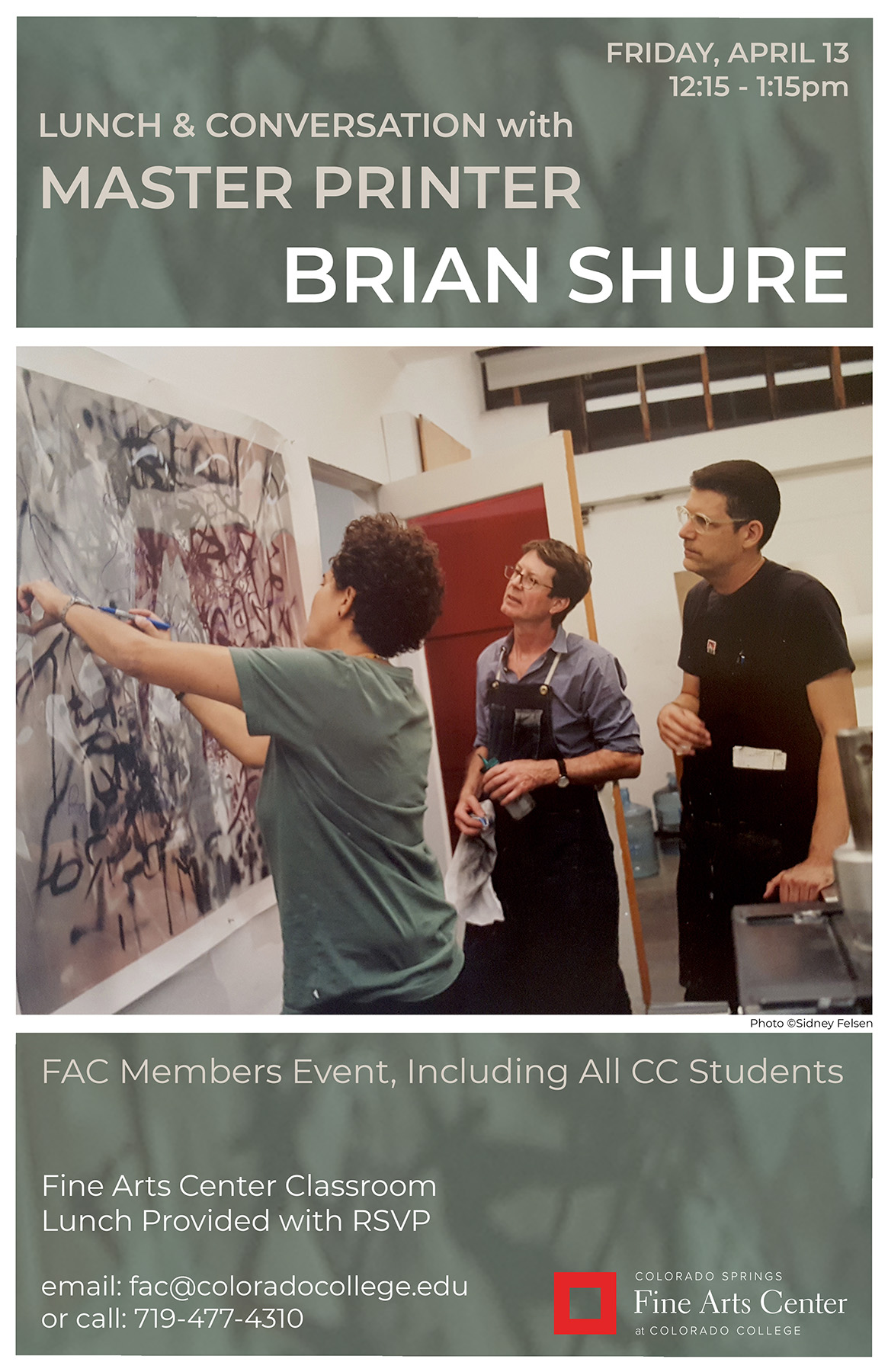 *Lunch Provided with RSVP
---
Portraits of "A Noble Queen": The Romance of History in 18th-Century Indian Paintings
Berg Distinguished Professor Deborah Hutton | Wednesday, April 11 at 7 pm | Cornerstone Screening Room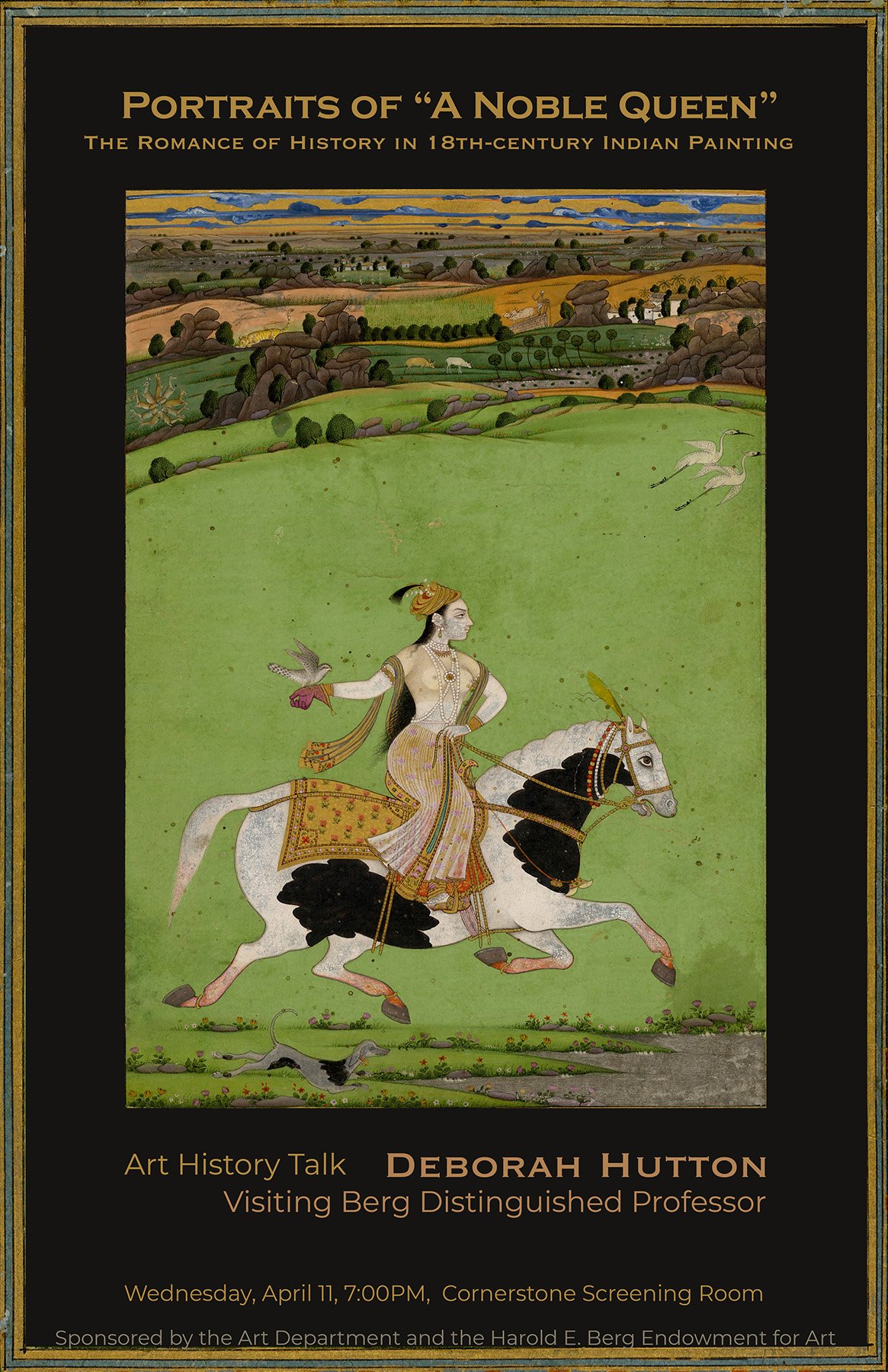 The 16th-century Indo-Islamic queen, Chand Bibi, was valorized both during her life and posthumously for her heroic defense of the Deccan city of Ahmednagar against the invading armies of the Mughal Empire. During the 18th-century, she became a common subject of paintings, which repeatedly depict her hawking on horseback. Indeed, the imagery is so standardized and ubiquitous that art historians have paid the paintings scant attention. But is Chand Bibi's depiction really so straightforward and banal? If the defense of Ahmednagar is the event for which she is remembered, why are there no paintings of her in battle? Why does she emerge as a subject for painting a century after she lived? In this talk, Hutton analyzes portraits of Chand Bibi as a way of exploring the larger changes to Indian painting during the 18th-century and the role of such images in creating what we might classify as a "shared historical imaginary" of the early modern Deccan.
---
Talks by visiting artists Elizabeth Ferrill and Brian Sure
April 11, 1:15 pm | WES Room, Worner


Elizabeth Ferrill works in pochoir creating close-up views of peculiarities of the built environment of the western United States. She received her MFA from Rhode Island School of Design and her BFA from Cornish College of Art in Seattle. Liz has held several teaching and museum positions and she is currently the artistic director of painting and printmaking and chair of the Critical Dialog Program at Anderson Ranch in Snowmass, Colorado.
Brian Shure is a painter and printmaker working with representations of people in public spaces. He received a BA from Antioch College, apprenticed with Ernest DeSoto at Collectors Press in San Francisco, and worked as a professional lithographer for 15 years. He has published and printed editions under the Smalltree Press imprint and was a Master Printer and Coordinator of the China Woodblock Program at Crown Point Press from 1987 to 1994. He has taught as a visiting artist at Brown and Cornell Universities, has given workshops in the U.S., Japan, and Mexico, and has been teaching in the Printmaking Department at the Rhode Island School of Design since 1996.
---
Art History Senior Thesis Presentations
March 9, 2018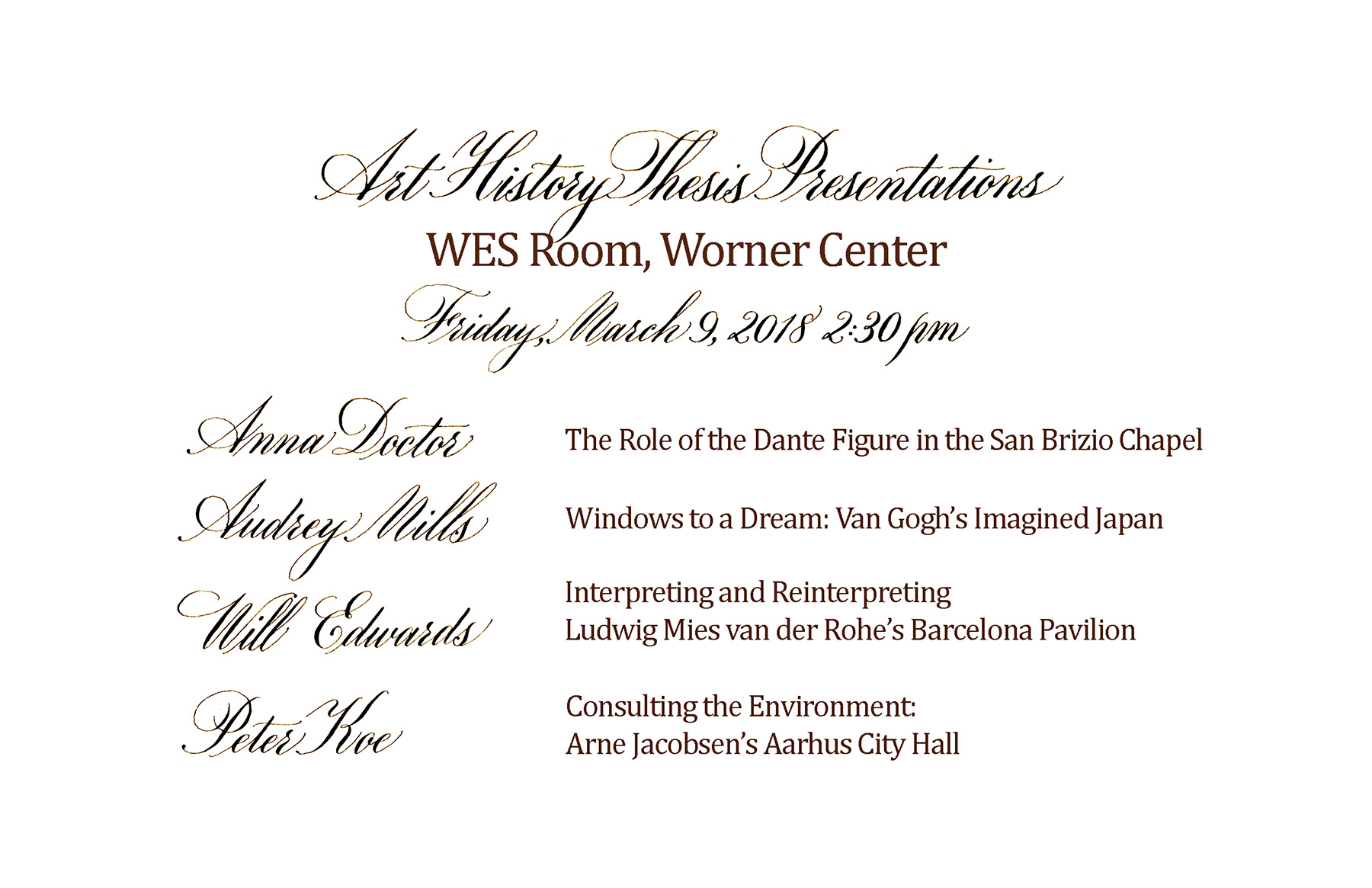 ---
New Block A summer course: GS247 Intro to Museum Studies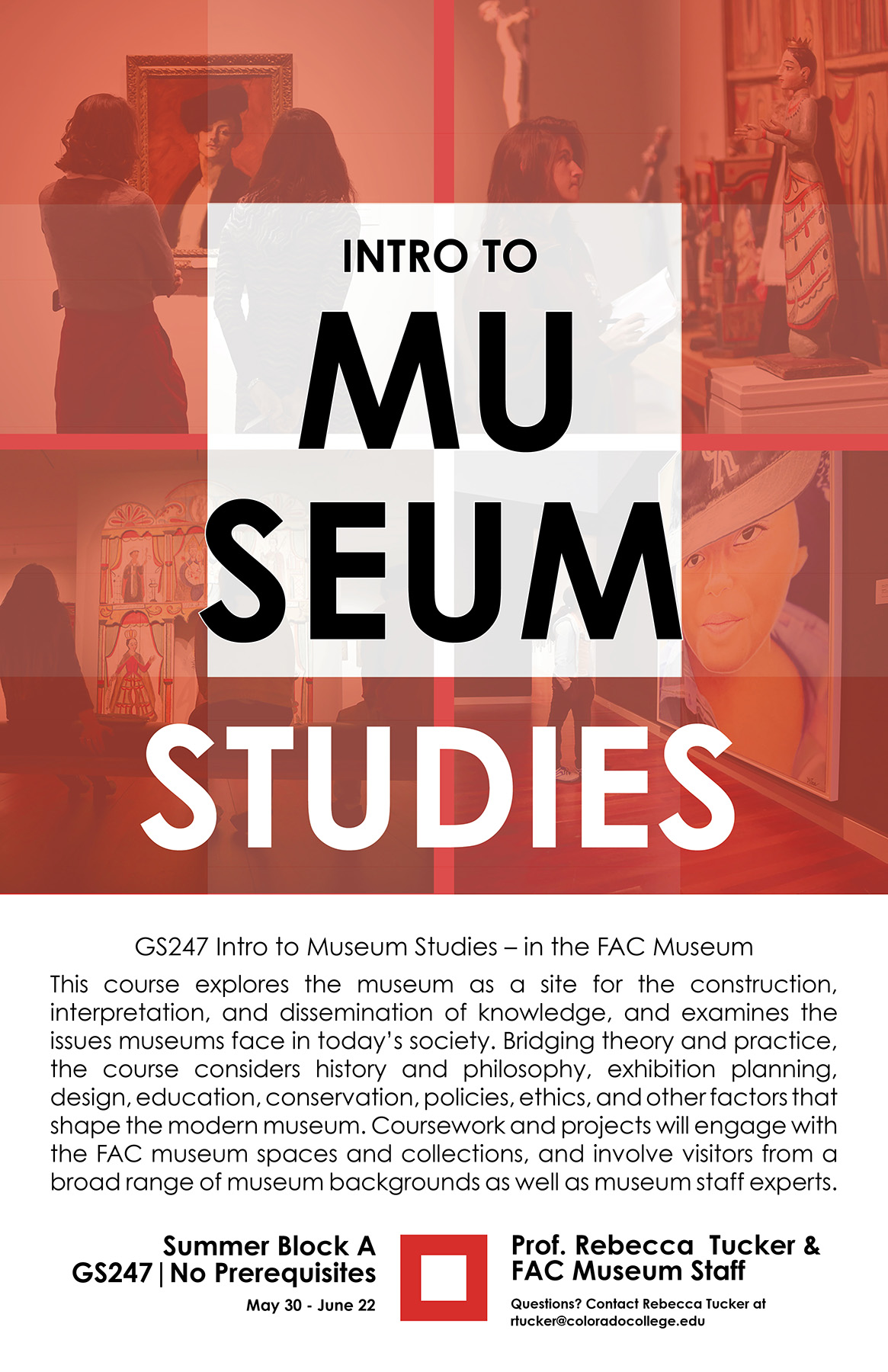 ---
Design Week 2018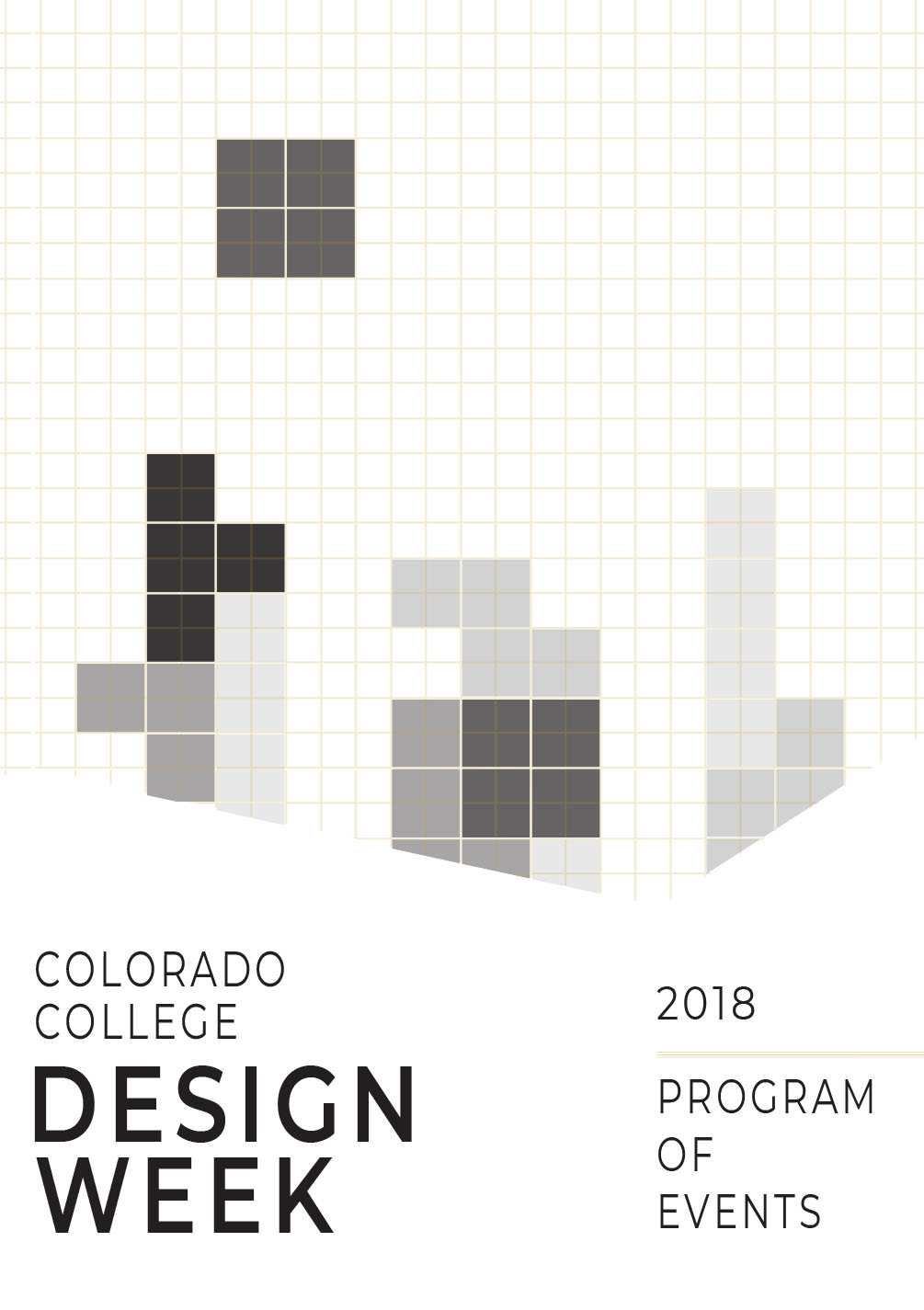 Sponsored by the Art Department Conway Design Fund
---
Animate Architecture in the Yucatán Peninsula
Meghan Rubenstein | February 27, 2018 | 3:30 pm | Packard Hall 21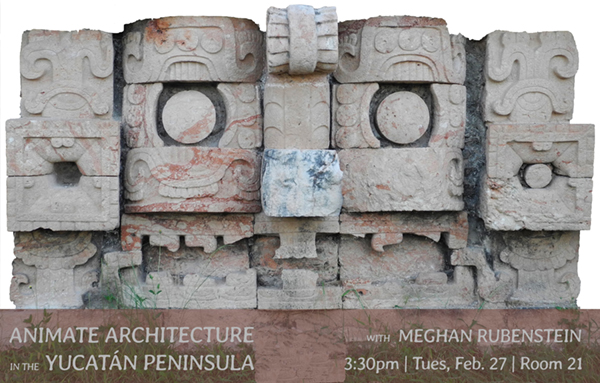 ---
Tribe at the Fox Talbot Museum
Featuring Professor Emma Powell | February 3 - May 21 2018 | Lacock, Wiltshire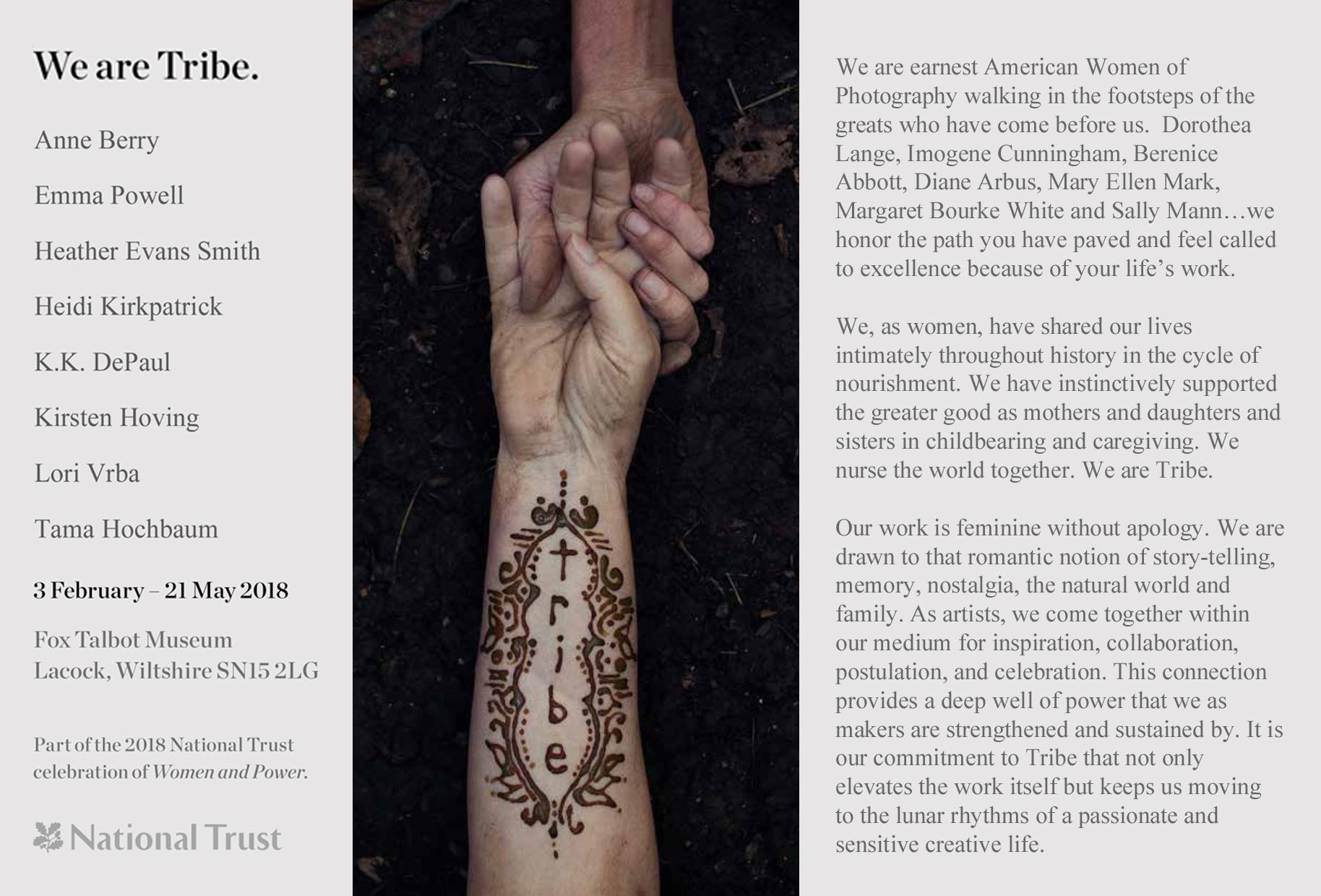 ---
Embracing the Unknown
Artist Talk by Martha Russo | February 8, 2018 | 4:00 pm | Packard Hall 23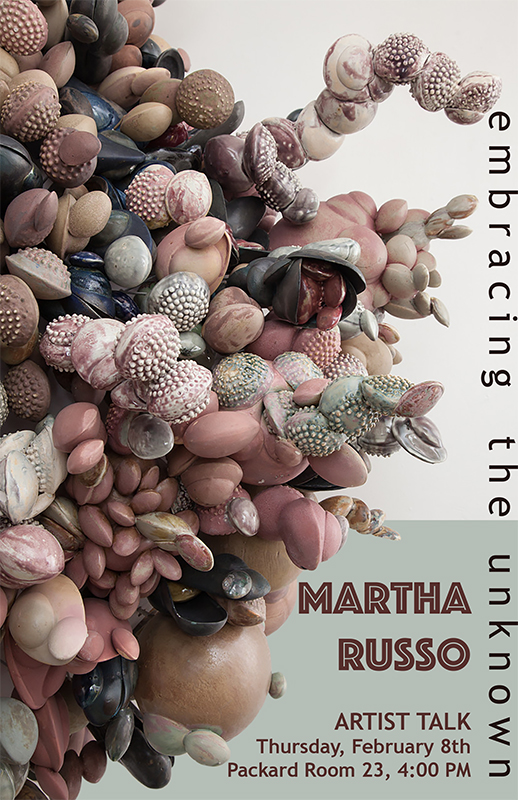 ---
The First Spark: Drawing and the Formation of the Modern Artist
Andrea Bell, Visiting Assistant Professor | February 6, 2018 at 3:30 pm | Packard Hall 23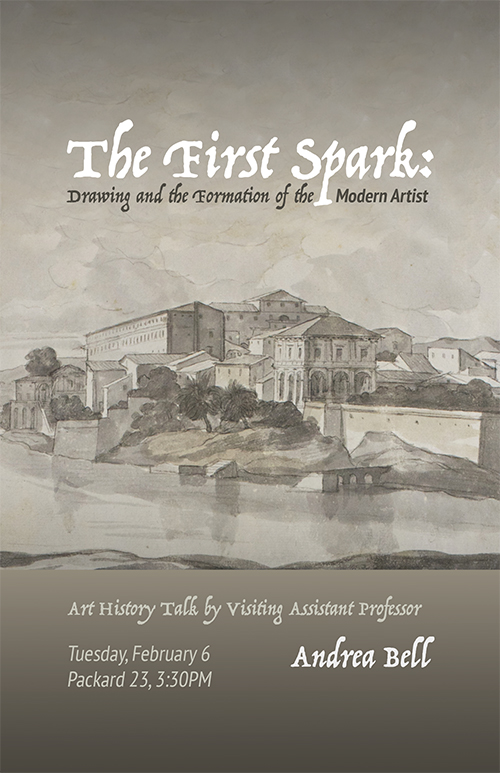 ---
CubaTecture
Aaron Asis Exhibition | Artist Talk on November 8, 2017 at 3:00 pm | 802 N. Nevada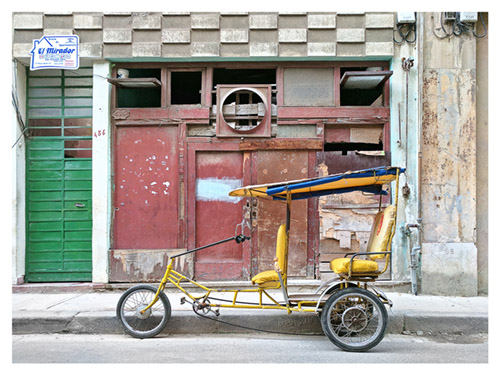 Aaron is a public artist focused on promoting access, awareness, and appreciation in an urban context. His work highlights the significance of under-appreciated environments and the ways in which those environments influence our everyday experiences at the intersection of a city agency, community engagement, and public access.
---
Visiting Artist Talk with Lari Gibbons
November 6, 2017 | 3:30 pm | Innovation Institute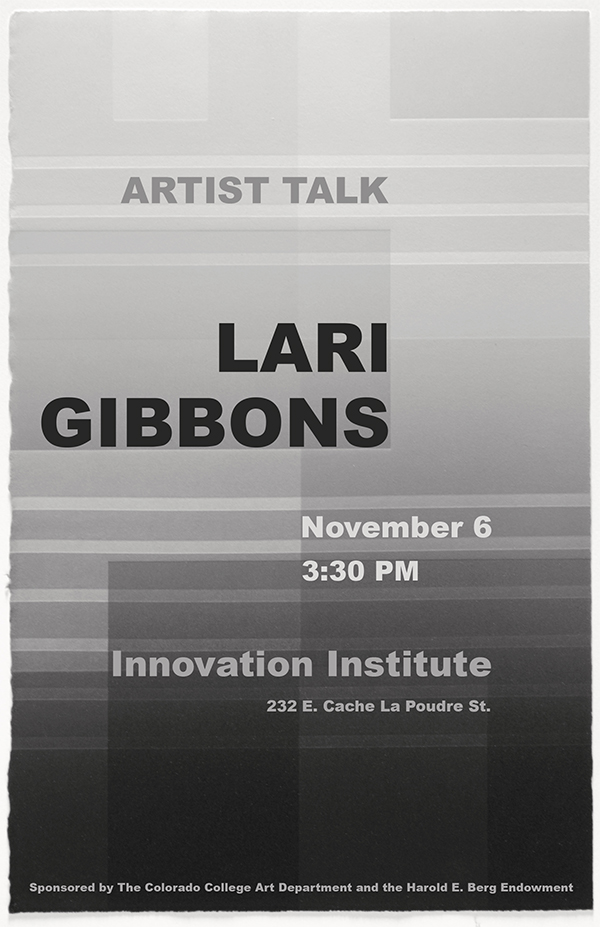 ---
The Round Churches of Twelfth-Century England: Architectural Anomaly or Cultural Clue?
Catherine E. Hundley, Visiting Assistant Professor | October 11, 2017 | 3:30 pm | Packard Hall 125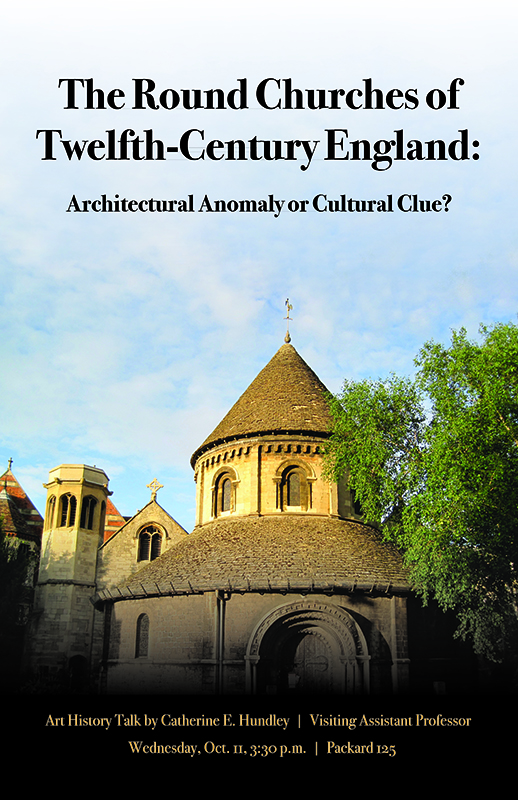 ---
Announcing a new Block 3 class with Visiting Professor Aaron Asis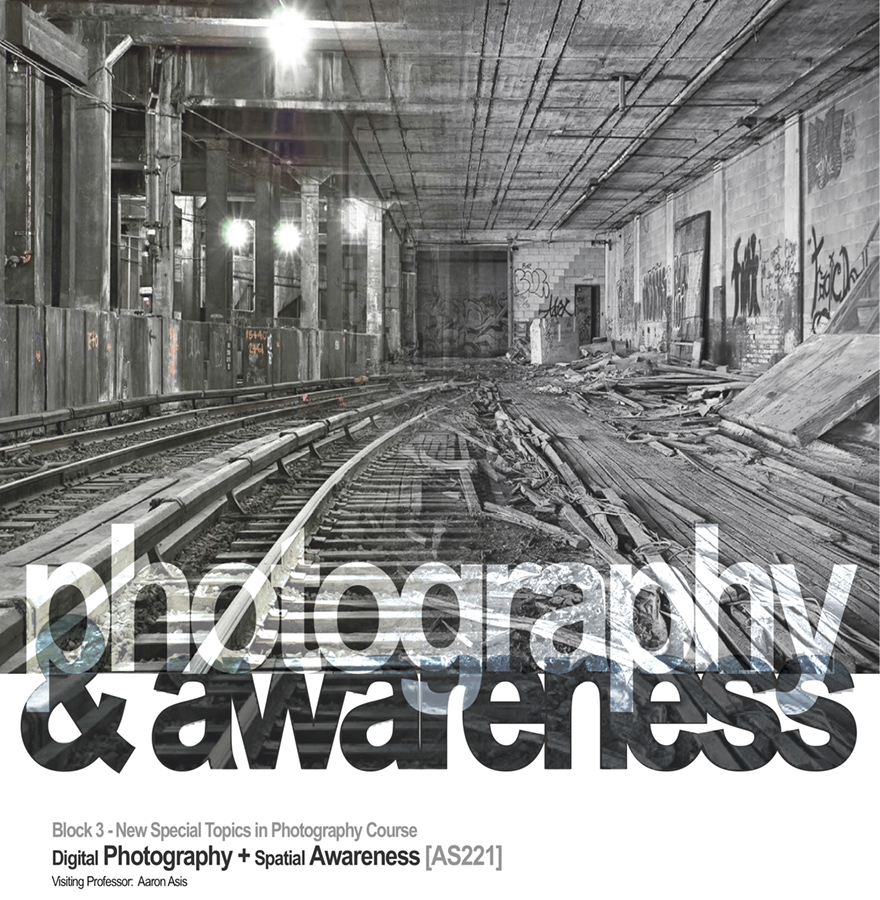 The photograph as creative inspiration is a powerful tool in identifying the ways in which visual interpretation can influence an everyday experience. However, as we continue to develop new strategies for visual communication, photographic comprehension, and spatial prioritization, our representations of space, place and spatial circumstance are continually redefining themselves.
Digital Photography + Spatial Awareness will introduce techniques of digital photography and explore the work of conceptual artists and environmental designers to establish a dynamic understanding of the photograph as an object, a tool, and a relationship within the contemporary contexts of our built environments.
Photography: The process of producing images by the action of radiant energy and light on a surface
Awareness: The perceptual sense of having or showing realization, perception, or knowledge
---
Jean Gumpper
Swirling Currents at Groveland Gallery, Minneapolis, MN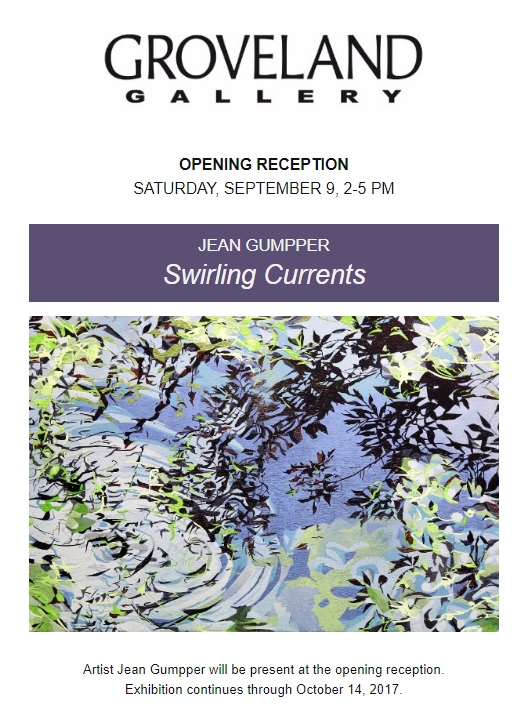 Jean Gumpper's swirling currents is open September 9 through October 14 at the Groveland Gallery.
---
Senior Art Majors Show Work at the Fine Arts Center
Opening: Friday, April 28th, 4:30 - 6:30 p.m. with remarks at 5:15 p.m.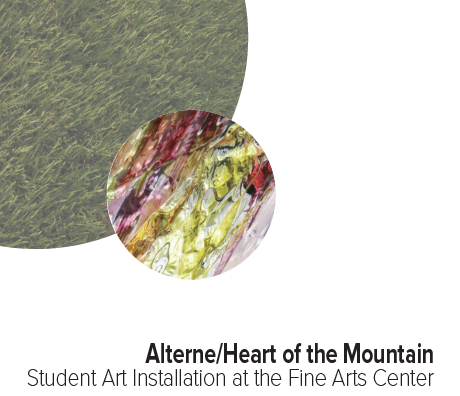 Come celebrate the work of studio art majors Jake Paron '17 and Jenny Welden '17. The opening includes remarks from the artists at 5:15 p.m., music, and light hors d'oeuvres.
Jake Paron's piece Alterne is a site-specific installation constructed out of a non-native grass species that covers much of the landscape surrounding institutions in the Colorado Springs area. Alternate explores how the lawn is used to represent nature. However, in an attempt to represent nature, the lawn substitutes the natural composition native to a specific site.
Jenny Welden's piece Heart of the Mountain is a site-specific installation representing the foundations of textile art through the use of non-fibrous materials. These materials create a network of interlocking fragments, demonstrating the dual contributions of the natural and the sacred in a textile image.
---
Design Week 2017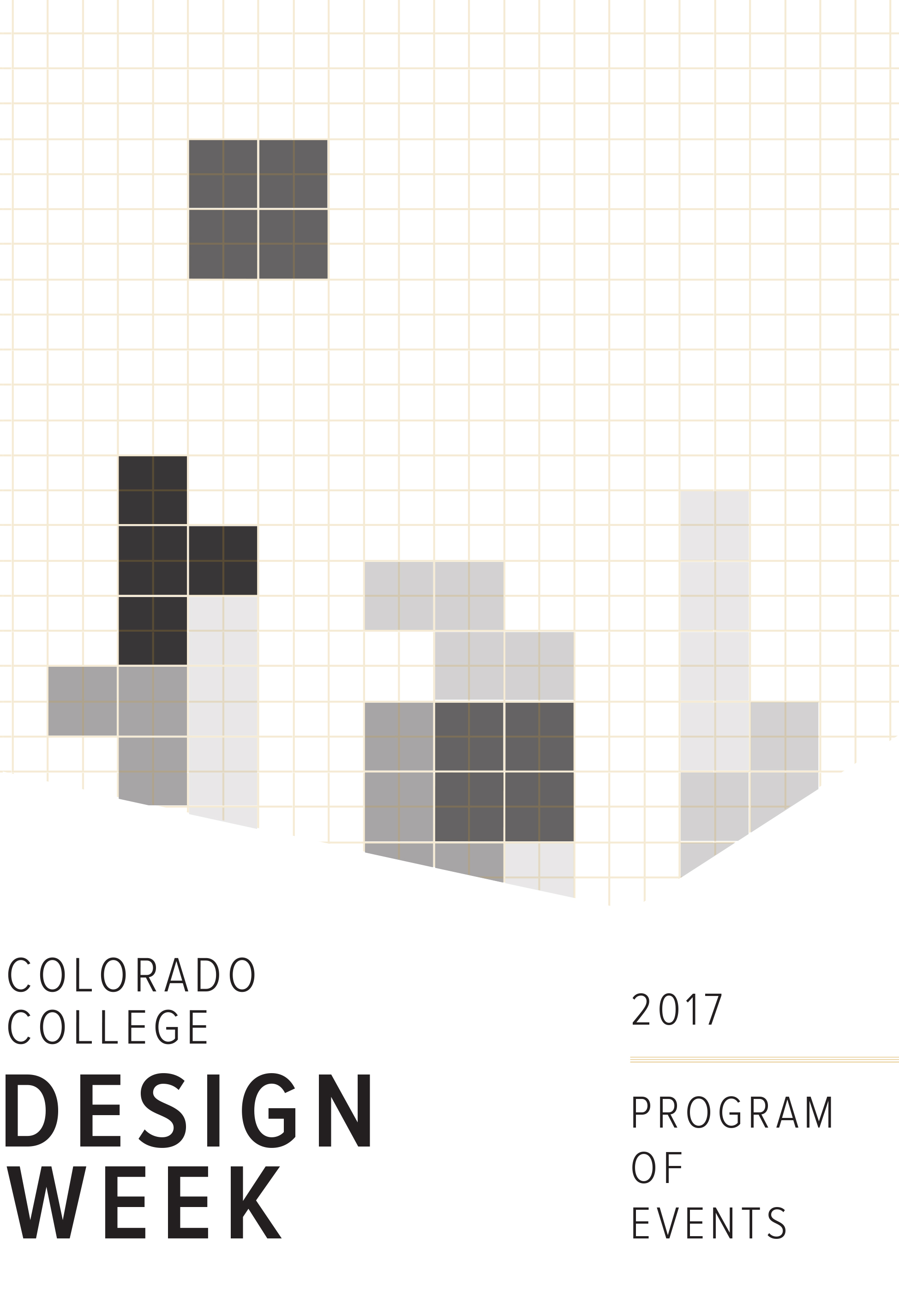 Sponsored by the Art Department Design Fund at Colorado College
---
Artist talk by CC alumnus Basil Kincaid ('09)
Wednesday, March 1, 4:30 pm [Moved to Gaylord Hall in Worner]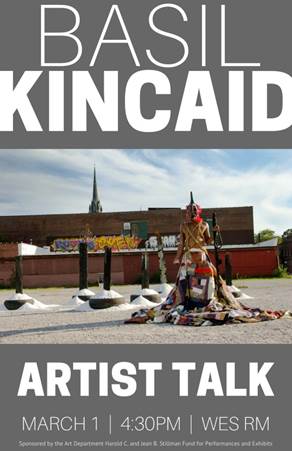 ---
The Landing
Artist talk by Jose Ferreira
Monday, February 6, 3:15 pm, Packard Hall Room 21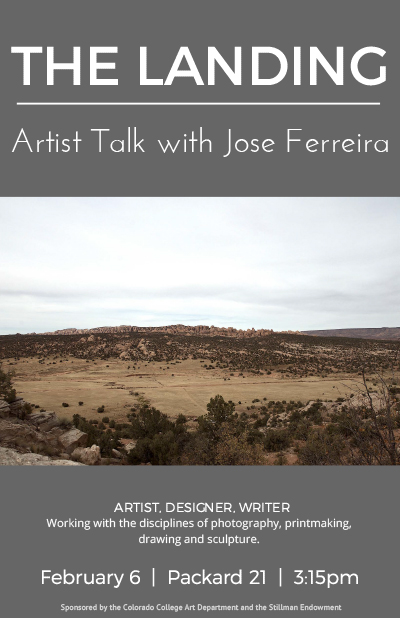 Jose Ferreira, the Artistic Director of Sculpture and Chair of Gallery Exhibitions at Anderson Ranch Arts Center, reveals the hidden content within the landscape, capturing the essence of collective histories through images taken on extensive walks. In this current body of work, he scrutinizes the stories and strategies that miners have used in the American West to survive the harshness of their environment and endure strained social relations. Photographs, drawings, texts, and sculptures reveal evidence of an economy that once thrived, but which is now exhausted. Liminal traces scar the landscape in the form of roads, footpaths, and mines. These marks expose signs of life, a memory pattern, which becomes fictionalized and made visible in a new narrative. Sponsored by the Colorado College Art Department and the Stillman Fund.
---
Artist Talk by CC graduate Genevieve Lowe
Monday, January 30, 3:15 pm, Worner WES Room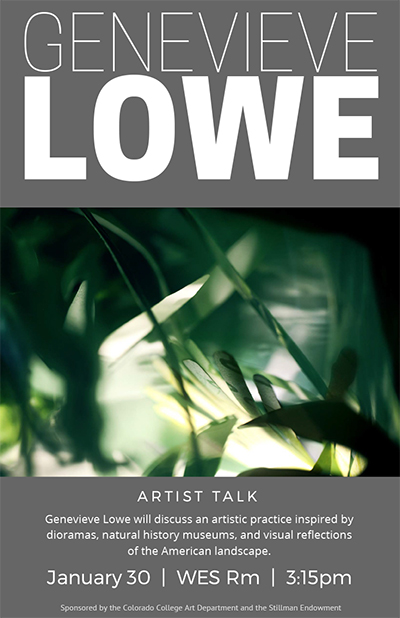 Genevieve Lowe, a graduate of CC, will discuss an artistic practice inspired by dioramas, natural history museums, and visual reflections of the American landscape. Sponsored by the Colorado College Art Department and the Stillman Fund.
---
Arts and Crafts Program Alumni Exhibition
January 26-March 10, 2017, Coburn Gallery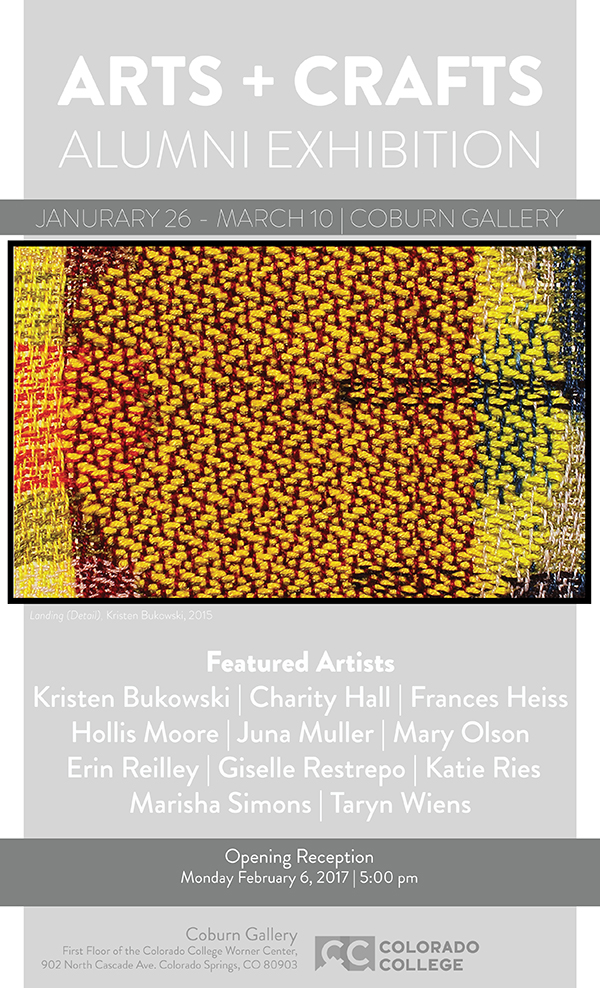 ---
Lecture and workshops with Finnish jewelry designer Eija Mustonen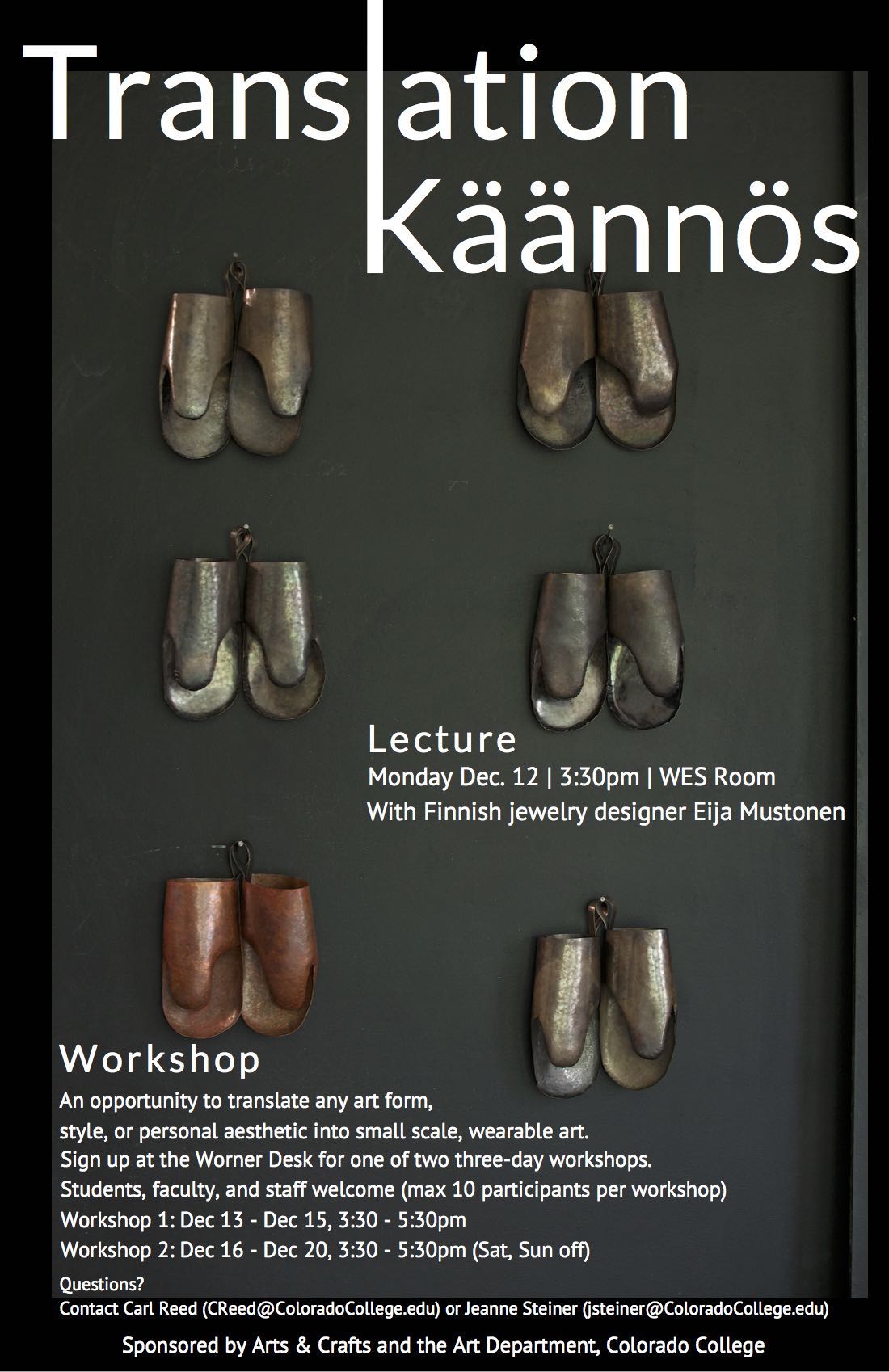 Monday, December 12, 3:30 pm, WES Room
Lecture: Translation | Käännös
Three-day workshops (sign up at the Worner desk)
Workshop 1: December 13 - 15 3:30 - 5:30pm
Workshop 2: December 16 - 20 (Sat, Sun off) 3:30 - 5:30pm
---
Abstraction and Spirituality
Discussion and art-making session with Professor Ruth Kolarik
Tuesday, December 6, 3:00-5:00 pm, Sacred Grounds in Shove Chapel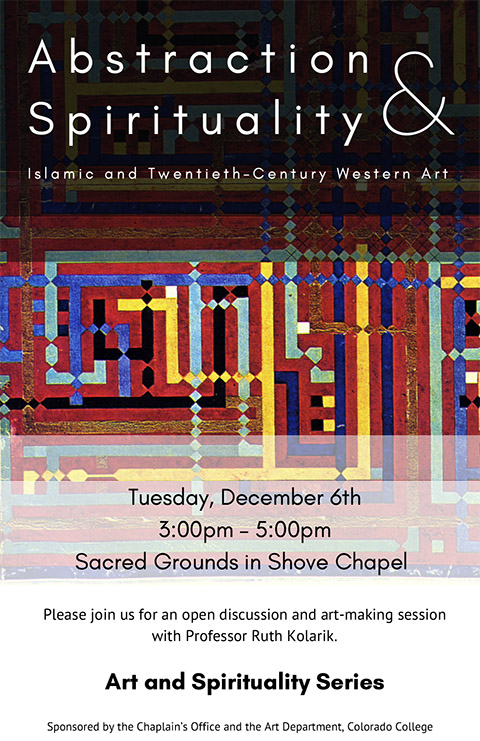 ---
Inner Spaces: Reflection and Self-expression in Asian Art
Discussion and art-making session with Professor Tamara Bentley
Thursday, November 10, 3:00-5:00 pm, Sacred Grounds in Shove Chapel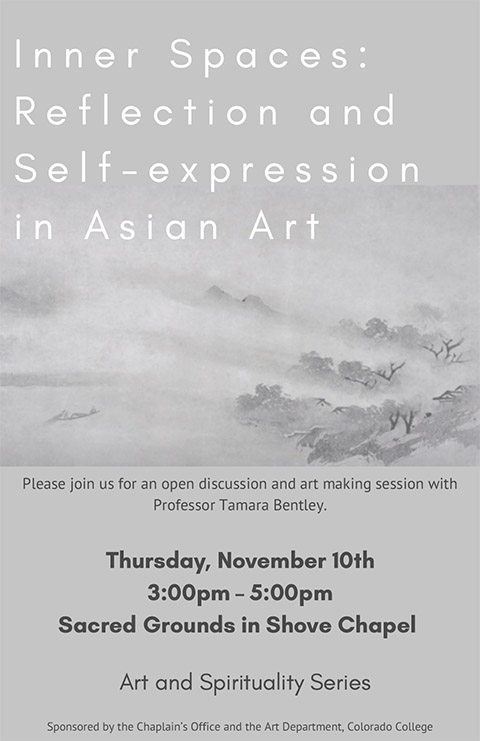 ---
Modern Pueblo Painting and the Art of Resistance
Sascha Scott ('97), Syracuse University
Tuesday, November 1, Cornerstone Screen Room, 6:00 pm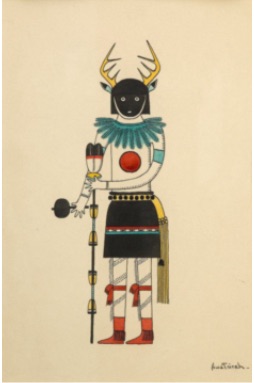 Sascha Scott ('97) is a specialist in nineteenth- and twentieth-century American art. She is also a member of the Native American Studies faculty and Syracuse University. In addition to offering broad surveys of American visual culture, she teaches courses that expand on her research, including seminars that explore the representation of American Indians, art and politics, and art and the environment. Her recent publication, A Strange Mixture: The Art and Politics of Painting Indians (2015) received the Historical Society of New Mexico's Emerson Twitchell Award, Significant Contribution to the Field of History in 2016. A graduate of Colorado College (1997), Dr. Scott earned an MA from George Washington University (2001) and a Ph.D. from Rutgers University (2008). Supported by the Andrew W. Mellon Foundation.
---
Context as Continuum
A lecture by Adam Yarinsky, Architecture Research Office
Wednesday, October 5, Slocum Commons, 7:00 pm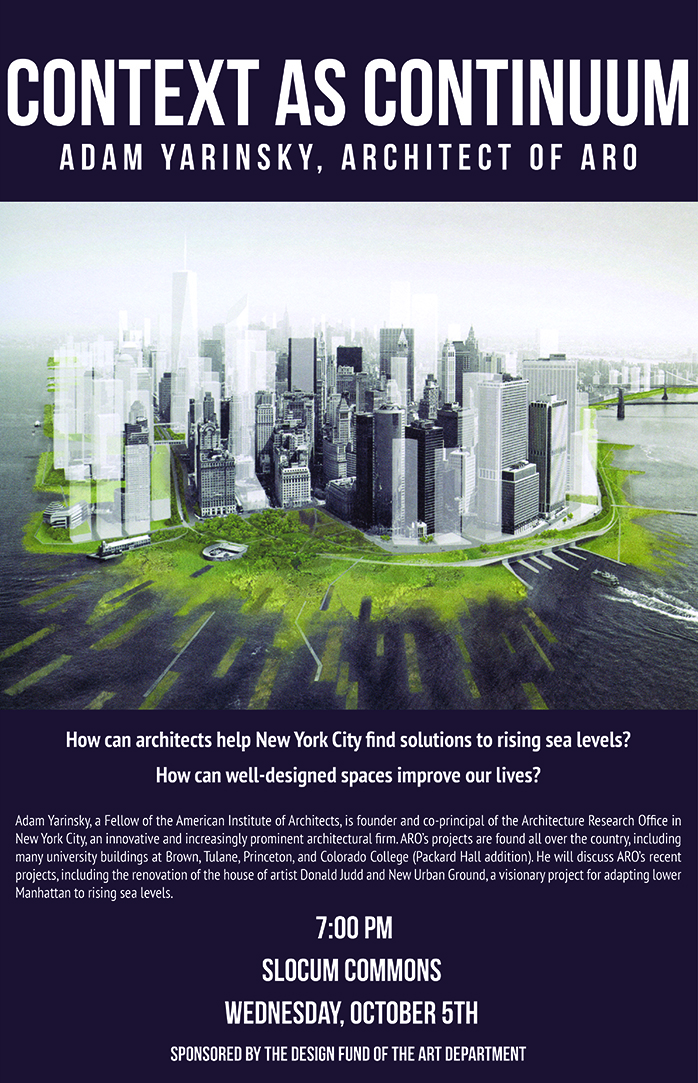 ---
Scott Johnson at the University of Colorado, Boulder
Mysterium Tremendum: collecting curiosity
A collaborative installation by Matt Barton and Scott Johnson
August 9-December 17, 2016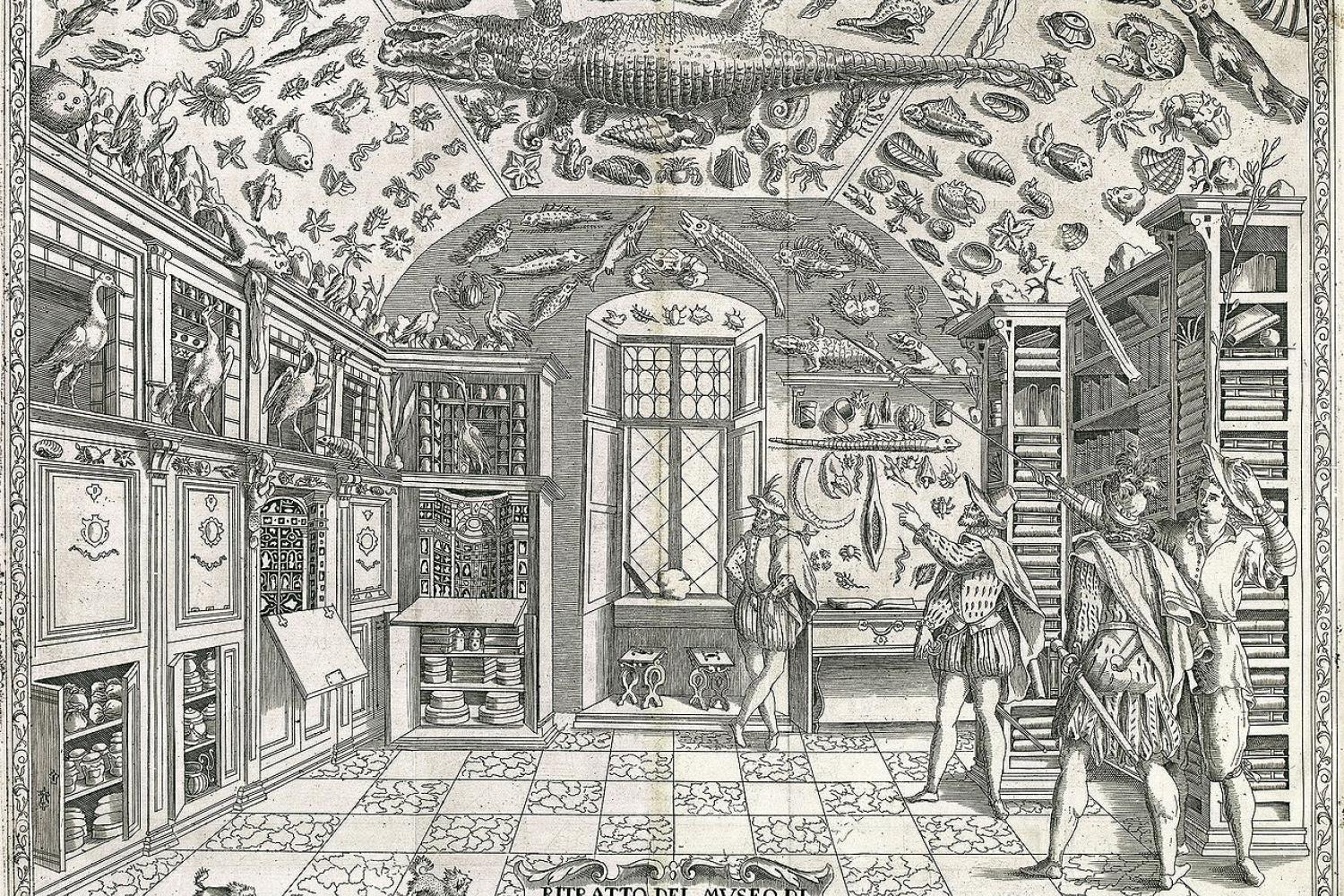 Mysterium Tremendum: collecting curiosity is inspired by the arrival of Shakespeare's First Folio at CU-Boulder. The installation celebrates the important roles curiosity and wonder play in the pursuit of knowledge. Mysterium Tremendum presents a "cabinet of curiosities" that brings together materials from libraries, special collections, departments, and research centers at CU. Among the highlights on view are materials gathered by the artists from collections near and far alongside objects and implements that inspire the work of faculty. Opening Reception September 1, 5:00-7:00 pm
---
Heather Oelklaus and Emma Powell
Center Forward: Open Theme
Center for Fine Art Photography, Ft. Collins
September 2 to October 1, 2016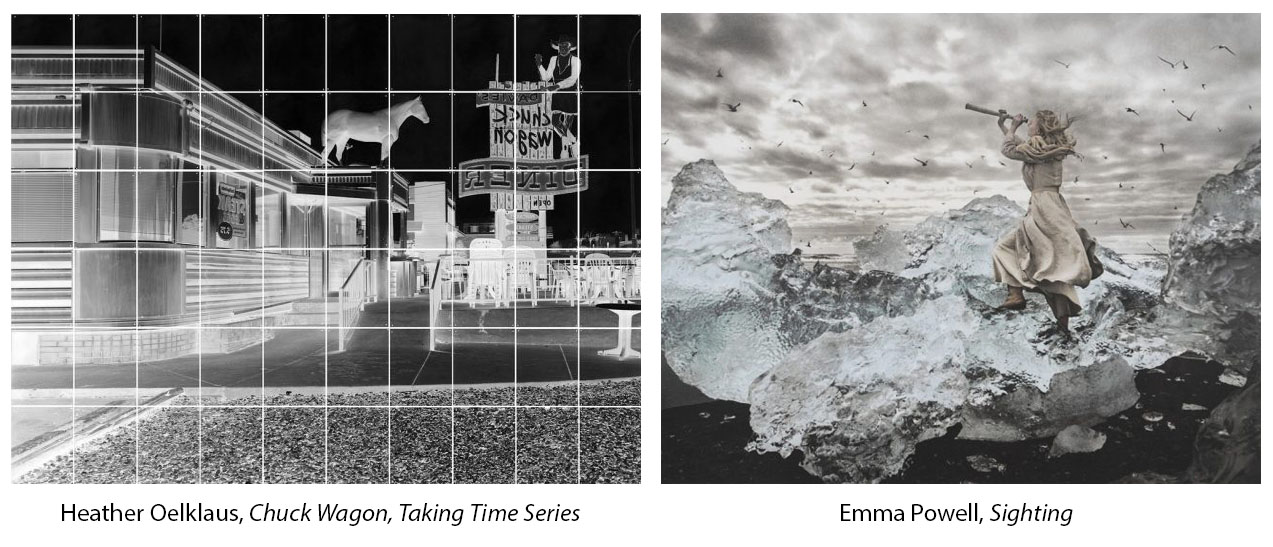 Heather and Emma have been chosen to participate in the 7th annual juried exhibition at the Center for Fine Art Photography in Ft. Collins, Colorado. The jurors this year were Aline Smithson & Hamidah Glasgow. The reception will be held Friday, September 9, 5:30-9:00 pm.
---
Recent graduate Heidi Flores ('16) and CC professor Emma Powell featured in
Verge: shaping the photograph
John Sommers Gallery at the University of New Mexico, Albuquerque
June 6 - June 18, 2016, 9 am - 4 pm Monday through Friday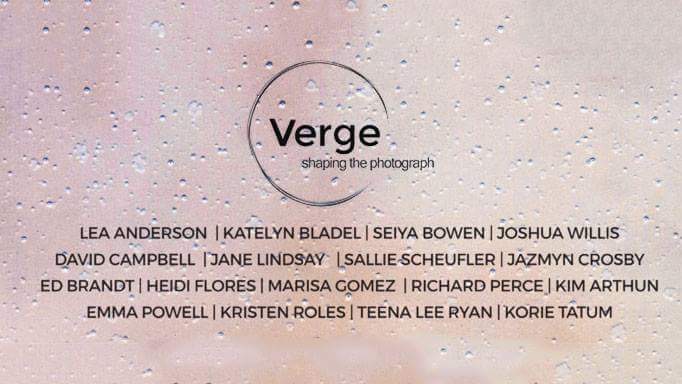 Verge: shaping the photograph is an exhibition of works exploring what the photograph is and how it behaves.
Closing reception June 18, 5-7 pm
Featuring works by Lea Anderson, Katelyn Bladel, Seiya Aleksandr Bowen, Joshua Willis, David Campbell, Jane Lindsay, Sallie Scheufler, Jazmyn Crosby, Ed Brandt, Heidi K. Flores, Marisa Gomez, Richard Perce, Kim Arthun, Emma Powell, Kristen Roles, Teena Lee Ryan, and Korie Elizabeth Tatum
---
Student Morgan Bak selected for public art installation in Colorado Springs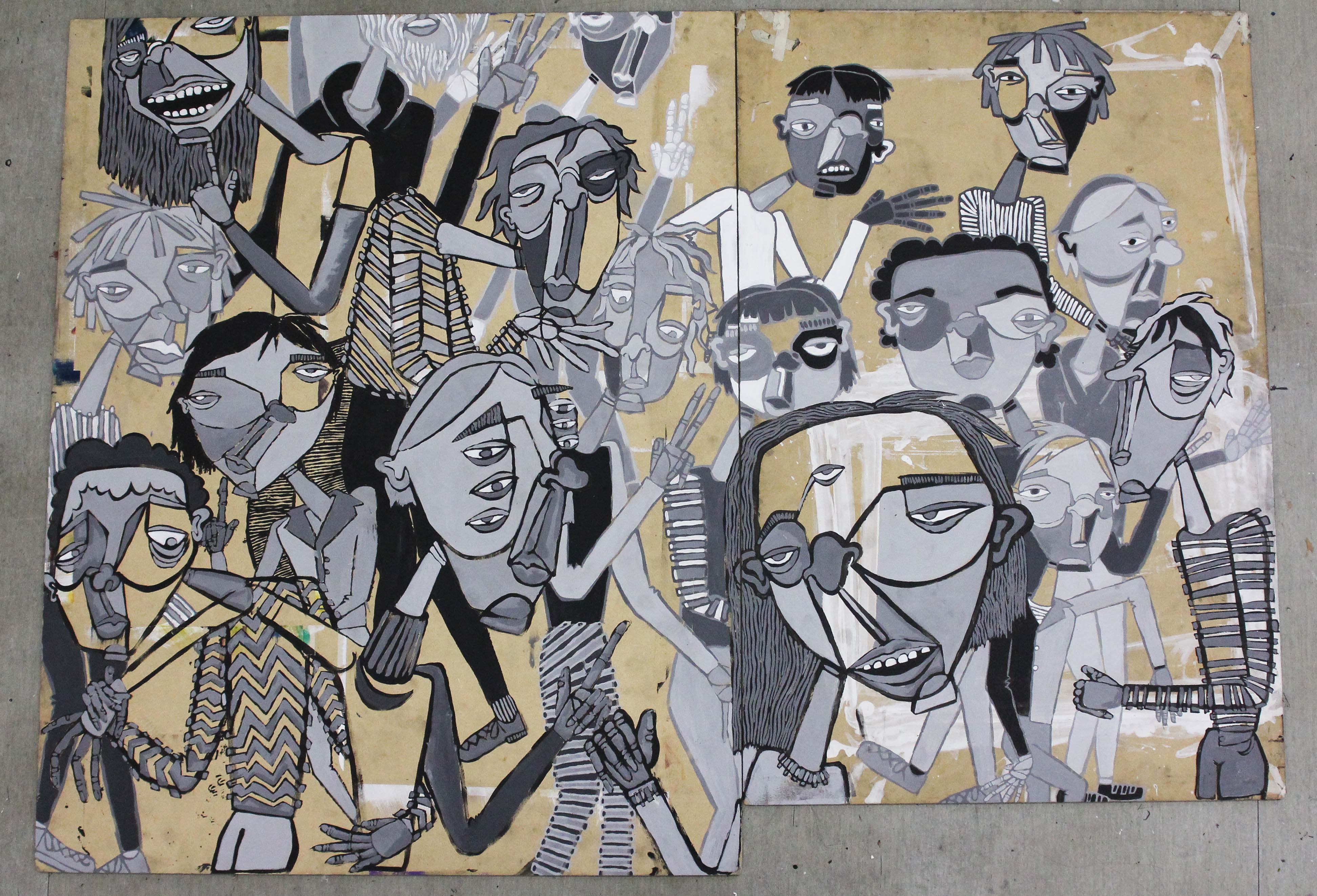 Senior Art major Morgan Bak is one of six artists to be invited to participate in the second phase of INTERSECTION, a public art program that transforms traffic signal boxes into works of art. Morgan's piece will be installed in early summer.
---
Student Tinka Avramov presents her research on the Triadic Ballet at the Denver Art Museum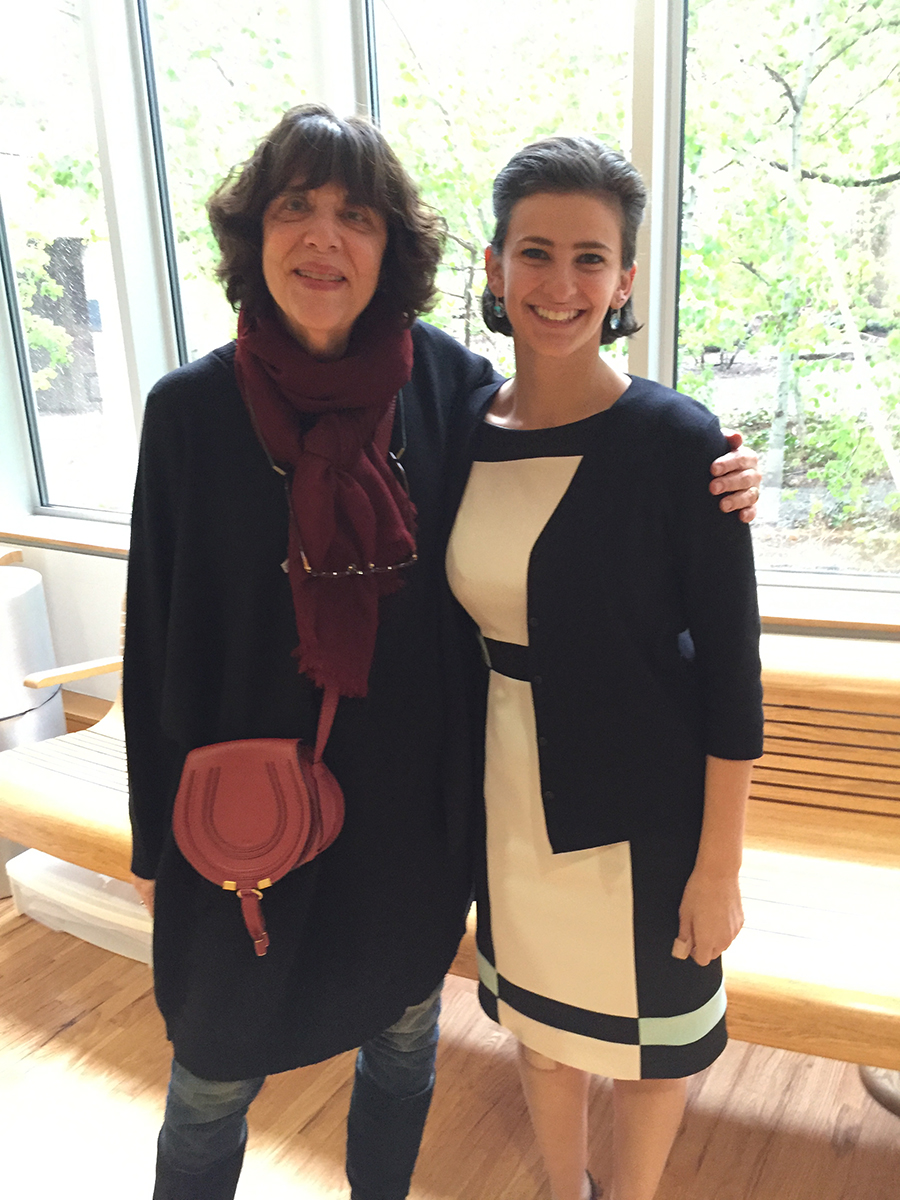 Professor Gale Murray and Tinka Avramov at the Front Range Student Symposium in Denver
On Saturday, April 30, Art History major Tinka Avramov represented Colorado College at the annual Front Range Student Art History Symposium at the Denver Art Museum. Tinka's presentation, "The Triadic Ballet: An Embodiment of Bauhaus Principles," was based on her Senior thesis project, which analyzed Oskar Schlemmer's early 20th-century theatrical performance. Tinka was one of ten undergraduate and graduate students who shared their research at the day-long symposium.
---
Abstract Materialism
An Exhibition by Lila Pickus ('13)
May 2-6, 4:00-6:00 pm, 802 N. Nevada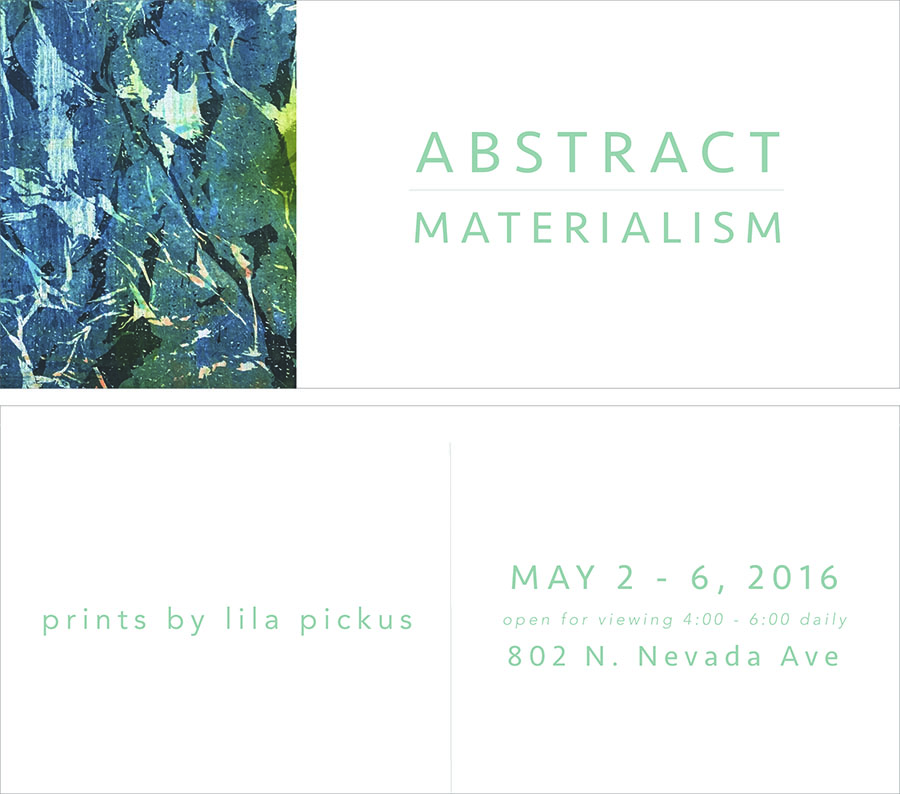 Lila Pickus, 9th Semester Design Fellow and CC Art Studio alumna, will showcase her print work from the semester in a week-long exhibition. The opening reception is on May 2, 4:00-6:00 pm.
---
Textiles as Magic Charms in Late Antiquity
Jennifer Ball ('91)
Wednesday, April 27 at 4:00 pm in Packard Hall, Room 21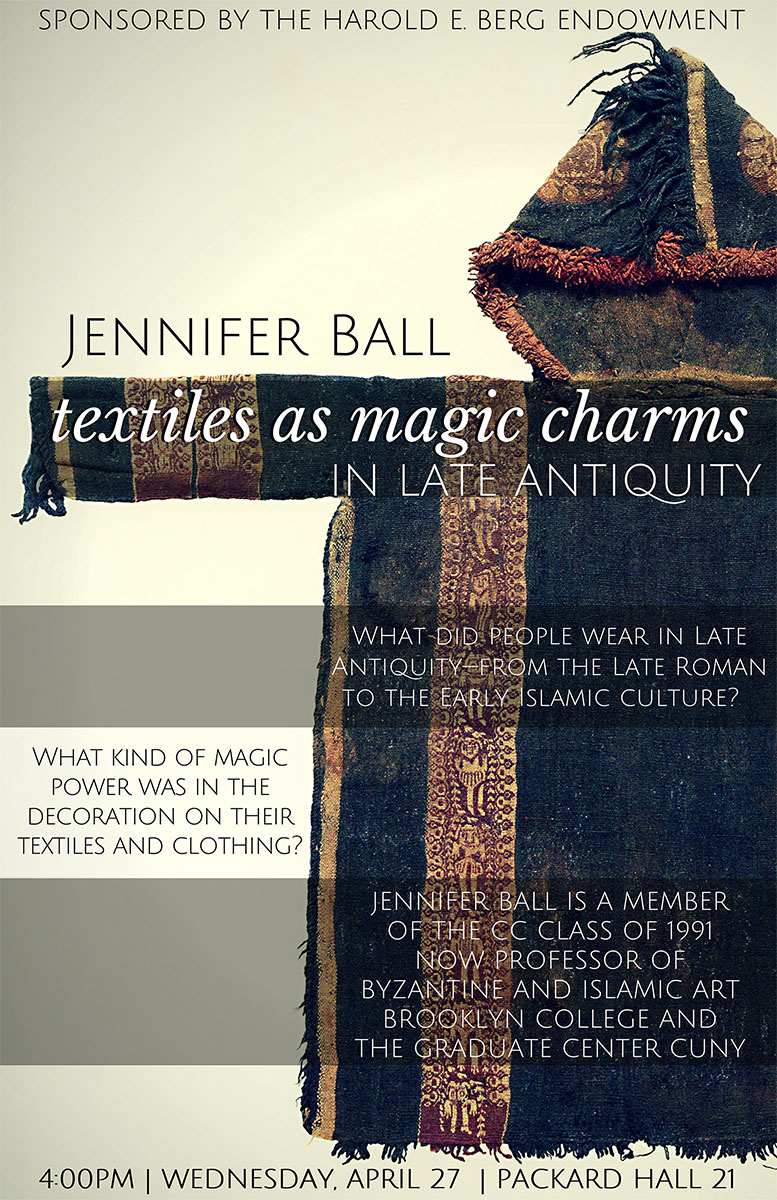 Professor Jennifer Ball, an art history major from the Colorado College class of 1991, will speak on Textiles as Magic Charms in Late Antiquity. Many textile fragments and sometimes entire garments from the Late Roman/Early Byzantine/Islamic period have been preserved in the dry climate of Egypt. These household textiles and items of dress show a continuity of beliefs outside and alongside the changing religious landscape of Egypt from the Roman pagan religions to Christianity, Judaism, and later, Islam.
After graduating from Colorado College, Jennifer Ball worked in the textile department of the Metropolitan Museum of Art and received a Ph.D. in art history from the Institute of Fine Arts of New York University. She has taught here at CC and is now an Associate Professor of Byzantine and Islamic Art at Brooklyn College and the Graduate Center, City University of New York. Her book Byzantine Dress Representations of Secular Dress in Eighth- to Twelfth-Century Painting is an important work on the significance of costume in communicating identity and status in Byzantium. Her other studies focus on monastic costumes and liturgical textiles. She has contributed to catalogs of major exhibitions at the Metropolitan Museum of Art and the current exhibition, designing identity: The Power of Textiles in Late Antiquity, at the Institute for the Study of the Ancient World in New York where she wrote on the magical significance of decoration on garments.
---
Senior Thesis Exhibition
Annual Art Department Group Show
April 21-May 10, Coburn Gallery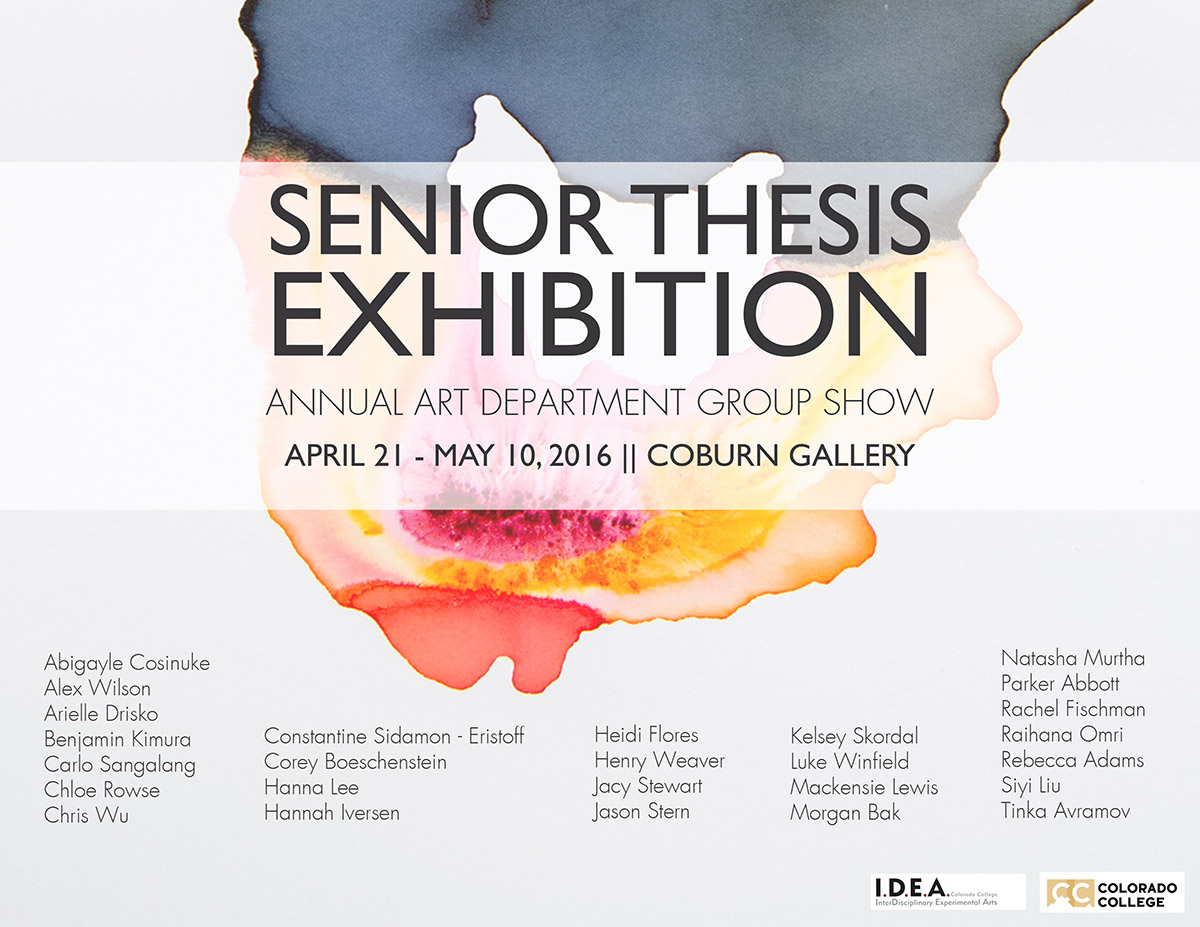 ---
The Artist's Playbook
A Conversation about Non-linear Careers with Carolyn Chen
Monday, April 25 at 4:00 pm in Worner 213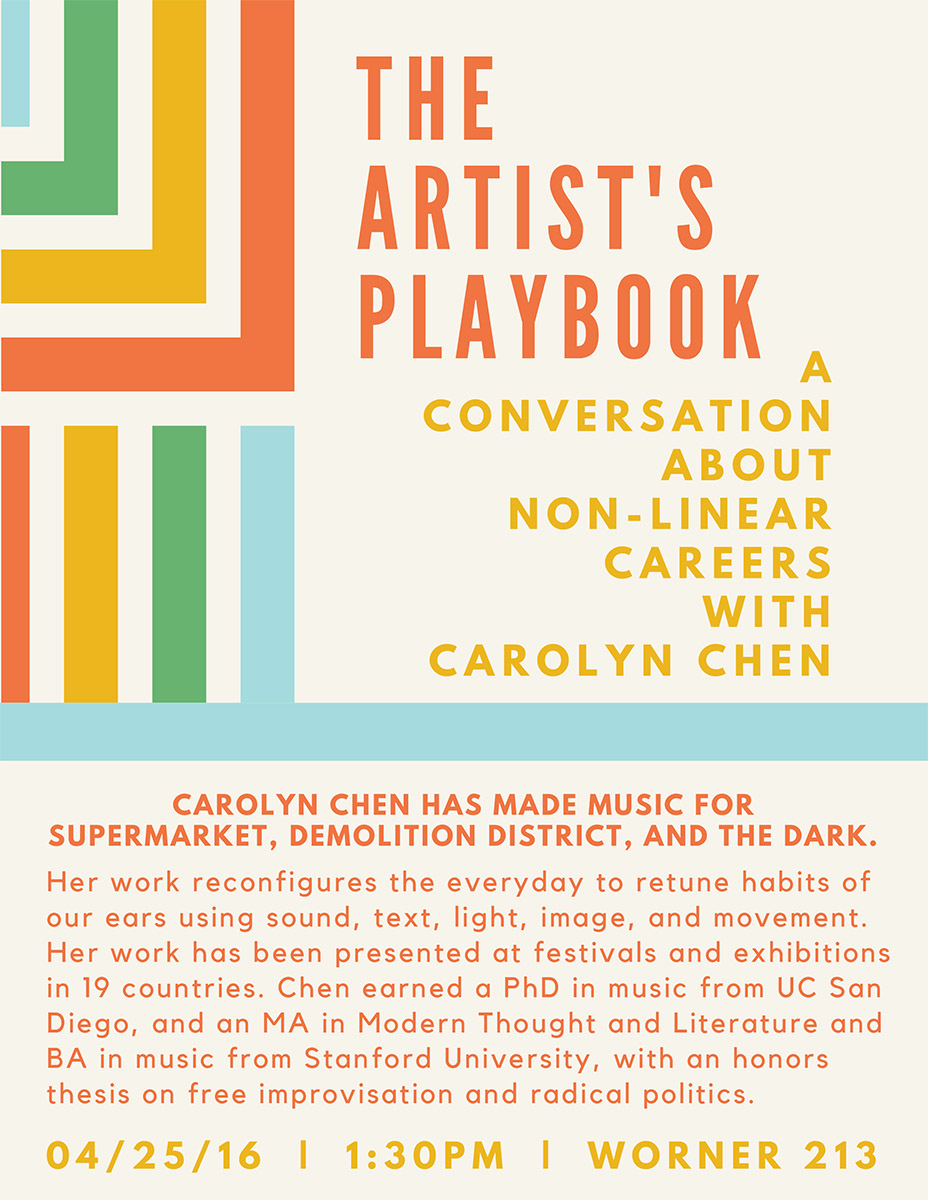 Carolyn Chen has made music for supermarkets, demolition districts, and the dark. Her work reconfigures the everyday to retune habits of our ears using sound, text, light, image, and movement. Her work has been presented at festivals and exhibitions in 19 countries. Chen earned a Ph.D. in music from UC San Diego, an MA in Modern Thought and Literature, and BA in music from Stanford University, with an honors thesis on free improvisation and radical politics.
---
High Fiber: Student and Alumnae Fiber Arts Show
April 21-May 16 in the Arts and Crafts Hallway in Worner
Opening Thursday, April 21, 4:00-5:30 pm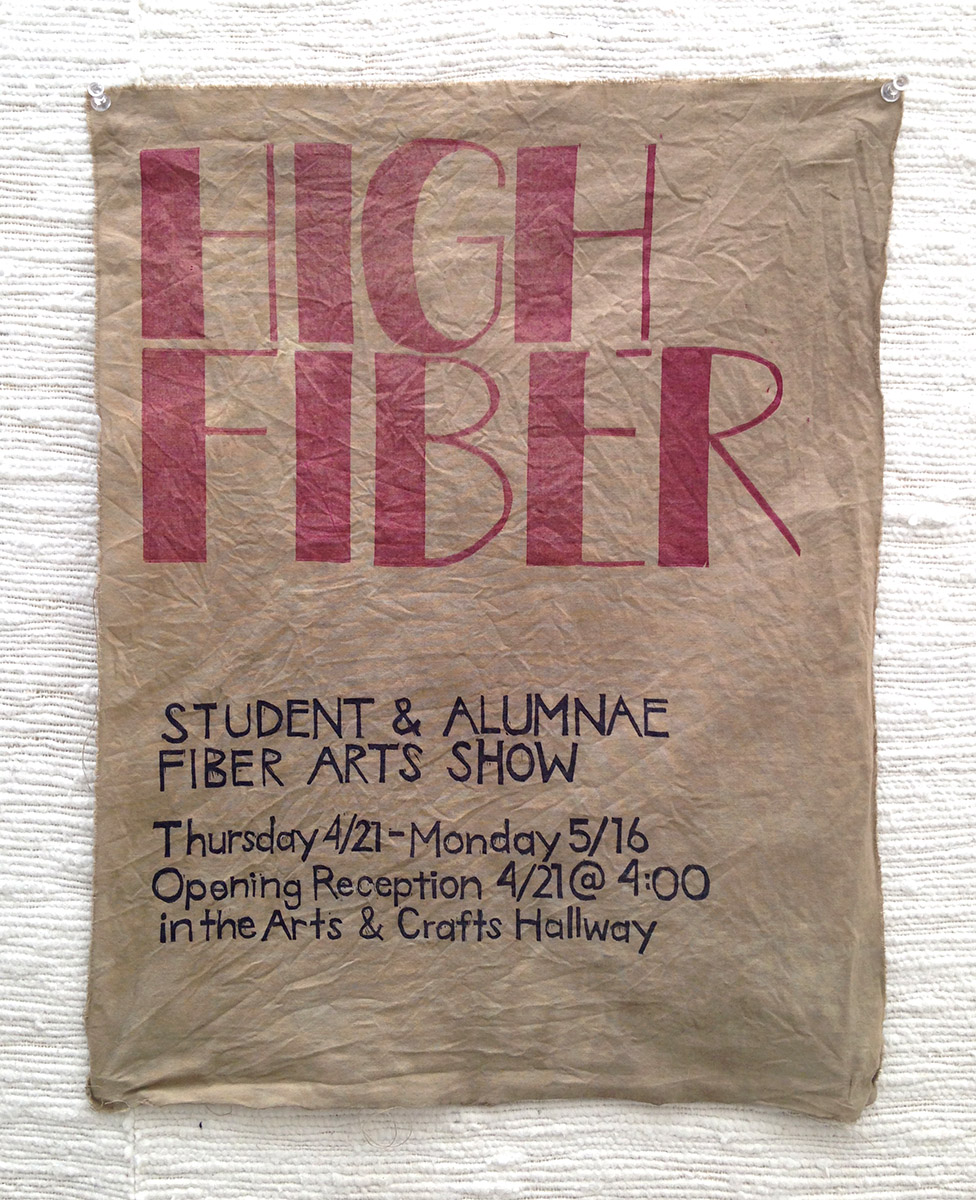 ---
Cold War in the Tropics: The Politics of Design in Fria, Guinea, 1956-65
A lecture with Yetunde Olaiya
Friday, February 19 at 4:00 pm in Packard Hall, Room 23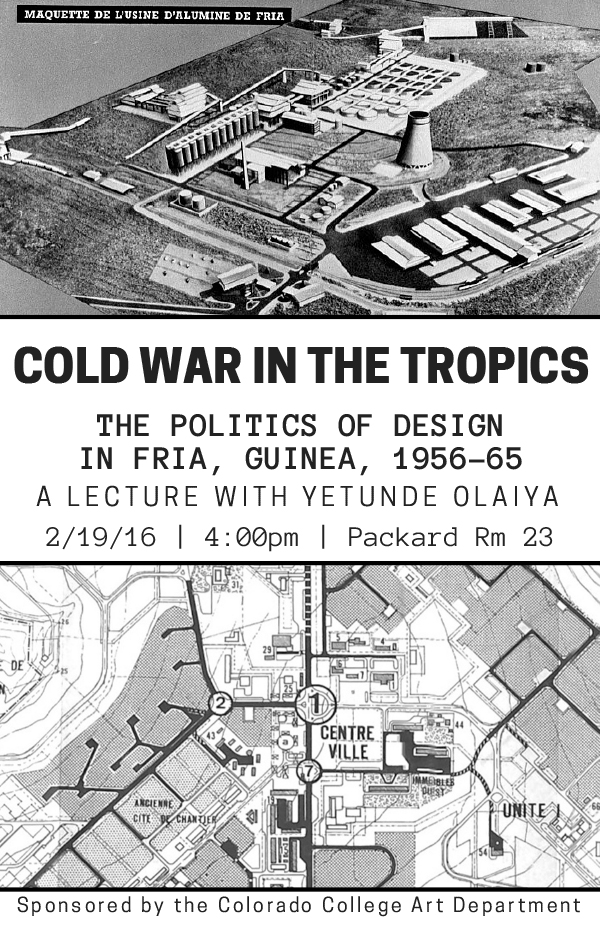 ---
Contemporary Canadian Print Media and Print Installation Work
A talk by Catherine Wild, Visiting Artist at Colorado College
Monday, January 25 at 2:00 pm in Packard Hall, Room 21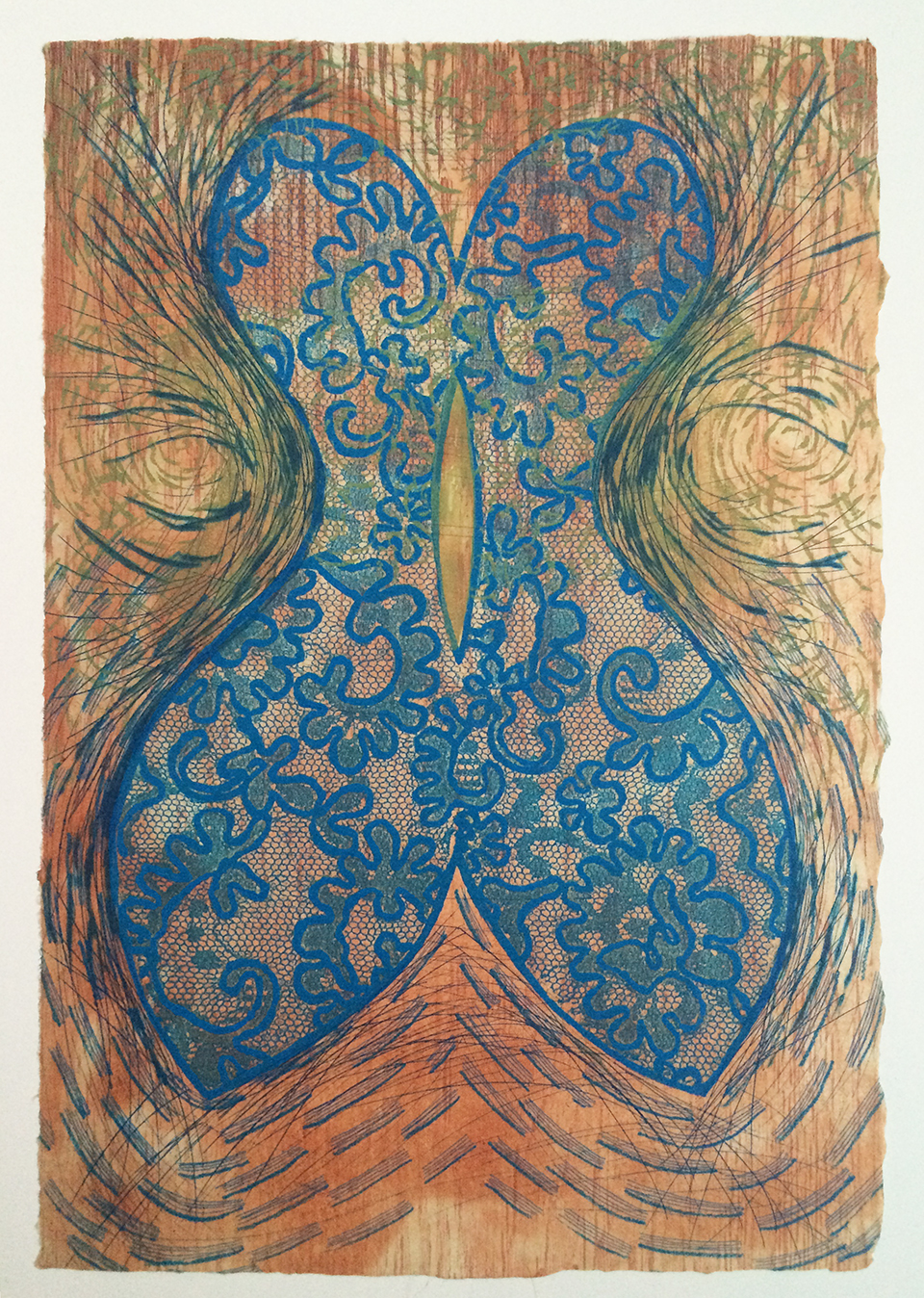 Catherine Wild, Linked Target, relief and intaglio
Visiting artist Catherine Wild will spend two weeks in residence in the print shop during block five. In week two of the block, she will conduct individual critiques with senior studio students. She will also be creating her own work in the shop printing lithographs and working with CC alumnus Michael Arnsteen.
Catherine is on sabbatical this year after serving as the Dean of Fine Arts at Concordia University in Montreal. She will return to teaching in the fall as a professor in print. Her studio work includes abstract prints in relief, intaglio, and lithography.
---
Jean Gumpper: New Works on the Mezzanine
William Havu Gallery, Denver, Colorado
January 15 - February 27, 2016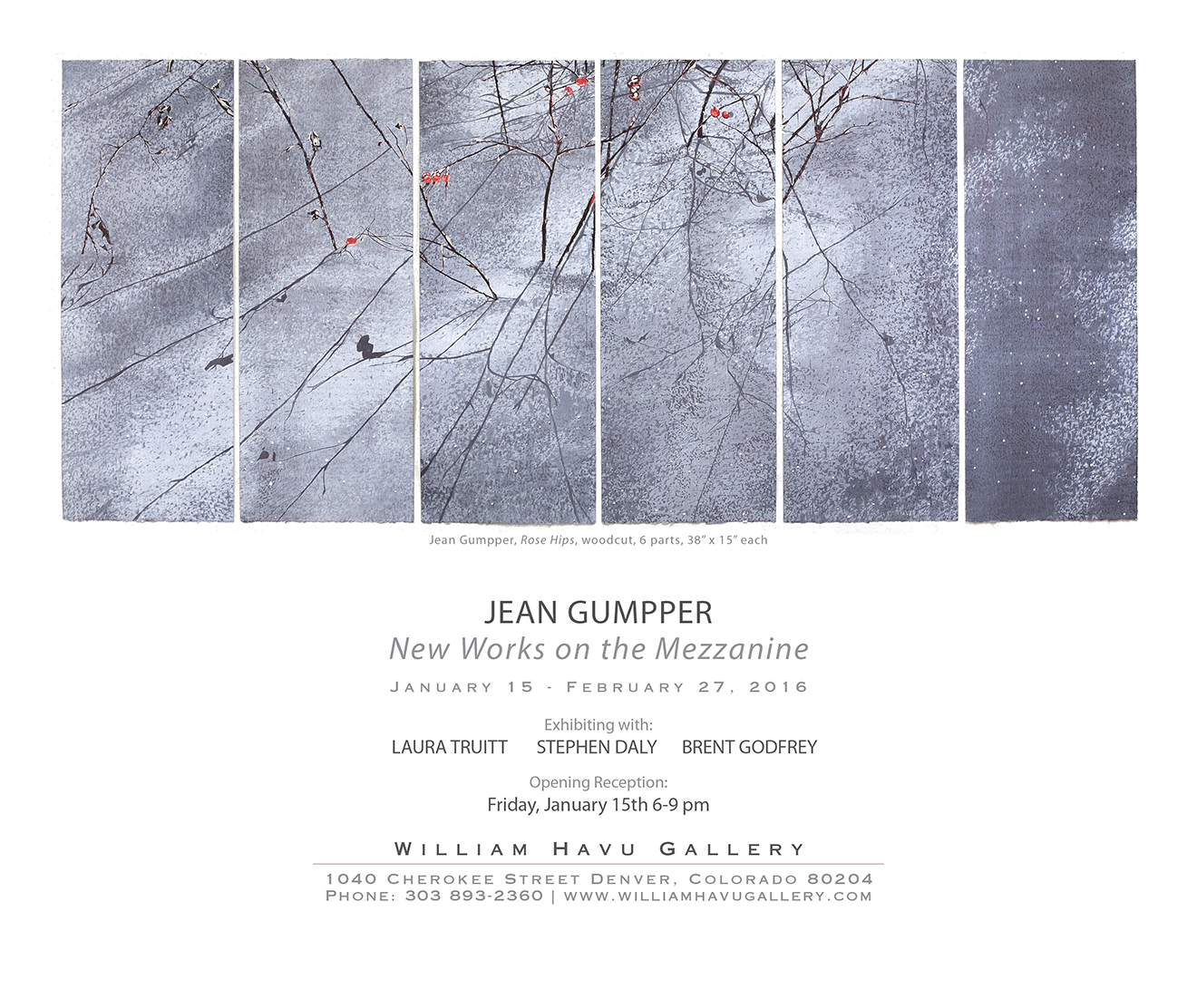 ---
Student Ellen Sarah Casey receives a Design Excellence Award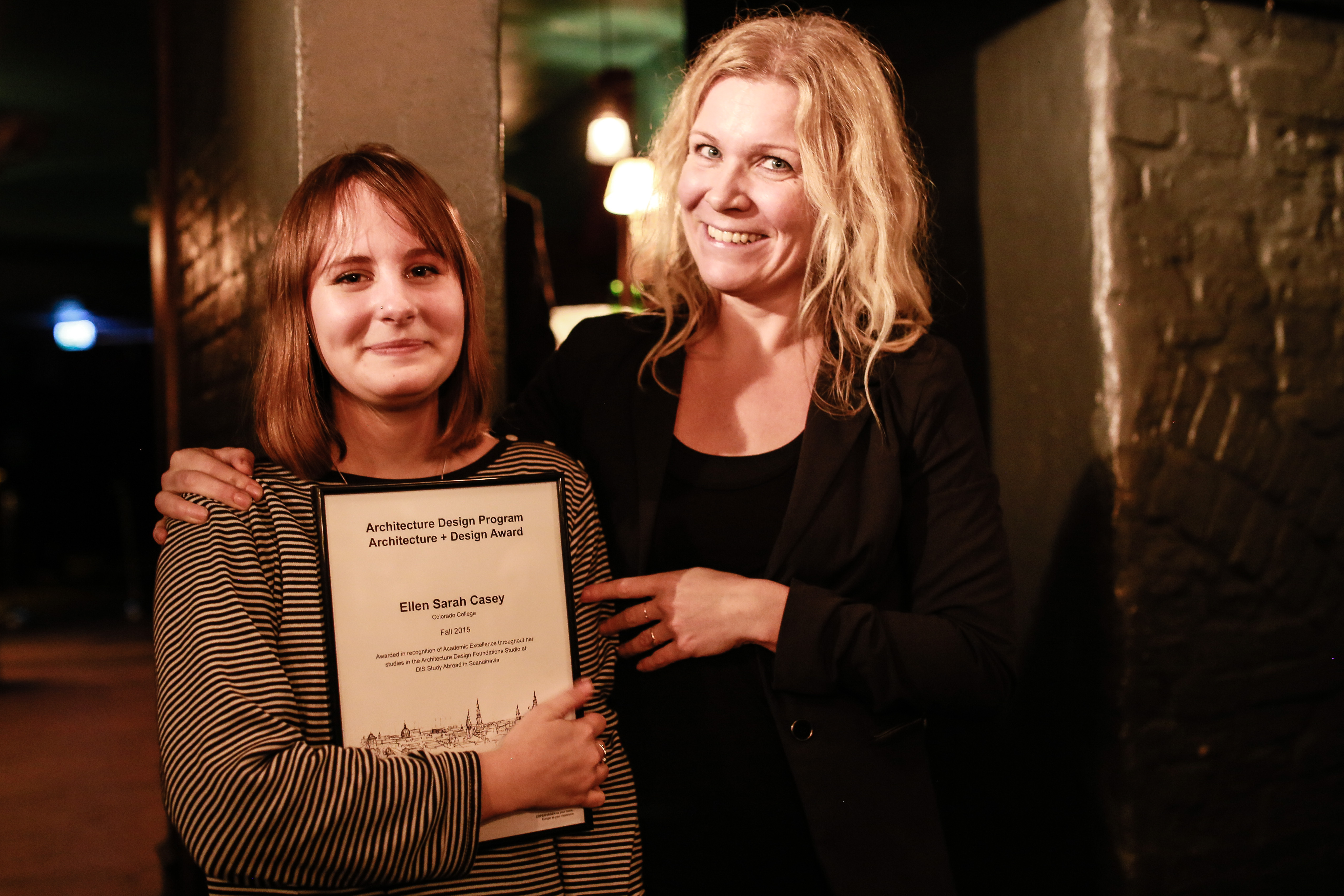 Ellen with DIS Faculty Marie-Louise Holst
Ellen has been recognized by DIS Study Abroad in Scandinavia with a Design Excellence Award for her outstanding work in the Architecture Design Foundations studio. The award is given to a student who has distinguished himself/herself through diligence, commitment, academic performance, and ideally a student who contributes to a positive, collaborative learning environment in class.
During the semester Ellen and her classmates have been working on two assignments under the guidance of DIS Faculty Marie-Louise Holst. The first one is titled "Nordvest Object Gallery - Urban Infill in and Urban Context", and the second is titled: "Cooking School in Hans Tavsens Park".
---
Local Lessons: Piety and Pollution in a Friulian Altarpiece
A Lecture with Visiting Art History Professor Jason Di Resta
Thursday, December 3 at 4:00 pm Packard Room 23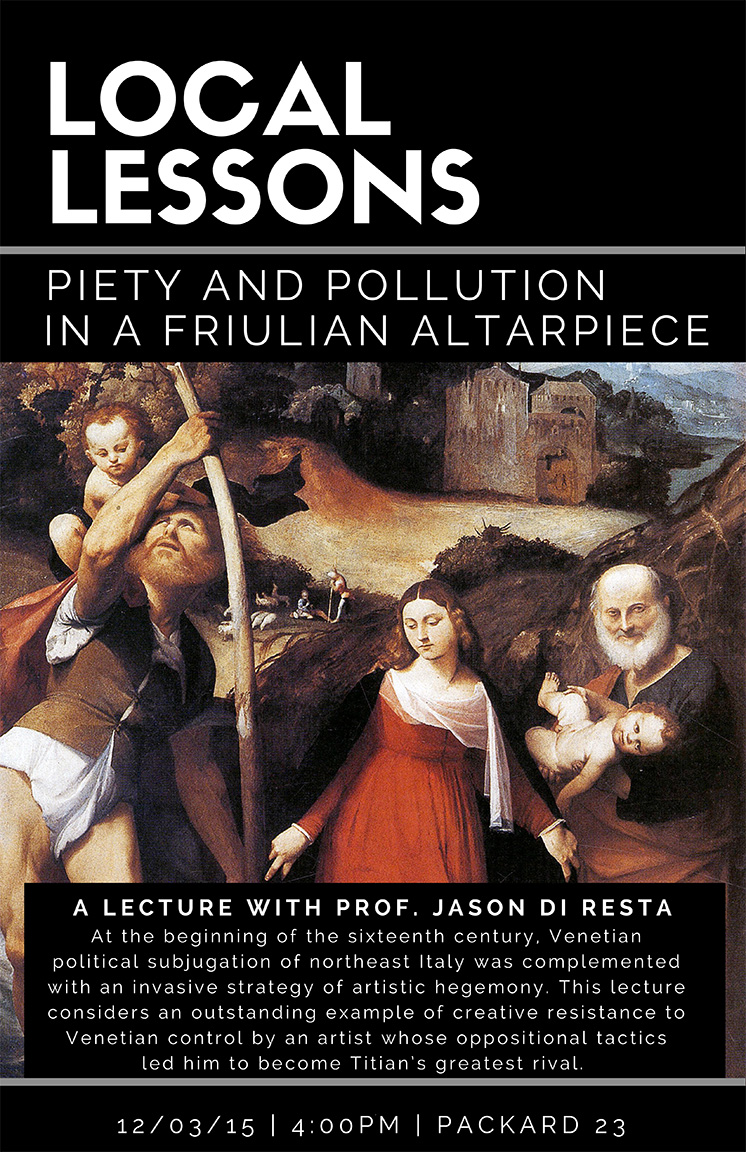 At the beginning of the sixteenth century, Venetian political subjugation of northeast Italy was complemented with an invasive strategy of artistic hegemony. This lecture considers an outstanding example of creative resistance to Venetian control by an artist whose oppositional tactics led him to become Titian's greatest rival.
---
The Golden Touch Exhibition and Reception: a one night showcase of workshop objects
Friday, October 2, from 4 - 7 pm
802 N. Nevada Street, Colorado Springs, CO
Acclaimed Florentine artist Patrizio Travagli uses the ancient technique of gilding to transform the value and appeal of personal objects. Fascinated by the interaction of light and metallic leaf, Travagli draws upon the act of memorializing inherent in the gilding process and its finished product. In this workshop, participants will gild an everyday object stripping it of its utility and investing it with meaning, memory, and aesthetic value.
" The act of gilding is an act of memory. Covering the surface of an object with the noble metal exalts it. What is light and shadow becomes part of the environment through an anamorphic distortion. In the act of covering the object, you are also revealing it. Like a mirror, it becomes a reflection, your own personal reflection. The aim of the project is to see and feel how people respond to a shift in their perspective through the use of gold in gilding. During the workshop, participants will be asked to select and transform an object that means something to them. Something they love and it is part of their life.
The gilding will be made, for reasons of cost of material and processing difficulties, with leaves of brass. The object's status will be elevated by the metallic layer, but at the same time, it will become useless. Once gilded, the objects will be exhibited together as if they were in a warehouse (a place full of memories), to establish a dialogue with each other and with the visitors of the exhibition. At the end of the show, each workshop participant recovers possession of the object, so it can go back to its own dimension of everyday life - with the added value of gold." - Patrizio Travagli
Presented by the Colorado College Art Department and sponsored by the Mellon Foundation Arts in the Liberal Arts: Artist-in-Residence Grant
---
The Golden Touch: Gilding Workshops with Patrizio Travagli
Daily sessions: September 28 - October 1, from 3 - 6 pm
802 N. Nevada Street, Colorado Springs, CO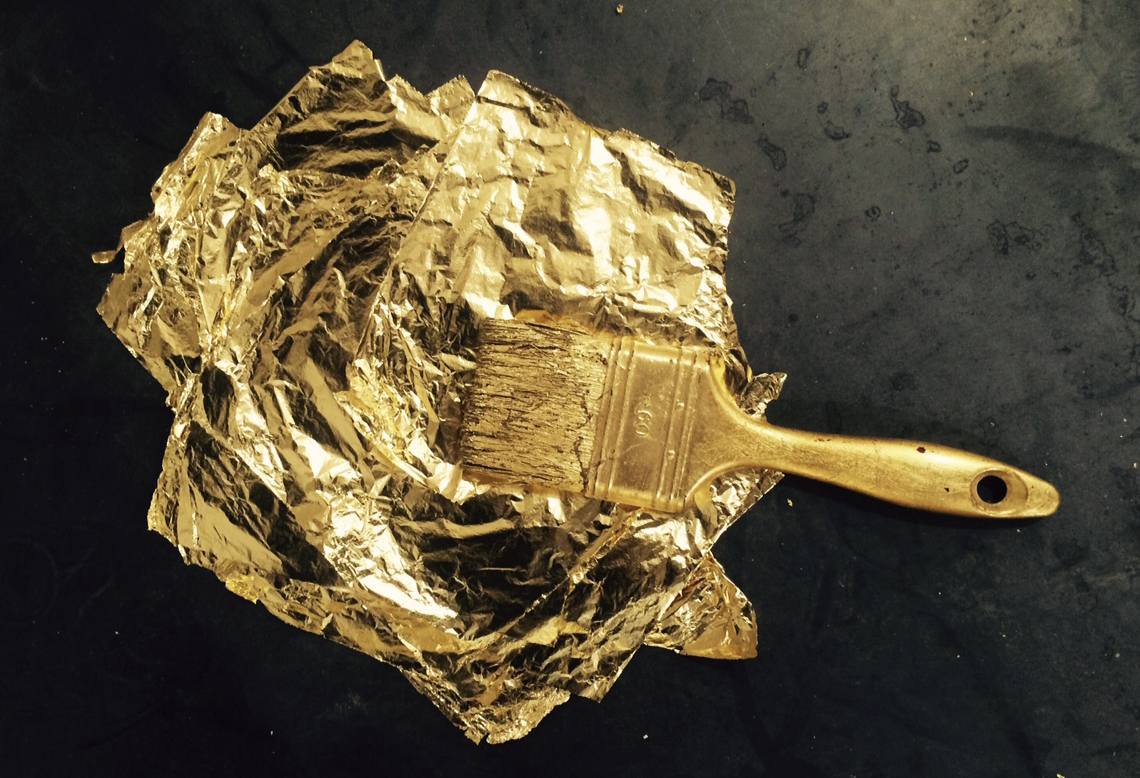 Free and open to the public
Pre-registration is required for each session
For more information and to register, contact Blair E. Huff: blair.e.huff@ColoradoCollege.edu
---
Jeanne Steiner and Jean Gumpper
Introspective: Print and Textile
September 19 - November 8, 2015
Sangre de Cristo Arts and Conference Center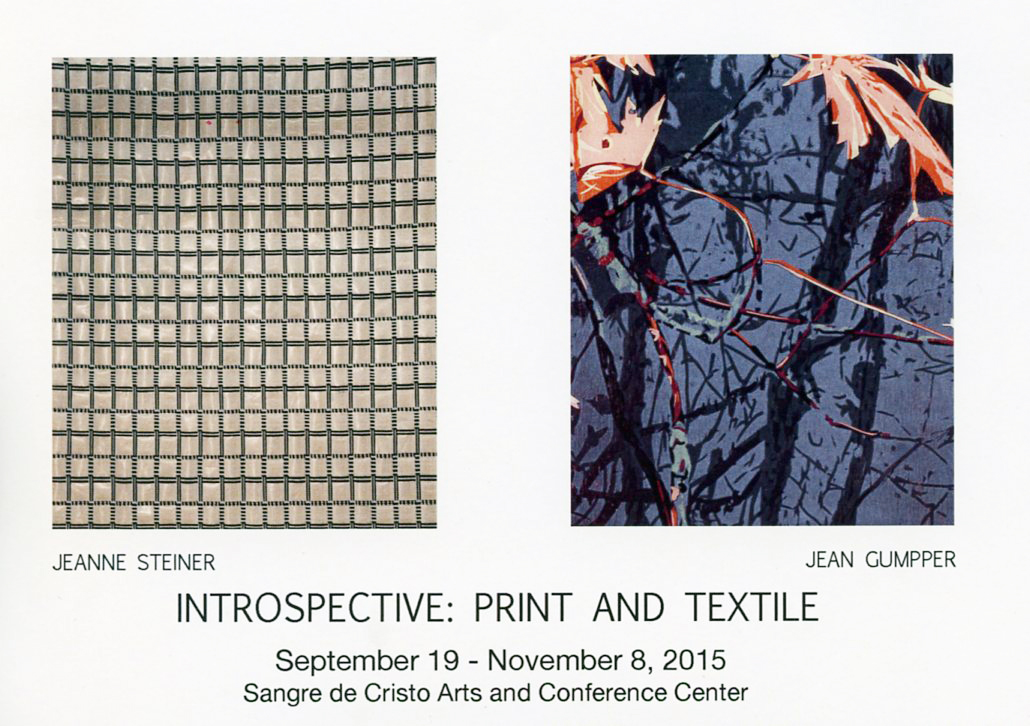 ---
HIDCOTE and Lawrence Johnston
: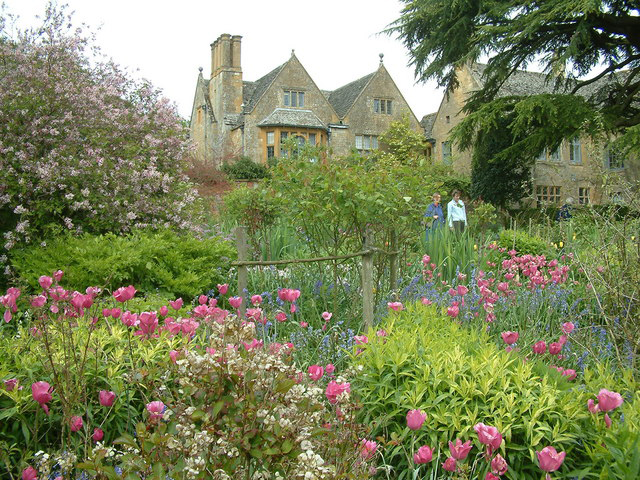 The American Who Transformed 20th-century English Garden Design
Talk by Ethne Clarke, Garden Historian
May 4, 2015 at 4:00pm
Cornerstone Screening Room
Sponsored by the Art Department's Harold E. Berg Endowment
Ethne Clarke, an internationally known garden historian, and author of Hidcote: The Making of a Garden will speak at Colorado College on Monday afternoon, May 4, at 4:00 p.m. in the Screening Room in the Cornerstone Art Center. The famous early-20th-century gardens at Hidcote in the Cotswolds, recognized as the epitome of the classic English country garden style, were actually designed by an American, Lawrence Johnston. He was one of the so-called "Henry James Americans," who lived their lives between Europe and the United States. Hidcote was the first garden to be taken into the custody of England's National Trust. Clarke has researched not only the garden, but also Johnston's life, the social and intellectual milieu of his era, and the contemporary influences on his garden-making.
Ethne Clarke is a professional horticulturist and the author of fifteen books on landscape history and gardening including The Art of the Kitchen Garden, Making a Herb Garden and with Rosemary Verey, The Scented Garden. Her biography of Cecil Pinsent, Infinity of Graces, is the first biography of the English architect who created many of the best-loved villas and gardens in Tuscany, such as La Foce (for Iris Origo) and I Tatti (for Bernard Berenson). Formerly the editor-in-chief of Organic Gardening and garden editor for Traditional Home, Clarke has also contributed to The American Gardener, Horticulture, Pacific Horticulture, Garden Design, Gardens Illustrated, Hortus, Homes and Gardens, Country Life, and RHS The Garden. Resident in England for 30 years, she was the recipient of the 1987 Angel Literary Award for Art of the Kitchen Garden. Clarke has a Master of Philosophy in Art and Design from De Montfort University, Leicester, England.
---
Heather Oelklaus, Print Workshop Supervisor, is having a solo show at
the Sangre De Cristo Arts and Conference Center!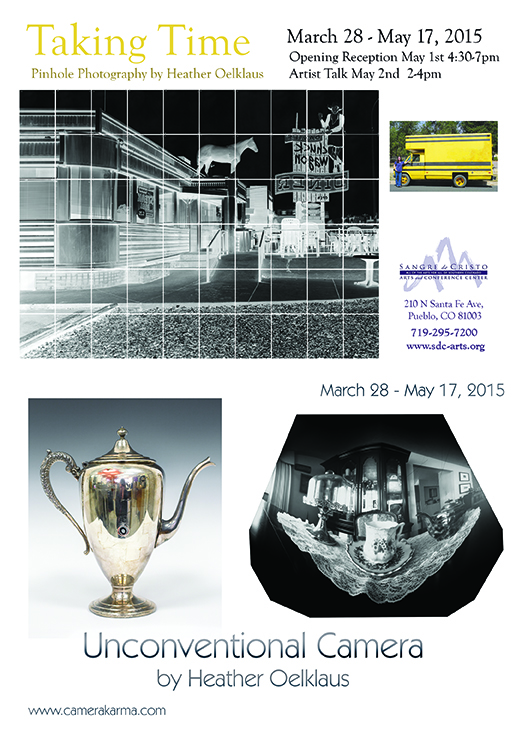 ---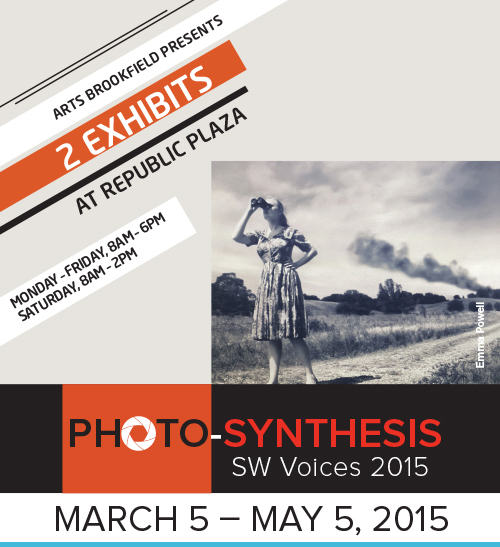 Emma Powell,
Assistant Professor of Photography

has been selected to participate in the upcoming show
" Photo-Synthesis."

The opening reception will be on Friday, March 6 from 5:30-8:00 pm at Republic Plaza (370 17th St. Downtown Denver, CO).

Her work will be up until May 5.
---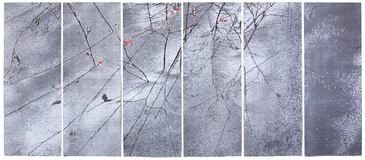 Extending the Line: Jean Gumpper and Jeanne Steiner

Print & Textile
Tuesday, January 27, 4:30 - 6 pm
Coburn Gallery
Opening Reception and Gallery Talk
Presenting recent work by Jean Gumpper (Visiting Professor and Artist in Residence at Colorado College) and Jeanne Steiner (Weaving Instructor and Arts and Crafts Program Director at Colorado College). The artists explore lines in two and three dimensions through prints and fiber arts.
Extending the Line is part of Colorado College's Cornerstone Arts Week (January 26-30) a fifteen-year-old event featuring a week of thematically related art, performances, lectures, and discussions. This year's theme, What's My Line? explores connections between theater, dance, mathematics, and visual art.
---
Emma Powell: Juggling Butterflies

November 24 - December 17, 2014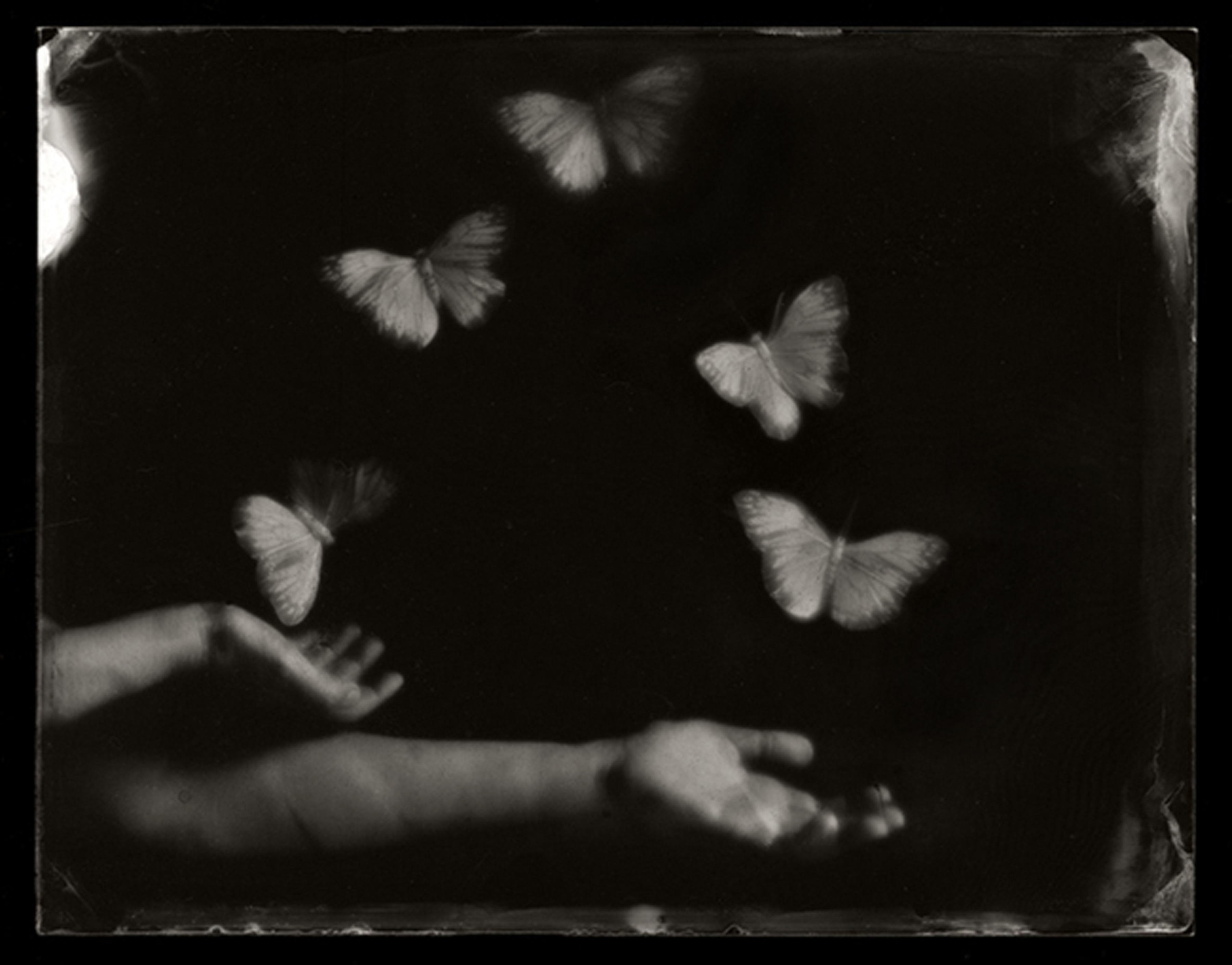 Monday, November 24, 4:30 pm:
Opening Reception and Artist Talk
Emma Powell (Assistant Professor of Art) introduces her photography to Colorado College with this one-person exhibition. Fascinated by the history of photography, Powell incorporates historic processes and devices into her contemporary practice. Past projects have included archaic technologies such as wet plate collodion process and old Kodak cameras. Her recent work navigates the fine line between reality and fantasy, using self-portraiture to articulate personal narratives. Using a cyanotype process, Powell creates a backdrop in which archetypal universal symbols combine and collide. 
Closed November 26 -- 30 for Thanksgiving Break
Reopening for regular hours December 1 -- 17
---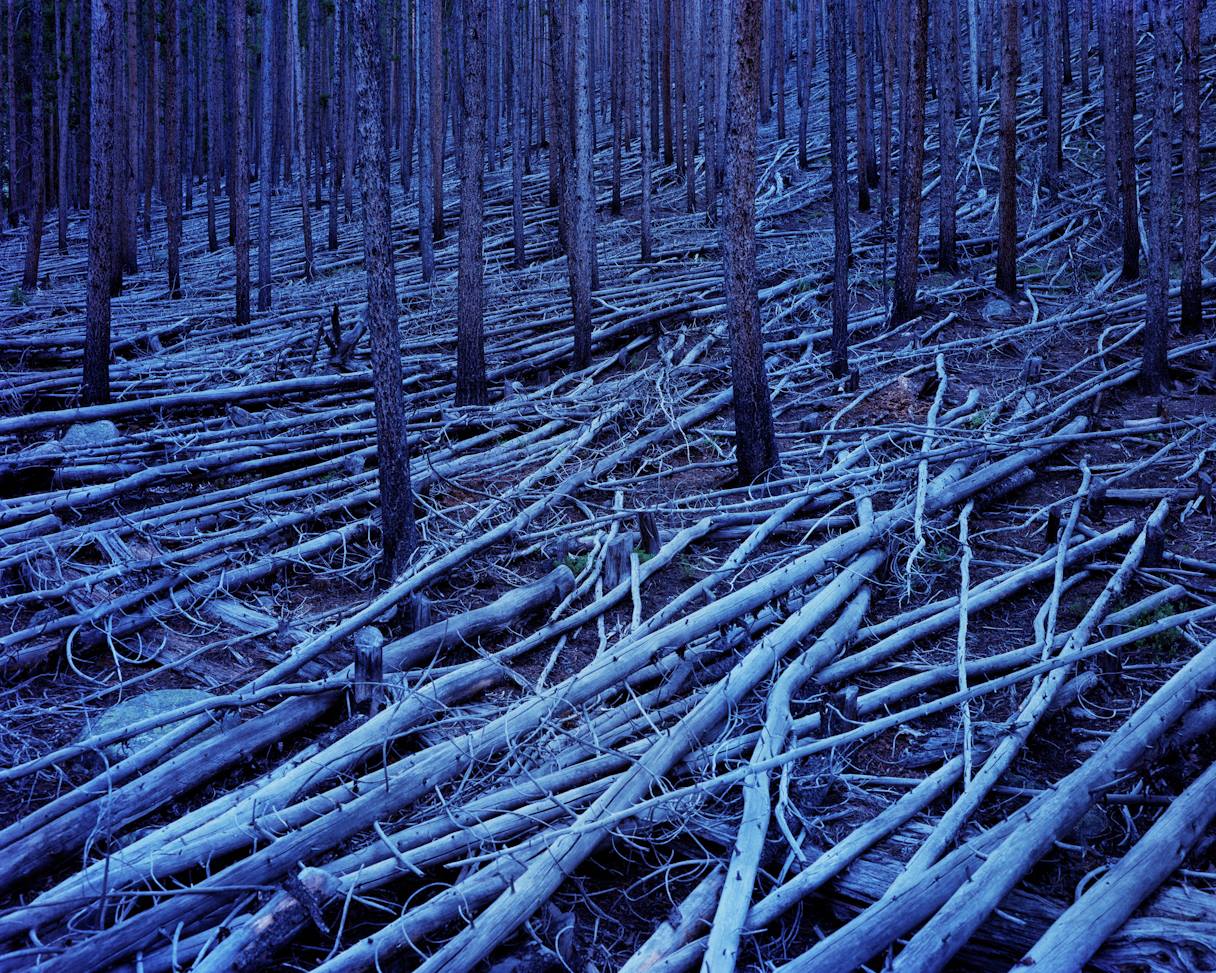 Scott Johnson's Mute Earth
at the Museum of Outdoor Arts
MUTE EARTH will consist of original works created by Scott Johnson specifically for the MOA galleries and will include site-specific installations and large-scale objects as well as a series of photographic pieces. Johnson will utilize the entirety of the MOA main exhibition galleries, multimedia galleries, and atrium for this unique exhibition.

Scott Johnson is well known for his work with a wide range of materials and for his thought-provoking sculptural installations. MUTE EARTH will explore the complex relationship between modes of representation and perception with regard to landscape and architectural space. The installations presented as part of this exhibition are the result of Johnson's literary research, experimentation with new materials, and direct observation of natural phenomena and cultural artifacts, places, and structures. A Colorado native, Johnson incorporated regional phenomena and elements of the Colorado landscape into his conceptual threads for the works created for this exhibition.
Hear Scott Johnson's Interview on Powered by Art with host Michael Keen for the Museum of Outdoor Arts
Check out the Museum of Outdoor Arts Facebook Page
Museum of Outdoor Arts 1000 Englewood Pkwy, Englewood, Colorado 80110
---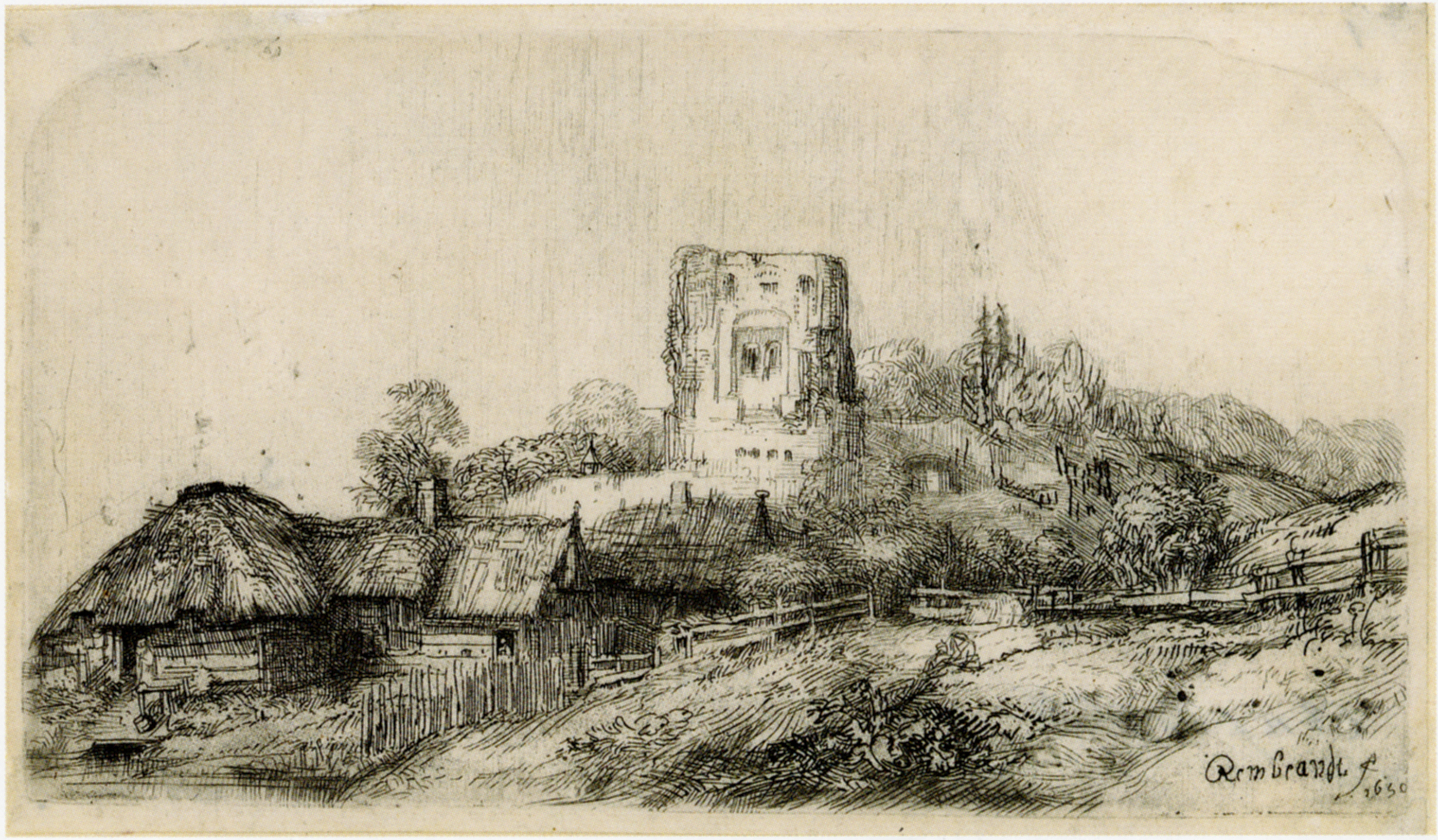 Rembrandt: Beyond the Brush
October 27 -- December 14, 2014
Closed November 19 -- 23 and 26 -- 30
IDEA Space
Edith Kinney Gaylord Cornerstone Arts Center
825 N. Cascade Avenue
Regular Hours: Monday -- Friday 1 -- 6 pm; Saturday 1 -- 5 pm
Opening Reception and IDEA Cabaret: Readings of Rembrandt

Thursday, October 30 at 4:30 PM
IDEA Cabaret is an ongoing series of lively conversations about art as a means of making the works accessible and meaningful.
The IDEA Cabaret Readings of Rembrandt features a conversation in the gallery between Colorado College Professors Rebecca Tucker (Art History) and Bryant (Tip) Ragan (History). The reception and IDEA Cabaret presentation are free and open to the public.
---
Heather Oelklaus: One of a Kind
July 29 - November 9, 2014
at the Colorado Springs Fine Arts Center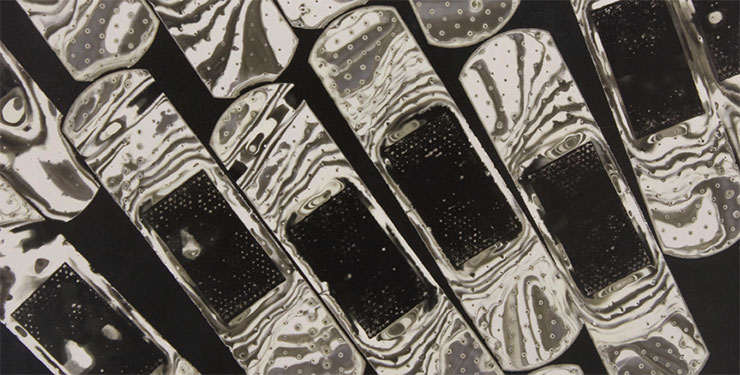 Heather Oelklaus, Heal (detail), 2014, Chemigram, 50 x 51 inches, edition of one, Courtesy of the artist
Colorado Springs-based artist Heather Oelklaus explores her subjects through historic photographic processes. Although Oelklaus employs vintage techniques, many of which date back to the beginnings of photography itself, her compositions frequently speak the language of abstract painting or motion pictures. But it is Oelklaus's combination of these extremely difficult technical processes with contemporary subjects and objects that are truly
ONE OF A KIND
The title of the show suggests the singular nature of many of Oelklaus's images. In an era in which most of us understand photography as infinitely reproducible, her photographic works emerge from intensive processes that result in a single original image.
---
Andrew Ramiro Tirado: Open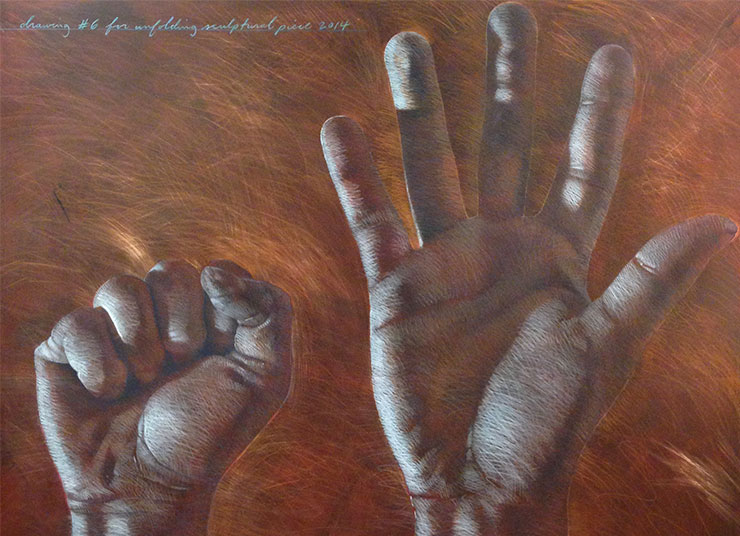 June 21 - September 28, 2014, at the Colorado Springs Fine Arts Center
For Open, Tirado has made a series of extraordinarily large drawings that fill the FAC's magnificent, soaring El Pomar Gallery. The subject is what Tirado describes as one of our "primary tools" for connection and disconnection - the human hand. These exquisitely drafted images represent the hand in all its complex physicality, elegance, power, vulnerability, and expression. But these drawings are just the beginning of an exhibition that unfolds over time - the artist's process will be "open" and visible to viewers as Tirado creates a new, large-scale sculpture in the gallery throughout the show's duration. This is an experience that visitors will want to witness again and again.
Andy was also the Top Prize Winner in "Art on the Streets" in Colorado Springs.
Andy Tirado in Colorado College News
---
Jean Gumpper Recognized in the Colorado Springs Business Journal
For "depth" and "community presence," among other qualities of her work, Jean Gumpper, Visiting Professor in the Colorado College Art Department, was recently named among the best artists in the Pikes Peak Region.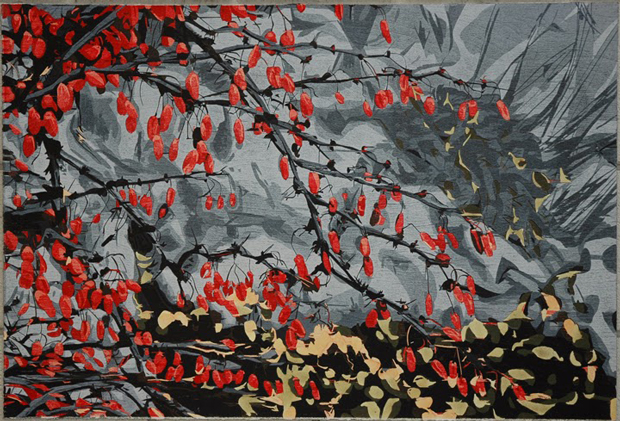 Read John Hazlehurst's article in the Business Journal
---
Artists/Artist Teams Selected for 16th Annual Art on the Streets
2014-2015 exhibit will feature eleven artists including Colorado Springs locals Andy Tirado and Sandy Friedman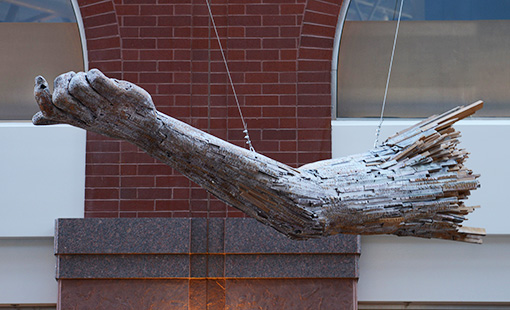 Colorado Springs, CO - Downtown Colorado Springs and Community Ventures are pleased to announce the selection of artists for the 2014-2015 Art on the Streets juried sculpture exhibition. Now in its 16th year, Art on the Streets celebrates the power of art in public places, while turning the streets of downtown Colorado Springs into a yearlong outdoor sculpture gallery.
A national call for artists attracted proposals from artists in four countries, 21 states and 16 Colorado cities. Artists were selected through a jury process in which artistic quality served as the primary criteria. This year's jury included Blake Milteer, Museum Director and Chief Curator for the Colorado Springs Fine Arts Center; local architect Michael Collins, and award-winning visual artist Jimmy Descant. Selected artists each receive a $1,000 honorarium. In addition, artists are eligible for a $10,000 Juror Award and a $1,000 People's Choice Award.
The 2014-2015 exhibit will be on display June 2014 through May 2015 throughout Downtown Colorado Springs. The eleven artists selected for the exhibit are:
Dee Briggs, Pittsburgh, PA
Timothy D. Cassidy, New York Mills, MN
Steven Durow, Fruitland, MD
Atomic Elroy, Petaluma, CA
Sandy Friedman, Colorado Springs, CO
Steven Huffman, Ottumwa, IA
Suzanne Kane, Las Cruces, NM
James Alan Murray, South Portland, ME
Michael Shewmaker, Hilo, HI
Andrew Tirado, Colorado Springs, CO
Adina Ana Vomisescu and Juliana Morar, Toronto, Canada
Art on the Streets is a program of Downtown Colorado Springs, through Community Ventures, Inc. The program is supported entirely by private contributions, including founding sponsor U.S. Bank, with additional support from Colorado Creative Industries, Boettcher Foundation, and many other corporate and individual donors. All of the artwork in the exhibit is for sale, and purchase inquiries are welcome.
---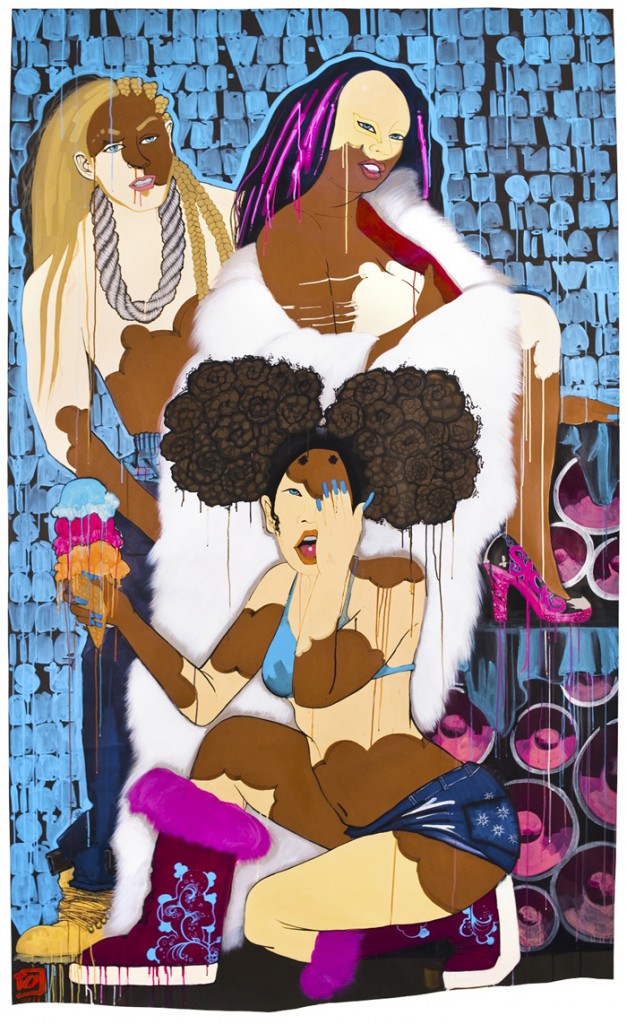 Opening reception for exhibition and Panel Discussion with exhibition artists and CC faculty. Includes performance by students from From Fringe to Spotlight, taught by professor Idris Goodwin.
From its roots within the urban American experience of the 1960-70s, contemporary hip-hop culture has evolved into an expressive language that transcends cultural and national boundaries. Formerly subversive modes of expression, such as graffiti, rap, appropriation, and breakdancing have now become flexible strategies for personal and political communication that spans all racial, national, and economic groups. From March 24 to May 8 2014 Colorado College will explore the ways in which the hip hop strategies of remix, mash-up, appropriation, and protest allow for the creation of new cultural hybrids within the shifting terrains of the mainstream. The project will include a gallery exhibition, public art projects, lectures, performances, films, and discussions.
The exhibition component of the project will focus on three contemporary artists Ruben Aguirre iROZEALb, and Jaque Fragua. The artists employ strategies drawn from street art practices and hip-hop culture within the context of fine art. The exhibition will uncover the tensions created when graffiti motifs are removed from lived, public spaces and realized into two-and three-dimensional forms. The themes addressed include an examination of the relationship between the self-definition inherent in the creation of street art and the drive toward individual expression of Abstract Expressionism; the power of poetic insurrection within public spaces; and the creation of hybrid identities through cultural appropriations. 
OPENING RECEPTION
Thursday, March 27, 4:30 - 6:30 pm
IDEA Space in the Edith Kinney Gaylord Cornerstone Arts Center
---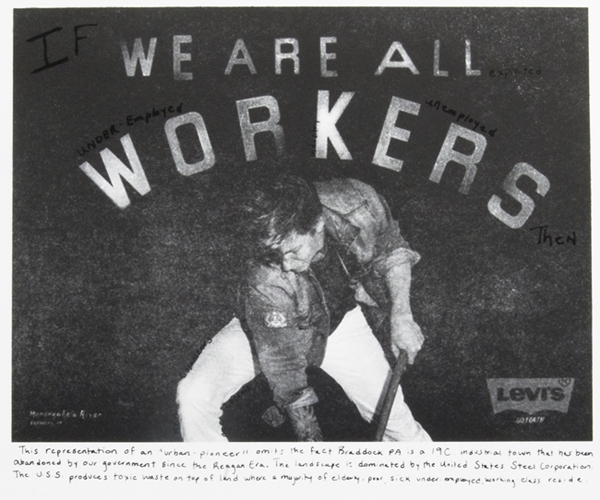 PROTEST!
As part of the state-wide marking of the 100th Anniversary of the Ludlow Massacre - an event that sparked the modern labor movement - GOCA has invited six artists who address the concept of protest through their varied artistic practices.
Bradley Flora | LaToya Ruby Frazier | Scott Johnson | Lane Hall & Lisa Moline | Dareece Walker
Reception: Friday, Jan. 31, 2014, 5 - 9 pm at GOCA 1420 (The campus gallery at 1420 Austin Bluffs Parkway - parking is free after 4 pm) Centennial Hall Room, 201.
Artist Talks @ 5 pm | Performance @ 7 pm
Exhibit Dates | January 31 - March 22, 2014
Historian Howard Zinn declared Colorado's historic Ludlow Massacre as "the culminating act of perhaps the most violent struggle between corporate power and laboring men in American history". As part of the state-wide marking of the 100th Anniversary of the Ludlow Massacre - an event that sparked the modern labor movement - GOCA has invited six artists who address the concept of protest through their varied artistic practices. Hailing from regional and national locales and contributing photography, mixed-media, video, and performance works, the artists are, through their works, expanding upon an event that resonates heavily today in our cultural consciousness.
A multidisciplinary performance will take place in the gallery on Friday, January 31, at 7 p.m. titled " Resistance and Rebellion: Remember the Past to Carve the Future" featuring Ensemble Peak Frequency, the Ormao Dance Company, Psychoangelo, and vocalist Tim Eriksen performing works associated with acts of social and political resistance, rebellion and oppression.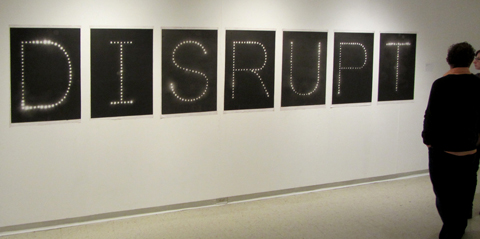 ---
Huge Hands: Coburn Exhibit by Andy Tirado
Andy Tirado, the 3D arts supervisor for the Colorado College art department, has sculptured a series of massive hands using a very appropriate CC material - reclaimed redwood from the deck outside the studios at Packard Hall, which houses the art department.
Tirado provides tech support for the art department, supervises the sculpture shop, and teaches a spring woodworking adjunct class. He also will be teaching sculpture at the Anderson Ranch in Snowmass this summer.
The four sculptures, all of which depict right hands (Tirado is left-handed; he uses his right hand as a model) are enormous - one is 13 feet long and weighs more than 300 pounds - and take up nearly all the space in Coburn Gallery, where they have been on exhibit. However, the huge hands, constructed from redwood, alder, and steel, all materials Tirado scrounged for, will soon be moved to make way for a new exhibit.
Check out the full article by Leslie Weddell at the link below:
---
Devotional Cultures: Spanish Colonial Art in the Southwest

Opening Reception and Gallery Talk
Wednesday, January 22, 4:30 pm at IDEA Space
by Rebecca Tucker, Exhibition Co-Curator,
Jessica Hunter-Larsen, Curator of the IDEA program,
and Michael Howell Registrar and Collections Manager
at the Colorado Springs Fine Arts Center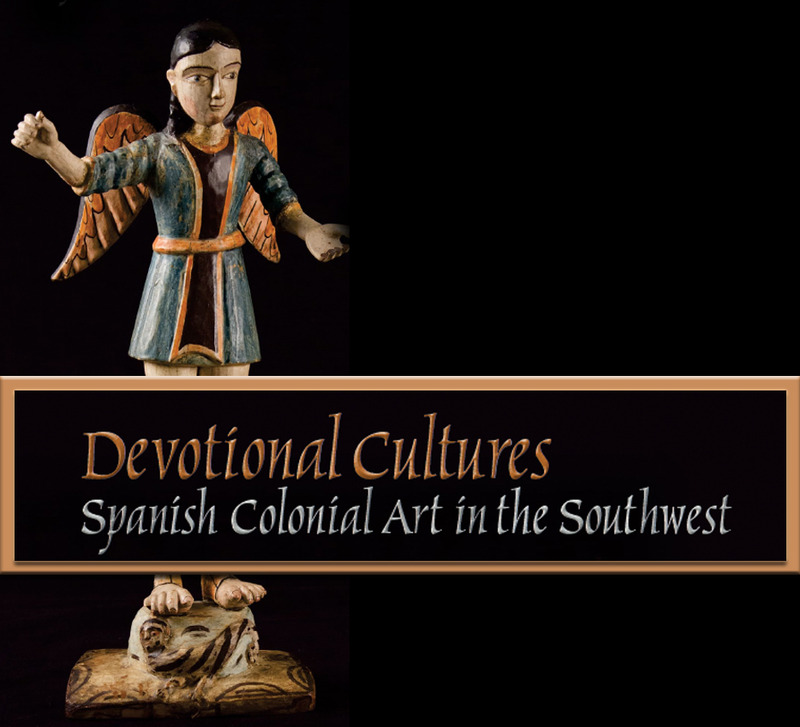 Devotional Cultures traces European Catholic imagery and ritual practices as they took root and evolved in Latin America, Central America, and the American Southwest. Featuring masterworks from the collection of the Colorado Springs Fine Art Center, the exhibition demonstrates that, rather than existing as copies of European art, Spanish Colonial artworks reveal layers of global influences and responses to those influences over time, resulting in a distinctive style.
Curated from the collection of the Colorado Springs Fine Arts Center by Michael Brown, Research Associate, Denver Art Museum New World Department, and Rebecca Tucker, Associate Professor of Art History.
Devotional Cultures: Spanish Colonial Art in the Southwest is made possible by the generous contributions of the Sheffer Fund for Roman Catholic Studies, the Stillman Fund for Exhibitions, the Office of the President, the Hulbert Center for Southwest Studies, and the Colorado College Cultural Attractions Fund.
---
Carl Reed's work is showcased at the Denver Botanic Gardens and will be highlighting the artistic work of twelve Colorado sculptors in an outdoor exhibit entitled "Catalyst: Colorado Sculpture."
Opening May 4 at 9 am and running through January 12, 2014, the exhibition showcases the work of artists Emmett Culligan, Kim Dickey, Linda Fleming, Nancy Lovendahl, Terry Maker, Robert Mangold, Patrick Marold, Andy Miller, Pard Morrison, Carl Reed, Yoshitomo Saito, and James Surls, in cooperation with Goodwin Fine Art, Robischon Gallery, and the William Havu Gallery. Supporting the exhibition are UMB Bank, Colorado Creative Industries, and the Scientific & Cultural Facilities District (SCFD).
Today we regard the work of participating sculptor Carl Reed, Professor of Art, Emeritus at the Colorado College, who has just completed a sculpture titled Water Ring with Outliers, consisting of three separate elements created and placed specifically for a site in the gardens.