The Orange Skies Project
Record-breaking wildfires burned across more than 2 million acres of Colorado and the Rocky Mountain West in 2020, stunning human inhabitants and costing hundreds of millions of dollars.  Climate warming and suppression of natural fire processes have led to conditions that favor more frequent and bigger wildfires in the future.
About the Project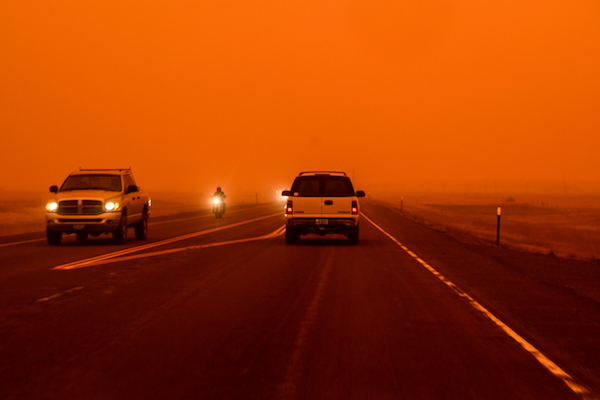 Mullen Fire, US 278 & WY-130, Wyoming.
Photo by Jonathon Dragojevic
---
Wildfires always have played a critical role in Rocky Mountain landscapes.  Historically, low-intensity fires helped create and maintain a mosaic of diverse multi-age forest habitats. 
Over the past century, human alteration of the natural fire regime, combined with the removal of water from forests, a warming climate, and years of severe drought have shifted fire behavior from low-intensity fires toward regional fires that cause greater ecological and social impacts. 
Record-breaking wildfires in 2020 scorched nearly 2.6 million acres of forests across the eight-state region affecting people and costing hundreds of millions for firefighting and mitigation.  As climate warming trends lead to more frequent and bigger fires, Colorado College students are creating Orange Skies -- an exhibition of photos taken of wildfire activity around the Rocky Mountain West, exploring visually the far-reaching effects of smoke and flames.
Colorado College students have begun a project called Orange Skies in an attempt to explore visually the far-reaching effects of smoke and flames of the 2020 fire season. Done as part of CC's State of the Rockies program, Orange Skies looks at how we are drawn to the glowing smoky skies and billowing plumes rising from "mega-fires" into the atmosphere as the latest chapter in our complex relationship with fire.  This exhibit is an amassing of images taken of wildfires in 2020 as seen by residents from around the region, including firefighters, professional photographers, and others who, in many cases, simply pulled out their smartphones and captured awe-inspiring spectacles.