Design Week 2019
Colorado College welcomes participants with disabilities. Please contact Jan Edwards, 719-227-8294 or by email at jedwards@coloradocollege.edu, to request accommodations. Advance notice may be necessary to arrange for some accessibility needs.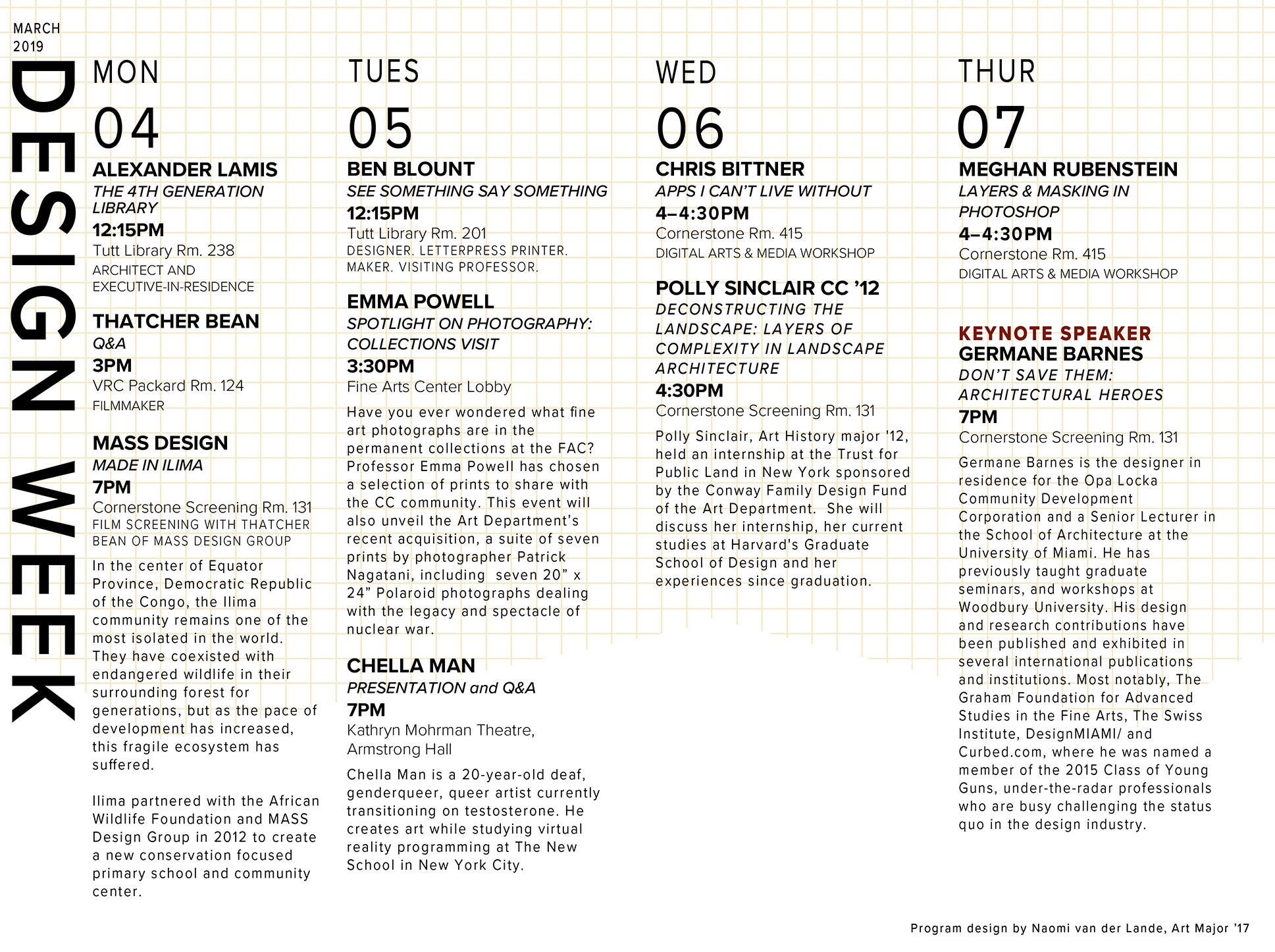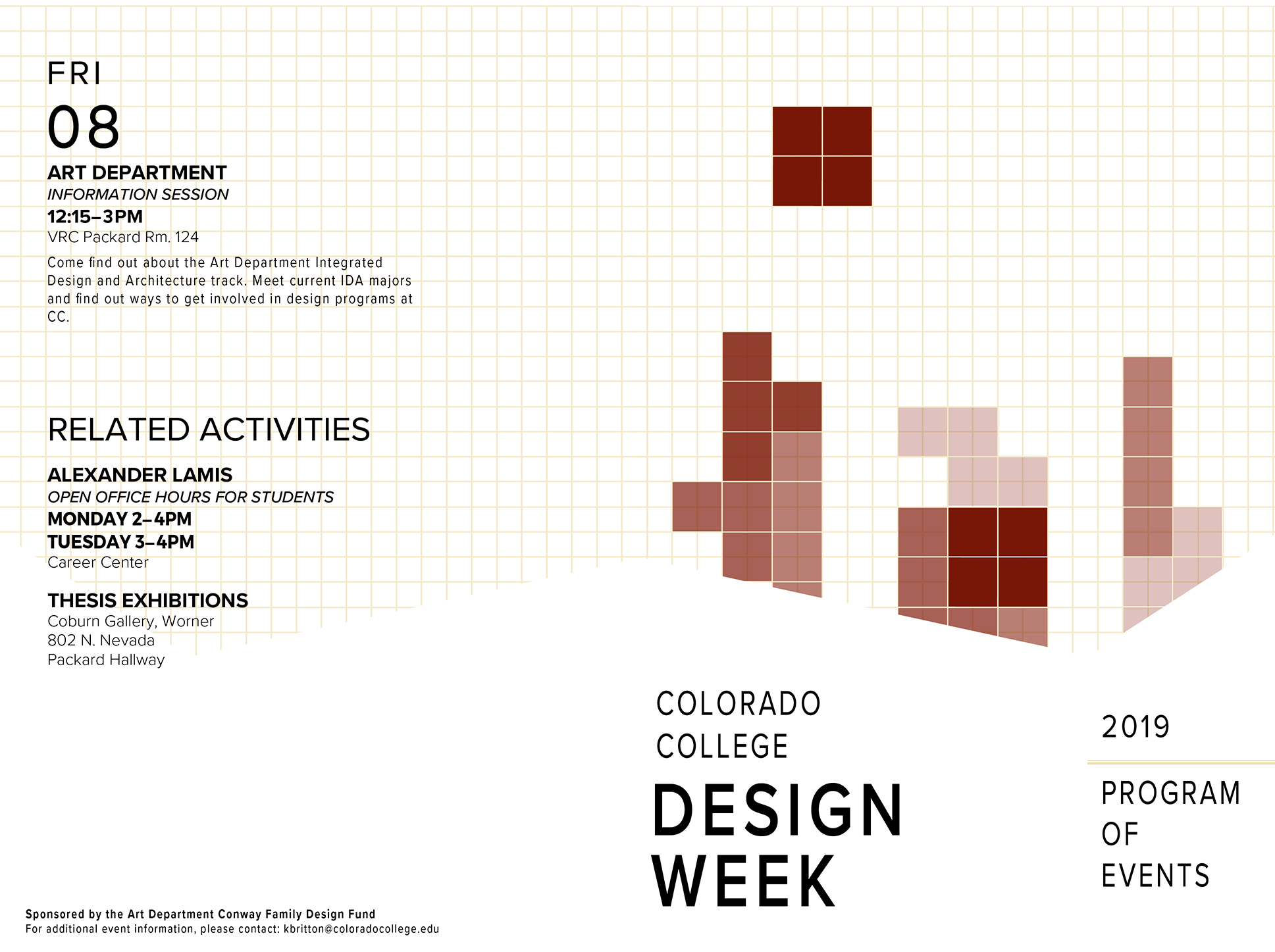 For more information on a specific event, directions, or disability accommodations, call 719-389-6607.
Design Week 2019

Mon, March 04 | Tues, March 05 | Wed, March 06 | Thur, March 07 | Fri, March 08 | Related Activities

Monday, March 04


12:15 PM
Executive in Residence Alexander Lamis: The 4th Generation Library
Tutt Library Rm 238
Lunch Provided
What will the library of the future look like?
A library is no longer just a place to check out books-it's a meeting place, a crossroads, a digital repository, a technological hub, and sometimes even an architectural marvel.
Join library design authority Alexander Lamis P'19 on for a talk on "The Fourth Generation Library." Alexander will discuss how libraries are evolving; how library design can promote learning and community-building; and the importance of advancing information technology and sustainable design in new library spaces. After a short discussion, the talk will open for Q&A.
Alex Lamis, FAIA, is a partner at Robert A.M. Stern Architects in New York City, where he leads an award winning design studio with a focus on cultural, educational, and public buildings and master planning.
http://www.ramsa.com/people/person/alexander-p-lamis
3:00 PM
Thatcher Bean: Q & A
Visual Resources Center, Packard Hall, Room 124
Join us for an informal presentation and discussion about MASS Design Group. Find out more about Alan Ricks '05 and MASS Design - architectural mission, projects, and the role of filmmaking as an integrated practice within their firm.
Architecture is never neutral. It either heals or hurts. Our mission is to research, build, and advocate for architecture that promotes justice and human dignity. Alan Ricks, MASS Design
7:00 PM
MASS Design: Made in Ilima
Cornerstone Screening Room 131
Film Screening with Thatcher Bean (MASS Design Group)
https://massdesigngroup.org/made-in-ilima
In the center of Equator Province in the Democratic Republic of the Congo, the Ilima community remains one of the most isolated in the world. They have coexisted with endangered wildlife in their surrounding forest for generations, but as the pace of development has increased, this fragile ecosystem has subsequently suffered.
In 2012 the community partnered with the African Wildlife Foundation and MASS Design to build a new conservation-focused primary school and community center. The school opened in 2015, with 99% of the materials sourced within 10km of the site, and 93% of the $351,727 USD project cost invested into the regional economy.
The hour-long film documents the collective building process - one aimed at leveraging local craft and ecological knowledge towards education, preservation, and beauty.
Q&A with MASS Design filmmaker Thatcher Bean to follow film.
---
Tuesday, March 05


12:15 PM
See Something Say Something
Lunch & Talk with Letterpress Book Artist Ben Blount
Tutt Library Event Space, Rm 201
Ben Blount was born and raised in Detroit. He is a designer and letterpress printer that loves type, teaching, and putting ink on paper. His work explores questions of race and identity and the stories we tell ourselves about living in America. He is currently a visiting Professor at Colorado College teaching the block six Book and Book Arts course.
3:30 PM
Spotlight on Photography: Collections Visit with Emma Powell
Fine Arts Center at Colorado College, Lobby
Have you ever wondered what fine art photographs were in the permanent collections at the FAC? Professor Powell has chosen a selection of prints to share with the CC community. This event will also be as the unveiling of a recent acquisition by the Art Department. This suite of seven prints by photographer Patrick Nagatani is made up of seven 20"x24" Polaroid photographs dealing with the legacy and spectacle of nuclear war.
7 PM
Chella Man
Presentation and Moderated Q & A
Kathryn Mohrman Theatre, Armstrong Hall
Chella Man is a 20-year-old deaf, genderqueer, queer artist currently transitioning on testosterone. He creates art while studying virtual reality.

https://www.hearinglikeme.com/who-is-the-deaf-activist-chella-man/
Sponsored by the Art Department Conway Family Design Fund, the President's Office, Innovation at CC, Accessibility Resources, the Wellness Resource Center and Feminist and Gender Studies
Colorado College welcomes participants with disabilities. Please contact Jan Edwards, 719-227-8294 or by email at jedwards@coloradocollege.edu to request accommodations. Advance notice may be necessary to arrange for some accessibility needs.
---
Wednesday, March 06


4-4:30 PM
Apps I Can't Live Without
Cornerstone 415
Digital Arts & Media Workshop with Chris Bittner
4:30 PM
Polly Sinclair CC '12
Deconstructing the Landscape: Layers of Complexity in Landscape Architecture
Cornerstone Screening Room 131
Polly Sinclair, Art History major '12, held an internship at the Trust for Public Land in New York sponsored by the Conway Family Design Fund of the Art Department. She will discuss her internship, her current studies at Harvard's Graduate School of Design and her experiences since graduation.
Come find out more about careers in architecture and the professional opportunities of a recent graduate!
---
Thursday, March 07


4-4:30 PM
Layers and Masking in Photoshop
Cornerstone Room 415
Digital Arts & Media Workshop with Meghan Rubenstein
7 PM
Germane Barnes
Don't Save Them: Architectural Heroes
Cornerstone Screening Room 131
Germane Barnes is the designer in residence for the Opa Locka Community Development Corporation and a Senior Lecturer in the School of Architecture at the University of Miami. He has previously taught graduate seminars, and workshops at Woodbury University. His design and research contributions have been published and exhibited in several international publications and institutions. Most notably, The Graham Foundation for Advanced Studies in the Fine Arts, The Swiss Institute, DesignMIAMI/ and Curbed.com, where he was named a member of the 2015 Class of Young Guns, under-the-radar professionals who are busy challenging the status quo in the design industry.
---
Friday, March 08
12:15-3 PM
Art Department
Information Session
Visual Resources Center, Packard Hall, Room 124
Come find out about the Art Department Integrated Design and Architecture (IDA) track. Meet current IDA majors and find out ways to get involved in design programs at CC.
https://www.coloradocollege.edu/academics/dept/art/
---
Related Activities
Monday, March 4, 2-4 PM
Tuesday March 5, 3-4 PM
Executive in Residence: Architect Alexander Lamis, Office Hours for Students
Career Center, 1130 N. Cascade Ave.
Meet with architect Alexander Lamis, a partner at Robert A.M. Stern Architects in New York City. He has focused on library design and has spoken on the evolving technology in libraries. He was primary partner on the George W. Bush Presidential Center, the Rutgers University Complex, and many more projects. For more information, contact: careercenter@coloradocollege.edu
Sign up through Career Center - 20 Minute Slots for students
https://doodle.com/poll/4xwvxq74sq3ciqqa

Thesis Exhibitions
Coburn Gallery (Worner), 802 N. Nevada, Packard Hallway
Design Week 2019 is sponsored by the CC Art Department and the Conway Family Design Research Fund
For additional event information, please contact: kbritton@coloradocollege.edu or lmackenzie@coloradocollege.edu