Design Week 2017
DESIGN WEEK 2017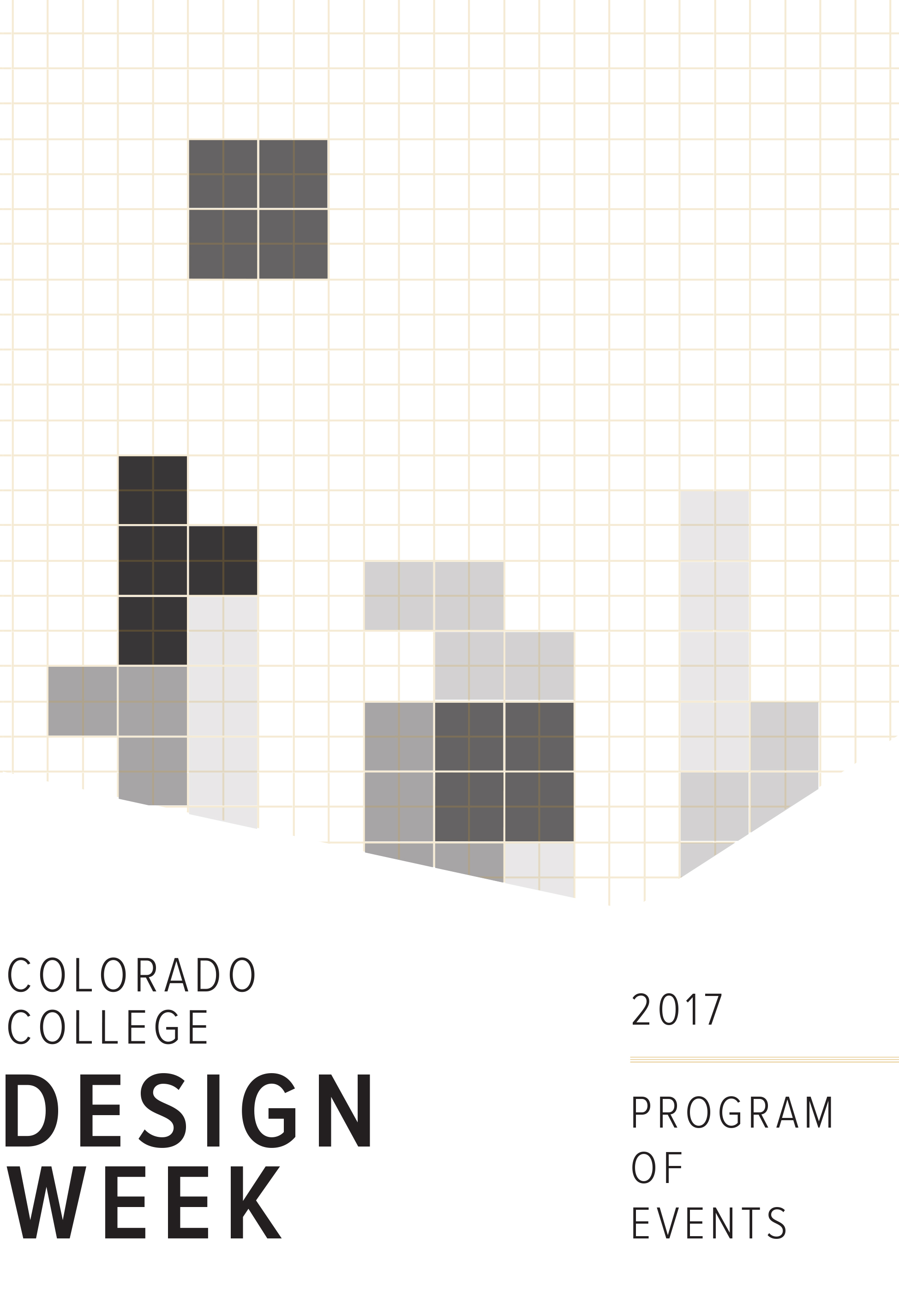 ---
MONDAY, MARCH 6
1:00-3:00PM
OPEN HOUSE 
Check out some of the creative resources CC has on campus:
COMMUNICATIONS Spencer Center (4th floor) 
ARTS & CRAFTS Arts & Crafts Studio (Basement of Worner) 
PHOTO LAB & PRINTSHOP Packard 39 
VISUAL RESOURCES CENTER (VRC) Packard 124

4:30PM
SUSAN HOFF: DESIGNING WITH RECLAIMED MATERIALS 
Gaylord Hall
Susan Hoff, a graduate of Colorado College, shares her career trajectory from leading sailing 
expeditions to giving reclaimed materials, like canvas sail cloth and leather horse tack, new life 
as high-end accessories.

TUESDAY, MARCH 7
4:30PM 
ALUMNI PANEL 
Cornerstone Screening Room 
Q&A led by SUZANNA McMURTRY, co-leader of the Integrative Design Group
SUSAN HOFF '06 Founded her own company in San Francisco that manufactures high-end 
accessories using reclaimed sail cloth and horse tack. 
LOGAN ROBERTS '10 Founded InkMule, a New Orleans-based company that designs and prints 
custom apparel. 
MICHELLE YATES '12 Intern at Bassetti Architects in Seattle after graduating from the 
University of Washington with a MA in Architecture. 
JULIA BELAMARICH '14 CC's 2017 Design Fellow, working to devise connections between 
technology and design. Julia is also half of Denver-based collaborative art/design studio, 
EXTRA VITAMINS. 
ELENA FORAKER '15 An Oakland-based artist, illustrator, and designer working at Minted and 
applying to graduate design programs. 

WEDNESDAY, MARCH 8
1:00-3:00PM
OPEN HOUSE 
COSTUME SHOP Cornerstone 403 
INNOVATION INSTITUTE Morreale Carriage House 
THE PRESS Taylor Hall

12:15PM
LUNCH & CONVERSATION 
WITH JOY ARMSTRONG, CURATOR AT THE FINE ARTS CENTER 
FAC Deco Lounge
Lunch provided. 

3:30-4:30PM
TYPOGRAPHY WORKSHOP 
Cornerstone 415 
WITH MEGHAN RUBENSTEIN, VISUAL RESOURCE CURATOR 
Make your words into powerful graphics. Typography will introduce participants to tools in 
Illustrator and Photoshop that can be used to produce a meaningful identity. No prior 
experience necessary.

THURSDAY, MARCH 9
4:30PM
LYDIA MATTHEWS: 
WALKING ALONE & TOGETHER: A MODE OF LEARNING & UNLEARNING 
Cornerstone Screening Room
This talk will consider what happens when we choose to move slowly, using our senses to 
become more informed about the ecological, political, and historical contexts of particular 
places. Lydia Matthews is an art critic, curator, and educator. She is also a CC alum, class of 
1981. 

5:30-6:30PM 
IDG: PACKARD PROJECTION 
Packard Courtyard
The Integrative Design Group will run a trial of the Packard Projection Project in which student 
work is projected onto the North wall of Packard Hall.

FRIDAY, MARCH 10
12:15PM
LUNCH & CONVERSATION 
WITH DYLAN CONWAY, DEZ MENENDEZ, AND THE INTEGRATIVE DESIGN GROUP 
Packard 131 
Lunch provided.