About Us
The Wellness Resource Center works to create an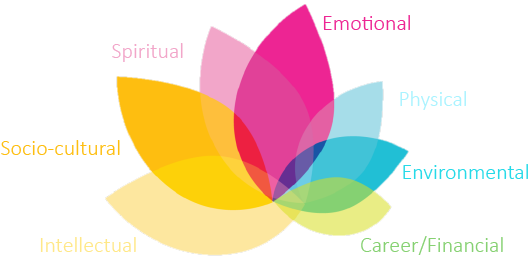 environment which nurtures the development of the whole person and empowers individuals to make healthy lifestyle choices. By utilizing a holistic model of wellness which focuses on the connections and intersections between different domains of wellness (Intellectual, Socio-cultural, Emotional, Physical, Spiritual, Environmental, and Career/Financial), we are able to highlight the pervasive role of wellness themes and dimensions in our lives. The Wellness Resource Center serves as the hub for prevention and health promotion work on campus, and plays a key role in assessing and identifying health trends and priorities, developing strategies to reduce harm and capitalize on individual protective factors and campus strengths, and provides leadership, coordination and integration of campus health and wellness initiatives.
Within the context of the holistic well-being, and health education, the Wellness Resource Center works in three primary focus areas: sexual violence prevention and response; substance use education and abuse prevention; and mental health promotion and suicide prevention. We recognize that these themes touch all CC students' lives and strive to equip them with the tools to navigate challenges and participate in campus life in ways that are inclusive, trauma informed, and consent oriented.
For more information on our work in these areas, check out the links below.
More Resources for Well-Being
Follow us for the latest on what we're up to!