21st Century Construction and Modernization
The Colorado College campus has undergone huge changes over recent years. From the early 2000's with the construction of the Western Ridge Housing Complex, the completion Russell T. Tutt Science Center, and well as the revitalization of the east campus, now home to the Greek Quad and several "theme" houses, the college's campus has been abuzz with change and development.
In 2008, campus welcomed the opening of the Edith Kinney Gaylord Cornerstone Arts Center, an interdisciplinary arts building allowing for innovative, experimental, and collaborative projects in a unique space with state-of-the-art technology.
In the spring of 2013, CC completed the addition of the Adam F. Press Fitness Center, a state-of-the-art facility dedicated to the health of the CC community. The renovations to El Pomar Sports Center and the addition of the Adam F. Press Fitness Center has reinvigorated and energized the college's access to health and wellness, and continues to be a huge asset to the needs of students, faculty, and staff.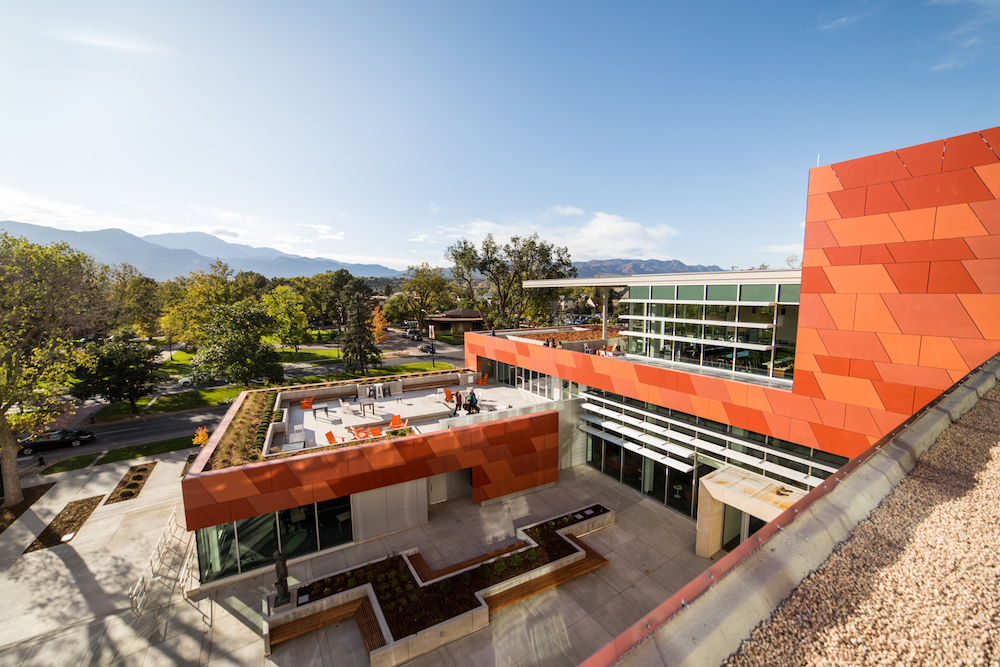 Re-opened in the fall of 2017, the renovated Tutt Library adds an additional 25,000 square feet to the library, nearly doubling its seating capacity. The library has been technologically transformed, with a data visualization lab, space for new and developing technologies, a GIS lab, and an experimental classroom with teaching technology. In addition, the $45 million renovation of Tutt Library included a geothermal energy field on Armstrong Quad, and a 115-kilowatt rooftop solar array, a 400-kilowatt offsite solar array; green roof-top garden; and 130-kilowatt combined heat and power system, making Tutt the largest academic library to achieve net-zero energy construction. With this addition, the library will modernize the campus as well as provide a hub for learning on CC's Block Plan.
Additionally, in the fall of 2017, the East Campus Housing Community opened its doors to junior and senior students. The East Campus apartments allow for the conveniences of on-campus living, while providing an atmosphere that assists 154 students in transitioning to off-campus living. The space is designed to create the feeling of a close-knit neighborhood, while connecting the community to the rest of the CC campus. Featuring a common green area, a classroom and facility-laden community center, a fire pit, sundecks, and hammocks, the East Campus Housing Community embodies the college's values for new builds in being community focused and environmentally sustainable throughout.