CC License Plates
Alumni plates carry a one-time or replacement fee of $50 in addition to normal taxes and fees. Personalized plates are $60 first year/application and $25 every renewal in addition to normal taxes and fees. Personalized alumni plates do not include the tiger mascot. Alumni plates are available for passenger cars, trucks or recreational vehicles that do not exceed sixteen thousand pounds empty weight. Available in Colorado only.
Colorado College no longer requires that motorists make a donation to the Alumni Association. Furthermore, motorists do not need a special certificate prior to buying our collegiate plate. The state has notified all county branches of this change. We suggest, however, that you print out a copy of this PDF and take it with you when you request a CC plate.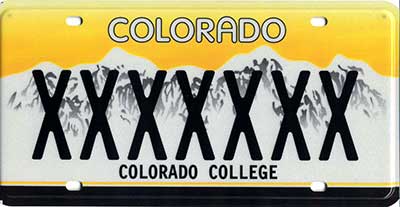 Plates are not available at all DMV locations (and are available only in Colorado). Please call your DMV to determine availability.