Kristie Shirley
Trailblazing WES Scholar Helps Fight Food Insecurity
Originally from Lima, Peru, Kristie Shirley '20 is a first-year student at Colorado College. Coming nearly 2,000 miles from her current home in Florida to CC required a bold leap of faith that both petrified and excited her.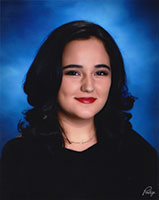 She has visited the Amazon region twice, and after seeing the incredible beauty of the untouched area, she wants to make sure that it remains that way. Her future goals include working to control populations of stray animals in South America and contributing to preservation efforts of endangered species globally, particularly in the Amazon rainforest.
Shirley is working toward achieving these goals by pursuing a pre-health track here at CC - taking the first step toward achieving her doctorate in veterinary medicine. In addition to her science classes, she also plans to major in sociology.

As one of the first of her family to attend college, Shirley is grateful for the opportunities that her WES scholarship has made available to her. She was ecstatic as she opened the envelope notifying her of her award, and she especially appreciates the added security provided by her textbook scholarship.

"The book scholarship is what I am eternally grateful for," she says, explaining that she had never realized how costly textbooks could be. "I feel comfortable in having enough money to purchase my texts for this year and next."

Shirley enjoys CC's beautiful campus and her activism roles, both on and off campus.

"I am doing activism to help address food insecurity and fight the growing food deserts in the lower income areas of Colorado Springs. As a Seeds Sustainability Intern, I do a variety of tasks including helping out at the community garden at the Hillside Community Center as well as helping to organize charity events, such as our recent Winter Wonder Jam, which raised money for our IndyGive event," Shirley says.

Being so far from home, Shirley is also grateful for the social and community element of WES.

"The events are wonderful because we get to socialize with the other scholars," she says, noting that her best friend is also a WES scholar. "This scholarship has helped me so much not just financially, but also in feeling comfortable and secure in myself in this new environment," she says.

Shirley believes that the contribution WES has made to her studies will continue to make a difference after graduation. One day, she hopes to give back and perpetuate the opportunities she has been given.