News & Events
In addition to providing scholarships and grants to its scholars, WES works to help connect CC and the surrounding community through a series of events each year, including a traditional Fall Tea and an Annual Meeting luncheon for WES members.  Other events include bringing speakers on topics of interest and engaging authors for book talks.  WES also arranges outings for scholars and board members in the Colorado Springs community.
We hope you'll join us as the Woman's Educational Society of Colorado College cordially invites you to a special evening with Colorado author,
 Jeri L. Norgren
Ms. Norgren will be sharing video and speaking about her book:
Colorado's Highest:
The History of Naming
The 14,000-Foot Peaks
(This book includes a photograph or painting of each peak,
with photograpy by renowned Colorado photographer,
John Fielder)
When:  Thursday, February 9, 2023, 5-7 pm
Where:  Bemis Hall at Colorado College
Heavy Hors D'oeuvre Buffet and Cash Bar
Ticket for this event are:
$20 General Public
$15 WES Members
$10 CC Faculty
CC Students Free
(Designated parking provided)
You must pre-register for this event on Eventbrite at the following link:
Books will be available for purchase and signing at the event
Jeri L. Norgren is a fifth-generation Colorado native.  Having spent most of her life exploring the mountains and all the wonders they hold, she became fascinated with the nomenclature of the highest peaks, and set about finding out all she could.  As a member of the Denver Fortnightly Club, she has authored numerous papers on various topics, including one that grew into her most recent book, Colorado's Highest:  The History of Naming the 14,000-foot Peaks.  A lover of nature and everything it encompasses, she lives on an historic farm in Englewood surrounded by dogs, coyotes, and a pair of great horned owls.
Recent Events
The 2022 WES Fall Tea
Each Fall, WES invites its members, board, and scholars to a traditional Tea, held this year in The Stewart House on the CC campus.  Attendees enjoyed tea, buffet, and desserts with a background of harp music, along with the view from the Stewart House patio.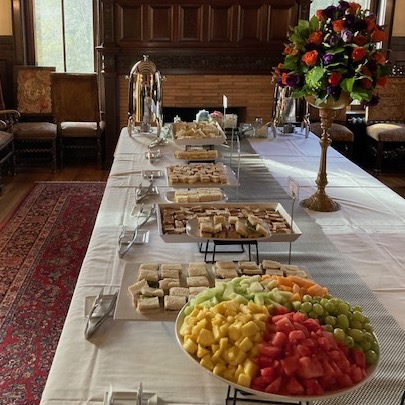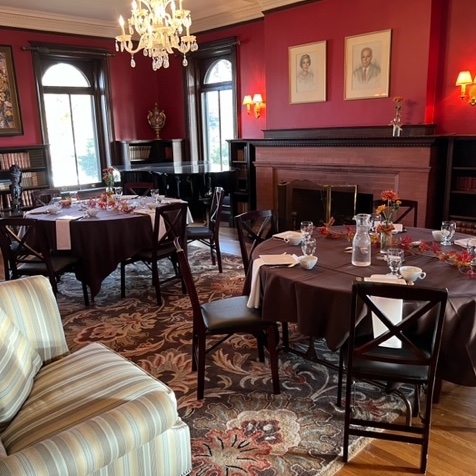 The beautiful table settings in The Stewart House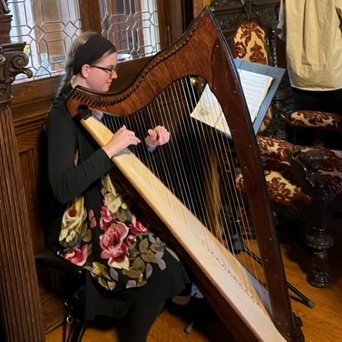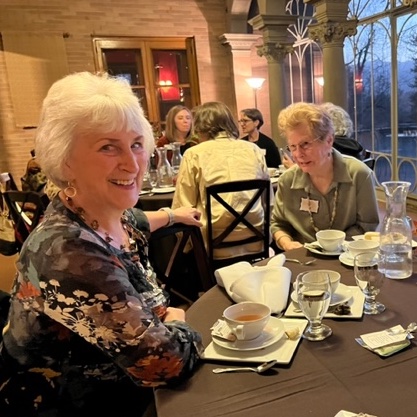 WES Members enjoying the Fall Tea
Past Events
November 11, 2021: A Tour of the Universe! with astronomer Dr. Ka Chun Yu (Denver Museum of Nature and Science) and Dr. Shane Burns (Colorado College Physics Professor)
October 11, 2021: Starlight Tour of the Cheyenne Mountain Zoo
April 27, 2021: Annual Meeting (Virtual)
March 13, 2021: Zoom at the Zoo (Virtual)
January 28, 2021: Racial Equality Forum (Virtual)
December 9, 2020: Cookie Summit (Virtual)
October 22, 2020: Virtual Tea
September 24, 2020: Antarctica Expedition featuring Professor Christine Siddoway (Virtual)
August 6, 2020: New Scholar Meet & Greet (Virtual)
Jan. 28, 2020:
Colorado Women Led the Way: The Battle for Women's Suffrage Lunch & Lecture, Worner Center, Colorado College

Oct. 29, 2019:
"How Three Strong Women Changed the Cultural Landscape of Colorado Springs for Good," Bemis Hall, Colorado College

Sept. 14, 2019:
Historic Van Briggle Pottery Festival & Tour

April 24, 2019:
Annual Luncheon, Taste Restaurant, Colorado Springs Fine Arts Center at Colorado College

April 3, 2019:
"Ghosts of the Past" by Dr. Fawn-Amber Montoya, Worner Center

March 17-21, 2019:
WES/PILLAR Trip: Wings over the Platte

March 2, 2019:
Annual International Women's Day Celebration
, The Pinery.

Feb. 7, 2019
:
Colorado Experience: Fannie Mae Duncan
. Directed by: Kate Perdoni, Hillside Community Center

Jan. 17, 2019:
Book Talk with Cai Emmons, author of "Weather Woman"
show all / hide all
Explore the WES Organization
EOE Statement
Colorado College is accredited by the Higher Learning Commission. Colorado College is an equal opportunity employer committed to increasing the diversity of its community. We do not discriminate on the basis of race, color, national origin, gender, age, religion, gender identity or expression, disability, or sexual orientation in our educational programs and activities or our employment practices.
Mission Statement
WES is a non-profit organization that funds scholarships and grants to eligible Colorado College students, regardless of sex or gender, and offers educational programs to scholars, members, and the community.