2018 Dates: August 5 - 17
Welcome to Colorado College! Bridge Scholars arrive on campus two weeks before the start of New Student Orientation and enroll in a rigorous two-week intensive immersion to experience the student-centered CC classroom, learn about the supportive network of campus resources, work closely with student-mentors, and engage in a vibrant community fellow scholars.
Students are invited into the Bridge Scholars Program based on a holistic review process, taking into consideration:
if the student is among the first in their family to attend college (first generation students),

if the student is

a member of the QuestBridge program, other community programs, or the CC fly-in program,
if the student anticipates substantial external time constraints in their first year at CC,
intellectual curiosity, leadership experiences, and passion for engagement,
the educational resources, enrichment opportunities, and mentoring resources available at the student's high school.
By joining the program, students will have the opportunity to take a rigorous two-week course to get to know the student-centered CC classroom, work closely with faculty, get connected to the robust network of campus resources, build relationships with fellow scholars and experienced student mentors, and begin to explore the many engagement and leadership opportunities at the college through the four years at CC.
BSP: A Year-Long Experience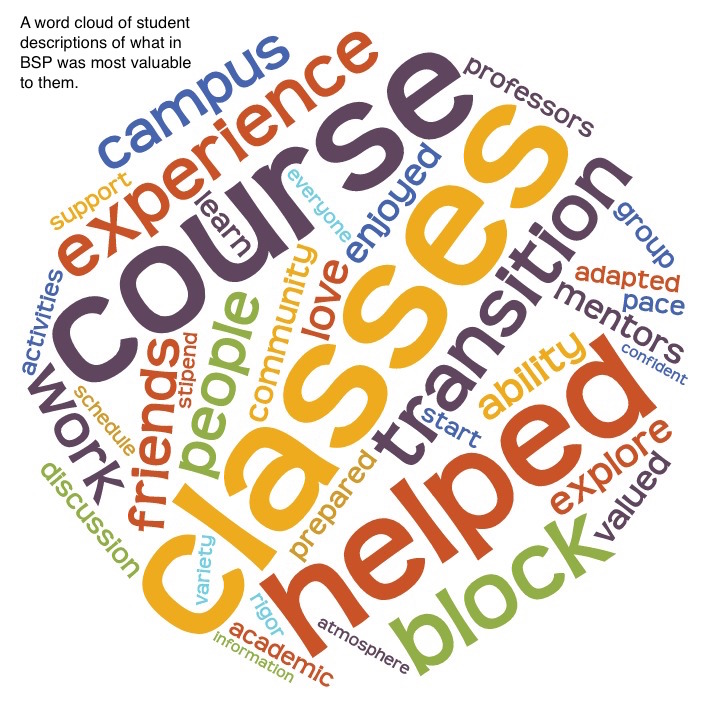 During the first year , scholars will be presented with multiple opportunities to engage with student and faculty mentors, attend personal and academic growth events , and create life-long friendship with their peers. The program curriculum is designed specifically to motivate students with diverse interests and strengths, while assisting their transition from high school to college life.
Bridge scholars will also have the opportunity to take part in a special BSP Outdoor Leadership Program, the Bonner Fellowship Program, and the BSP Financial Literacy Program.
Admitted students who qualify for the Bridge Scholar Program will receive an invitation to participate. If you have not received an invitation but are interested in participating in the Bridge Scholar Program, please contact the Office of the Dean by emailing bridgescholarsprogram@coloradocollege.edu.