Welcome to the Registrar's Office
Requests are responded to within 1 to 3 business days. To ensure the best handling of your request, please include your student ID# on any correspondence sent to registrar@coloradocollege.edu - you need only email once! If you have not received a response by the 3rd business day please feel free to call us direct at 719-389-6610 or stop by Armstrong Hall, #112 during our in-office hours, Monday thru Thursday from 8:00am - 5:00pm. 
Don't forget to check your schedules to make sure you are enrolled in the right course this block! In Block 2... we are finalizing Term Check-In results for Fall Snapshot, gearing up for Spring Preregistration season and the opening of this year's graduation application. Is it too early to countdown to Fall Break?
---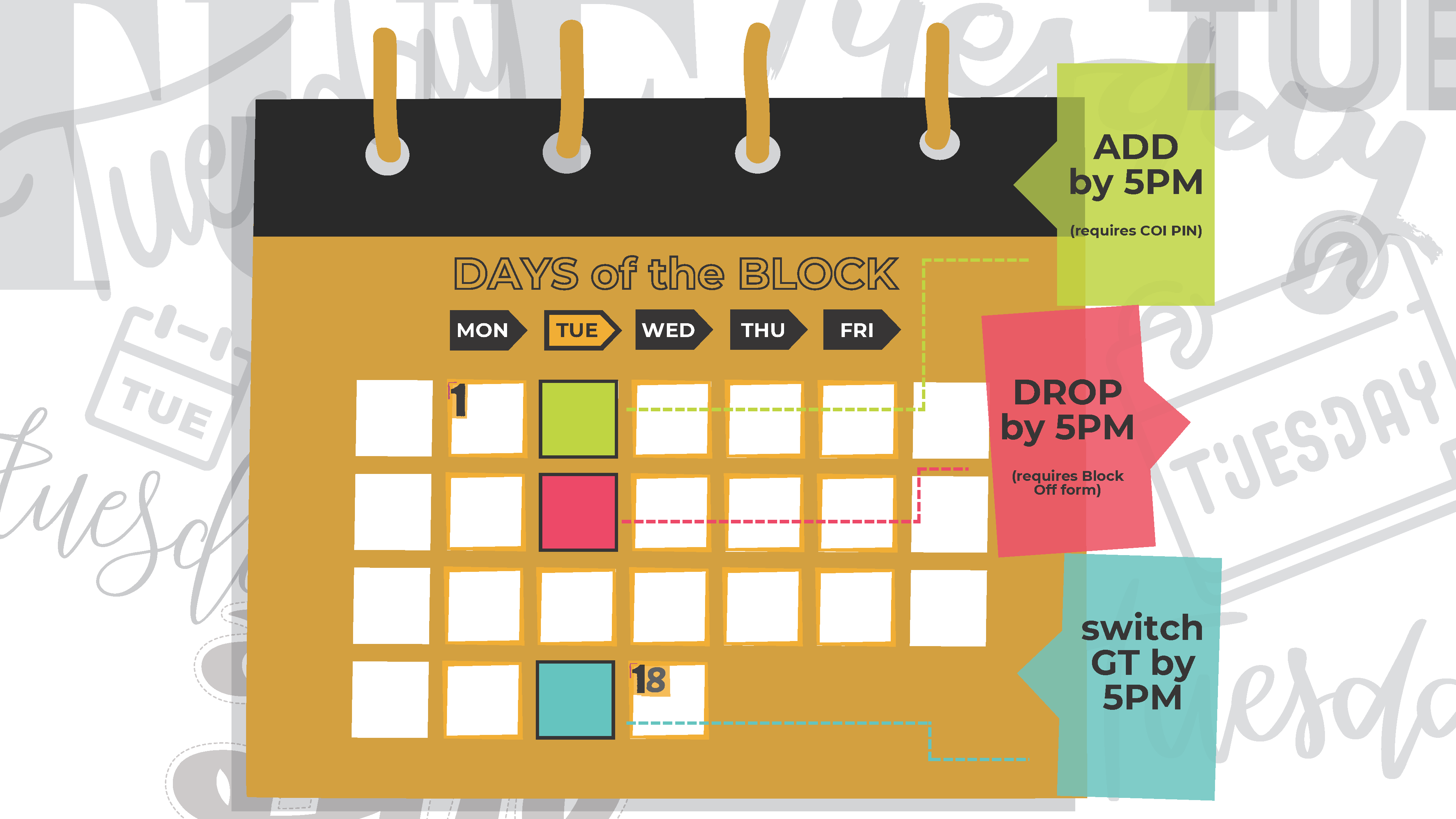 Fall Term Check-In Closes 9/22
Term Check-In is a required reporting process for students taking a CC-led course for the term. Those who are studying in courses abroad that are NOT led by CC are not required to check in. Students were notified of this required process via email and digest during the open period. Failure to complete Term Check-In will result in dropped registrations. In Block 2, the Fall 2022 Snapshot Report will be generated. After Sept 22, students who have missed Term Check-In should contact the Registrar's Office to avoid their schedule being dropped.
Transferring Credit Into CC?
Colorado College accepts transfer credit from previous college work completed by a student. The College can apply a maximum of 8.00 CC units (sophomore standing) in total transfer credit to students admitted as a first-year student and 16.00 CC units (junior standing) in total transfer credit to students admitted as a transfer student.
When Is Add/Drop Disabled?
Course adds are temporarily disabled over the weekend prior to the start of a new block. Adding a course using Add/Drop is prevented between the time when final rosters are sent to professors on Friday until the start of the new block on Monday. This is to allow all students and faculty time to plan for the upcoming block. Once a new block begins, "Adds" require the COI PIN (consent of instructor pin) to be used in the Add/Drop registration application, on Days 1 and 2 of block.
What qualifies as an "Add"?
getting in off of a waitlist
correcting a Preregistration placeholder
swapping classes
adding new classes
Students are required to use the online registration application to update their registration. Add/Drop is linked to Canvas and will update access to a Canvas page based on the registered course. Drop notifications are sent automatically from Add/Drop during the block's registration periods.
What Is A "Temporary" Registration?
Temporary registrations are not official and bear 0.00 credit. Waitlists and Preregistration placeholder courses, GS391 and GS392 are considered temporary registrations. Because these are not official registrations, when final class rosters are distributed to faculty before the new block begins, temporary registrations are dropped. Students who had a temporary registration for the new block are no longer considered enrolled and must update their registration on Days 1 and 2 of the new block by using Add/Drop and an instructor's COI PIN (or through one of the applications linked below). Learn more about registration deadlines.
If you are on a waitlist and no longer want to be, please use Add/Drop to remove yourself. A waitlisted course is considered your preferred course choice. You will be moved into the vacated seat and automatically dropped from your current course registration should a seat open to you ahead of the block.
If you are registered in a GS391, this Preregistration placeholder MUST be replaced with an approved independent study or thesis course. Please make sure to replace any "GS391, PLACEHOLDER ONLY (Senior Thesis/Ind. Study)" on your schedule by completing one of the following:
Some departments handle the creation/assignment of independent blocks for their majors directly (i.e. Economics, Sociology, etc.) If you are a declared student in such a department, please make sure to follow the department's instructions on how to correctly register for your thesis and/or independent research block.