Benefits & Wellness Events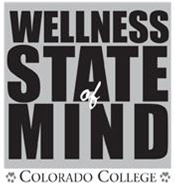 2021-2022 Wellness Events
Check back frequently as items will be added throughout the year!
---
April Events
Wellness Bingo -
For the April 2022 Wellness Bingo, there are two cards with different Wellness Activities.  Employees may submit one of each card for entry into the game.
To Play: Complete the tasks in 5 squares in a row (horizontal, vertical, or diagonal) between April 4 thru April 29, 2022, for entry into a drawing for fabulous prizes (Apple Watch, Two Person Tent, Mind Panda Stress Balls, Large Yeti Cooler Bag).
You may return your card each time you have a different row completed or you may complete the entire card and return it for five entries. There are two cards for a maximum of 10 entries (5 per card) per employee. Employees may only submit each card once.
To mark your card, simply highlight the squares you completed, write your name and email on the top of the card, then return your completed card to Suzanne DeaBueno at sdeabueno@coloradocollege.edu.
All cards must be turned in by close of business on April 29, 2022.  The drawing will be held in early May.
---
Ongoing Wellness Events
Personal Financial Counseling Sessions
Ivana Stanisic, Senior Financial Consultant at TIAA-CREF will be on campus for one-on-one meetings with CC faculty and staff (at no cost to you!) to engage in a confidential discussion of your personal financial situation. She will explore ways to help you achieve your financial goals and increase your knowledge about investing.
Dates will be announced in the Digest.
Click Here to Register Online or call 800- 732-8353
---
TIAA Webinars
TIAA offers webinars on a variety of financial topics, with different options each month. Please check their schedule at http://www.tiaa.com/webinars.
---
Headspace Apps
Colorado College has purchased some licenses to Headspace apps as a small way to help reduce the stress or anxiety with the many and frequent changes that are occurring in our personal and work lives. To claim your copy, go to the Headspace enrollment page.
---