First Year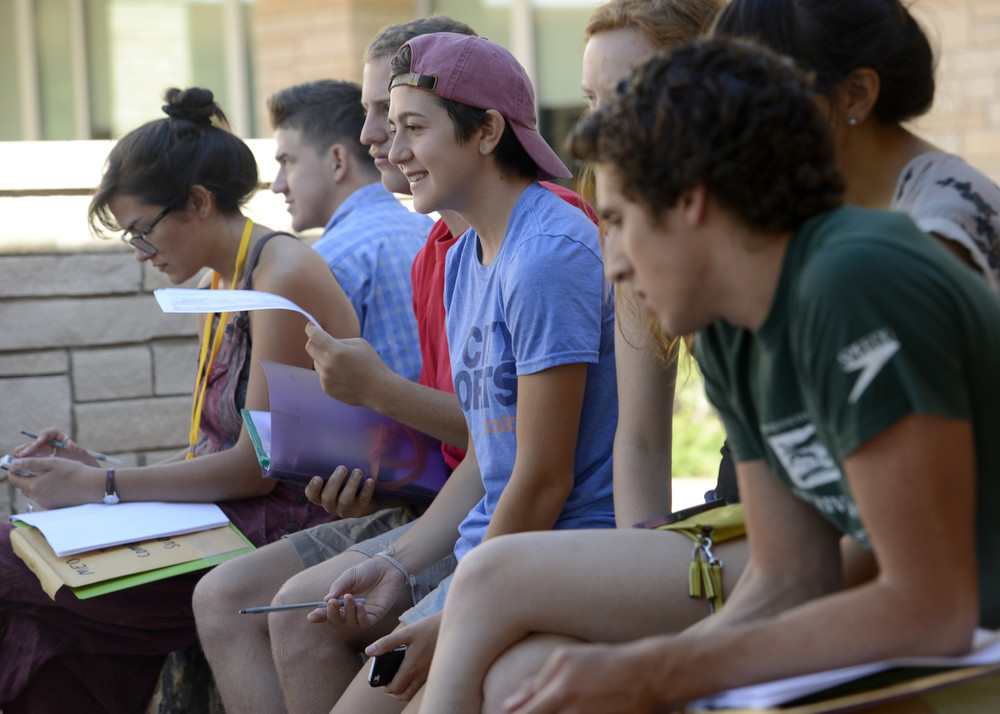 Starting college is a time of transition for both you and your student. While every student is different, feelings of excitement, nervousness, worry, or anticipation are common. For many students, this may be the first time they have been a significant distance from home for weeks or months at a time, while others may be more comfortable with adjusting to new surroundings and routines.
As a parent or family member, you want your student to enjoy their college experience to the fullest, but you also understand that part of their new adventure includes many opportunities to learn how to be independent and self-reliant. As your student takes on adult responsibilities, your role will change, but your student will still need you to support their growing independence and to be a stable home base.
If you can create an atmosphere of open communication, your student will not only appreciate that you respect them as an adult, but they will also be more likely to turn to you for guidance. Get some ideas to start conversations with your first-year student in the month-by-month section below.
Helping your student navigate college by referring them to appropriate on-campus resources is one of the best ways for you to mentor your student. By acting as a referral source, you show your student that you are interested in their life while simultaneously empowering your student to solve their own problems. Your goal is not to solve problems for them, but to confront the issues as directly and constructively as possible and encourage them to seek help before problems become debilitating.
Check out our parent and family publications for additional information.
If you have a particular concern about your student, we encourage you to contact us.
Suggested Resources
On Campus
Physical and mental health and well-being are critically important to student success. A number of on-campus departments at Colorado College work together to create a campus environment that supports healthy lifestyles for all students.
Online
Explore these online resources for suggestions about how you can coach and support your student.
On Your Bookshelf
Recommended reading for parents and families of first year students and beyond.
Month-by-Month
Use the following descriptions and related conversation starters as a guide to help you anticipate things your student may experience. Parents and families who are aware of the ups and downs of the first college year are better able to help their students negotiate the challenges of the transition to college.
---
August

The last few weeks of summer give students mixed feelings. Anticipation and excitement about living on their own, having the opportunity to test new-found freedoms, and making their own choices. Worry or anxiety about their roommate(s), professors, classes, first papers and exams. They may wonder how their relationships with you and with their high school friends will change.
Be prepared for your student's conflicting emotions and know that discomfort with transition is natural. Make a plan with your student about how often you will communicate with each other. Talk about academic expectations. Have an open conversation about money, spending, and how to budget. Discuss the use of alcohol and other substances. Talk frankly about dating and relationship choices. While you cannot control your student's behavior, you can share your values and encourage responsibility.
Conversation Starters
When you think about starting college, what are you most looking forward to? What makes you the most nervous?
What plans do you have to stay in touch? How often would you like us to call/text/email you? Or will you contact us?
When, and how often, do you think you might like to come home?
---
September
The first few weeks of school are a whirlwind for most students, as they get to know their roommates, make new friends, and find their way around campus. Academics may be more challenging than they anticipated. They may feel homesick or lonely. They may contact you more frequently than you planned or anticipated. As the first Block Break approaches, they will have the freedom to decide what to do with their break time. They will be looking forward to choosing their classes for the rest of their first year. Listen and be supportive, but allow your student to make their own choices. Encourage your student to attend campus activities and meet people with similar interests. Help them explore healthy ways they can relax and re-energize when they start to feel stressed or need to be alone.
Conversation Starters
What was the most memorable part of your Priddy Experience trip?
What are you enjoying about your First Year Program class?
What classes are you thinking about taking after your First Year Program class?
What is your roommate like?
Have you found a good place to study?
Have you been able to explore off-campus?
---
October
With Block 1 under their belts, and Block 2 well underway, students begin to settle in to more of a daily routine. Some of them may struggle with managing their time, particularly as they try to balance their academic, activity, and social schedules. Some students will be very pleased with the results of their first papers and exams, while others may be disappointed. Roommate problems, if any, begin to surface, and some students may begin to question whether or not they "fit in." Continue to listen and offer reassurance. Express your confidence in your student's ability to manage themselves. Encourage them to use campus resources for support if they are experiencing any academic or social difficulty.
Conversation Starters
What was exciting about your Block 1 class? What was challenging?
How was your Block Break?
Have you met with any professors? Have you connected with any CC staff?
What campus or residence hall events have you attended?
Have you gotten to know any of the other students on your hall?
Are you thinking of joining any campus organizations or clubs? Which ones?
---
November
As they finish Block 3 and look forward to Fall Break, students may experience excitement and/or anxiety about break plans. After receiving their FYP grade(s) and registering for their remaining classes for the year, students may feel some increasing academic pressure. The purpose of coming to college becomes "more real." Roommate challenges, if any, become more clear. And campus-wide illnesses begin to spread. If your student is making a trip home for the break, talk about your expectations. How will your student's return change things in your home? Ask your student about study time, workload, and involvement in organizations/activities. Encourage your student to engage in healthy habits and to practice good self-care. Talk with your student about how to handle health issues.
Conversation Starters
What classes did you choose for the rest of the year?
What might you do differently on your next exam or paper?
What are you doing to stay well?
How do plan to spend your time over Fall Break? What are you most looking forward to?
---
December
The end of the Fall Semester approaches, and students begin to anticipate Winter Break ... "only three-and-a-half more weeks." Again, they may feel both excitement and anxiety at the prospect. They may be disappointed about missing any traditional holiday preparations at home. Especially if they do not plan to take Half Block, they may experience some sadness about leaving new friendships and/or love relationships for an extended period. They may have gotten involved in too many co-curricular clubs or groups and are facing a time management challenge as they also try to finish the semester with a strong academic performance in Block 4. If you haven't already, send your student a care package and let them know you are thinking of them. If your student is making a trip home, having a conversation about expectations and schedules before and after they return can help ease the transition for all members of the family.
Conversation Starters
What could I send you from home to help you get to the end of the semester?
What has energized or excited you about your first semester? What made you feel drained?
What might you do differently next semester?
How do you plan to spend your time over Winter Break? Would you like to plan a get-together with some of your high school friends?
---
January
Whether they return to campus for Half Block or Block 5, students generally return with renewed energy and a "fresh start" mentality. Some of them experience relief at returning to school. Others may experience a recurrence of homesickness and loneliness, especially if they spent significant time at home over Winter Break. Students may experience satisfaction and/or disappointment with Fall Semester grades and excitement and/or anxiety about the upcoming semester. Encourage your student to explore strategies and resources that will help them succeed where they may have fallen short in Fall Semester. Talk with your student about visiting the Career Center and taking an interest inventory or other assessment that will give them insight into their learning style and goals for the future.
Conversation Starters
What do you like about your Block 5 class?
Are you doing anything differently with your studying?
Tell me more about your friends on campus and how they spent their breaks.
Have you found any new interests since you started college?
---
February
Even with over 300 days of sun per year in Colorado, many students may experience the "mid-winter blues" or "cabin fever." Some students increase unhealthy behaviors around alcohol and/or drugs. Valentine's Day may precipitate increased feelings of loneliness, isolation, or relationship anxiety. As the housing selection process begins, students think about choosing a roommate(s) for next year. And they begin making plans for Spring Break. Encourage your student to visit or participate in a program offered by the Wellness Resource Center.
Conversation Starters
How are you maintaining a healthy lifestyle?
What have you liked and/or disliked about your current housing situation?
Have you thought about where you might like to live next year?
What are your Spring Break plans?
---
March
Thoughts of Spring Break are prominent in students' minds, as they wrap up Block 6 and look forward to registering for their next year's classes at the beginning of Block 7. As they wrestle with their choices, they may have some concern about declaring a major or deciding which path to pursue. After Spring Break, they may start to consider their options for the summer. Many students begin to feel more confident about their ability to manage their time. As the housing selection process continues, they may have some anxiety about next year's roommate(s) and/or living situation. They may have some concern over winter weight gain. Encourage Spring Break safety. Talk with your student about their plans for living arrangements.
Conversation Starters
What courses are you planning to take next year?
Have you spoken with your academic advisor or asked another professor for advice?
Will your course selections help you narrow down your choice of major?
---
April
With the arrival of spring and consistently nicer weather, students yearn to be outdoors engaging with each other in sports and social activities. Some students experience difficulty maintaining focus on their academics as they look towards the end of the semester, and there may be some concern over their grades from Blocks 5 and 6. They may feel some disenchantment with school resources, particularly the food service or their living arrangements. Continue to listen to your student's concerns and help them reflect on and process their experiences. As the year winds down, encourage them with a handwritten letter or small surprise in the mail.
Conversation Starters
How are your summer plans shaping up?
How do you feel about the amount we've been communicating this year?
Have you worked on any projects this year that you might want to add to your resumé?
---
May
As Block 8 comes to a conclusion, students are in a celebratory mood. Campus concert events like "Blues and Shoes" and "Llamapalooza" add to the festive atmosphere. Some students may also feel additional academic pressure as the semester comes to a close. Some may have mixed feelings about leaving campus for the summer, while others will decide to stay to take classes and/or pursue summer research or employment opportunities. As the spring semester ends, you are likely to be amazed at the changes in your student and all they have accomplished this year!
Conversation Starters
I see so many positive changes in you! How do you think you have changed this year?
Do you wish you had done anything differently during your first year of college?
I am so proud of all you have learned and accomplished this year, and I am confident that you are going to find your path. Be patient with yourself!