Ellis Ulysses Butler Jr. '40
"My son goes through a lot of discrimination to this day, but he is teaching his daughters what Uncle Ellis taught me - to stand up for yourself and don't let anyone disrespect you, no matter what your color or situation."

- Cherokee Benavidez, great-niece of Ellis Ulysses Butler Jr.
Shortly after Easter Sunday 1964, when she was in third grade, Cherokee Benavidez woke up in a small hospital room in Oakland, California. Having just been diagnosed with spinal meningitis, she was to be kept isolated in this cold and clinical space, appointed with just a bed and a sink.
When her eyes shifted to the single window to the hallway, Benavidez was surprised to see the faces of her Great Uncle Ellis and Great Aunt Ora. They had driven down from Sacramento, 90 minutes away, to be near their gravely sick niece. And, she remembers, "They came into Oakland every day while I was in the hospital" - a full two-and-a-half months.
It's indicative of who her Uncle Ellis and Aunt Ora were, Benavidez says. And even though Ellis is the only one of the two who attended Colorado College, both of them are essential to the story of how Ellis' name came to grace the college's Center for Intercultural Leadership and the broader enterprise known on campus as the Butler Center.
Ellis Ulysses Butler Jr. was born on June 10, 1919, in Lamar, Colorado, and grew up in Colorado Springs. His mother, Eula Butler, died young, leaving Ellis Butler Sr. to raise him and his two brothers, Charles and Albert. Ellis attended Colorado Springs High School (now Palmer High School), where he participated in the National Honor Society, Radio Club, and Tennis Club, among other activities. Upon graduation in 1936, he matriculated at Colorado College.
On paper, his attendance at CC was a triumph. He graduated magna cum laude with a degree in physics. He excelled in running and earned the school's Van Diest Award, given each year to one outstanding athlete who also demonstrates sound character, scholarship, and citizenship. The Tiger student newspaper considered Butler among "the cream of the CC track team," someone who dominated longer sprint events.
The newspaper, though, also took notice of his skin color. During a meet in 1939 when Butler was injured, a writer opined that "The Tiger team really felt the loss of Ellis Butler, dusky 440 R.M.C. champ." It hinted at an "otherness" that would deeply mar his experience at CC.
When she was growing up, Benavidez says, she would see her great uncle (whom she simply calls "Uncle Ellis") every Sunday for dinner at her grandmother's house. One day when she was in seventh grade, she told the adults that a group of boys had been calling her "Beanavidez" - teasing her for being so poor that she'd bring only beans for lunch. "I was telling them about it and how hurtful it was … and Uncle Ellis said that when he was going to school, that the other students bullied him, saying things like, 'What right do you have to go to this school? Who do you think you are?' "
In the late '30s and early '40s, CC did not routinely track information on the race or ethnicity of its students, so it's difficult to discern just how racially isolated Butler may have been on campus. And while scanning yearbook photographs is a deeply flawed method of research, among the 92 members of Butler's class who are pictured in the 1940 Nugget, not one is obviously dark-skinned. (Butler is one of 25 students whose names are listed without photos included.)
He didn't often go into detail about how he was targeted at CC, but Benavidez says her uncle was "very adamant" about the need for his loved ones to rise above prejudice. "With the experience that Uncle Ellis had at Colorado College," she says, "he would school us and tell us that we have a right to go wherever we wanted to go, to eat wherever we wanted to eat, to buy whatever we wanted to buy, to get a job when the opportunity is there and we have the qualifications."
After CC, Butler entered the U.S. Army as a Morse code expert, serving in the European theatre of World War II. Afterward, he enrolled at the University of California, Berkeley, where in 1948 he earned another bachelor's degree, this one in engineering. He passed the civil service exam and was hired at the Sacramento Army Depot, where he would spend his professional career and rise through the ranks to become chief of engineering in the maintenance division.
It was while he was at Berkeley that he met Ora Brandon, who like Butler had come to California after World War II. They wed three years later, and their marriage, says Benavidez, was "a love story I wish I could be told."
"They just had this aura of … I don't know how to describe it. Serenity?" she remembers. "The love was just there. I never saw them argue, never heard a harsh word out of either of their mouths to each other."
They had been married for almost 20 years when Ora died suddenly at age 53. In his mourning, Butler reflected not only on the memories of their life together, but also on his wife's stories of the discrimination and hate she had faced as a child in Jim Crow Louisiana. It changed the way he thought about his own past, including his time at CC.
On June 10, 1971, the 31st anniversary of his college graduation day and less than four months after Ora's passing, Butler wrote a letter addressed to the chairman of the CC Annual Fund. He explained that his wife had long wanted him to respond to the college's fundraising appeals, but that he had held back "because of certain unpleasant experiences I went through as a negro student there a generation ago … ."
Now, he continued, he saw those experiences as "trivial compared with what my wife went through without bitterness or rancor." In that spirit, and with recognition that the college's administration and student body had evolved since his graduation, he said, he was moved to give CC his first gift.
The enclosed $100 check was just one manifestation of Butler's generosity. Benavidez remembers that her uncle owned and maintained a boarding house for disadvantaged men in West Oakland. Over the years, he helped provide so many scholarships to medical students that he received an honorary degree from UC Davis. When he died on Aug. 18, 2009, his estate included bequests to animal welfare groups, including the Sacramento Society for the Prevention of Cruelty to Animals, and of course to Colorado College, to which he had given generously in the years since 1971.
His final gift to CC amounted to $149,405. With it, the college in 2010 established the Ellis U. Butler Center for Intercultural Leadership, the first campus space named to honor a person of color. That space, on the lower level of Lennox House, is now the Ellis Ulysses Butler Jr. Leadership Lounge and Classroom. In 2014 the college established an expanded Butler Center at the heart of the campus, inside the Worner Campus Center. It has dedicated staff and programming and serves as "a hub of diversity, inclusion, intercultural exchange, equity, and empowerment for the entire Colorado College community."
To Benavidez, any space bearing her uncle's name will celebrate other qualities, too. One is love - the kind of pure, abiding love that she experienced as a little girl in that hospital room, and that sent Ellis to his wife's gravesite, flowers in hand, every Sunday for more than three decades. Two others are strength and grace, both of which guided Ellis through 90 years in a society debased by those who act with prejudice.
"He told me that you have to overlook them," Benavidez remembers, "because he said that they were not educated the right way. He never used the word 'ignorant' - he just said they were not educated. And he told me that I should be proud of who I am, and that I should just carry myself with pride and remember who I was.
"He said that's what he did: He carried himself with pride and remembered who he was."
Additional recollections from Cherokee Benavidez, great niece of Ellis Ulysses Butler Jr. '40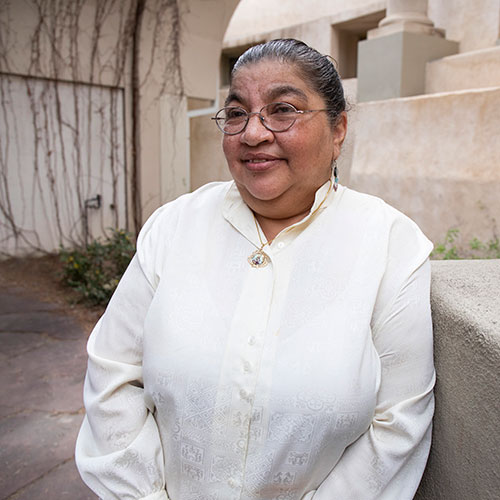 When I was a girl, family discussions about race always intrigued me, and I say that because our family is very diverse. My Uncle Sonny married a woman from Korea. My father is Mexican. I'm Cherokee Indian and Hispanic. My Uncle Eugene's mom was from Saskatchewan, and my grandfather was black. I had Filipino aunts and uncles.

When you're around your family and enjoying your family inside your house, it's one way. Nobody looks at your color, nobody looks at your nationality, nobody looks at any of that, because it's all family. But when you walk out the door, you face so many things.

My family used to take drives to Colorado Springs - my mom had a great aunt who lived in Colorado Springs, so we'd go visit her. And I remember the looks, the stares, that people would give us. I had no idea that Colorado Springs was like that. In California, it was different.

When I was in the eighth grade, my great aunt died, and my father drove his turquoise-colored Chevy Bel Air to Colorado Springs so we could bring some things back to California. I remember that during the trip, my dad and I went to a store and we were standing in line, and a white woman came and stood in front of us and told us we could wait.

I never thought people were that way. In Colorado Springs, it was like, whites should be with whites, blacks should be with blacks, and Hispanics - well, you know, Hispanics, we need to go back to Mexico.

But my Uncle Ellis? He was proud of the different nationalities in our family. He would still be proud. Take, for instance, my son, who lives in South Carolina with three daughters - one whose mother is dark-skinned black, and two whose mother is white. My son goes through a lot of discrimination to this day, but he is teaching his daughters what Uncle Ellis taught me - to stand up for yourself and don't let anyone disrespect you, no matter what your color or situation.

Through the years, members of my family have accomplished a lot. We have earned advanced degrees; run businesses; worked for employers such as IBM and the City of Oakland; and served in every American war of the 20th century. I myself am an Air Force veteran and retired Level One trauma nurse. If it had not been for my Uncle Ellis' teachings, and our determination to pass them along to future generations, I do not believe that we would have done all of these things.

To know that today his name is on a building in Colorado Springs … it's an honor to our family. And I hope that students, faculty, and visitors who see the Ellis U. Butler Jr. Center and read about my uncle's life will be inspired to not let anyone judge them, or discourage them on their life's path. As one of my favorite music groups said in a speech to the United Nations: "No matter who you are, where you're from, your skin color, your gender identity - just speak yourself. Find your name, find your voice, by speaking yourself."
Additional Photos