Taizo Nakashima 1893
Researched and written by Joan E. Ericson, Professor of Japanese, Colorado College
"Nakashima came to CC with the intention of establishing himself as an intellectual and academic. He made a strong impression: In 1895, two years after he graduated, Taizo Nakashima was described in The Colorado Collegian as 'one of the best students of philosophy and psychology that ever entered the college.'"

— Professor Joan E. Ericson
CC's connection with Asia was built, initially, by its international students. Their presence has surprisingly deep roots. Two of China's most famous modern writers — translator of the complete works of Shakespeare Liang Shih-chi [Shiqiu in pinyin] and the poet Wen Yiduo — were among nine Chinese male students at CC in 1923-24.
But Japanese students were here from the earliest decades. Taizo Nakashima (one of only five graduates from CC in 1893) would go on to acquire degrees in psychology at Harvard University (MA) and Cornell University (Ph.D.) and to become an eminent figure in that field in Japan.
The annual Butler Center awards event includes the presentation of an award in his honor, the Taizo Nakashima Emerging Student Leader Award, presented to first-year and sophomore students. While several Japanese students preceded Nakashima — the first, Goto Toyohachi, entered in 1884 — and one other entered with him in 1891, Nakashima's remarkable story stands out.
How did Japanese students come to CC in those early years, and what would their experiences have been like — when the very small college stood on a treeless prairie on the edge of town?
---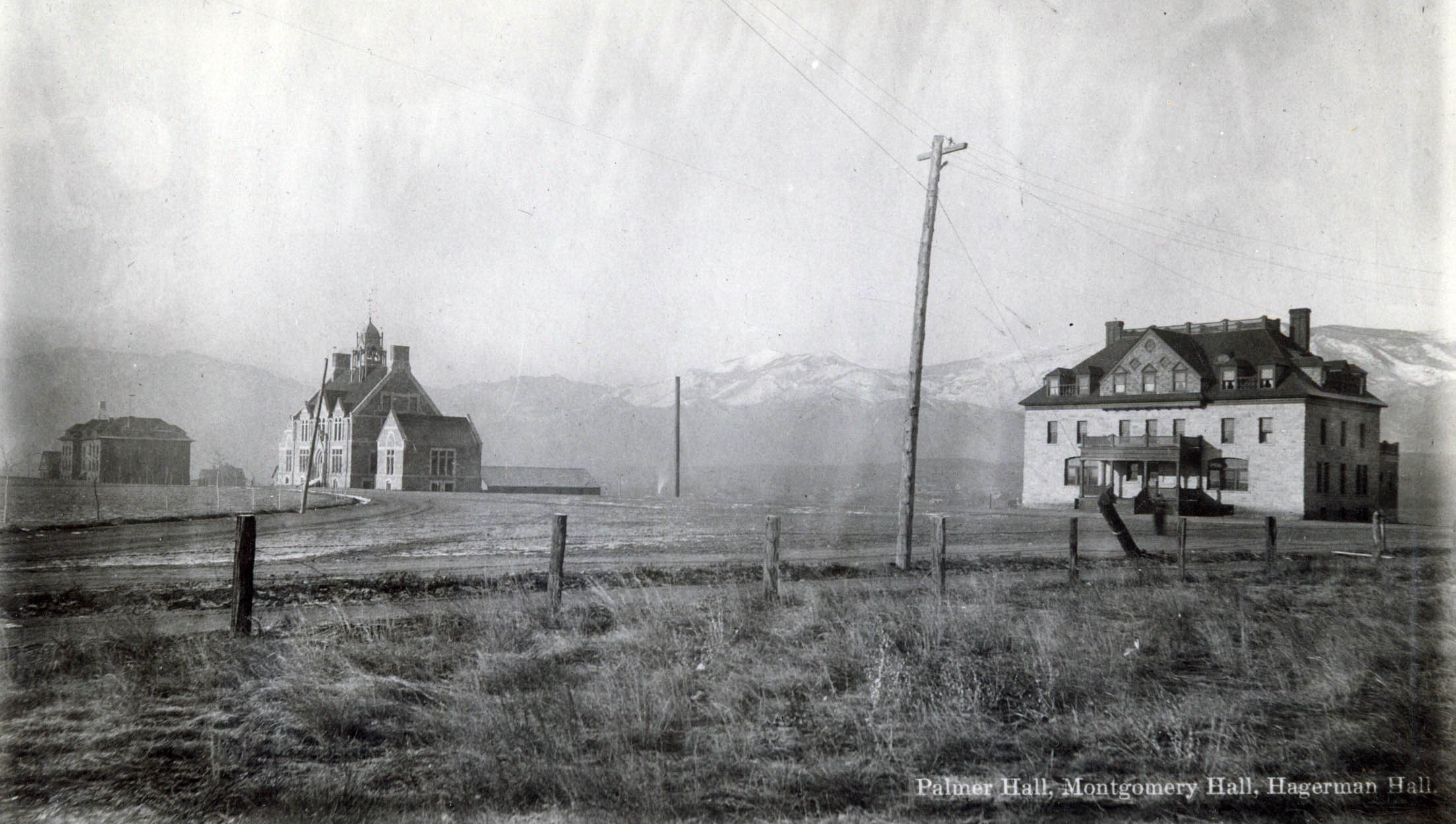 ---
Taizo Nakashima 「泰蔵中島」was born in 1866 in a small fishing village along the Sea of Japan in Wakasa — what would become Fukui Prefecture — the son of a prosperous fisherman who was leader of the local fishing organization and served as village headman (shoya). His childhood and adolescence spanned tumultuous years — the restoration of the emperor, the abolition of feudal system and samurai privileges, the construction of a modern military and state apparatus, and a wholesale transformation of its educational system. We don't know why Nakashima left Fukui, but the former Matsudaira daimyo (hereditary lord of the domain) was well-known for encouraging young men to seek out modern knowledge and education. The sixth out of seven children in his family, Nakashima was probably freer to leave his family since he was the second son and thus not expected to continue in his father's profession. Nakashima came to study at the Taisei [Peaceful Occident/Western] Gakkan school in Osaka founded in 1886 by Miyagawa Tsuneteru, a Japanese Congregational pastor. Small in size and short-lived, the school had a liberal arts focus that would teach Macauley's essays on Warren Hastings (1841) and Robert Clive (1840), and Swinton's "Outlines of the World's History, Ancient, Medieval and Modern" (1874). It was at Taisei Gakkan that Nakashima was baptized and presumably changed his given name from Matsutaro to Taizo [Peaceful storehouse]. He graduated from Taisei Gakkan in 1890, the same year that the Meiji Constitution signaled a conservative shift in education and politics.
His decision to come to CC is surely rooted in the Congregational connection, especially since Nakashima became a member of the First Congregational Church in Colorado Springs, along with J. Hirase, another student from Japan who entered CC in the same year. The sister school of Taisei Gakkan, Baika Girls School, had been founded in 1878 by Boro (Paul) Sawayama, an especially prominent Christian evangelist, and would prove to be much more successful. His younger brother, Yunosuke "Yew" Sawayama had attended CC in 1886 and had become a member of First Congregational Church – Yew, as he was known at CC, made such a favorable impression that he was asked to look after the Bemis family home that summer while they traveled. It may be assumed that students who traveled from Japan to CC at this time took their studies very seriously and carried their own cultural norms with them; according to an entry in The Colorado Collegian, Yew criticized the production of Gilbert & Sullivan's "The Mikado" at the Colorado Springs Opera House (with many students participating) as "not realistic… [because] there was too much kissing." (At that time kissing on stage was banned and public display of affection was considered immoral in Japan.) After transferring to Amherst College, Yew Sawayama returned to Japan to teach at Gakushuin (the Peers School, attended by Japanese nobility and the Imperial family), married into the prominent Nakajima family, where he became a yoshi (adopted son and heir), but then died within the year. It is also possible that there was another Congregational link. Mr. D. C. Jenks had served as bookkeeper/business manager for the Congregational mission board in Osaka/Kobe from 1877. In 1888, Jenks came to Colorado Springs as the clerk of First Congregational Church, which had close ties to CC. However, in the year that Nakashima came to the United States, there were 325 men and 9 Japanese women studying abroad; he was not unique, and like many in this era, he did not receive any Japanese government support or scholarship. The tuition and fees at CC in 1891 were $43 per year, with an additional $6 per week for room and board, the equivalent of $7,411.04 today, a large sum for a student from Japan.  
Prior to arriving at CC at age 24, Nakashima had joined a psychology discussion group in Tokyo led by Professor Yujiro Motora, the first Japanese to be credentialed abroad in psychology (Johns Hopkins University), who taught at Tokyo Imperial University. Nakashima came to CC with the intention of establishing himself as an intellectual and academic. He made a strong impression: in 1895, two years after he graduated, Taizo Nakashima was described in The Colorado Collegian as "one of the best students of philosophy and psychology that ever entered the college." In some ways Nakashima was well prepared. The 1891 CC entrance exam required students to write on Macaulay's essay on Clive. In the same entering class with Nakashima, another Japanese student, J. Hirase, was better known on campus for his athleticism at the college's newly opened low-slung clapboard gymnasium. Both Nakashima and Hirase presumably lived on campus, since they appear in the photo of male students in front of Hagerman Hall, the men's dorm (torn down to make way for the current Worner Center).
At CC, Nakashima studied on the Bachelor of Philosophy track: this required no Greek, less Latin, more science and a choice of a modern European language (French or German). In April 1892, under "Personal," in The Colorado Collegian, it was noted that Nakashima was "making a specialty of philosophy anticipatory to a professorship of philosophy in Japan."
Nakashima was an active member in the Apollonian Society, a male-only literary forum, one of three on campus that played a particularly prominent role in the extra-curricular life at the college. The Minerva Society was female-only, and the Phoenix Society was co-ed. The other Japanese student, Hirase, was a member of the latter, and was commended in The Colorado Collegian for his "very interesting" Japanese chant. Nakashima published a number of articles in this student publication, including an essay on the transformation of modern Japan, with its enduring tensions between elements of Western civilization and "our own." He also wrote of establishing a "Japanese Christian Church" as it had existed "in the mind of Christ… [with] the recognition of mutual brotherhood…". The literary societies were also forums to polish oratorical skills and debate in which Nakashima excelled. In 1892, a joint meeting of the Apollonians and Minervans was held to debate: "resolved, that the time spent upon the study of Latin and Greek could be more advantageously spent upon English."
In addition to literary societies, sports played a prominent role in campus life. Nakashima was reported to be a pugilist (boxer). Perhaps that came in handy when he was elected the Apollonian sergeant-at-arms. The Colorado Collegian covered triumphs on the playing fields, but would also report that "foot ball, base ball, and rowing are finding their way into Japanese educational institutions."
Nakashima graduated from CC in two years. What was reported to have surprised his fellow students was the public reveal of his age — or that of "the squire" (Nakashima's nickname) as part of the biography given of each graduate at the graduation ceremony. At that time there were a variety of students on campus attending both Cutler Academy and Colorado College, many for short periods before transferring to another school or simply capping their education without a diploma, but there were very few older students outside the traditional post-secondary age range. At graduation, Nakashima presented an "oration" on "the modern movement against metaphysics": he argued "the course of human evolution shows certainty to be obtainable by no other means than the one followed by science…". Each graduate received a "class cane."
A fellow Apollonian member was E. K. Gaylord 1897, the father of Edith Kinney Gaylord Harper (1916-2001), who attended CC for two years and whose legacy continues to support the college through the Inasmuch Foundation. It was Edith Gaylord Harper, who was a charter trustee of CC, whose donation to support Pacific and Asian Studies in 1991 enabled the study of Japanese language at CC. In a whimsical survey of 34 students taken at the end of his time at CC, Nakashima responded that he would be spending his vacation in Chicago visiting the World's Fair, that he did not "believe in co-education" (eight others also responded in the negative) and that he expected to be engaged "in five years." E.K. Gaylord said he was going to spend his vacation "at work" in the mountain town of Rico, Colorado, that co-education "depends on the Co." and that he expected to be engaged "when I lose my common sense."
At Harvard, Nakashima studied experimental psychology with William James. In his effects, his family still has a signed photo dedicated to him from James.
He returned to Japan in 1896, married, and took a position as a lecturer at Tokyo Senmon Gakko, what would become Waseda University. This was followed by a series of short-lived appointments at prestigious schools: Gakushuin, and then what would become Keio University, and published translations with Professor Motora, from German, of Wilheim Wundt's "Outline of Psychology" (1896). He also wrote articles about Japanese culture in English for resident foreigners, such as "Philosophy of the Flower Arranging" for "The Far East: An Exponent of Japanese Thoughts and Affairs." But he soon found himself teaching English and ethics at an agricultural high school in Sapporo. At this point he returned to the U.S., receiving his Ph.D. from Cornell in 1909 under Professor Edward Titchener. Nakashima's 1909 publication based on his dissertation, "Time-relations of the affective processes" is still available online in the Psychological Review, 16(5), 303–339.
During this period, Nakashima was communicating with those back at CC. In October 1895, under "Alumni Notes," the student publication notes that Nakashima had recently published a book in Japan on "Experimental Psychology." Furthermore, Nakashima wrote back to his alma mater "that he is trying in every way to uplift his countrymen, and help them to a knowledge of the highest and best thought of civilized countries." The last mention of Nakashima in The Colorado Collegian is the entry from May 1896 under "College Notes" which informs the readers that he is writing a treatise on metaphysics in Japan.
One rather remarkable aspect of Nakashima's return to the U.S. was that he was supported by the salary of his working wife, Sato (née Tatsu). She had credentialed as a teacher at a Japanese Normal School in Shizuoka and then a further degree in Tokyo, would herself teach at Gakushuin, and then be hired as a live-in tutor for the three girls of a very wealthy family, the former daimyo Mori, a duke in modern Japan's aristocracy. What she was able to save from her salary, after caring for herself and their son, born in 1903, was sent to support her husband at Cornell. After Nakashima returned from Cornell, they continued to live at the Mori mansion until 1917.
It is worth noting that all of Nakashima's higher education was outside of Japan, and foreign (American) degrees did not carry the same weight or secure tenure back in Japan. Another Japanese CC alumnus, Masuzo Fukuya 1914, would get his Ph.D. in psychology at the University of Chicago in 1919, and teach at Keio University for the rest of his career, but he mainly taught English, in addition to a few courses on sociology. Professor Motora, at Tokyo Imperial University, had a Johns Hopkins credential, but he also began with a Japanese undergraduate degree. In 1914, Nakashima finally earned a Ph.D. from Tokyo Imperial University and continued to teach at Waseda University. A 1918 CC directory showed he kept in touch, listing his address at what is now the very fashionable neighborhood of Roppongi. He would die from tuberculosis in April 1919, at age 53.
Many of the details of Taizo Nakashima's family background come from the prominence of his son, Kenzo Nakajima (1903-1979), an especially renowned literary critic and Professor of French literature. (Although the Chinese characters are the same, his son began to use the more common pronunciation "Nakajima".) When I contacted Nakashima's descendants (through a circuitous process) and went to visit them in Tokyo during the late summer of 2019, his great-granddaughter told me "You're the first person who's come to ask us about Taizo." When they learned about his experiences at CC, they shared that the next year in mid-August, when it was customary to visit the family grave and place flowers in their memory, "Now we'll have to get a bouquet of flowers to put on his grave, too."    
Context of Taizo Nakashima's years at CC,
1891-93
Asia might be a geographical expression, but who is an Asian, and how would that matter, for them and others? This remains a sometimes contentious, and surprisingly elusive issue, particularly when examining the history of Asian students at CC. In particular, how did Taizo Nakashima's Japanese identity impact his experience at Colorado College (1891-93)?
From the mid-19th century, there had been decades of racial hostility and antiimmigration agitation against Chinese by whites, notably in California. This culminated in the first federal ban on immigration in the Chinese Exclusion Act in 1882. Legal restrictions were compounded by threats and violence. Even Denver witnessed an anti-Chinese race riot in 1890, when the U.S. Census indicated there were 238 Chinese in the city. While Nakashima was at CC, the 1892 Geary Act extended Chinese Exclusion and required Chinese immigrants to carry identification certificates or risk deportation. It was in this context of restricted and reduced Chinese presence, principally laborers, that Japanese immigration to the U.S. really began. In 1890, the U.S. Census added the category of Japanese (Chinese had been counted separately since 1870). Nakashima's status, as a college student, singled him out as a privileged sojourner, not expected to remain. But Asian would not have been an identity he used for himself, or even how he was likely to be categorized, however much white nativist prejudices pervaded the public discourse. Toyohachi Goto, an earlier student from Japan, had faced discrimination on the streets of Baltimore in 1887, where he had gone after his time at CC to study at Johns Hopkins University. He wrote a letter back to CC describing how in Baltimore some men had refused to give him directions since they saw him as a "China-man."
As for anti-Asian or anti-Chinese sentiments in Colorado Springs in 1891-93, when Nakashima was at CC, in The Colorado Collegian there were ads for a steam laundry on Cucharras Street which specify "No Chinese Employed." However, this anti-Chinese prejudice did not seem to be attached to Japanese students at CC and at other colleges and universities across the U.S. at the time. For example, in an entry in the "College World" section of The Colorado Collegian, Vol. II No. 6. March 1892, we learn that the class orator at Harvard University was a Japanese student. Three years later, the University of Chicago started to offer Japanese language (Chinese would be added in 1936). In 1896, the first Ph.D. from the University of Chicago was conferred upon a Japanese student. There are records of Japanese young men at other small liberal arts colleges across the country, perhaps due to the same Protestant connections, in particular the influence of the American Board Mission group which helped found especially Congregational and Presbyterian-affiliated schools in Japan. Katayama Sen, who would go on to become a founder of the first Socialist Party in Japan and a labor organizer influenced by the Social Gospel movement, attended Grinnell College in the late 1890s. At Oberlin College in the 1880s, two of the five Japanese students went on to make a name for themselves in Japan: one was the first Japanese to earn a Ph.D. in political science (and grandfather of Yoko Ono) and the second earned a medical degree and returned to practice medicine back in Japan.
It was only after Nakashima's time at CC that the broader anti-Asian "yellow peril" hysteria swept the popular press and political stump speeches. Initially, the term gained currency following Japan's 1895 victory over Qing China, notably by the German Kaiser advocating a colonization of China by Europeans, only. Yellow peril came to be more broadly employed following Japan's 1905 defeat of Imperial Russia, reflecting the supposed threat Asia posed to white Western world dominance.
The growth of Japanese immigrants would, in time, provoke similar hostilities: anti-Japanese editorials in the major Denver newspapers starting in 1901 — though in the 1900 U.S. census there were only 48 Japanese in Colorado. Restrictions to Japanese immigration, through the 1907 "Gentleman's Agreement," were ostensibly negotiated between the two countries and relied on Japanese enforcement. By 1908, Colorado's Colorado State Federation of Labor formed a Japanese and Korean Exclusion League. CC's associations with Asia did not seem to reflect these broader hostilities. At least a few of the nine male Chinese students at CC in 1923-24 (including Liang and Wen) were recipients of the Boxer Indemnity Scholarships, part of over 1,300 who studied in the U.S. between 1909-29. China and Japan were both the focus on considerable student interest, in literary forums and public events, even from the 1890s, notably associated with YMCA or mission activities. W. Merrill Vories 1904 founded the Omi Brotherhood in Japan, a network of industries, enterprises, and schools in the tradition of Christian works. Another half-dozen Japanese students joined CC in the two decades after Nakashima, some as special students sent to CC by alums who were working in Protestant missionary endeavors in Japan.
The relationship of Nakashima and CC broke off due to his untimely death, but Vories continues to play a role in the lives of some CC graduates who spend a year as an intern with the Vories High School.  After arriving at CC in 1996, I learned from Japanese friends about Vories' connection to the college and jumped at the chance to host visiting groups from the Omi Brotherhood during their occasional visits to campus.  They also welcomed visits by my CC summer block courses in Japan, which led to a request for us to identify one recent CC graduate each year to go as an intern to their high school.  Since then, a dozen CC graduates, all students of Japanese language with an interest in teaching, have represented CC at the Vories High School in Omi Hachiman. Drew Foster '08 was the first intern to go in 2009; the most recent intern was Donovan Dickey-Banmally '20. The program proved to be so successful that the school asked for one more long-term teacher; Andy Smith '01 filled this role between 2013-20, creating a special three-week English summer program for the Japanese high schoolers at CC.
Some Japanese residents of Colorado Springs arrived through other means. According to the 1987 article "The Student Houseworkers in the History of Early Japanese Emigration to the United States," there was a big jump in the number of Japanese who studied abroad between 1901 and 1902. Many books written in Japanese about studying in the U.S. appeared in the early 1900s; some had 14 printings and sold more than 40,000 copies. One way to finance these foreign studies was through taking on the demanding job of a "student boy or houseworker." Masuzo Fukuya 1914, mentioned earlier in this article, was a "house boy" working for a local family, which sent him to Palmer High School and then CC, all the while working as a servant for the family kitty corner from the CC campus. He went on to earn a Ph.D. in Psychology from the University of Chicago. In the city of Colorado Springs, Van Briggle Pottery employed several Japanese men in 1903-04. It is worth noting that, unlike those from Europe, Chinese and Japanese immigrants could not become naturalized American citizens until the 1940s. The shameful internment of 120,000 West Coast Japanese Americans and their older immigrant parents (still Japanese nationals), notably at the Amache Camp near Granada, Colorado, remains a touchstone for how racial discrimination can apply to Asians. Yet the 2,000-some Japanese and Japanese Americans who lived in Colorado, mostly in rural areas, farming, at the outbreak of WWII were not subject to internment.  
Banner image source: Shinri Kenkyū (Study of Mind) No. 96, 1919 (edited by Shinrigaku Kenkyūkai).