The Hulbert Center
Established in 1981 by Professor Joseph Gordon, the Hulbert Center for Southwest Studies was the first regional interdisciplinary program in the nation.
Its original mission was to create curriculum with Southwest content at Colorado College, nurture a community of scholars who could serve the region through teaching and publishing and create community outreach programs educating the community at-large about the Southwest.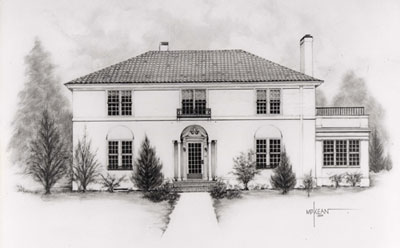 In 1991, the historic Dern House became the headquarters of Southwest Studies. The Mediterranean style stucco building with a red tile roof was built in 1923 by Joseph Jackson Dern, a Colorado Springs Banker and CC trustee from 1935-1939 and 1942-1946.
Benchmarks in the growth of the Hulbert Center have included facilitating the purchase and management of the Baca Campus in Crestone (1990), the establishment of a Southwest Studies Major and Minor (2005), and the founding of the Southwest Studies Regional Research Initiative (2005) to serve research needs of communities in the region.
Most of Hulbert Center's academic and community outreach programs have been funded by endowments and grants including:
Jackson Fellows Scholars Program (1988) funded by the Helen Jackson and William S. Jackson Family Endowment. Supports CC faculty to develop new interdisciplinary courses with Southwestern content and to publish research on the region.
W. M. Keck Foundation (2002) grant to the Hulbert Center funded the Colorado College's first Geographic Information Systems (GIS) computer lab.
Jerome P. McHugh Family Trust (1995) endowment supports improvements to the Baca campus including the installation in 2007 of a state-of-the art heating storage system which reduced energy costs by nearly 25%. The endowment has also supported a feasibility study for a solar farm on the Baca
Edith Manville Dabb Endowment (1974) has supported the retention of dozens of Native American Students.
Joel T. Benezet Memorial Fund (2002) supports the research of Southwest Studies Majors and Minors.
Hulbert Center Endowed Funds supports the The Regional Research Initiative (2005), which has provided 13 students with faculty advisors to 7 community groups in the region who are engaged in community based participatory research in the fields of environmental justice, economic justice and cultural rights.
Andrew Norman Lecture (1988) and Woman's Educational Society Lecture (1988) supports, nationally and regionally known scholars, artists, and professionals engaged in regional perspectives to present to campus and community audiences twice a year.
Because an important part of its mission is outreach to the larger community, the Hulbert Center also sponsors
The Aficionados Luncheons, a monthly speaker's series which presents scholars, authors, artists, activists and others who bring new perspectives on the Southwest.
la Tertulia, a newsletter showcasing the work of CC Faculty, authors, scholars and students engaged in the region.
The Hulbert Center gardens. Photo by Suzi Nishida.
---
The faculty and staff run the center and its programs:
Mario Montaño, Associate Professor of Anthropology and Serves as W.M. Keck Director of the Hulbert Center
Eric Perramond, Associate Professor of Environmental Science and Southwest Studies
Santiago Guerra, Assistant Professor
Karen R. Roybal, Assistant Professor
Miriam Gay-Antaki, Visiting Instructor
Anabell Sintas, Outreach Programs Coordinator
Carol Hernandez, Academic Administrative Assistant
This is the Department of Southwest Studies
Browse all Departments & Programs
​