Study Abroad
For more information about general CC International Studies and approved Off-Campus Programs, visit the Center for Global Education & Field Study website.
Guidelines for Studying Abroad:
These guidelines are only for OBE majors and students who definitely intend to declare an OBE major. Other majors should see their department chair.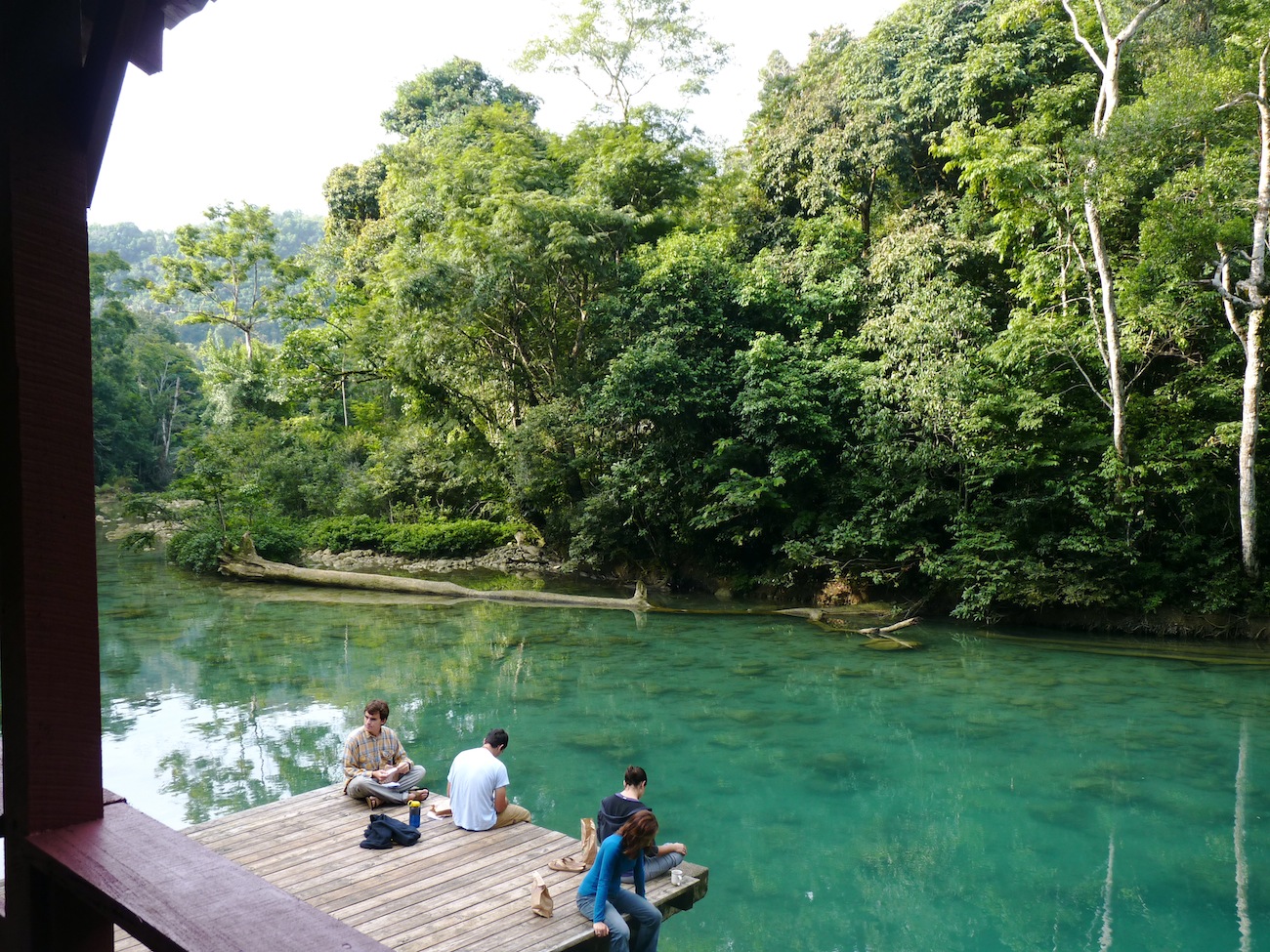 OBE faculty view semesters and courses abroad as an opportunity to gain international and cross-cultural experience, an important part of a liberal arts education, and to gain experience in ecology and organismal biology. And while some OBE students do a semester abroad, other students take blocks abroad taught by OBE faculty, which currently include study in Belize, Patagonia, and Tanzania. Since many non-CC programs have substantial non-biological components and because we value OBE courses at CC, we limit the number of credits transferred from non-CC programs to 1 or 2.
We award credit for two levels of programs. For programs with limited prerequisites, we do not require BE208 Ecology before participating, and you will receive 1 lower-level elective toward the major. For programs with substantial prerequisites, you must complete BE208 Ecology before the program; and usually 1 upper-level elective credit is possible, often with 1 lower-level elective [note: see the list below for details]. Elective credit for study abroad programs is based partly in preparation for an abroad experience as well as personal knowledge of listed programs from OBE faculty.
For field programs with independent or directed research, we have seen that students who have taken a statistics coursereturn with much stronger projects, so we very strongly encourage you to take a statistics course before an off-campus program with a research project. Some programs allow non-biological research, e.g., physical oceanography or sociologically-oriented conservation research. While you will benefit from research in these fields, these projects do not merit OBE credit.
The process of receiving approval for a course taken on a non-CC study abroad semester program to count towards an OBE requirement is submitted and recorded through the CC Internal Application for Off-Campus Study process via Summit. You can see all pre-approved courses in the Course Approval Database on the Center for Global Education & Field Study website, and students can search by OBE-specific approvals. If you intend to take a course abroad that is not already listed as approved, you can submit a new course approval request via your Summit application, and the OBE chair will review and approve that course for possible OBE credit.
Off-Campus Study Programs - Important Points
Before participating in an off-campus/study abroad program for OBE credit, you must declare as an OBE major, take at least one OBE course toward the major, and discuss with your OBE adviser how a program fits with your educational goals.
Plan for substantial lead time with the Center for Global Education & Field Study: The CC Internal Application for Off-Campus Study must be completed in Summit at the beginning of the semester before the one you wish to study abroad (no later than March 1 for Fall semester programs, and October 1 for Spring semester programs).

Summit will then request approval from your academic adviser, to verify that you've discussed your study-abroad plan with your adviser and that this plan fits with your academic path towards the OBE major.
Students usually go abroad in their junior year, but occasionally as second-year students, or in the fall semester of their senior year.

Note that not all CC-approved programs earn credit toward the OBE major; see the list below. Any other program requires additional approval through the Summit process for courses to potentially transfer.
Courses with Ecology in the title do not substitute for BE208 Ecology.
Grades from most approved CC partner study abroad programs generally do not transfer over to CC transcripts; only credits/number of units and course title are listed. You must receive a grade of C- or higher to receive transfer credit.
Only very rarely does research from these programs meet requirements for a senior thesis.
OBE generally recommends that you take both BE208 Ecology as well as a statistics course before attending an abroad program - this will help enrich your abroad learning experience, particularly if you conduct research on an abroad program.
Courses completed prior to enrolling in college, e.g., in a gap year or semester, do not count toward the OBE major.
Field Programs Approved for OBE Credit
BE208 Ecology NOT a prerequisite for credit
School for Field Studies (SFS) semester: 1 lower-level elective

Costa Rica – Sustainable Development Studies
Panama – Island Biodiversity
Australia: Rainforest to Reef
Chile: Wild Patagonia – Fire and Ice
Kenya: Wildlife, Water, and Climate Resilience
Peru: Biodiversity and Development in the Amazon
Turks & Caicos: Marine Resource Studies
Tanzania – Wildlife Management Studies
Note: SFS programs generally receive 1 lower-level elective, or 1 lower- & 1 upper-level elective (for a significant research project - if a student has taken BE208 before studying abroad)
School for International Training (SIT): 1 lower-level elective

Australia – Rainforest, Reef, and Cultural Ecology
Ecuador – Comparative Ecology & Conservation
Iceland and Greenland – Climate Change and the Arctic
Madagascar – Biodiversity & Natural Resource Management
Panama and Costa Rica – Tropical Ecology, Marine Ecosystems, and Biodiversity Conservation
Tanzania – Wildlife Conservation & Political Ecology
Tanzania/Zanzibar – Coastal Ecology & Natural Resource Management

IES/USFQ Quito Galapagos Program: for the two ecological tracks, 1 lower-level elective.
Carleton Global Engagement: Ecology & Anthropology in Tanzania, 1 lower-level elective.
ACM Oak Ridge Science Semester – This research semester at the National Laboratory in Oak Ridge, TN tends to lean more towards chemistry and physics, but sometimes students have been able to do biological research projects. Check with your OBE advisor, and see the program website to review the faculty director's focus for that semester (it changes), and available research projects.
BE208 Ecology a prerequisite for credit
SEA Semester. Of their many programs, the three directed at advanced science students currently merit OBE credit.  Prerequisites for these are 3 lab science courses, including 1 at the 300-level or higher, or consent of instructor.  OBE credit: 1 lower-level elective and 1 upper-level elective if your research is biological

Oceans and Climate: Oceans in the Global Carbon Cycle
Marine Biodiversity and Conservation
Caribbean Reef Expedition: The Ocean & Global Change.

Organization for Tropical Studies (OTS) Semester in South Africa: 1 upper- and 1 lower-level elective.
Semester in Environmental Science at the Marine Biological Laboratory (Woods Hole, MA). Prerequisites include introductory biology (but for OBE upper-level credit you must take BE208 Ecology before this program), 2 blocks of general chemistry, and either calculus or statistics (both would be great).  The program will give you 2 upper-level OBE electives.
Traditional Academic Institutions Abroad
In most situations, students should take the basic requirements for the OBE major at CC; we will consider exceptions by petition. For OBE credit, you will need to document the course content through syllabi, copies of exams, textbooks, and discussion with the department member who teaches the equivalent course. Normally, courses with Ecology in the title do not substitute for BE208 Ecology. Only courses that require at least 2 prerequisites in Biology may count as upper-level electives, and these must be approved as upper-level credit by the OBE chair in advance via Summit. Substituting courses in other departments, such as Chemistry, requires written approval by that particular department.
Other CC-Approved Partner Programs Offering Courses Appropriate for OBE Majors
See the website of the CC Center for Global Education & Field Study for more information.
Boston University Science Semester in Madrid.

Prerequisites: CH107, CH108, MB131 Introduction to Cell and Molecular Biology.

Molecular Biology has found too much overlap between MB131 and the cell biology class in this program, CAS BI 203: Cell Biology, so OBE does not award credit for CAS BI 203. You will receive credit for CH250 Organic Chemistry I.
DIS Denmark Program.

Polar Biology and Marine Mammals and their associated labs and field trips will each receive 1 lower-level CC credit. Climate-related courses and health/medicine related courses may also receive one unit of lower-level elective credit.
EuroScholars.

A program for advanced and talented undergrads to take one course and do research in several top European universities.

We will arrange credit on a case-by-case basis.
IFSA (Institute for Study Abroad) - directly enroll in host universities around the world.

Popular programs include those at James Cook University, Australia, and Otago, New Zealand; you can search by academic subject on the IFSA website. Check semester hours (4 U.S. semester credits = 1 CC unit) and prerequisites for courses.

Maximum credit is 1 lower-level elective and 1 upper-level (if you have taken BE208 before going, and that course has enough prerequisites).
Quest University, Canada. Each year, CC and Quest (also on the block plan) exchange a few students for 2 to 4 blocks. Credits vary so consult first with your departmental adviser and then with the department chair