Seminars
Seminars are free and open to the public
2017-18
Block 1: Saturday, September 9th
Dr. Shane Heschel, Associate Professor of Organismal Biology and Ecology, Colorado College
Ipomposis UV tolerance tradeoffs: flower color and pollinators
As part of the 2017 Colorado Native Plant Society Annual Conference
Students must pay a small fee to attend.
---
Block 2: Monday, October 16th
Dr. Robin Tinghitella, Assistant Professor of Biological Sciences, University of Denver
Research focus: ecology and behavior in rapid evolutionary change
4:45pm in CENT 191 at UCCS
---
Block 3: Thursday, November 2nd
Dr. Steve Taylor, Associate Research Professor, Colorado College
Research in the realm of subterranean biology
At 3:30pm in Tutt 122
---
Block 3: Tuesday, November 14th
Dr. Margaret Hanes, Associate Professor of Biology, Eastern Michigan University
Identifying processes driving plant diversification on Madagascar in Megistohibiscus
At 3:30pm in Tutt 122
---
Block 6: Thursday, February 22nd
Ali Keller, Greenhouse/Lab Technician of Organismal Biology and Ecology, Colorado College
The impact of climate and elevation on the growth and mortality of pinyon pine
At 3:30pm in Tutt 122
---
Block 6: Thursday, March 1st
Dr. Stacey D. Smith, University of Colorado-Boulder
Floral evolution of neotropical Solanaceae
At 3:30pm in Tutt 122
---
Block 6: Friday, March 9th
Dr. Rachel Wheat, Postdoctoral Fellow, State University of New York
To migrate, stay put, or wander? Intraspecific variation in Bald Eagle (Haliaeetus leucocephalus) movement strategies.
Keynote Speaker for OBE Day 2018
At 12:45pm in the McHugh Commons
---
More seminars coming soon!
See the Seminar Archive for more.
---
News
George Wittemyer CC class of '97 finds the positive in tragic elephant conservation research
See the full story here: http://source.colostate.edu/george-wittemyer-finds-positive-tragic-elephant-conservation-research/
Who We Are
The Organismal Biology and Ecology (OBE) Department studies the structure and function of organisms in an ecological and evolutionary context. OBE encompasses cross-disciplinary approaches such as physiological ecology, evolutionary ecology, systematics, and biogeography, which all provide complementary insights into the processes of evolutionary diversification and adaptation to life on earth. Our research foci include botany, animal and plant ecology, comparative physiology, conservation biology, and molecular ecology. We strive to perform cutting-edge research and include students in these opportunities.
OBE on The Block Plan
The focused three and a half week course style of the block plan enables our OBE faculty to design field/lab classes and research opportunities that are not possible in traditional school settings.
Field courses: Our exceptional location is adjacent to rich and diverse ecosystems situated at the range limits of many species of plants and animals. In an east-west direction, the elevation changes from roughly 6,000 to over 14,000 feet on top of Pikes Peak, resulting in a mosaic of ecosystems spanning plains, forests and tundra. Many classes take day-long, overnight or multi-day trips to explore sites near and far. Some of these are camping trips, but we also utilize the CC Cabin in the montane pine forests of the Pikes Peak foothills an hour from campus as well as the CC Baca Campus in the San Luis Valley three hours to the southwest. We also offer regular block-long field courses to Belize and Patagonia!
Small Class Size: Colorado College limits class sizes to a maximum of 25 students; most field and lab courses have even smaller sizes. This allows each student to receive individual attention, and to do investigative projects even in their first biology class.
Examples:
Transmission electron microscopy: 8 students
Ecology: 14 students
Comparative Animal Physiology: 12 students
Research opportunities: Our faculty have active and diverse ongoing research and can also help students develop their own project, e.g. students can receive credit for as many as two mentored research blocks with a professor. We encourage and financially support collaborative student-faculty research projects. These opportunities provide excellent experience for students interested in graduate school or those planning on becoming part of a research team upon graduation.
Prospective Students
Apply to the full tuition Margaret T. Barnes Scholarships in the Natural Sciences and Mathematics
---
News
---
Check out the 2017 OBE Newsletter here!
---
Colorado College is hosting the 2017 Colorado Native Plants Society Annual Conference!
For information on how to attend the conference, check out this flier. The conference is dedicated to the memory of Dr. Tass Kelso. This conference can count as an abstract for OBE students, however there is a small fee to attend the meeting.
---
Blumenstein Water and Wildlife Conservation Internship
The Nature Conservancy Silver Creek Preserve
The Preserve Intern is responsible for assisting stewardship staff with protection and enhancement of wildlife habitat and natural resources on The Nature Conservancy's preserves in Idaho. The Intern's primary duty will be assisting with the daily operation and management of the Silver Creek Preserve. Duties include habitat restoration projects, greeting visitors at the Silver Creek visitor's center, periodic travel to other preserves, interacting regularly with Nature Conservancy members, the general public, and neighboring land owners, maintaining preserve facilities and grounds, weed control, and participating in scientific research and monitoring.

This internship is open to all Colorado College freshmen, sophomore, or junior students, regardless of major. The Nature Conservancy will support the intern in finding housing within a reasonable distance from the Preserve. A vehicle is strongly recommended.
More information on internship and research opportunities can be found here.
---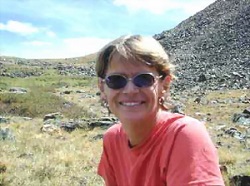 Botanist and professor Tass Kelso, passed away in June 2016. Tass was a remarkable botanist and a remarkable person, whose friendship, research, and fine teaching skills touched the lives of many people. Click here to read tributes from her friends and colleagues.
---